These delicious homemade poppy seed crackers are a must-have on your party menu! Perfect for dips, cheese platters or snacking!
This easy cracker recipe is also perfect for beginner bakers!
What should you know before making homemade poppy seed crackers:
The dough is very easy to roll out.
You don't need a lot of flour for dusting.
The size and thickness of these poppy seed crackers is entirely up to you. However, bear in mind that they will grow in the oven so I suggest rolling the dough out thin rather than thick. This way you will also get more crackers.
This homemade cracker recipe can be easily doubled or halved.
You can get somewhere between 60-80 crackers depending on their thickness and size.
Pizza cutter is the best and quickest tool to cut the dough.
These homemade poppy seed crackers are perfect for entertaining at home. If you like throwing parties, check out some more appetizer ideas:
How to make homemade crackers with poppy seeds:
The whole process is very simple. You get a mixing bowl and add all the ingredients in. Now make sure that you save about 1/3 of your beaten egg for brushing the dough later on.
Now, usually sifting flour and baking powder together before adding these to the rest of your ingredients is important. However, here you don't need to do it. No sifting is necessary this time. Just make sure you give everything a good stir before forming the dough.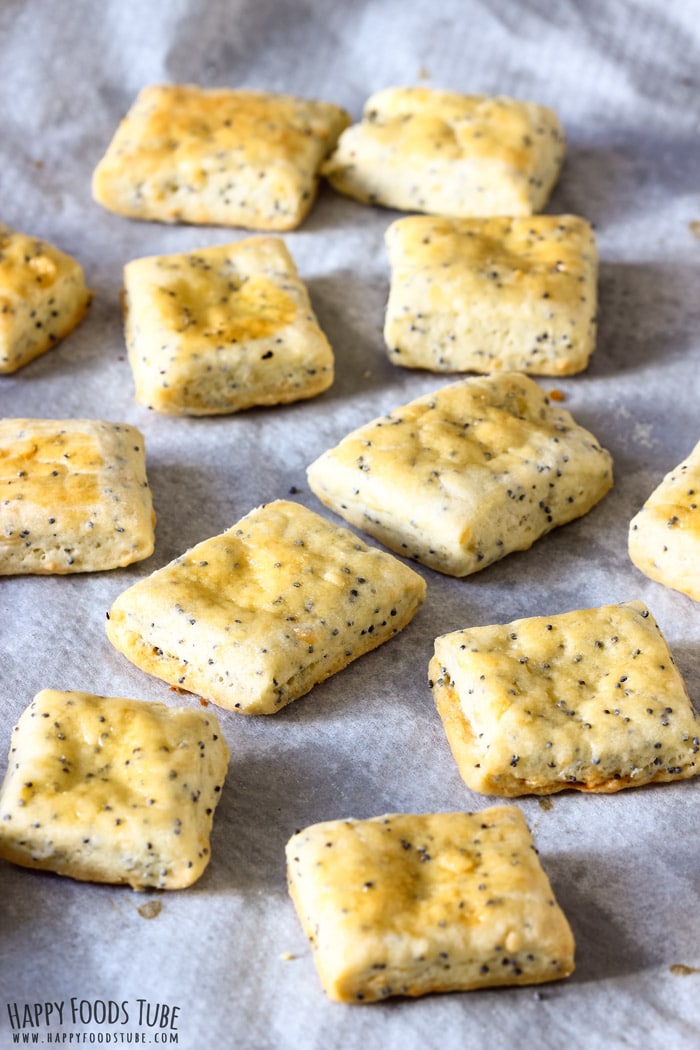 The dough is very easy to form. It will take about 2-3 minutes and all you need is your hand. Basically, you need to make a dough ball. This I chilled for half an hour in the fridge.
After 30 minutes, the dough will still be soft but it won't be so sticky. In fact, it should be very easy to roll out. You will only need a little flour for dusting.
You can roll out the dough at once or divided it in two. My work space is quite small so I prefer dividing the dough into 2. This is also convenient when you only have one baking tray. You can bake roll out and cut out the second batch of crackers while the first one is in the oven.
Hope you give these poppy seed crackers a go! If you do, let me know what you think!
Happy Entertaining!
Homemade Poppy Seed Crackers
These delicious homemade poppy seed crackers are a must-have on your party menu! Perfect for dips, cheese platters or snacking!
Ingredients
2

cups

all-purpose flour

(280 grams)

½

cup

Grated Cheese

– parmesan, cheddar, … (50 grams)

1

stick

Unsalted Butter

(110 grams)

½

cup

Water

1

tablespoon

Baking Powder

A Pinch of

Salt

2

tablespoons

Poppy Seeds

1

Small

Egg

, beaten
Instructions
In a bowl, combine flour, cheese, diced butter (at room temperature), water, baking powder, salt, poppy seeds and beaten egg (make sure to set 1/3 of the egg aside for brushing). Form into dough. This will only take about 2-3 minutes.

Wrap in cling film and chill in the fridge for 30 minutes.

Once the dough is chilled, roll it out thin. Cut into 1-1.5 inch squares (3-4 cm) and transfer onto a baking tray lined with baking paper or silicone mat.

Brush with the remaining egg and bake at 350°F/180°C for 10 minutes.

Serve on its own or with hummus, dip, or anything you like!
Notes
This recipe yields about 80 crackers (1-1.5 inch/3-4 cm wide). You can make them larger or smaller. The 30 minute chilling time is not included in the overall time.
Nutrition Facts
Homemade Poppy Seed Crackers
Amount per Serving
% Daily Value*
* Percent Daily Values are based on a 2000 calorie diet.
** As an Amazon Associate I earn from qualifying purchases.
LEAVE A COMMENT
RELATED POSTS