These redcurrant crumb bars will satisfy your sweet tooth. Oatmeal topping, juicy berry filling and sweet crust are turned into yummy homemade bars!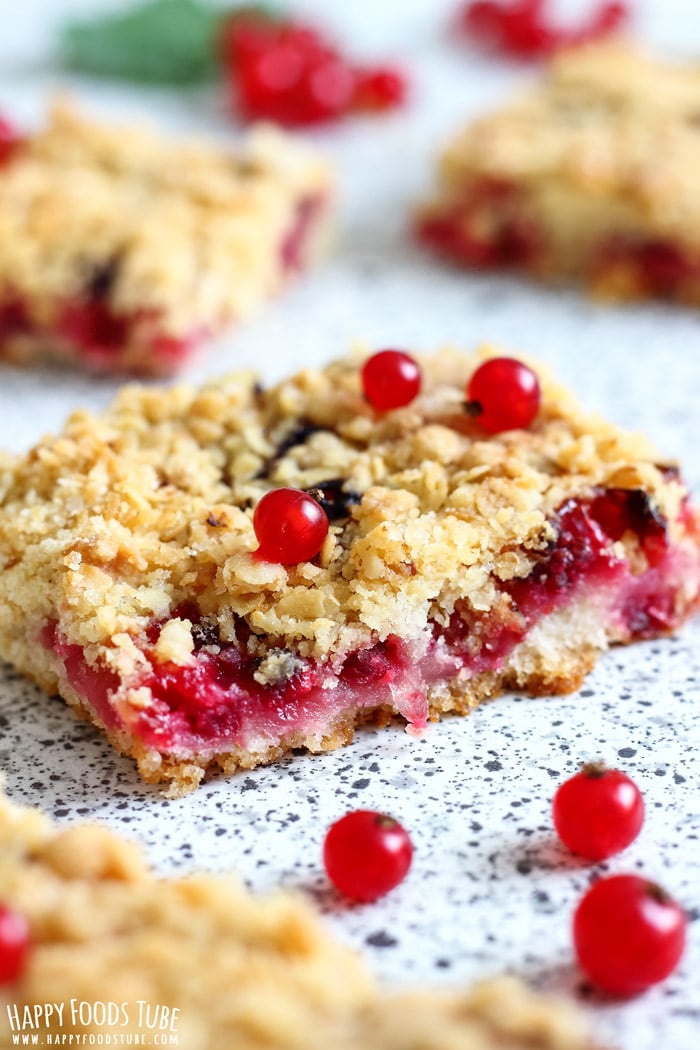 You might have noticed that I have been obsessed with red, black and white currants lately. I can't help myself but I love the taste of these tiny berries.
Guys, if you ever end up with a ton of redcurrants (like I did) make these red currant crumb bars. You will love them. It's the combination of sweet and tangy that makes them extra delicious and your guests will ask for more.
Actually, you can add them to various homemade desserts or use them instead of other berries.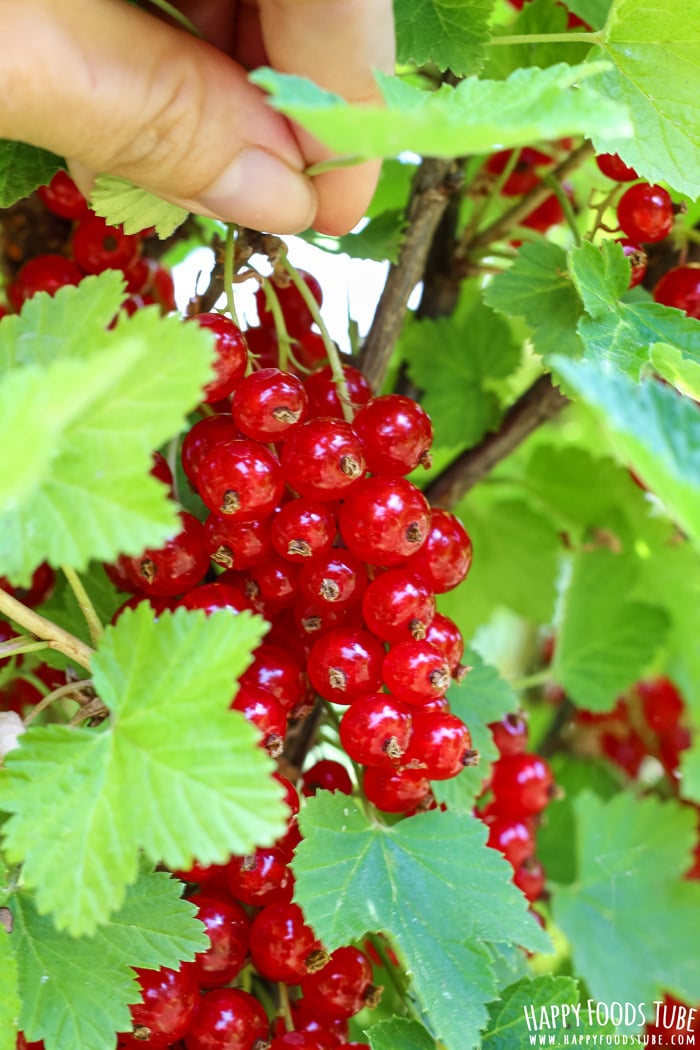 By the way, blackcurrants are the most flavorful and perfect in baking or making homemade ice cream. This summer I used them to make this Blackcurrant Ice Cream. It's one of the best ice cream flavors I have tasted! It's sweet and tangy at the same time which makes it super refreshing.
White currants are the sweetest of all 3 kinds hence the most favorite ones among currant lovers. I love making easy no bake desserts with them such as this Chocolate Pudding Dessert.
If you don't mind doing some baking in summer, give these redcurrant crumb bars a go! They are totally worth it! My family loves them. You can easily use other berries instead. Those of you who have redcurrant bushes and no idea how to use them, try making redcurrant jelly. You won't be disappointed.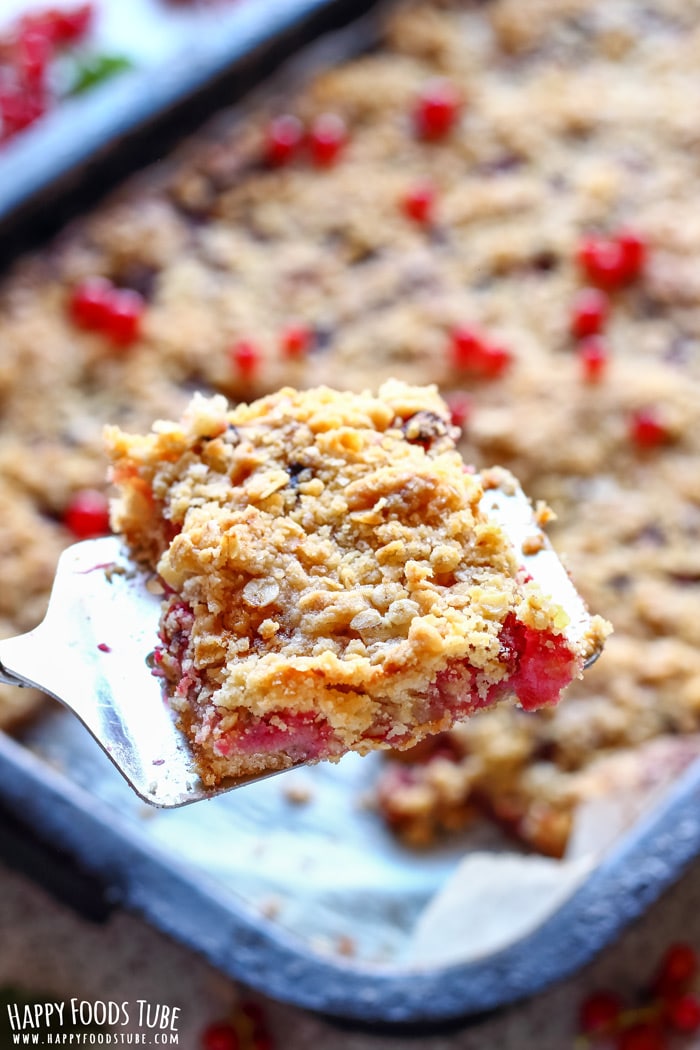 Redcurrant crumb bars recipe breakdown:
Divide the process into 3 simple steps:
Making the crumble topping
Prepping the berries
The crust
Start off with the crumble topping. Get a large bowl and mix all the ingredients together first. Then, using your hands start rubbing everything together until it looks like crumbs. Set aside.
Second step is de-stemming redcurrants. This will take a while but it's worth it. Once done, make the crust.
For the crust beat butter until creamy. Then add sugar, egg and sour cream. Add them one by one and mix well after every addition. Finally sift in flour that has been mixed with baking soda and mixed spices.
Give it a got mix and pour into a cake pan/sheet pan. This pan's size should be about 13×9 inch (33×23 cm).
Top with redcurrant berries, crumb topping and bake until ready.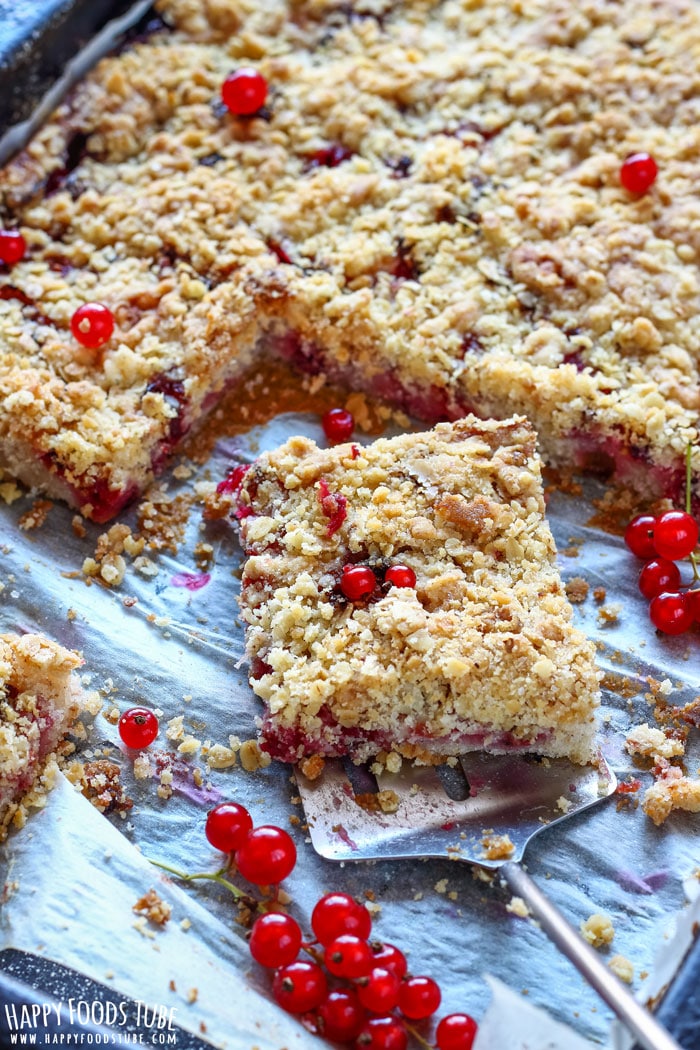 Ingredient Substitutions:
Sour Cream – Greek yogurt will work here as well
Redcurrants – if you don't have these use blueberries, raspberries, strawberries, blackberries…
Rolled Oats – these can be omitted
Redcurrant Crumb Bars
These redcurrant crumb bars will satisfy your sweet tooth. Oatmeal topping, juicy berry filling and sweet crust are turned into yummy homemade bars!
Ingredients
Crumb Topping:
1

stick

Unsalted Butter

, soften & diced (115 grams)

1

cup

Plain Flour

(140 grams)

2

tablespoons

Granulated Sugar

5

tablespoons

Oats
Instructions
Crumb Topping:
Place all the ingredients in a large bowl and rub together until you get crumb like texture. Set aside.
Crust:
In a large bowl, beat butter until soft and creamy. Add sugar and continue beating until light and fluffy. Add egg and beat well. Add sour cream and again beat until well combined. Sift in flour, baking soda and mixed spices. Mix until combined.

Pour this batter into a baking tray/sheet pan (13×9 inch/33×23 cm) inch pan lined with baking parchment paper. Cover the whole surface with redcurrants (stems removed) and scatter the crumb topping over them.

Bake in a preheated oven at 350°F/180°C for 60 minutes or until baked through.

Enjoy!
Nutrition Facts
Redcurrant Crumb Bars
Amount per Serving
% Daily Value*
* Percent Daily Values are based on a 2000 calorie diet.
** As an Amazon Associate I earn from qualifying purchases.
LEAVE A COMMENT
RELATED POSTS