Cherry avocado chocolate mousse is great all-natural sugar dessert. Imagine rich chocolate-y flavor, creamy avocado texture and sweetness from cherries & dates!
This avocado chocolate mousse is also dairy-free and vegan! It's perfect for avocado lovers, fitness enthusiasts, those on a low sugar diet or anyone who loves trying new alternatives!
Guys, I've been on a mission for a while now. My mission is to try as many new dishes as possible every week. It does not really matter to me if it is deep fried, vegan, baked or raw. I wanna try them all! Because why not?
I love tasting new foods and flavor combos! Now I won't be telling you about my cow's stomach & chickpea tapas experience because it wasn't a pleasant one.
But this cherry avocado chocolate mousse is something totally different! It's sweet, creamy and chocolate-y with a subtle cherry flavor.
I know – it's a chocolate mousse with avocados in it! I know what you think but I hope you will give it a go!
Avocado adds great texture to this mousse but not only that. The health benefits of avocado are worth mentioning here: vitamins, minerals, fiber, antioxidants …
They are so versatile as well. I make spread, smoothie, hummus or anything really. Guys, I even put it in Ramen.
What I love about this cherry avocado chocolate mousse:
It's dairy-free – this chocolate mousse recipe has no cow's milk or cream in it.
Naturally sweet – the sweetness comes from dates and cherries. However if you find that this mousse is not sweet enough for you, add honey or agave syrup.
Healthy dessert option – this recipe is excellent for those who love desserts but are looking for healthy alternatives.
Creamy texture.
Vegan option – this avocado chocolate cream is perfect for vegans.
Goes well with berries & cherries.
How to make this avocado cherry chocolate mousse
Let' divide the prep into 2 steps.
Step 1: soak the dates in water for about 30 minutes.
Step 2: Process everything in a food processor until smooth. That is it! Ok. Ok there is a third step: pour/pipe or scoop this cherry avocado chocolate mousse into cups of your choice and top with a cherry.
It's a great dessert that can be served at a party: dessert shots are a great way to serve sweet treats or simply pour them into small bowls and top with as many cherries as you like.
One word of advice – chill it in the fridge at least 1 hour before serving. I feel that the flavors kind of develop more when the mousse sits in the fridge for a longer period.
Guys, it's a perfect healthy alternative to the traditional chocolate mousse. If you know someone who is vegan, dairy intolerant or a fitness enthusiast I highly recommend making this chocolate mousse dessert for them. They will love it!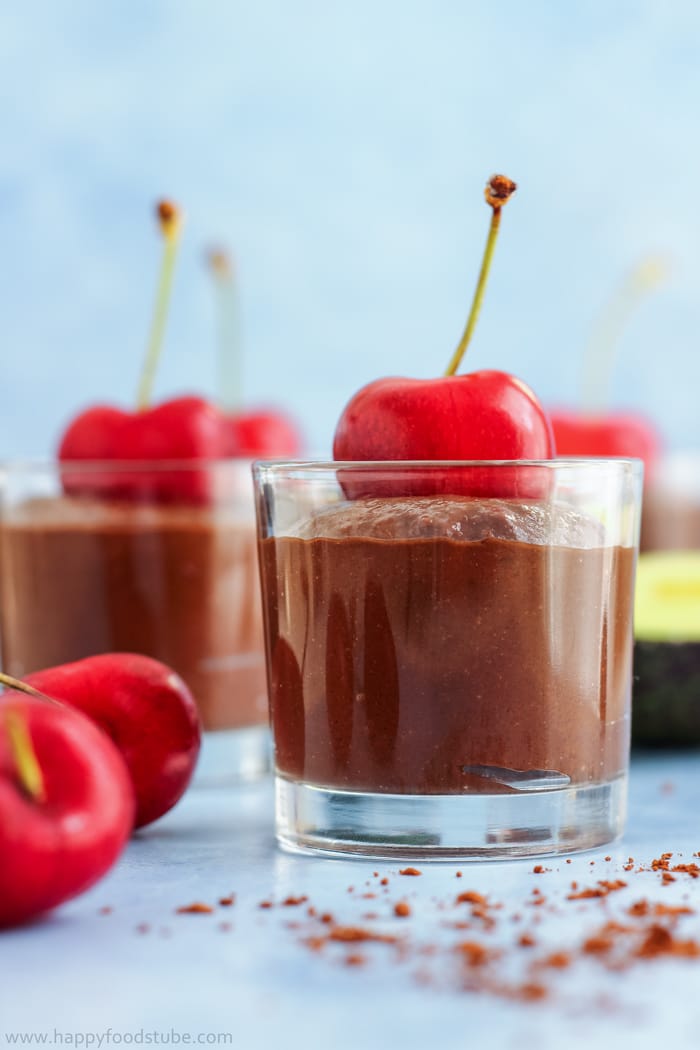 Ingredients substitutions
Coconut Milk Drink – you can use almond drink as well.
Salt – you can omit salt completely.
Dates – I think figs would work well here. I haven't tried it though.
Want to see how to make Avocado Chocolate Mousse? Watch the video!
Cherry Avocado Chocolate Mousse
Cherry avocado chocolate mousse is great all-natural sugar dessert. Imagine rich chocolate-y flavor, creamy avocado texture and sweetness from cherries & dates.
Servings:
8
Dessert Shots (1½ Cup – 3 Portions)
Instructions
Soak dates in water for 30 minutes.

Cut avocados in half and remove pit. Scoop out the flesh and place it in a food processor.

Add remaining ingredients: cocoa powder, dates, cherries, coconut milk drink and salt. Blend until smooth and creamy.

Serve cold in small glasses, decorated with cherries.
Notes
It keeps well in the fridge (up to 24 hrs).
Nutrition Facts
Cherry Avocado Chocolate Mousse
Amount Per Serving
Calories 133
Calories from Fat 72
% Daily Value*
Fat 8g12%
Sodium 41mg2%
Potassium 424mg12%
Carbohydrates 17g6%
Protein 2g4%
Vitamin A 85IU2%
Vitamin C 6.3mg8%
Calcium 25mg3%
Iron 1.2mg7%
* Percent Daily Values are based on a 2000 calorie diet.
** As an Amazon Associate I earn from qualifying purchases.
LEAVE A COMMENT
RELATED POSTS