No bake raspberry icebox cake with almond & hazelnut crust. Easy preparation, creamy texture with lots of natural sweetness thanks to dates, bananas and raspberries.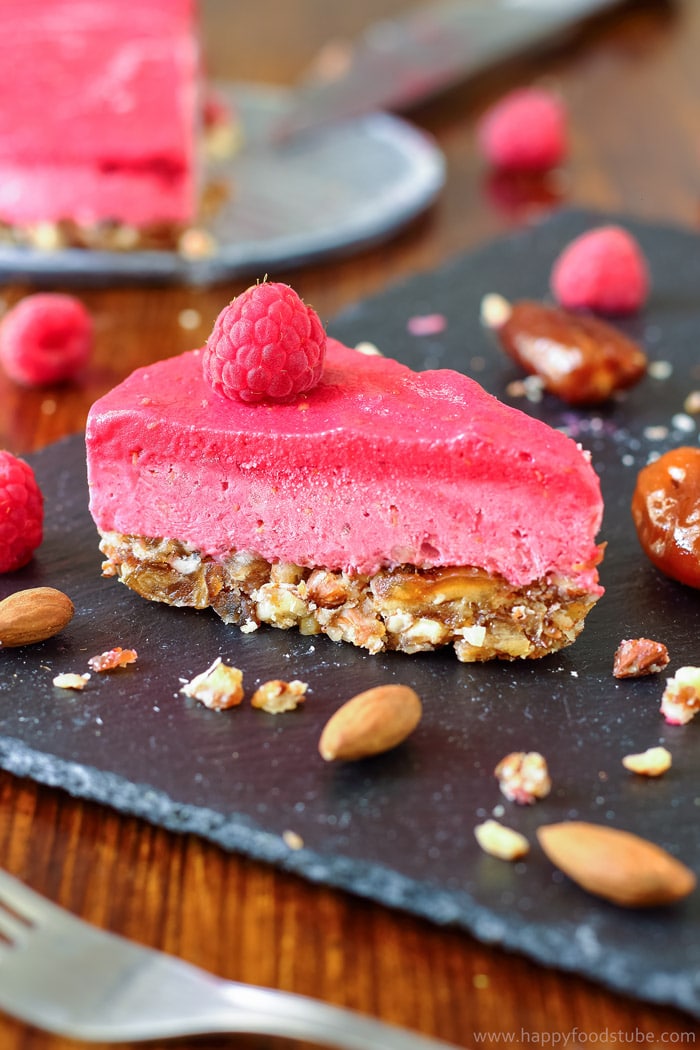 Imagine a layer made of nuts and dates with a hint of coconut & lemon, followed by a creamy raspberry mascarpone banana layer and topped with refreshing raspberry layer.
What can be better than 3-layer icebox cake, anyways? As much as I love raspberries the star of this easy no bake cake is the bottom layer. Almonds, hazelnuts, lemon juice and coconut oil are combined and pressed to form a firm base of this raspberry cake. No biscuits, no sponge cake or anything like that.
If you are not into dates and nuts, I tell you, you will change your mind once you've tried this raspberry icebox cake.
By the way, this is my very old post that had an absolute disaster of a picture and no text whatsoever. Because this is a great no bake cake and because I love it I am bringing you the updated version. It sure is better than the old one. I am leaving the old photo here for comparison and memories. Just for fun.
You might have already noticed that I am absolutely in love with this no bake raspberry cake!
The reasons are pretty simple:
It's a no bake cake.
The base is NOT made with graham crackers or any other biscuits, cookies, sponge.
It is creamy and rich in flavor.
And it has my favorite berries in it!
It's way healthier than any other icebox cake out there!
I don't know about you but I am a huge fan of easy homemade desserts! There are a few no bake cakes worth mentioning here and more importantly they are worth trying! No bake banoffe pie is a must try. Imagine bananas, toffee, whipped cream and a biscuit crust! Delish! This chocolate biscuit cake recipe is also a favorite in our house – it is a perfect no bake dessert that can be made ahead which is always a plus! My mom's favorite are pudding desserts and when we were kids she would make a lot of them. They are easy to make and were always a hit. Have you eaten a no bake pudding cake?
No bake raspberry icebox cake recipe break-down:
The Crust: Dates + Almonds + Hazelnuts + Lemon Juice + Coconut Oil = a perfect mixture for this raspberry icebox cake. Combine all the ingredients and transfer into a cake tin. Form a firm crust/base and you are done.
Top Layer: Raspberries + Condensed milk are processed until smooth. Take out half of the mixture and this will create your top layer. Set it aside and move onto making the middle layer filling.
Middle Layer: We use the rest of the raspberry & condensed milk mixture that is in the processor to make the middle layer. Add banana and mascarpone and blend until combined well.
I am using only a quarter of a cup of condensed milk which is the only sweetener here. There is no need to add more as dates and bananas provide enough sweetness. I added mascarpone cheese to create a creamy layer. It is a heaven in your mouth, I tell you this!
Assembling: Cover the crust with middle layer – spread around evenly and let it sit in the freezer for 30 minutes before spreading over the top layer.
Freezing: For best results I highly suggest freezing it overnight. If you don't want or don't need the cake to be rock frozen, check after 1-2 hours to see if you like the consistency. Bear in mind that the softer the cake, the more difficult to cut it as it might not hold its shape.
Tip: Cake tin with removable bottom is pretty handy to use here but if you don't have one you can still use what you have. A great way is to line the whole tin with cling film so it's easier to take it out.
If you don't feel like buying both almonds and hazelnuts, you can use only one of these. Just increase the amount to match the recipe.
Raspberries – use frozen ones. They are perfect as they are available in shops all year round and because this is a freezer cake, they are perfect for this recipe.
Want to see how to make Raspberry Icebox Cake? Watch the video!
No Bake Raspberry Icebox Cake with Almond & Hazelnut Crust
No bake raspberry icebox cake with almond & hazelnut crust. Easy preparation, creamy texture with lots of natural sweetness thanks to dates, bananas and raspberries.
Servings:
8
(1 Cake – 6 inch/16cm cake tin)
Ingredients
2

cups

Frozen Raspberries

(220g)

1

cup

Dates

, without stones (140g)

1

Banana

(Medium – Large)

½

cup

Almonds + Hazelnuts

(80g)

1-2

tablespoons

Lemon Juice

3

tablespoons

Coconut Oil

1/3

cup

Mascarpone

(70g)

¼

cup

Condensed Milk

(70g)
Instructions
In a bowl combine finely chopped nuts & dates (or processed in a food processor), lemon juice and coconut oil.

Line the bottom of a cake tin with cling film (or baking parchment) and add the nut/date mixture. Press down hard with a spoon or a flat bottomed bowl until you form a firm base.

In a food processor/blender mix together raspberries and condensed milk. Once done, save half of this mixture for later.

Now add banana and mascarpone to the remaining mixture and blend until smooth. Pour this over the nut/date crust and spread around evenly. Put it in the freezer for 20 minutes or until set enough.

Once set, spread over the saved mixture of raspberries and condensed milk. Put back in the freezer and freeze until set (see note).

Keep in the freezer!
Notes
If you are after a completely frozen cake, leave it in the freezer overnight. Otherwise you can check after 2 hours to see if its texture is ok for you.
Nutrition Facts
No Bake Raspberry Icebox Cake with Almond & Hazelnut Crust
Amount per Serving
% Daily Value*
* Percent Daily Values are based on a 2000 calorie diet.
** As an Amazon Associate I earn from qualifying purchases.
LEAVE A COMMENT
RELATED POSTS