Guacamole deviled eggs is the perfect appetizer for any occasion. Each egg white is filled with creamy egg and guacamole mixture & garnished with coriander and fresh chili slice.
If you love guac as much as deviled eggs, you will definitely enjoy guacamole deviled eggs.
This easy appetizer is also naturally gluten free!
Now if you are looking for more recipes with Hard Boiled Eggs, I have some ideas for you: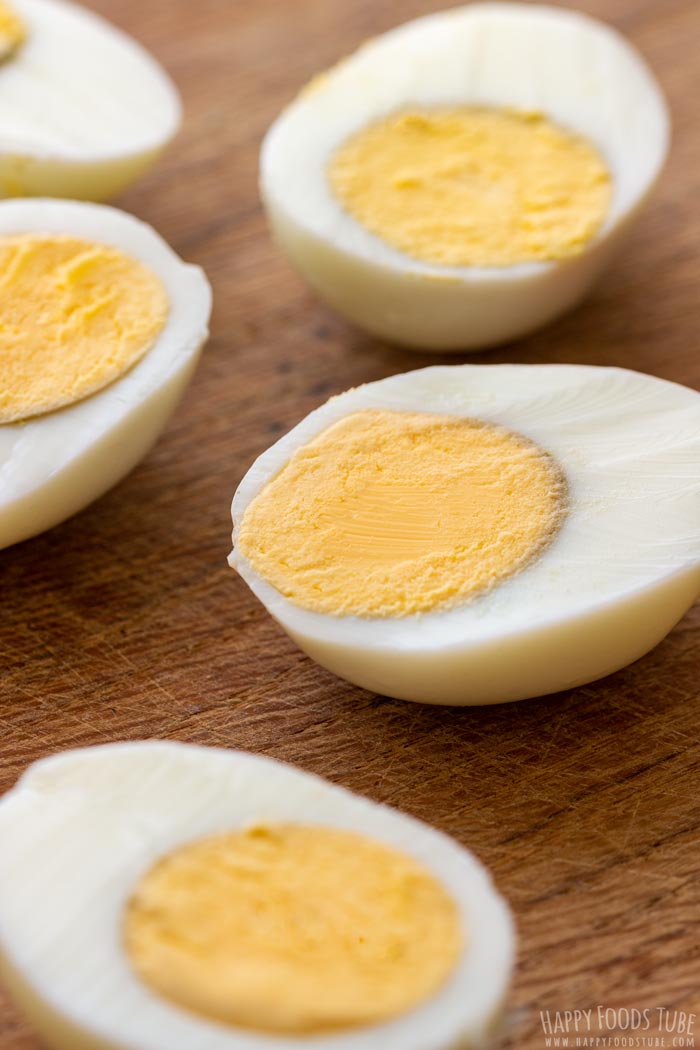 How to make guacamole deviled eggs
Once you have peeled the eggs, cut them in halves. Carefully remove the yolks and place them into a bowl that is large enough to hold all that filling.
Now you need to break the cooked yolks until they look like crumbs. When ready, all you have to do is add the rest of the ingredients. For these guacamole deviled eggs you will need ripe avocados, finely chopped onion, coriander, tomatoes, sour cream, lime juice, salt and pepper.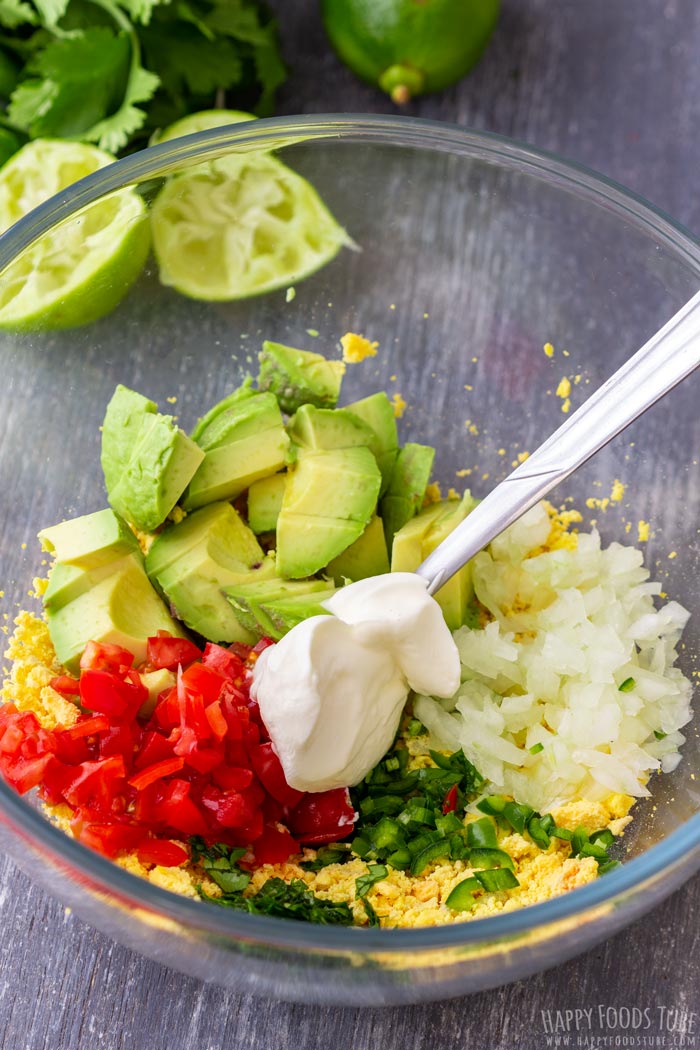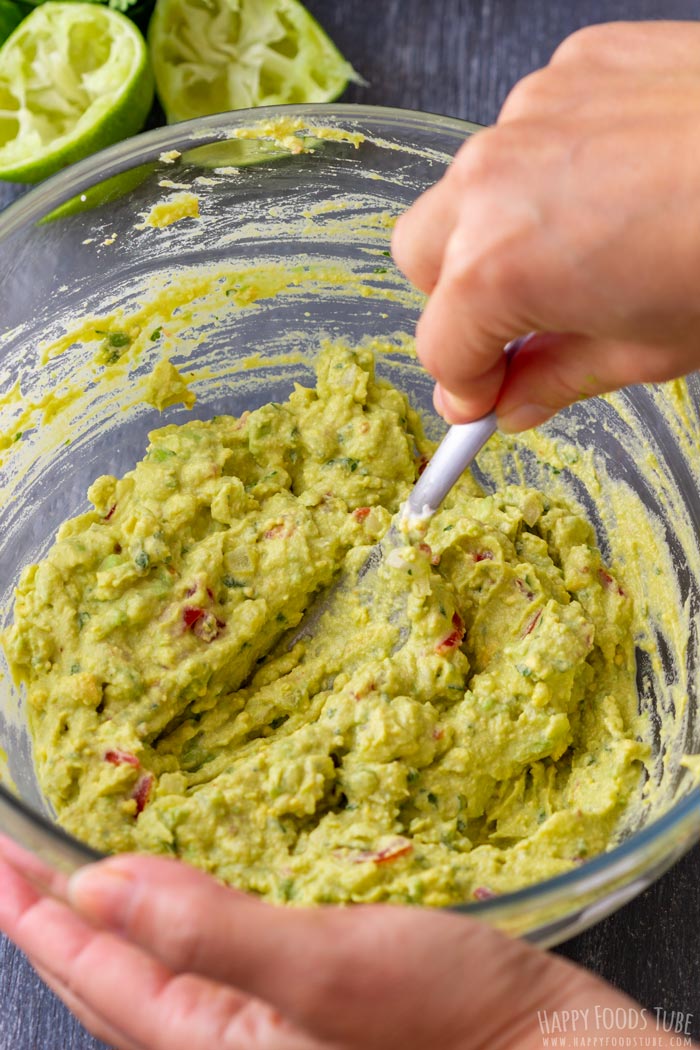 All the ingredients should be finely chopped before you combine everything together. Give it a taste and add more seasoning/chili/coriander, if you like.
Transfer the filling into a piping bag fitted with a piping tip and fill each egg white.
Decorate with a few slices of fresh chili pepper or coriander leaves/avocado …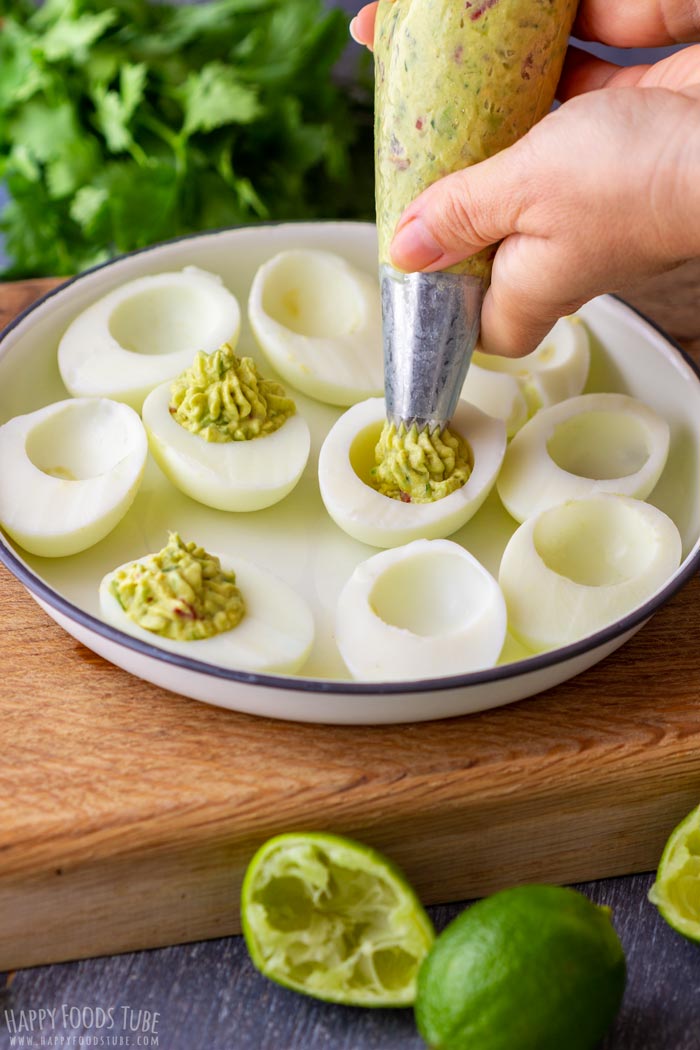 How far in advance can I make deviled eggs?
Filled deviled eggs are best enjoyed as soon as possible.
However, you can partially prepare them. This means that you can boil the eggs and make the filling ahead, but you need to store them separately.
The best way is to keep the egg whites in an air-tight container and the filling in another container.
Now when it comes to these guacamole deviled eggs, I don't recommend making the filling ahead. As we all know, avocado turns from green to grey/dark unappealing color so I suggest preparing the filling on the day you want to serve them.
Tips for making guacamole deviled eggs
The guac filling can be easily adjusted to your liking. Add more/less onion/tomatoes/sour cream ….
Be careful with how much chili you add in. What is not spicy for me can be spicy for you so if you are not sure what your guests like, go with the "less is more" saying.
You can use any kind of chili pepper to make these guacamole deviled eggs, but I recommend using the one you have already bought before and you know how spicy it is.
Lime can be substituted with lemon.
Instead of sour cream, you can use Greek yogurt or crème fraiche.
You should have plenty of filling so you can be generous when filling the whites. We also love the leftover egg/guac mixture on toast.
Guacamole Deviled Eggs
Guacamole deviled eggs is the perfect appetizer for any occasion. Each egg white is filled with creamy egg and guacamole mixture & garnished with coriander and fresh chili slice.
Ingredients
6

hard boiled eggs

2

avocados

(small)

2

tablespoons

sour cream

6

cherry tomatoes

, finely chopped

1

onion

(small), minced

½

lime

, juice only

green chili

(fresh), sliced

cilantro

, finely chopped

salt

to taste

pepper

to taste
Instructions
Cut each egg in half lengthwise and carefully remove the yolks. Place the yolks in a mixing bowl. Using a fork, break them into crumbs.

Cut the avocados in half, remove the stone and take out the flesh. Cut it into chunks. Add to the bowl altogether with sour cream, cherry tomatoes, minced onion, lime juice, sliced chili pepper and finely chopped cilantro.

Mix everything well until combined. Taste it and add seasoning to your liking.

Using a piping bag fit with a piping tip of your choice, fill each egg white with the guacamole mixture.
Optional:
Garnish with cilantro leaf and a slice of fresh chili.
Notes
Sour cream can be substituted with Greek yogurt or Crème fraiche.
Use as much chili pepper as you like. Also, any type that is available in your local store. Jalapeno is a great option, but it can be any kind of hot pepper.
I used about a tablespoon of finely chopped cilantro. You feel free to use more, if you like. If you don't like it, try using fresh parsley instead.
If you don't have a piping bag, you can use a Ziploc bag instead. Or you can use a spoon.
Nutrition Facts
Guacamole Deviled Eggs
Amount per Serving
% Daily Value*
* Percent Daily Values are based on a 2000 calorie diet.
** As an Amazon Associate I earn from qualifying purchases.
LEAVE A COMMENT
Related posts