An easy summer recipe for grilled sweet potato salad. This is the perfect side dish for grilled meats that can be enjoyed warm or cold!
Grilling season is the best season of the year, don't you think so? I have always had a hard time choosing what to make for our BBQ. Yogurt Marinated Grilled Chicken, Grilled Corn with Salad, Grilled Whole Fish or Burgers?
Because I have a good collection of grilled main dishes I figured it is the highest time to post some grilled side dishes. And that was how this grilled sweet potato salad recipe was born.
I used seasonal veggies like spring onions, chives, and radishes. Plus to make it richer I added lentils and feta cheese.
Now you might be surprised but I barely used any seasoning in this grilled sweet potato salad. All I used was a little salt for cooking lentils and I sprinkled some over the sweet potato slices.
Because there is no extra seasoning you rely on a good dressing. I made honey mustard dressing that I also like to use for Chicken Bacon Salad.
They are both slightly different when it comes to ingredients so you can choose which one you prefer.
This dressing is perfect here so if you decide to omit it you will need to season the salad some other way.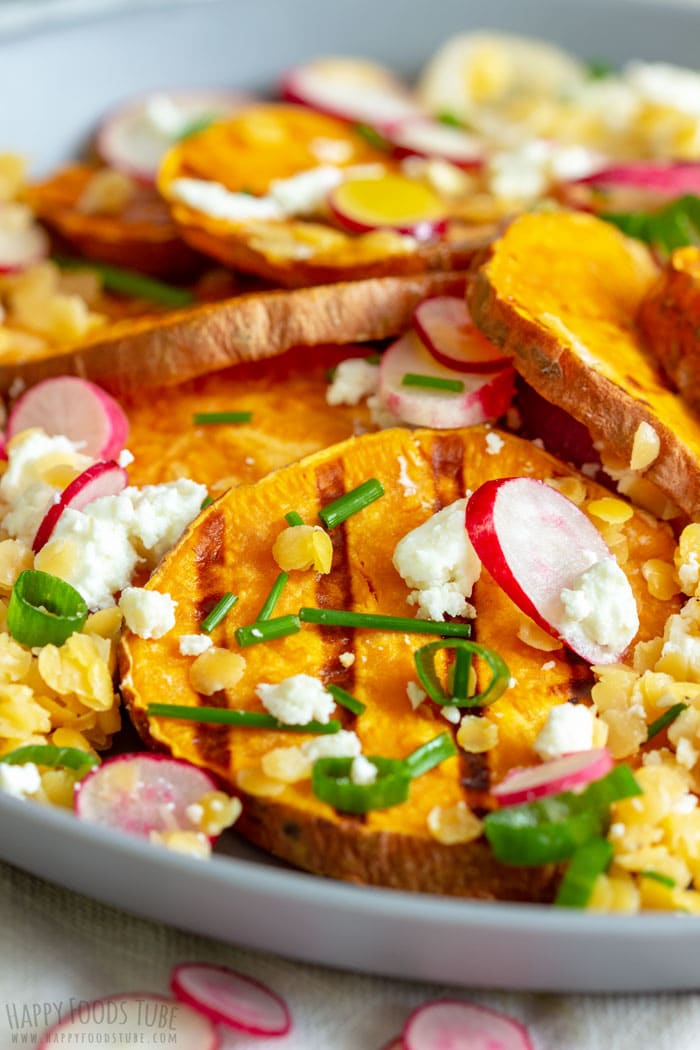 How long does it take to grill sweet potatoes?
Now the grilling time will vary depending on the temperature of your grill and also on the thickness of the sweet potato slices. From my experience, it takes somewhere between 6-10 minutes.
How do you cook sweet potatoes on the BBQ?
When I use an electric grill I need about 4 minutes for one side, then I turn them and wait a further 2 minutes before taking them out.
If you are not sure, check them with a toothpick. If it goes easily in, it means it is soft on the inside so it is ready to be served.
You can also take one slice out and taste it. I always choose the thickest one for a simple reason. If that one is ready, then the rest of them are too.
Useful tips for making grilled sweet potato salad
To make this recipe I use red split lentils because I had them on hand. Now you can use any split lentils you have on hand. No need to buy the red ones as they lose their color while cooking.
I sometimes grill sweet potato slices and then cut them into halves or into thirds, just to make the salad easier to eat.
Don't omit the dressing as it gives the salad a ton of flavor!
There is no need to use both the chives and spring onion. Choose the one you prefer more or is available in your store.
The thinner you slice the sweet potatoes the faster the grilling.
By the way, if you have any grilling tips or tricks I would love to hear them! You know, stuff like soaking skewers in water, oiling the grill, etc…
Grilled Sweet Potato Salad
An easy summer recipe for grilled sweet potato salad. This is the perfect side dish for grilled meats that can be enjoyed warm or cold!
Instructions
For the salad:
Wash the sweet potatoes thoroughly under runny water. Slice them thin (about ¼ inch/0.5 cm) and place them onto your grill. You can brush them with a little olive oil and sprinkle with salt (optional). Grill them for 4 minutes, turn them around and grill for a further 2-3 minutes or until done.

Meanwhile, bring a pot of water to a boil and add the split lentils. Reduce the heat and cook until ready (Check the package instructions to see the cooking time).

Chop the chives/spring onions and radishes. Cut the onion into halves or quarters and place it onto the grill. The onion will need about 4 minutes to cook.
For the dressing:
In a bowl/small jar combine all the ingredients. Stir until smooth.

Transfer all the veggies onto a plate/tray or a bowl and sprinkle generously with crumbled Feta cheese.

Serve hot or cold with honey mustard dressing.
Notes
I used red split lentils because that was what I had on hand. You can use any split lentils instead. Just bear in mind that they cook pretty fast so it's better to keep an eye on them during cooking. You can also use ready-cooked split lentils.
If you don't have extra virgin olive oil, use normal olive oil. I do not recommend using sunflower or vegetable oil as a substitution.
For the honey mustard dressing, you can adjust the amount of each ingredient to your taste.
Onion can also be used raw (sliced thinly into rings) but I highly recommend grilling it.
Use chives, spring onions, or both. Alternatively, you can omit these and use just the grilled onion.
Nutrition Facts
Grilled Sweet Potato Salad
Amount per Serving
% Daily Value*
* Percent Daily Values are based on a 2000 calorie diet.
** As an Amazon Associate I earn from qualifying purchases.
LEAVE A COMMENT
RELATED POSTS