This dill pickle potato salad recipe combines tender potatoes, crunchy pickles, and zesty dressing for a delightful twist on a classic dish.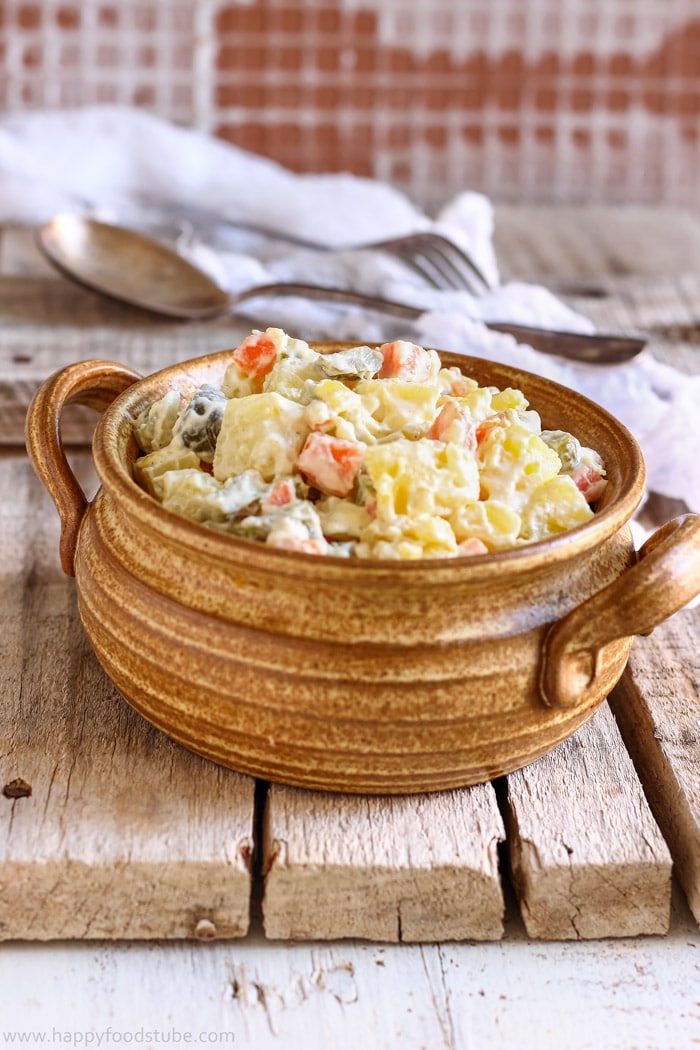 It is a lightened-up version using a combination of mayo and sour cream and keeping their quantities as low as possible without losing flavor!
How to make dill pickle potato salad
Tools
Medium pot – for boiling potatoes, preferably with a lid.
Chopping board & knife – to prep all the fresh produce.
Medium to large mixing bowl & spoon – for mixing/serving. Spatula will also work.
Ingredients:
Fresh produce – potatoes, carrots, onion.
Dairy – sour cream.
Seasoning – salt, black pepper.
Condiments – mayo, dill pickles.
The process
For this recipe, I like to peel the potatoes first and cut them into small cubes. The same goes for carrots. They are cooked together, drained and cooled down.
Meanwhile, you can prepare the rest of the ingredients. If you want to use 1 bowl only, then whip the mayo, sour cream, pickle juice and black pepper in a large bowl. To this you add dill pickles, onion and potatoes once they are cooled.
You will need to stir everything well so that the dressing and seasoning have a chance to spread evenly. Taste it and add salt to your liking. Always chill before serving. The longer the better!
Note: Full recipe card is at the bottom of this post!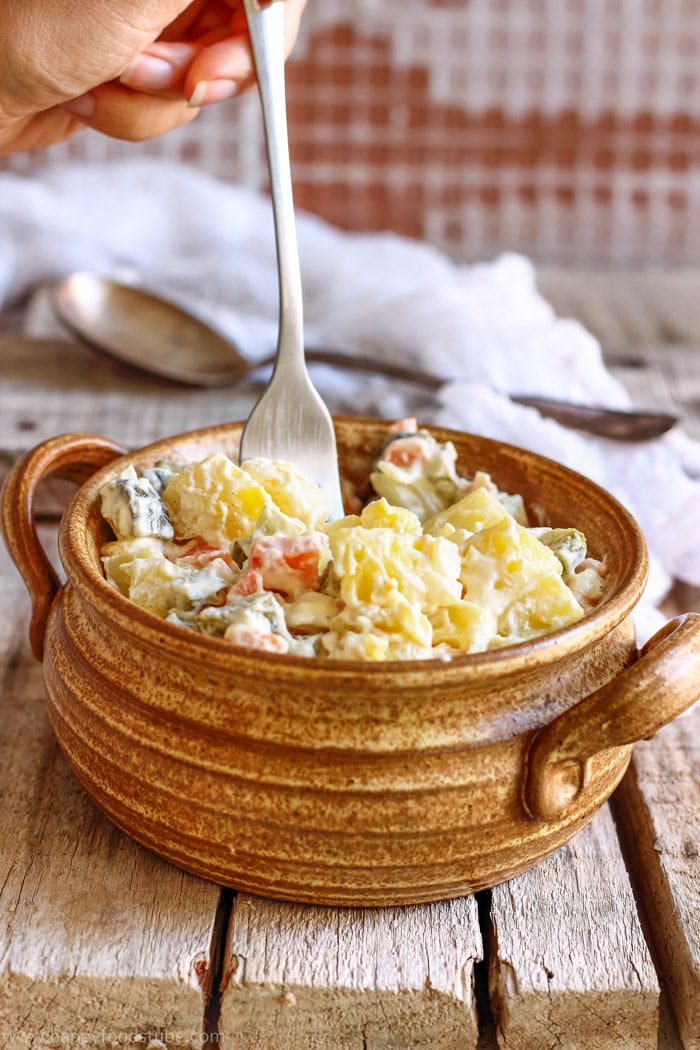 Optional add-ons:
Canned peas
Ham – I have a recipe for that you can have a look at if interested.
Serving suggestions:
Frequently asked questions:
What kind of potatoes are best for this recipe?
In general, any waxy variety with low starch content is great for salads. The reason is they hold their shape well after cooking. Red potatoes are a good option.
In this case, it does not really matter that much. The potatoes are cut into small pieces and even when some are mushier than others, it will turn out just fine.
The important thing is not to over-cook them. For that reason, check regularly with a fork to see whether they are ready or not. Slightly mushy salad is fine but you don't want to turn it into mashed potatoes!
Can I use pickle juice for potato salad?
Absolutely! In fact, it is one of the crucial ingredients in my recipe. I use it instead of vinegar and it works really well!
How long is leftover potato salad good for?
While some people state 5 days, I would personally not consume it after 4 days.
In my opinion, it is best eaten within 3 days.
Note: Always make sure it still tastes good when serving the leftovers. Salad with mayonnaise can go off fast.
If you are looking for a potato salad without mayonnaise, then try making a Spanish potato salad.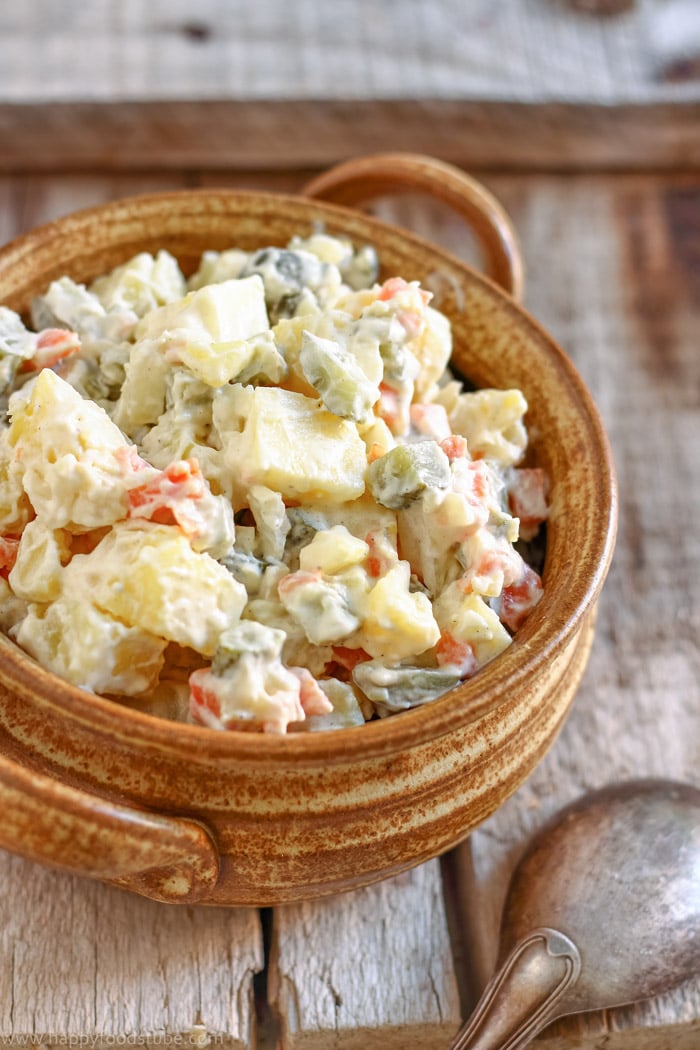 Expert tips:
Dill pickles are a must in this recipe so don't omit them!
It is best to finely mince the onion. You will still taste it, but it will not be too overpowering.
You can make this salad with mayonnaise only if you prefer but this sour cream lightens it up a bit without losing any flavor.
The quantities of sour cream and mayo can be increased if you find that it is needed. However, do so only after you have mixed all the ingredients well and tasted the salad.
More recipes you might like:
Dill Pickle Potato Salad
This dill pickle potato salad recipe combines tender potatoes, crunchy pickles, and zesty dressing for a delightful twist on a classic dish.
Ingredients
2

pounds

potatoes

(900 grams), see note 1

2

carrots

(large, peeled), see note 2

2

teaspoons

salt

+ to taste

½

cup

mayonnaise

(125 grams)

½

cup

sour cream

(125 grams)

¼

teaspoon

black pepper

or to taste

⅓

cup

pickle juice

½

onion

(medium)

1

cup

dill pickles

(180 grams), finely diced
Instructions
Rinse potatoes and carrots under running water. Peel them and cut them into small cubes. Place them in a large pot, add 2 teaspoons salt and cook until they are just cooked. Avoid boiling them for a long time to prevent ending up with mash. Drain the water and let it cool down.

Meanwhile: In a large bowl, mix together mayo, sour cream, black pepper and pickle juice. To this, add finely chopped onion, dill pickles and cubed chilled potatoes.

Mix until all the ingredients are well combined. Taste. Add as much/as little salt as you like (see note 3).

Cover with plastic wrap and refrigerate before serving (see note 4)!
Notes
For best results use low-starch potatoes for this salad.
Or 4 medium carrots.
The longer you chill the salad the better its taste!
This salad will taste saltier after chilling in the fridge than on the first day so don't over season.
The cooking time of potatoes varies. It can be around 15–20 minutes.
More tips and serving ideas are in the post above this recipe card!
It does not matter in what order you add the ingredients to the mixing bowl. You can start with potatoes, carrots, …
Nutrition Facts
Dill Pickle Potato Salad
Amount per Serving
% Daily Value*
* Percent Daily Values are based on a 2000 calorie diet.
** As an Amazon Associate I earn from qualifying purchases.
LEAVE A COMMENT
More salad recipes: