Lighter dill pickle potato salad without mustard and vinegar. This creamy salad with dill pickles is a perfect side dish or a party food.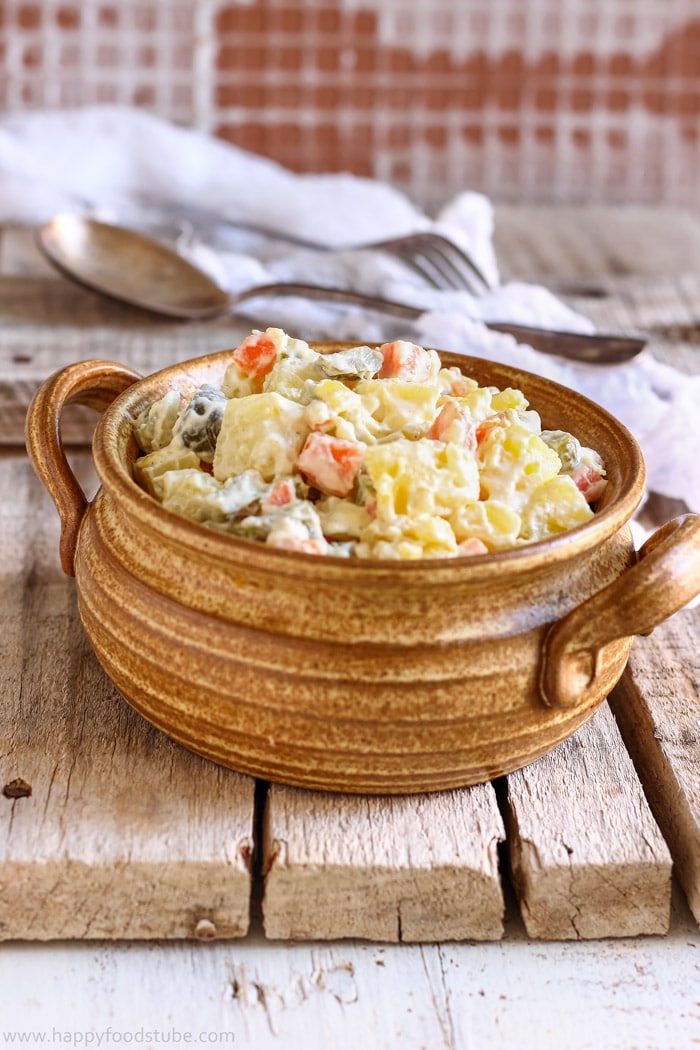 Dill pickle potato salad is a Side Dish that my family makes several times per year, but mostly when there is a special occasion. It is a part of our Christmas dinner as well as Easter lunch. I cannot imagine not having this salad during these holidays, especially when visiting my parents.
My mom makes potato salad with homemade mayonnaise and doesn't use sour cream at all. I do because I like its taste in this salad. It lightens it up. She adds canned peas as well, I don't. As much as I love peas, the canned version is not what I enjoy eating.
This simple potato salad is perfect for parties or any other gatherings with lots of people.
We also make this Potato and Ham Salad or Spanish Potato Salad.
The latter one is not traditional potato salad. There is no mayonnaise whatsoever so those who prefer to omit it, try making that salad. It has lots of flavors! Those who prefer other salads could check this Roasted Brussels Sprouts Salad.
So people, what way do you make potato salad? Do you make potato salad with dill pickles?
They are the main ingredient here (OK, apart from potatoes) and it wouldn't taste the way it tastes without them. So they are definitely a must in this recipe! If you wanted to omit them you would lose a lot of flavor. Believe me. It would be a very boring potato salad.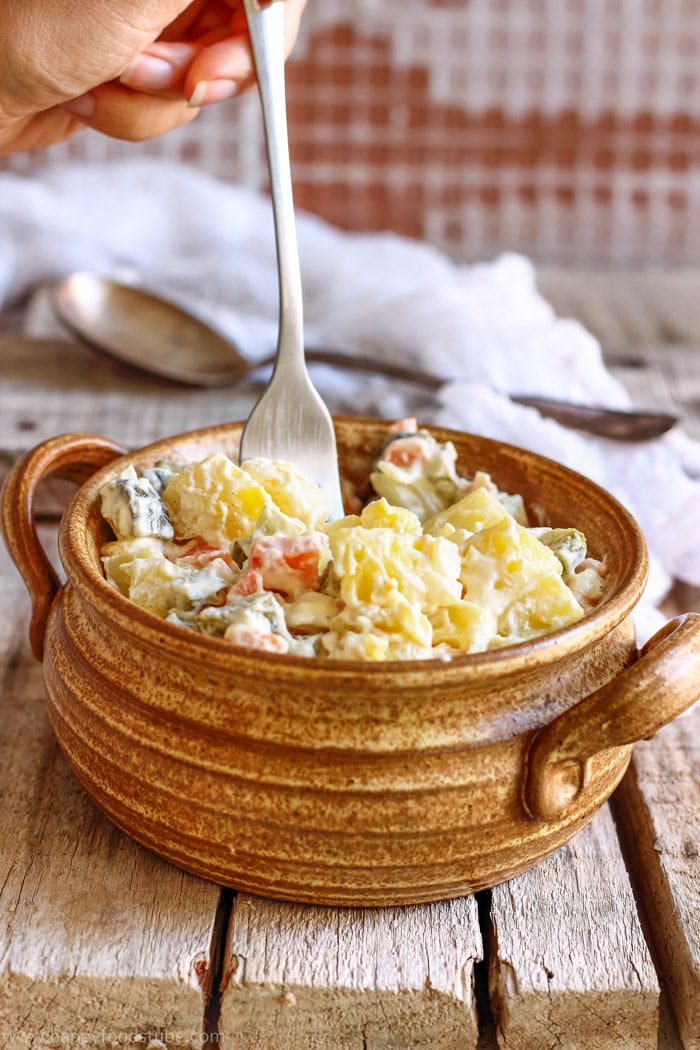 How to make this easy homemade potato salad?
First things first: Wash and cook potatoes with carrots until they are done. Try not to overcook them. If you do, the minute you mix all the ingredients together you will end up with something like a potato mash instead. Guys, if this happens to you don't panic. It may not look that great but it will still taste good.
Just so you know this has happened to me. Not once but several times! Yep! So this is how it goes with my potato cooking: one minute they are too hard and the next one they are too soft. Aah, well. These ones turned out to be perfect but it does not happen all the time.
The thing is I don't like under cooked potatoes so I always say to myself: a few more minutes, a few more minutes … and then it's too late. But most of the time it doesn't really matter as I turn them into potato mash.
In case you don't know this: There are also some potato varieties that go mushy very fast so if you don't know what variety they are, try check them several times during cooking. Or ask in the shop/market.
In Ireland, they would sell potato salad (different from this one) but the potatoes were always half raw. I never understood why. Is there something about under-cooked potatoes apart the fact that they hold their shape well? I don't know. But maybe there were other brands selling perfect potato salad. Who knows .…
By the way, I came across Better Homes & Gardens's article explaining how to cook potatoes and what varieties are good for certain potato based dishes. So if you are in doubt, have a look at it. I liked it a lot!
Ok, let's move on to other veggies: Dill Pickles & onion need to be chopped. I like them finely chopped. The same goes for potatoes and carrots. Everything is then mixed together. You can do this in a large pot. At last add mayonnaise and sour cream. Sour cream makes this salad lighter and because you still add mayo it doesn't change its taste much.
Now I have to admit that there are not many traditional dishes that I make better than my mom or grandmother but in my opinion, this dill pickle potato salad is it! And I dare to say it's the world's best potato salad recipe! Well, maybe there is a better one, but I haven't tasted it yet. So until then this one is the best!
So guys, as you have already noticed this is my favorite dill pickle potato salad recipe and I hope some of you will give it a go. If you do, let me know. I would like to hear what you think!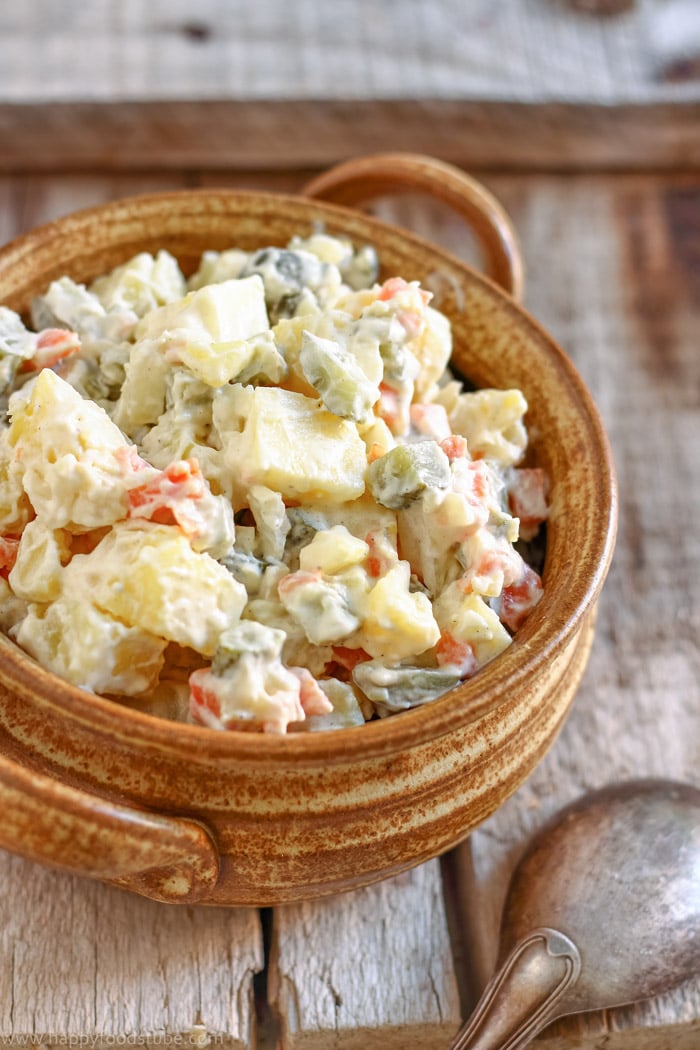 By the way:
If you know what potato varieties are best for potato salad and you have experience with them, let me know in the comment section. Here in Spain, when I go to the farmer's market they don't say what potatoes they are. There is only one sign – the price and that is it. So let us know what works best for you! I would love to know!
Lighter Dill Pickle Potato Salad
Lighter dill pickle potato salad without mustard and vinegar. This creamy salad with dill pickles is a perfect side dish or a party food.
Servings:
6
Portions (as a side)
Ingredients
½

cup

mayonnaise

(125 grams)

½

cup

sour cream

(125 grams)

4

medium

carrots

2

pounds

potatoes

(low-starch ones, if possible) (880 grams)

1

cup

dill pickles

, diced (180 grams)

⅓

cup

pickle juice

½

medium

onion

salt & pepper

to taste
Instructions
Rinse potatoes and carrots under running water. Peel them and cut into small cubes. Place them in a large pot and cook until they are just cooked. Avoid boiling them for a long time to prevent ending up with mash. Drain the water and let them cool down.

Meanwhile: Finely chop onion and dill pickles. In a small bowl, mix together mayonnaise and sour cream.

In a large bowl or pot combine together potatoes, carrots, pickles, pickle juice, onion and mayo mix. Add salt and pepper and taste.

Cover with cling film/lid and chill in the fridge overnight.

Enjoy!
Notes
This salad will taste saltier after chilling in the fridge than on the first day so be careful with salt.
The cooking time of potatoes vary. It can be around 15–20 minutes. I have experience that high-starch potatoes are cooked faster.
For best results use low-starch potatoes for this salad.
Nutrition Facts
Lighter Dill Pickle Potato Salad
Amount per Serving
% Daily Value*
* Percent Daily Values are based on a 2000 calorie diet.
** As an Amazon Associate I earn from qualifying purchases.
LEAVE A COMMENT
RELATED POSTS