These ham and cheese pinwheels are not only the perfect appetizer for your party but also a tasty lunch or afternoon snack! Easy and quick recipe that crowds love!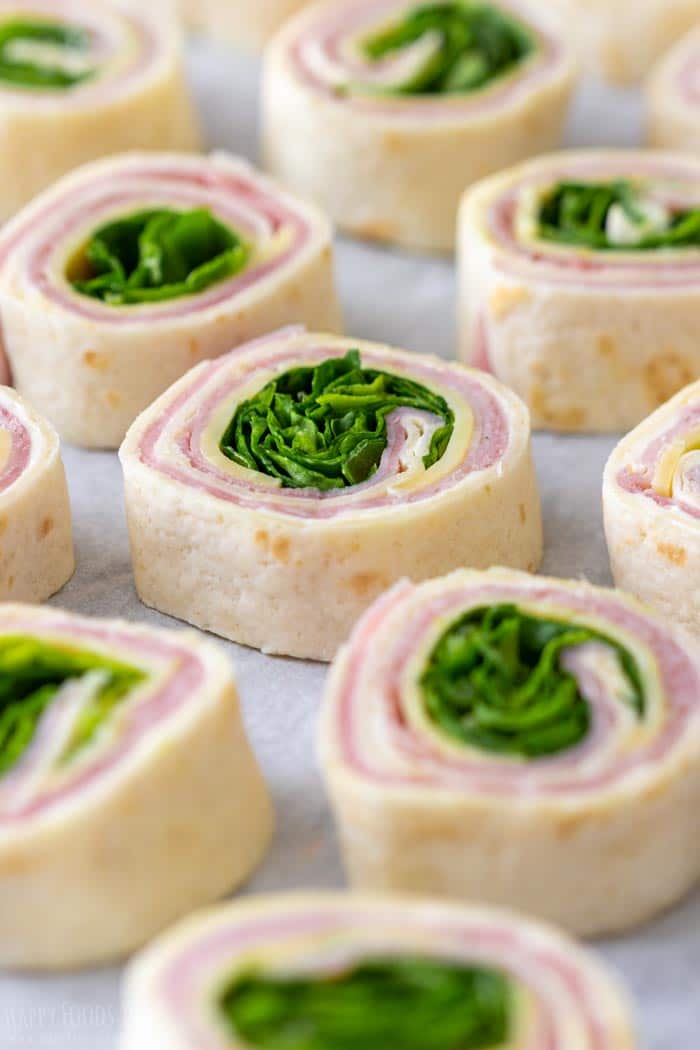 Spinach adds an extra crunch to these ham and cheese pinwheels without it being over-powering so if you haven't tried this flavor combo, I highly recommend giving it a go.
Plus, you can make them ahead!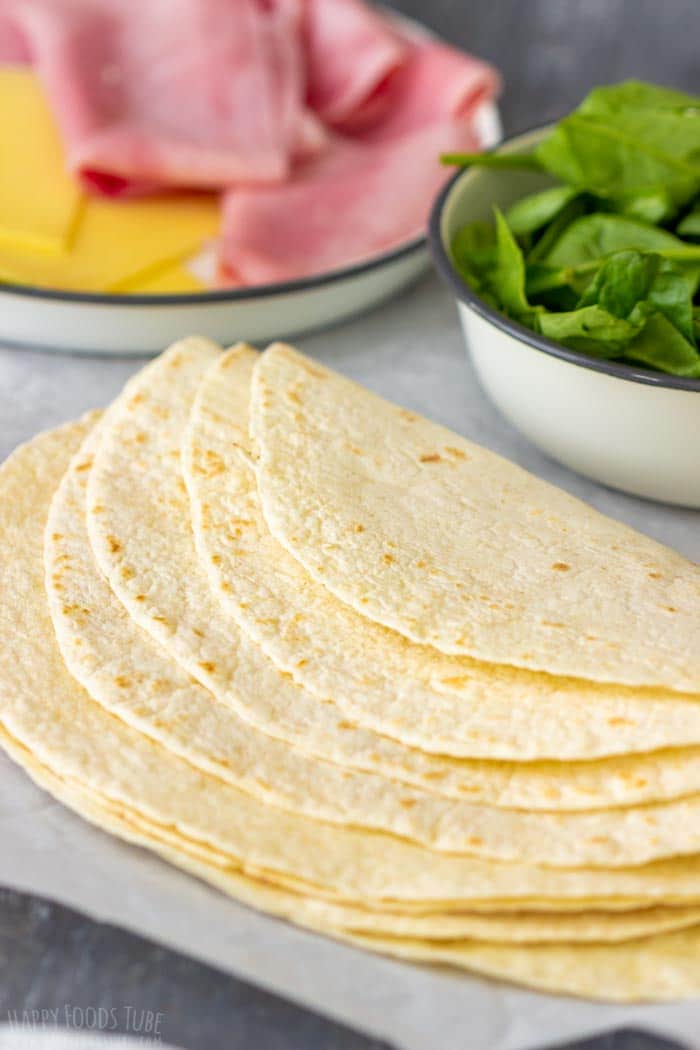 How to make ham and cheese pinwheels with spinach
Mix cream cheese and mayonnaise until smooth and well combined.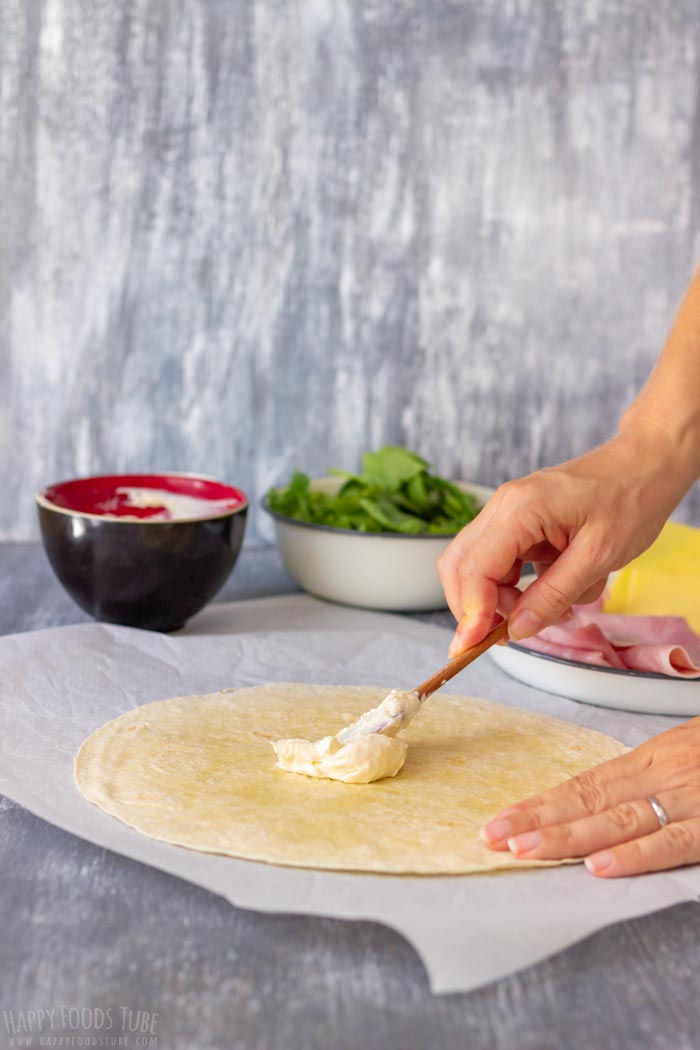 Take a tortilla, place it onto a clean work top and spread a thin layer of the cream cheese mixture over. Cover it with slices of ham. Then add slices of cheese. Now I only cover half of the tortilla with cheese as I find it plenty.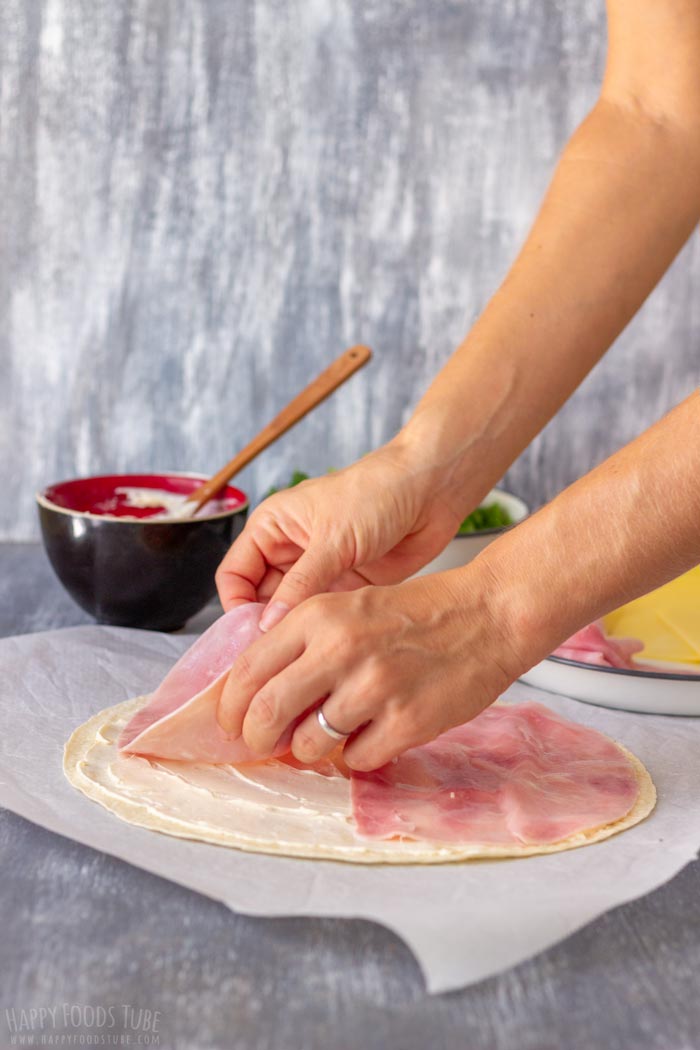 Then arrange fresh spinach leaves over the cheese layer. You can add quite a lot as they will get squashed and lose their volume when rolled.
So next thing before you can enjoy ham and cheese pinwheels is to roll them tight, wrap in cling film and chill.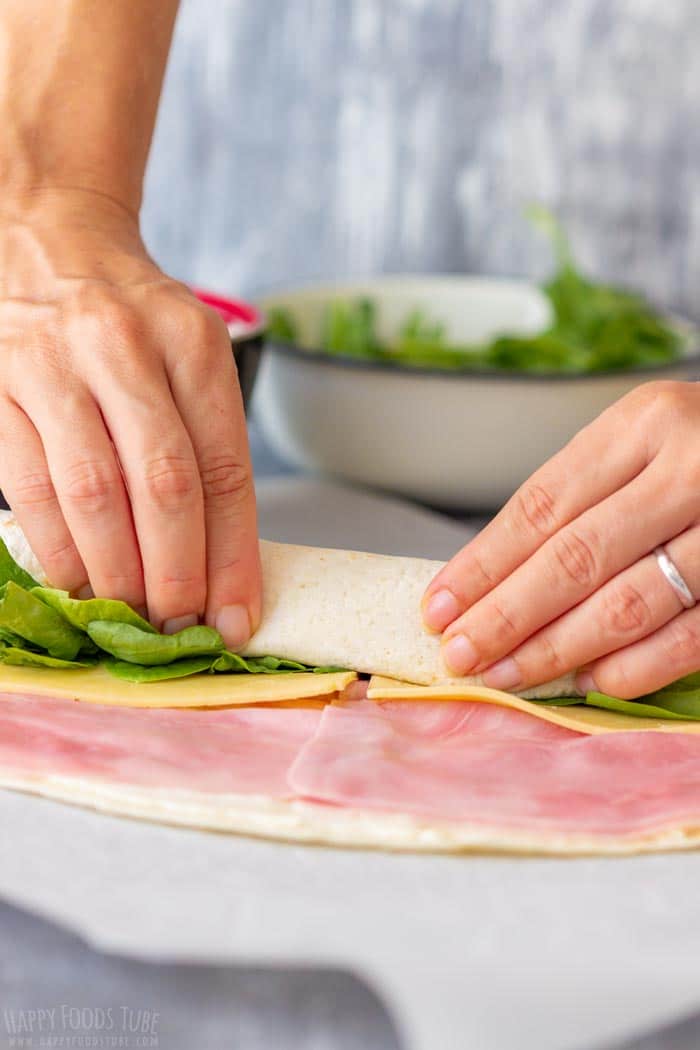 When ready to serve, unwrap them and cut into slices. I always prefer bite-size appetizers, so I cut these pinwheel appetizers thin – about ½ inch (1.5cm). You can slice them thicker, if you like.
Tips for making ham and cheese pinwheels
Chilling helps these pinwheels hold their shape better but if you want to enjoy them right away, you can!
When slicing these ham and cheese pinwheels I highly recommend using a serrated knife. It makes your life easier, especially, when you want to serve them right after you made them. They hold their shape better.
Size – I prefer thinner pinwheels to thicker ones and I usually get 9-10 slices (plus 2 ends) out of one large tortilla. Also, thinner ones are easier to eat for kids but if you like thicker pieces, then all you have to do, is cut them thicker.
Flour tortillas are great but have you tried the flavored versions? Whole-wheat, spinach or sun-dried tomatoes are also delicious options.
Ingredient substitutions
Mayonnaise can be completely omitted.
Tortillas – I prefer buying large flour tortillas when making ham and cheese pinwheels but medium ones are also an option. The thing is that the large ones are easier to roll.
Deli ham – now I highly recommend using the type of ham you like and you buy often. Unless, you want to experiment. Either pork, chicken or turkey will work just fine. My recommendation is to check (if possible) how many percent of meat they contain. The higher the percentage, the better the quality. Anything over 85% is a great choice for these ham and cheese pinwheels.
Cheese – my preferred choice is sliced cheddar cheese. If you want to use another type, then go ahead and do so. Use what you (or your kids) like.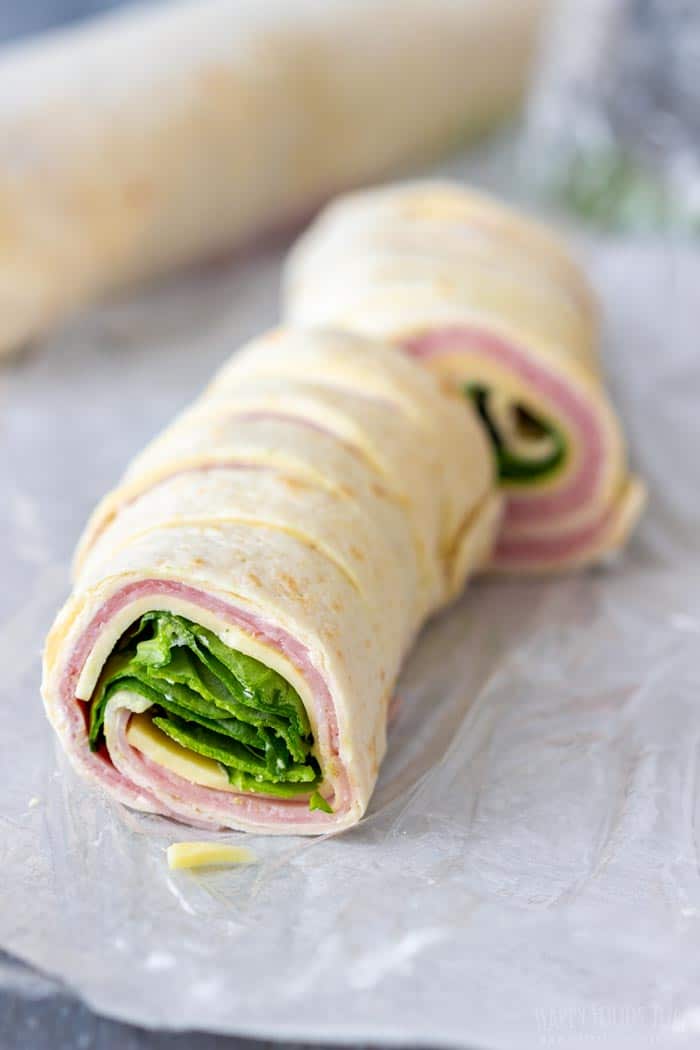 How do you keep pinwheels from getting soggy?
Try avoiding watery produce like lettuce (unless you use the cool lettuce drying gadget they sell in some stores) or cucumbers/tomatoes. When making these ham and cheese roll ups, use ready-washed spinach!
Note that the tortillas tend to soften no matter what, especially when filled. How much will depend on various things like humidity in your house or the number of hours you keep them in the fridge before serving and also what filling you used.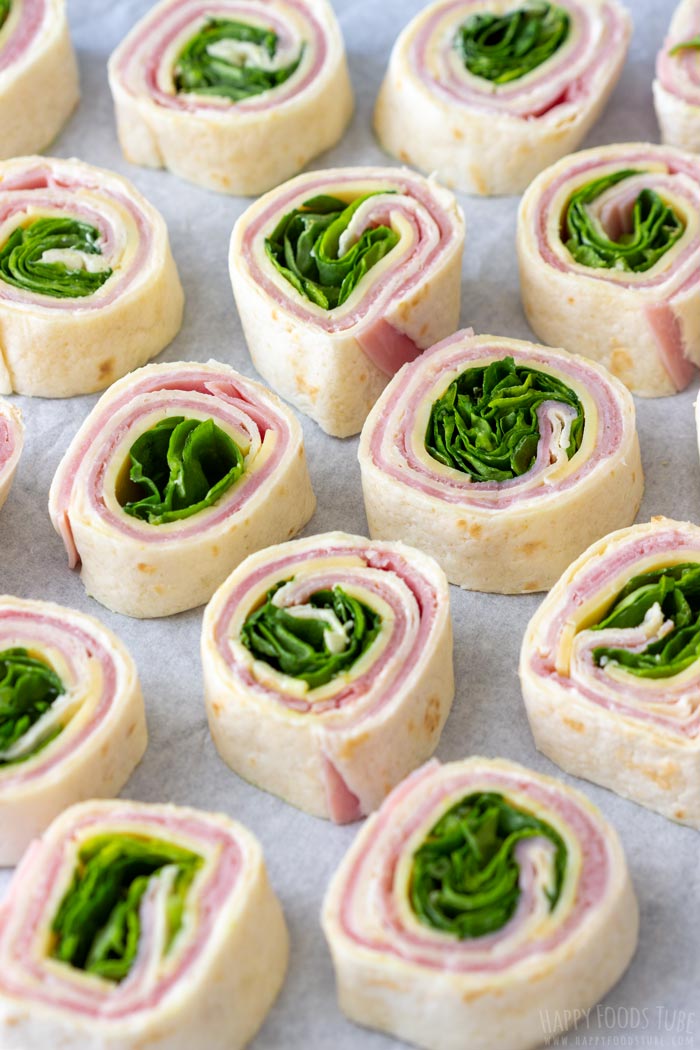 Can you make pinwheels the night before?
Yes, you can, if you don't mind the soggier texture. I personally prefer the tortillas drier so I like making them only a few hours before serving or I serve them right away. My husband, on the other hand, loves them soggier so for him, I keep them in the fridge longer.
Other tasty appetizer ideas for your next party:
Ham and Cheese Pinwheels with Spinach
These ham and cheese pinwheels are not only the perfect appetizer for your party but also a tasty lunch or afternoon snack! Easy and quick recipe that crowds love!
Instructions
Mix the cream cheese and mayonnaise until smooth. Spread a thin layer over a tortilla wrap. Cover this with slices of ham. Then, place sliced cheese over the half that is close to you. Arrange spinach leaves on top (check the photos for better understanding) and roll tight. Wrap it in plastic wrap and chill in the fridge until ready to serve.

Repeat with the second one.

When ready, remove the wrap and slice each roll thinly and serve.
Notes
Take the cream cheese out of the fridge beforehand so it has time to soften.
Mayonnaise can be omitted.
I used large tortilla wraps - each 10-inch/25cm in diameter. You can use medium wraps as well, if that's what you have on hand.
The number of slices you will need depends on your taste, on their size, thickness, and also on the size of tortillas you use. You can use any kind of ham you like.
The same goes for the cheese. Use what you like and how much you like. Just don't over-fill.
Spinach - use only fresh spinach for this recipe. Take this amount as a guide and use as much as you like.
You might get more or less pieces depending on how thin you cut the wraps and what size wraps you use.
Chilling is optional. If you want to eat them right away, then you can do so. If you prefer to chill them first, then leave them in the fridge for at least 1 hour (you can make them up to 6 hours in advance).
Nutrition Facts
Ham and Cheese Pinwheels with Spinach
Amount Per Serving
Calories 68
Calories from Fat 45
% Daily Value*
Fat 5g8%
Cholesterol 13mg4%
Potassium 49mg1%
Carbohydrates 2g1%
Protein 3g6%
Vitamin A 412IU8%
Vitamin C 1mg1%
Calcium 50mg5%
Iron 1mg6%
* Percent Daily Values are based on a 2000 calorie diet.
** Happy Foods Tube is a participant in the Amazon Services LLC Associates Program, an affiliate advertising program designed to provide a means for sites to earn advertising fees by advertising and links to Amazon.com.
LEAVE A COMMENT
RELATED POSTS