A tasty vegetable lasagna with white sauce and a ton of vegetables, topped with cheese of your choice. This lasagna recipe is adjustable and relatively quick to make.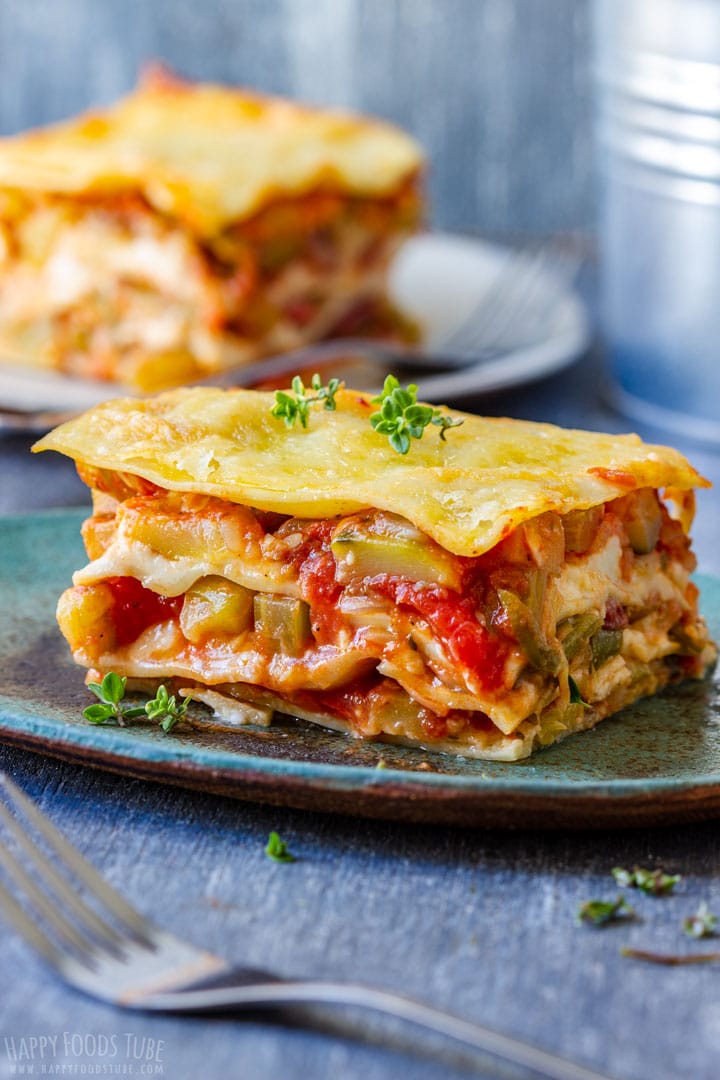 This is a meat-free lasagna recipe, but it is not vegan friendly as it contains white sauce. It's loaded with vegetables and it's the perfect recipe to use zucchini and other summer veggies.
Vegetable lasagna can be enjoyed right away, but it also keeps well in the fridge (for up to 3-4 days).
I also have a recipe for Zucchini Lasagna on the blog, if you are looking for a lasagna recipe without white sauce and classic lasagna sheets.
How to make vegetable lasagna from scratch?
Sauteing veggies
Option 1: You can do this step in stages: in a large pot saute onion first, meanwhile cut celery, add it to the pot, while those are cooking, cut the rest of the ingredients and add them to the pot.
Saute everything for 10-15 minutes. This way, you will save time as you will be prepping some ingredients while others are already in pot and this will also allow for the celery (which takes the longest to cook) to have a head start.
Option 2: Prep all the vegetables first and add them to the pot at once, saute for about 10 minutes. This option will increase your overall preparation time by about 5 minutes, but it's great when you want to chop everything ahead of time and cook later.
If you prefer zucchini with a bite to it, you could either add it 5 minutes later to the pot or use option 1 instead.
Making white sauce
Melt butter, stir in flour, add milk and (or) half and half and stir until it thickens. You should get plenty of sauce for every single layer of this vegetable lasagna. Best tool to use is a whisk to avoid any large lumps. Small lumps don't really matter.
Choosing cheese
I always recommend using cheese you like and you are familiar with. It does not really matter whether it is sliced or shredded/grated. As long as it melts. For this veggie lasagna recipe I used Havarti, but mozzarella, gouda or cheddar work all great.
Avoid using some strong flavored ones like blue cheese or Parmesan (which does not melt).
What to serve with vegetable lasagna?
I like eating this vegetarian lasagna on its own as an entrée or main, but I pair it with some sort of meat for my husband. Lately he's been enjoying it with Grilled Boneless Chicken Thighs.
You can also serve it with Tossed Salad, Pizza Breadsticks or perhaps Focaccia Bread.
And if you feel like you could eat more veggies, you could also make Steamed Broccoli or Pan-Fried Asparagus as a side (Parmesan Asparagus Pastry Twists are also delicious side, which kind of combines bread and veg into one).
If you are planning to serve a slice of vegetable lasagna as a main, you could also include some Easy Appetizers beforehand while the guests are waiting. There are unlimited options and it will only depend on what your guests like or what their dietary requirements are.
Homemade Vegetable Lasagna
A tasty vegetable lasagna with white sauce and a ton of vegetables, topped with cheese of your choice.
Ingredients
Vegetable filling: see note 1
3

Bell Peppers

, diced (2-3 cups)

2

Medium

Onions

, minced (2 cups)

2

Large

Celery Stalks

, finely diced (1 cup)

2

Zucchinis

, diced (6 cups)

3

tablespoons

Double Concentrated Tomato Puree

1

can

Plum Tomatoes

(14-ounces/400 milliliters)

1

teaspoon

Salt

¼

teaspoon

Black Pepper

1

tablespoon

Dried Basil

1

tablespoon

Dried Oregano
White Sauce:
1

ounce

Butter

, see note 2

1/3

cup

All-Purpose Flour

, see note 3

1.5

cups

Milk

½

cups

Half and Half

, see note 4

Pinch of

Black Pepper

Pinch of

Salt
Topping:
Cheese

of your choice, see note 5
Other:
10

Lasagna Sheets

, see note 6
Instructions
In a large pot (at least 5-quart/5 liters), heat the oil and add in chopped peppers, onions, celery and zucchini. Sauté for 10 minutes, stirring from time to time.

Preheat the oven to 400° Fahrenheit/200° Celsius (this would also be time for pre-soaking lasagna sheets, if using such).

Make white sauce by melting butter in a small sauce pan. Stir in flour and pour in milk and half and half while stirring constantly. Bring to a boil. Reduce and simmer until the sauce thickens. Turn off the heat and set aside.

When the veggies are ready, add tomato puree, plum tomatoes (crushed with a wooden spoon), salt, pepper, basil and oregano to the pot. Mix until well combined. Cook for a further 5 minutes. When ready turn off.

Get an oven proof dish (see note 9) and cover the bottom with lasagna sheets. Spread a good layer of white sauce over and top this with 1/3 of the veggies mixture. Repeat the process 2 more times. Cover the last layer of veggies with a layer of lasagna sheets and top with cheese.

Bake in a preheated oven at 400° Fahrenheit/200° Celsius for 30 minutes or until the sheets are soft, veggies cooked, and cheese turns nice golden brown.

When ready, take the lasagna out from the oven and let it sit for 10-15 minutes before serving.

Enjoy!
Notes
You will need 3 pounds of vegetables (1.4 kilo) in total.
You can use either salted or unsalted butter. Make sure to use real butter, not butter substitutes.
All-purpose flour (US) = Plain Flour (UK).
Half and half can be omitted. If you do so, use 2 cups of milk. Half and half (US) = Single Cream (UK). If you find it too thin, add more flour (about a teaspoon should be enough).
I used sliced Havarti cheese, but you can also use shredded cheese. Gouda, Mozzarella or Cheddar are great options. You will need at least 4 ounces, but if you are a cheese lover, feel free to add more.
There are various types of lasagna sheets in stores. Some need pre-soaking, while others don't. There are also fresh lasagna sheets. You can use anything you like but note that the overall cooking time will vary, and you should keep this in mind. Also note, they size vary. I used 9 (rather small) sheets, but you might need to use less if using large sheets.
This recipe yields 8 portions as an entrée or 5-6 as a main.
The cooking time may vary. It will depend on what type of lasagna you use as well as how fast your cheese turns nice golden brown. To see if it is ready, pierce the lasagna with a knife. If it goes easy, the sheets are ready.
The dimensions of the oven-proof dish I used were: 9 x 7 inch (23×18 centimeters). This dish should be 3 inch (7 cm) deep. You can also use a 9×13 inch (23×33 centimeters) and use less layers (in this case your dish can be a bit shallower).
Nutrition Facts
Homemade Vegetable Lasagna
Amount per Serving
% Daily Value*
* Percent Daily Values are based on a 2000 calorie diet.
** As an Amazon Associate I earn from qualifying purchases.
LEAVE A COMMENT