This is a recipe for easy zucchini lasagna with meat. Fresh zucchini, meaty sauce and mozzarella are layered on top of each other and baked to perfection!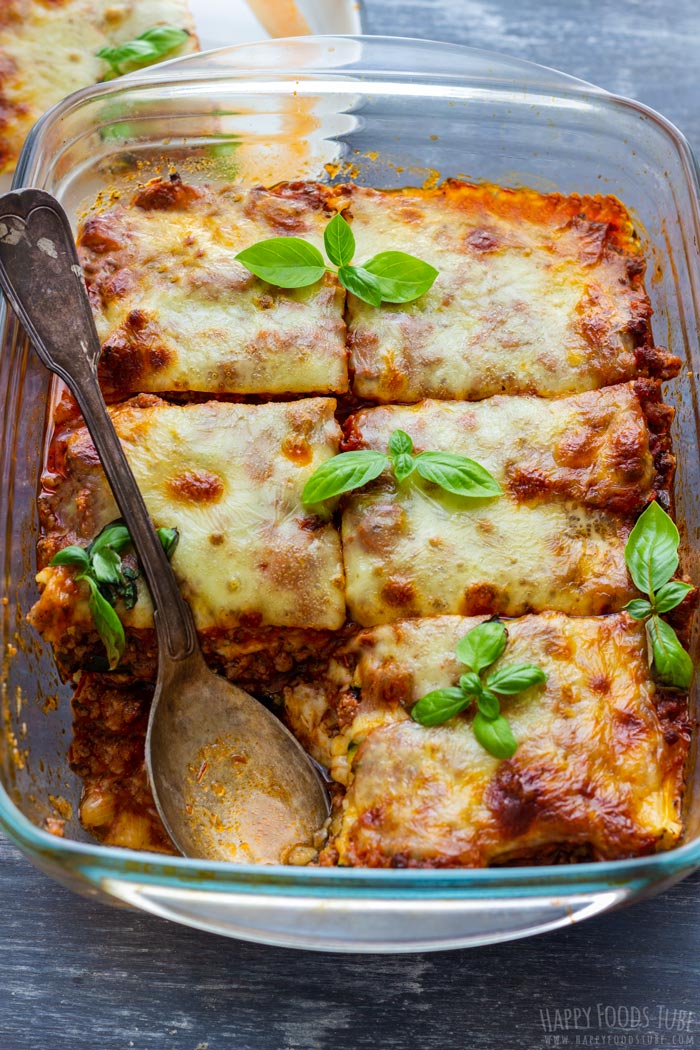 Baking only takes 25 minutes and this zucchini lasagna recipe is also naturally gluten-free.
How to make zucchini lasagna
I hope these detailed answers and tips will help you cook the best zucchini lasagna that you and your family can enjoy and make over and over again.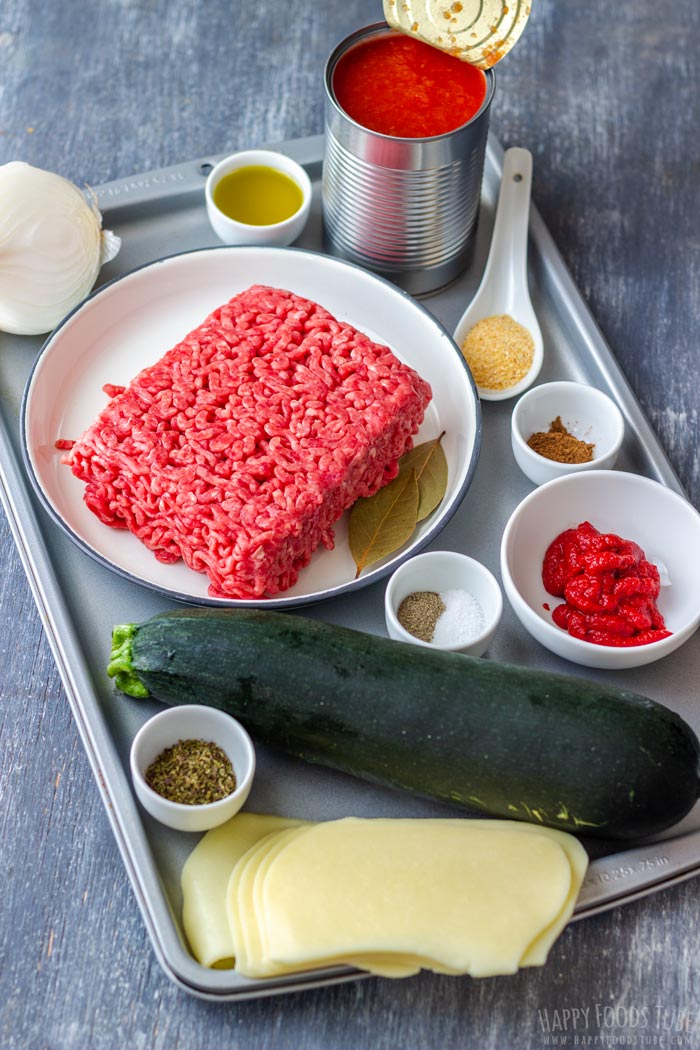 In what order do you layer a lasagna?
I like to start with zucchini. All you have to do is layer zucchini + sauce + cheese and repeat until you have used all the zucchini slices and meat sauce (we will top the lasagna with cheese later).
How many layers should a lasagna have?
It should have at least 6 layers. For this zucchini lasagna, I had 9 layers altogether. Now, this can change for you if you use a larger dish (you will end up with fewer layers). I think the 9 layers were perfect and I would not go more than that.
Why is my lasagna watery?
There can be many reasons behind this. First, zucchini itself contains some water and so does cheese. Ground beef contains fat which also thins the sauce (use lean meat if you can). Crushed tomatoes may vary from brand to brand and some might be more watery than others.
So for those reasons, it's important that the meat sauce you make is thick. In fact, the thicker the better as there will be enough liquids from the zucchini to keep everything moist.
The next thing to bear in mind is the fact that if you overdo it with the ingredients (i.e. you add way too much cheese or make more sauce) you can end up with zucchini lasagna that contains way too much liquid to your liking.
And yes, there will still be some liquid at the bottom of your oven-proof dish and that is normal. Zucchini lasagna will absorb some of the liquids when cooling down.
Another way to control the liquid level is by using cheese like Parmesan or low-moisture mozzarella. I personally don't mind the juices and use regular sliced mozzarella most of the time.
Prepping zucchini
You can use a mandolin slicer or slice it by hand. I find it quicker by hand. The slices don't have to be thin, in fact, I prefer them thicker otherwise they will completely dissolve while cooking (slightly less than ¼ of an inch is the perfect thickness for me).
A great way to reduce the liquids when making zucchini lasagna is by sprinkling the zucchini slices with salt and letting them sit for about 10 minutes. The salt draws out some of the moisture so all you have to do after 10 minutes is pat each slice dry with a paper kitchen towel.
Just note that by doing this, you will also add extra salt to the whole dish.
Ingredient substitutions
If you don't have extra virgin olive oil on hand, you can use regular olive oil or sunflower/vegetable oil instead.
Ground beef can be substituted with ground pork or a mix of these.
If you have a lot of zucchini in the garden why not try some of these zucchini recipes?
Want to see how to make zucchini lasagna? Watch the video!
Zucchini Lasagna
This is a recipe for easy zucchini lasagna with meat. Fresh zucchini, meaty sauce and mozzarella are layered on top of each other and baked to perfection!
Servings:
4
Portions (See note 5)
Ingredients
2

medium

zucchini

, sliced (1.5 pound/660 grams)

1

tablespoon

extra virgin olive oil

1

small

onion

, minced

14

ounces

ground beef

, lean (400 grams)

½

teaspoon

salt

1

teaspoon

garlic powder

¼

teaspoon

ground black pepper

½

teaspoon

ground cinnamon

2

teaspoons

dried oregano

1

can

crushed tomatoes

(14 ounce/400 grams), see note 1

4

ounces

tomato puree

(90 grams), see note 2

mozzarella slices
Instructions
Trim off the ends of each zucchini and cut the zucchini in half. Place the cut side onto a chopping board and cut each half into thin slices (⅛-¼ of an inch/½ cm or less). Place them onto a tray and sprinkle salt over. Set them aside.

Meanwhile: Preheat the oven to 400°F (200°C). In a skillet/frying pan, heat the oil and add minced onion in. Sauté for about 3 minutes, then add ground beef, ½ tsp of salt, garlic powder, black pepper, cinnamon, oregano and bay leaves.

Break the ground meat and mix everything making sure the seasoning is evenly distributed. Cook for about 5 minutes or until the beef is almost cooked through. Stir in crushed tomatoes and tomato puree and cook until the sauce thickens and there is not much liquid left.

Pat dry the zucchini slices with paper kitchen towels.

To assemble the lasagna, cover the bottom of an oven-proof dish (see note 4) with zucchini slices (sprinkle them with more oregano, if you like). Top them with a thin layer of meat sauce and mozzarella cheese. Repeat until you have used all the zucchini slices and meat sauce. You should have 3 layers of zucchini, 2 layers of cheese and 3 layers of meat sauce. Keep the leftover cheese for later.

Bake in a pre-heated oven at 400°F/200°C for 15 minutes. Then, take it out, top with mozzarella cheese and put it back in the oven for a further 10 minutes or until the cheese is melted and slightly browned.

When ready, let it rest for about 15 minutes before serving.
Notes
Either pureed tomatoes, crushed tomatoes or tomato passata can be used. Note that each one of them might have a different water content so the cooking time may vary (you need to reduce the sauce until it has a thick consistency).
Tomato puree is a double-concentrated tomato paste.
I used 7 mozzarella slices to cover all the layers. You can also use shredded cheese if you like. Just don't add way too much in between the layers. It will melt and release more juices into the lasagna and can make it extra watery.
The dimensions of the oven-proof dish I used were: 9 x 7 inches (23 x 18 cm). This dish should be 3 inches (7 cm) deep.
This recipe yields 5 good-size portions or 6 small portions.
For detailed explanation and more tips or if in doubt, I suggest you read the full post.
Zucchini lasagna can be stored in the fridge for up to 2 days and reheated when needed.
Extra virgin oil can be substituted with cooking olive oil or sunflower oil.
Nutrition Facts
Zucchini Lasagna
Amount per Serving
% Daily Value*
* Percent Daily Values are based on a 2000 calorie diet.
** As an Amazon Associate I earn from qualifying purchases.
LEAVE A COMMENT
RELATED POSTS