The best recipe for focaccia bread with olives and thyme! Soft on the inside with golden crust on the outside this Italian bread will be a hit at your dinner table.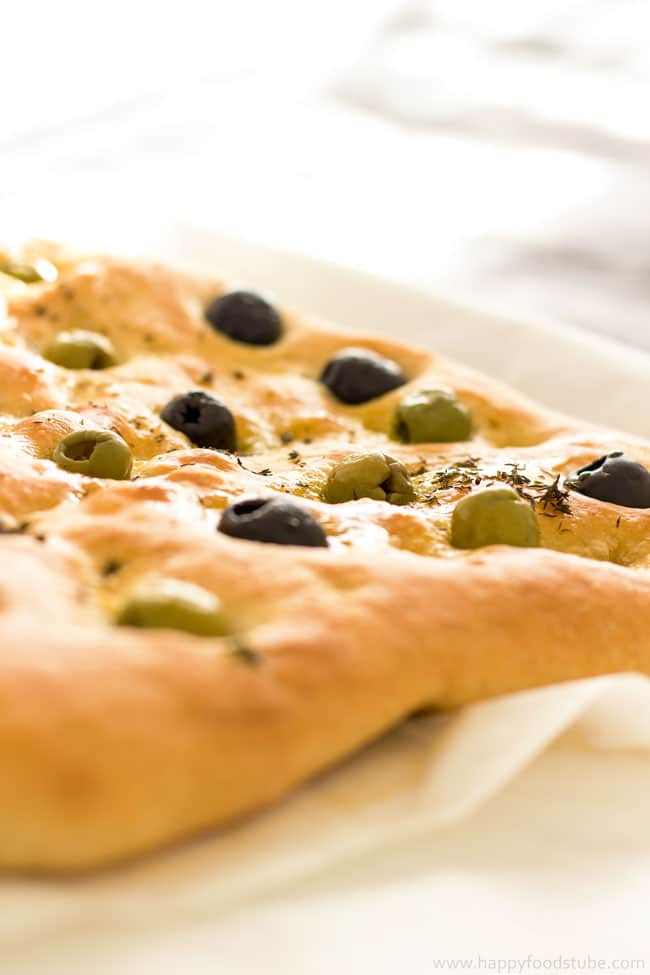 Three words come to my mind when thinking about focaccia bread: easy, yummy & versatile!
I dare to say that it is one of the easiest breads to make (with Irish Soda Bread being number 1).
Don't be put off by kneading or proving, it is no rocket science at all and it is easier than it might sound!
What kind of bread is focaccia?
Focaccia is flat Italian bread usually topped with herbs, seasoned with olive oil and salt. For some extra flavors you can add olives, onions, cheese, meats or tomatoes. It is similar to pizza but its dough is way thicker and it's not covered heavily with toppings.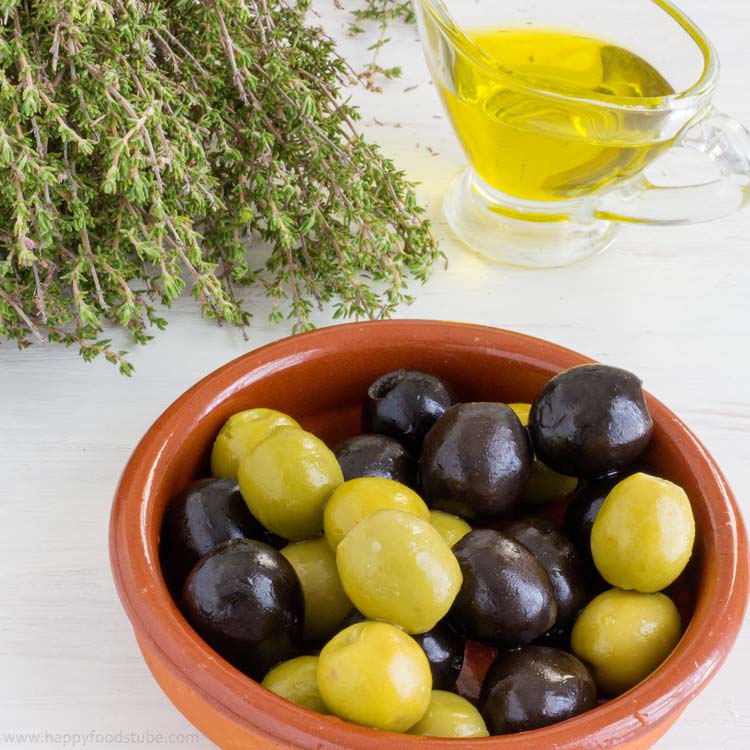 What are the ingredients in focaccia bread?
In this particular one I used black and green olives (pitted), thyme and olive oil to top the bread. To make the dough you will need yeast, sugar, water, flour, salt and some more olive oil.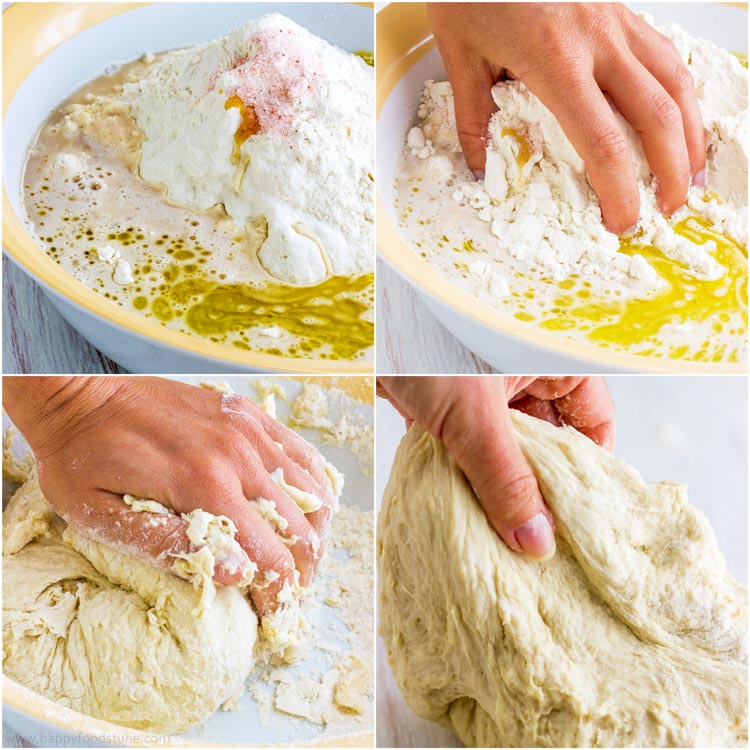 How do you make focaccia bread?
First you will need to make dough. This is pretty easy and can be done by hand or using a stand mixer that will do the "hard" work for you.
I personally use my hands because by the time I take out my mixer, set it up I am already finished with kneading. It only takes 5 minutes, so it's not that bad. And trust me, anyone can do it. But if you prefer using your stand mixer, go for it.
In a large bowl combine flour, yeast, olive oil and salt. Use your hands (or a mixer with dough attachment) to mix this. Once combined, transfer this onto a worktop and start kneading (if you use a mixer, then you don't need to knead anything by hand).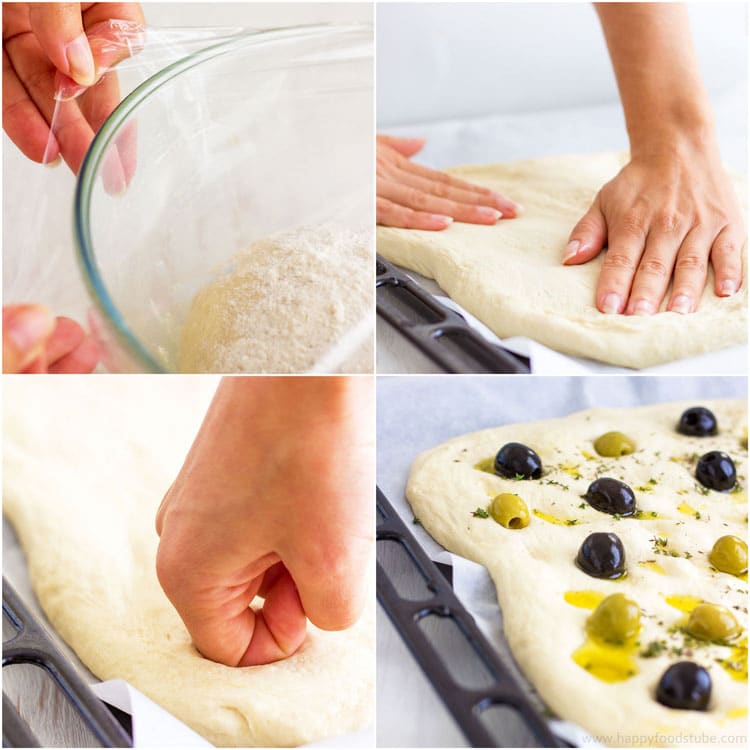 The focaccia dough is ready for proofing when it is soft and elastic. I use the same bowl for proofing. All I do is grease it with some more olive oil so I can get the dough easily out.
This is then covered with plastic wrap. The proofing will vary for every single person. It will take somewhere between 30-60 minutes. This depends on your room temperature. So don't panic. As long as it is doubled in size in the end, then all is good.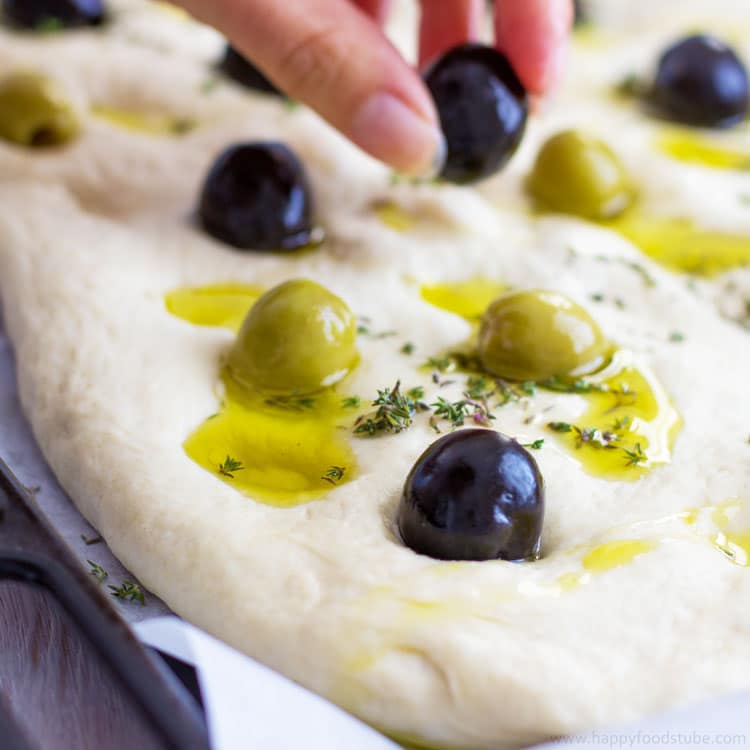 How do you serve focaccia bread?
This bread is so delicious and versatile you can eat it on its own, dip it in some more olive oil or as a part of a party platter! It also goes well with creamy soups (try Roasted Mushroom Soup or Zucchini Soup)
Tips for making focaccia bread
There is no need to use both black and green olives. You can only choose the ones you prefer more. Just make sure you buy the pitted ones. You don't want someone accidentally breaking their tooth.
Thyme can be substituted with rosemary.
Olive oil is a must in this recipe. I always use extra virgin olive oil but if prefer a different type of olive oil, go ahead and use it.
By the way, this focaccia bread recipe was "sitting" in one of my recipe folders in my laptop for several years before I actually gave it a go. Funny, I have no recollection of saving this recipe at all.
I am glad I gave it a go because let me tell you, it's delicious!
This focaccia bread recipe is an updated version of my recipe that was posted on the blog about 2 years ago.
Focaccia Bread
The best recipe for focaccia bread with olives and thyme! Soft on the inside with golden crust on the outside this Italian bread will be a hit at your dinner table.
Ingredients
3.5

cups

all-purpose flour

1

tbsp

Instant Dry Yeast

1½

tsp

Salt

5

tbsp

extra virgin olive oil

(75 ml) + some extra

1¼

cup

Water

(310 ml)

⅔

cup

Olives

Black & Green, pitted (See note 4)

A few

Sprigs of Thyme

(See note 5)
Instructions
In a mixing bowl, combine sifted flour, instant dry yeast, salt and olive oil. Add water and using your hand, bring the dough together.

Transfer it onto a well-floured surface and knead by hand for 5 minutes. You will get soft and elastic dough (when using a stand mixer with dough attachment count with about 3 minutes).

Oil the same bowl with olive oil and place the dough in. Cover it with plastic wrap and let rise until it has doubled in size (30-60 minutes, depending on the room temperature).

Once the dough has doubled in size, transfer it onto a baking tray lined with baking paper. Using your hands, spread/stretch the dough across the tray so it's about 1 inch/ 2.5 cm thick. Use your knuckles to make a lot of wells on its surface. Fill them with olives. Pour over some extra virgin olive oil and season with thyme and a pinch of salt.

Bake in a preheated oven at 400°F/200°C for 25 minutes or until ready. The focaccia should be golden brown and hard on the outside and soft on the inside. A perfect focaccia will spring back when pressed down between fingers (once cut).

Let it cool completely before serving.
Notes
All-purpose flour (US) = Plain flour (UK).
The overall time does not include time needed for proofing. This might vary depending on the room temperature. Count with 30-60 minutes.
Extra virgin olive oil can be substituted for normal olive oil. Do not use sunflower or vegetable oil here.
If you prefer only one type of olives then use whichever you like more.
Fresh thyme can be substituted with dry thyme. Use about 2-3 teaspoons.
Active dry yeast (1 tbsp) or fresh yeast can also be used – 0.70 oz/20 g. For these you need to activate them in lukewarm water to which 1 tbsp sugar must be added. Let it sit until the surface looks frothy. Then follow the instructions.
Note that the dough made in a stand mixer might look slightly different from the one kneaded by hand. The first will be softer and stickier, while the second will be firmer. I suggest using less water for the one made in a mixer and only add when it is needed.
Nutrition Facts
Focaccia Bread
Amount per Serving
% Daily Value*
* Percent Daily Values are based on a 2000 calorie diet.
** As an Amazon Associate I earn from qualifying purchases.
LEAVE A COMMENT
RELATED POSTS