Have you ever tasted authentic Spanish churros? If not, put them on your bucket list or make these homemade churros to satisfy your sweet tooth cravings right away!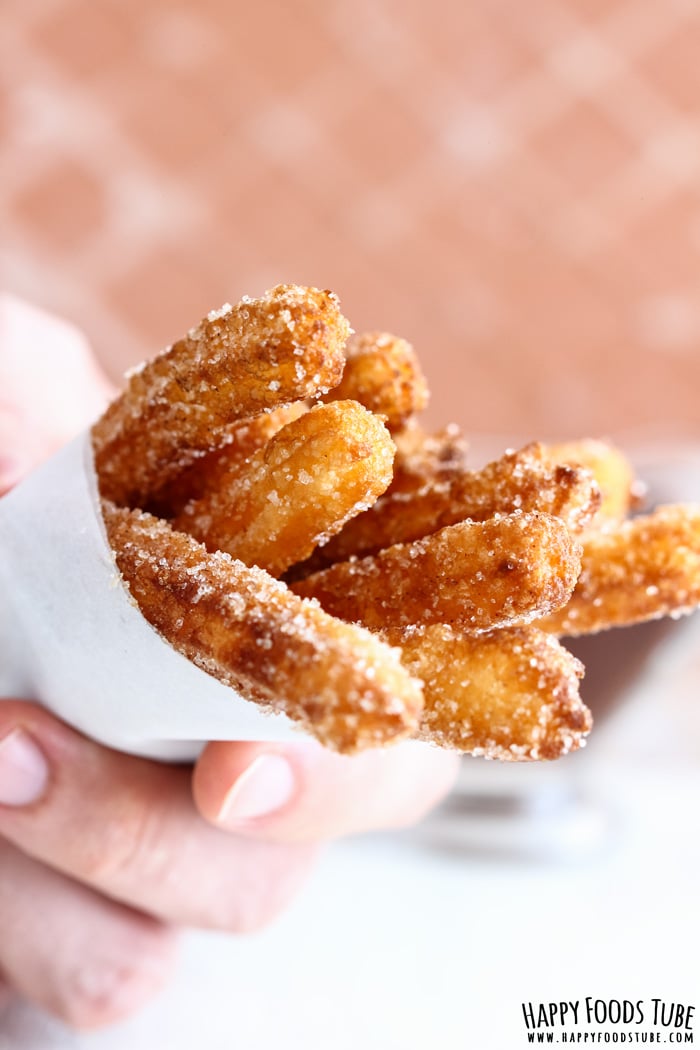 Churros are a typical Spanish dessert that can be bought and enjoyed all over Spain. If you don't find them in cafeterias, you'll find stalls selling them on the streets, during fiestas or in special shops called Churrerias.
Imagine deep-fried choux pastry dipped in hot chocolate …mmm… delicious! Now I have to say that my favorite churros come from small stalls. They are large, thick and filling.
My word of advice – if you ever get to visit Spain, try to find a place where you can buy thick creamy hot chocolate (almost like a pudding) and you'll be in for a real treat!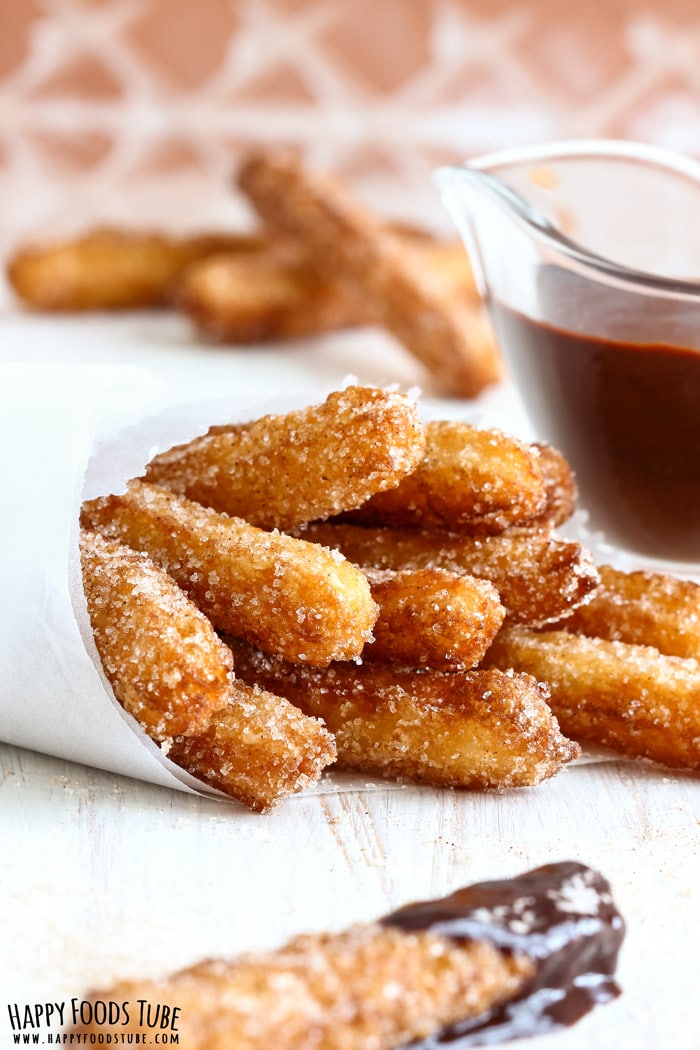 By the way, the history of churros is interesting. There are two theories about churros history. If you know which one is the official story, let me know! I am dying to know!
You know, it was pretty difficult to find an authentic Spanish churro recipe. I came across so many different churros recipes that I had actually no idea which one was the authentic one.
So I am bringing you my version of a churros recipe. They might not be the authentic Spanish churros but they taste pretty close to the ones we tasted on our travels.
And you know what? Making churros from scratch is so easy! Just follow my recipe and you'll be in for a treat!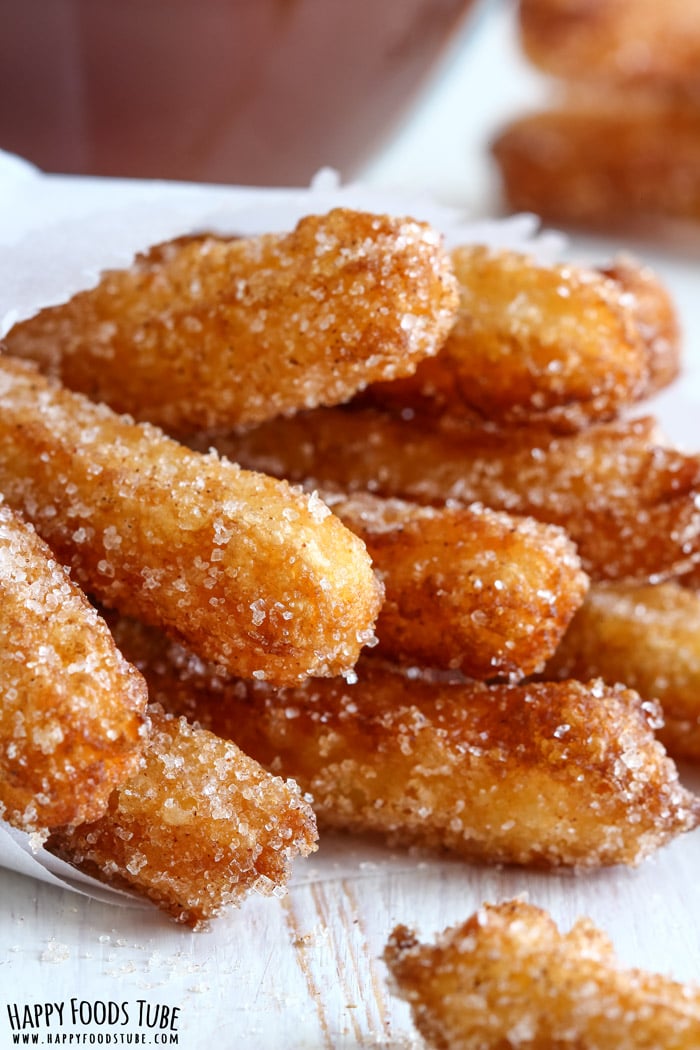 How to make churros at home
Water, butter, sugar and salt go in a saucepan. Simmer this until the butter and sugar have melted. Then add flour and mix vigorously until you get nice smooth soft churro dough.
Now you need to let it cool a bit and only then add the egg. The egg must be mixed into the dough until smooth. You need to stir/mix the egg in fast otherwise you could end up with scrambled egg rather than churro batter.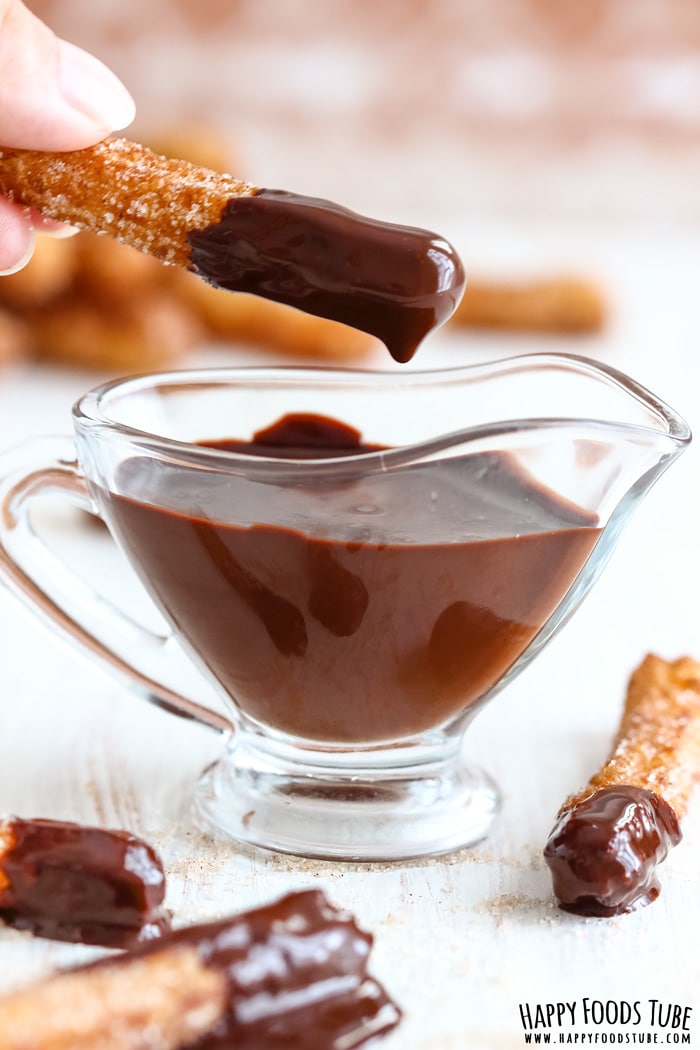 The batter/dough will be quite thick but that's perfect.
Now you have two options: either you get ready and pipe the churros onto a sheet of baking parchment or right into the hot oil.
When frying churros, make sure you taste the first churro batch to see if they are cooked inside. Sometimes they are nicely golden on the outside but way too gooey on the inside – this can happen when the oil temperature is too high so you should reduce the temperature a bit.
The last step is rolling each homemade churro in a mixture of sugar & cinnamon. You don't need to do this but they taste better.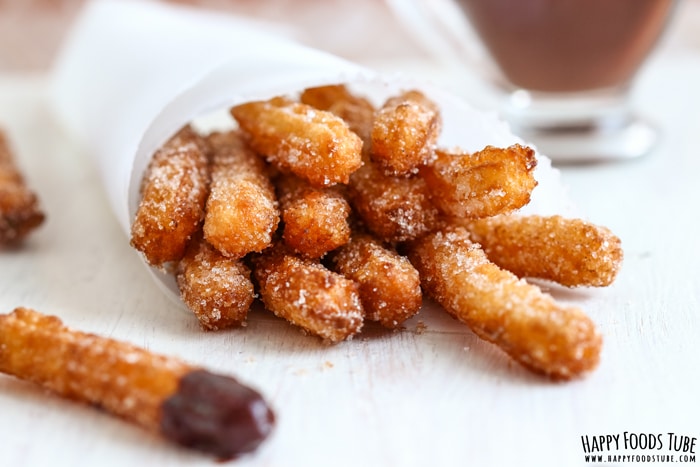 Good to know when making homemade churros:
Homemade churros are best eaten right away. The longer they sit the softer they get.
If you need to store them, put them in the fridge.
Use the smallest star piping tip you have – they cook faster and they also keep their shape better.
Use a large frying pan rather than a saucepan. It saves you time and oil as well (I have learned this over time. I thought you needed a deep pot to fry them, but this is not the case. Just make sure there is enough oil in your frying pan. Churros don't have to be covered with oil completely though).
If you like Spanish dishes or if you ever decide to plan a Spanish-themed party, you might wanna have a look at these recipes:
Want to see how to make Churros? Watch the video!
Homemade Churros
Have you ever tasted authentic Spanish churros? If not, put them on your bucket list or make these homemade churros to satisfy your sweet tooth cravings right away!
Servings:
60
Churros (3-4 inch/8-10 cm)
Ingredients
⅔

cup

all-purpose flour

(110 grams)

¼

stick

unsalted butter

(28 grams)

1

cup

water

(250 ml)

salt

, a pinch

2

teaspoons

sugar

1

egg

oil

, for frying
Instructions
Place water, butter, sugar & a pinch of salt into a medium-size saucepan. Bring to the boil.

Add the flour and mix vigorously until well blended (the dough will come together in a minute or two).

Remove from the stove and let it cool a bit. Once it is not too hot, add the egg and work the egg into the dough. Try to do it as fast as possible. In the beginning, it might look like the churro dough doesn't wanna bind but take your time it will.

Pour the oil into a large frying pan and heat it up.

Fill a piping bag fitted with a star piping tip with half of the dough (it is easier to handle).

Check if the oil is ready for frying by dropping a tiny piece of the dough in. Once the dough turns nice brown, you are ready to pipe the churros in.

Pipe the dough directly into the hot oil (choose any length you like) and cut with a fork (I found a fork the best tool for this). Do not pipe too many churros in as they need space for frying. It will take only about 2 minutes for them to get nice golden color and that is a sign they are ready. They should get the color gradually. If you see they are not getting dark evenly, reduce the temperature.

Take them out and place them on a paper kitchen towel to get rid of the excess oil.

When they are still warm, roll each of them in sugar mixed with ground cinnamon.

Serve warm with thick hot chocolate or chocolate pudding.
Notes
Work the egg fast into the dough to prevent the egg from cooking. This may be a bit tricky, as the dough is quite hard at this point. If you find it hard to mix with a wooden spoon, use an electric mixer.
You can either pipe the churros directly into oil or pipe them onto a sheet of baking parchment first and then place these into the hot oil.
Nutrition Facts
Homemade Churros
Amount per Serving
% Daily Value*
* Percent Daily Values are based on a 2000 calorie diet.
** As an Amazon Associate I earn from qualifying purchases.
LEAVE A COMMENT
Other Spanish recipes you might like: