Sweeten up your day with these caramel apple crumb bars! Moist crust, topped with Dulce de Leche, apples and streusel topping.
Well, apple season is now in full swing so we have been enjoying this fruit a lot. We've been making juices, using them in baking (apart from these caramel apple crumb bars I also used them to make Homemade Apple Rings, Apple Pie and Apple Oatmeal Bake as well as enjoying them raw in salads or on their own.
What about you guys? Do you like apples? Do you use them in baking a lot? I bet you have your favorite apple recipes. Let me know!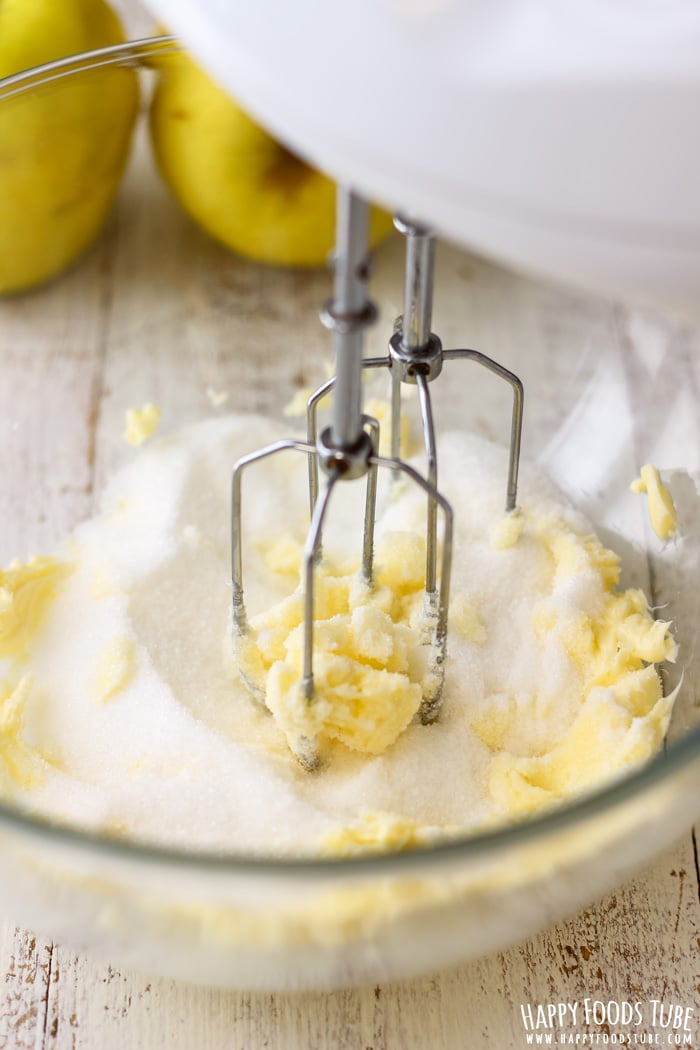 By the way, did you know that there are over 7,500 apple varieties. It's a pretty impressive number, isn't it? (Check these apple facts to learn more about apples).
Step by step how to make caramel apple crumb bars
To make these apple squares with crumb topping you will need:
For the crust: Flour, baking soda, sugar, cinnamon, egg, Greek yogurt and butter.
For the filling: apples and dulce de leche (or caramel).
For the streusel topping: butter, flour and sugar.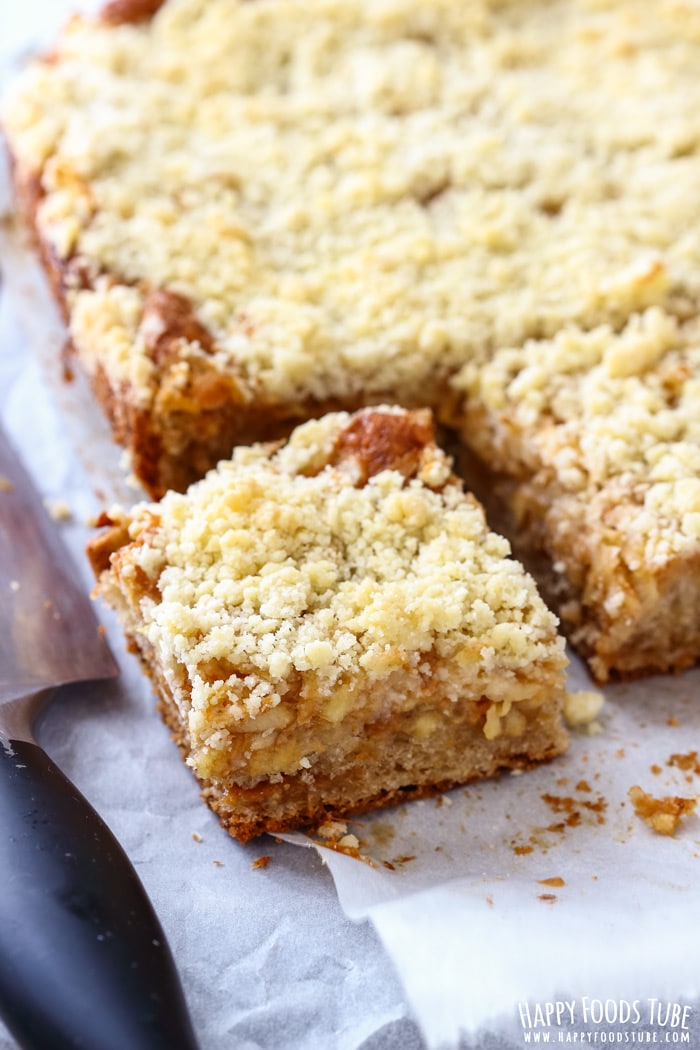 I recommend starting with the topping, followed by filling and then moving onto the crust. The topping is a simple crumb topping that requires just a bowl and your hands.
Once done, set it aside and move onto grating apples and opening a can/jar of dulce de leche.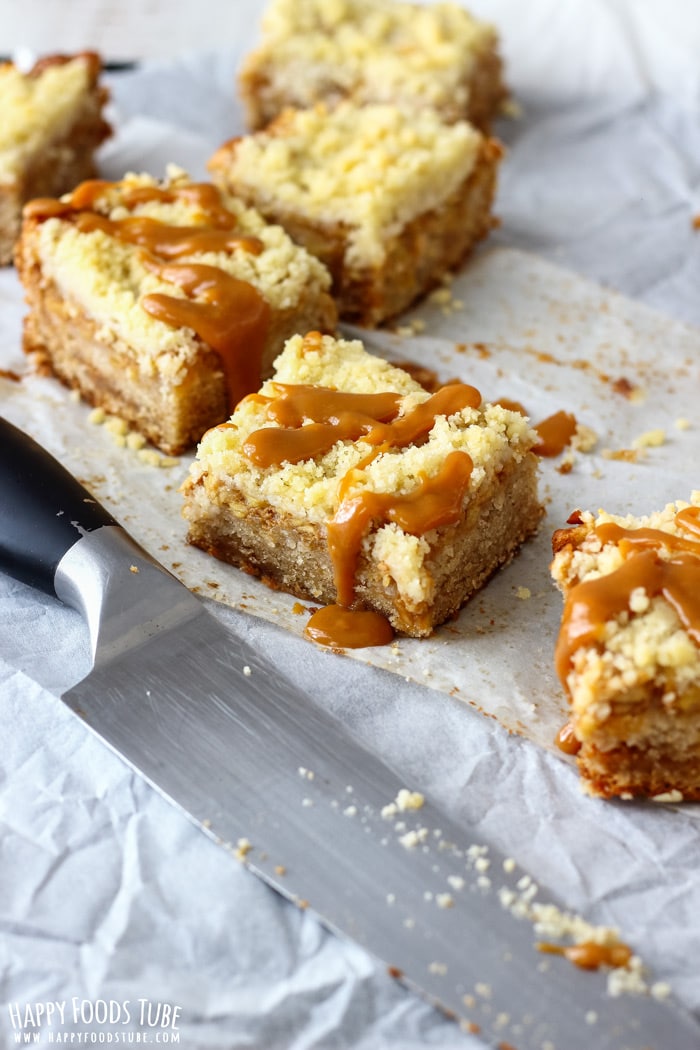 The third step is mixing all your crust ingredients together. Now there is a certain order to it: Start with creaming butter. Then add sugar and beat again. Add egg and yogurt. Beat well after each addition.
Finally beat in flour, baking powder and cinnamon (mix these 3 ingredients in advance).
Now it's time to pour the batter into a baking dish/sheet pan. I used a 10×7.5-inch/26×19-cm glass baking dish for this recipe. It was the perfect size for 9 bars. Spread this with dulce de leche, top with apples and crumb topping.
Baking these caramel apple crumb bars will take about 1 hour. It might sound like a lot of time but you can just set an alarm on your phone and do other things while waiting for these bars to be baked.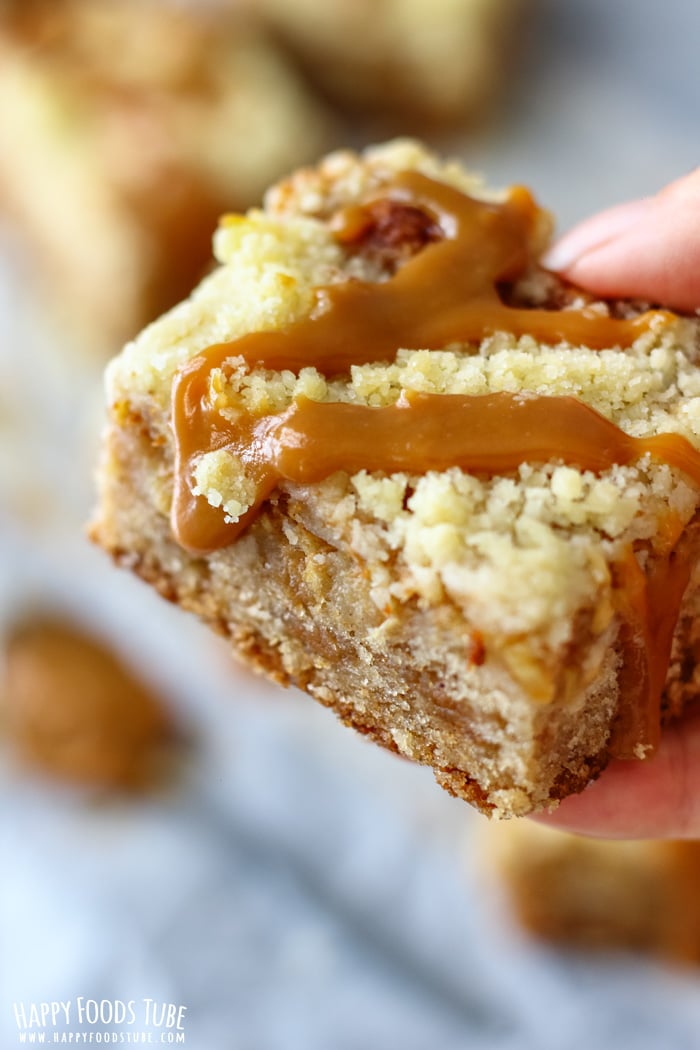 Ingredient substitutions:
Greek yogurt – sour cream or natural yogurt will both work here.
Granulated sugar – superfine (US)/caster sugar (UK) can also be used.
Dulce de Leche – any caramel should work here.
Caramel Apple Crumb Bars
Sweeten up your day with these caramel apple crumb bars! Moist crust, topped with Dulce de Leche, apples and streusel topping.
Instructions
Streusel Topping:
In a large bowl, combine all ingredients and rub them together until a crumb like texture is formed. Set aside.
Filling:
Wash and cut apples into quarters. Remove the seeds and any hard parts. Grate and set aside. Measure 1 cup of caramel and set aside.
Crust:
In a bowl, beat butter, add sugar and continue beating until well combined. Add egg and beat well. Add Greek yogurt and beat again. Mix in flour that has been sifted with baking soda and cinnamon.

Pour this batter into a baking tray/oven-proof dish (10×7.5 inch/26×19 cm) lined with baking paper.

Carefully spread Dulce de Leche over the batter. Top with grated apples and streusel topping.

Bake in a preheated oven at 360°F/180°C for 1 hour or until it is baked through.

Let it cool down completely before serving.
Nutrition Facts
Caramel Apple Crumb Bars
Amount per Serving
% Daily Value*
* Percent Daily Values are based on a 2000 calorie diet.
** As an Amazon Associate I earn from qualifying purchases.
LEAVE A COMMENT
RELATED POSTS