Forget about fried chicken strips from supermarket and prepare them from scratch at home! These crispy air fryer chicken tenders are made with simple ingredients and can be made ahead.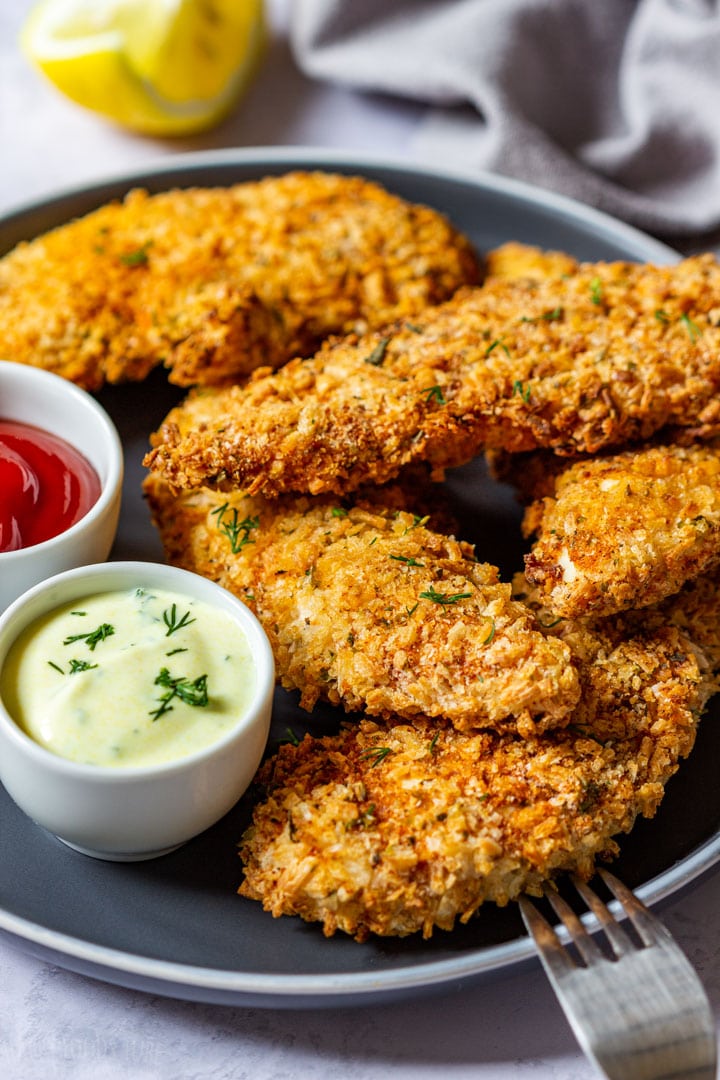 With only a little oil used you can be sure this is a healthy way to feed your family.
These breaded chicken tenders are perfect for kids as well as adults. Serve them as appetizer with a dip of your choice (ketchup, garlic aioli, ….) or as a main with any side you like.
My favorite side is barley risotto made in Instant pot.
How long to cook chicken tenders in air fryer?
Time will vary slightly depending on the size of the chicken pieces as well as your air fryer.
In general, count with 8 minutes and if not sure check with a food thermometer to see if they are done. Their internal temperature should reach 165 Fahrenheit (74 Celsius). Add 1-2 more minutes, if needed and check again and cook for longer.
To have them nice golden brown on both sides, turn each chicken strip over and spray with cooking oil after 4 minutes.
Can I freeze chicken tenders?
You can prepare them ahead. Simply bread them first, then flash freeze on a tray for about an hour or 2 and transfer into a Ziploc bag.
When you are ready to use them, take them out and air fry from frozen at 360 Fahrenheit (180 Celsius) for about 20 minutes or until ready (make sure to check if they are cooked before taking them out).
Tips for making chicken tenders in air fryer
Cooking spray – spraying chicken strips with little oil will help them brown and crisp nicely. There is no need to use oil for the air fryer basket.
Panko breadcrumbs are highly recommended. These chunky Japanese breadcrumbs are one of the keys to crispy chicken tenders.
Paprika does give your chicken tenders nice color so make sure to use it.
Instead of egg and flour, I am coating all the chicken pieces in Greek yogurt. You can substitute for natural (unsweetened) plain yogurt, but you cannot omit it. Yogurt does not only act as a binder but also keeps chicken from drying out.
Don't over-fill your air fryer. Cook chicken strips in batches, if needed.
More tasty and simple air fryer recipes that anyone can do:
Air Fryer Chicken Tenders
Forget about fried chicken strips from supermarket and prepare them from scratch at home! These crispy air fryer chicken tenders are made with simple ingredients and can be made ahead.
Instructions
Place chicken tenders in a container/bowl and pour yogurt over. Use kitchen tongs to cover all the pieces with yogurt (you can use a ziploc bag instead if you like).

In a shallow bowl, mix together breadcrumbs, salt, pepper, paprika and oregano.

Now, preheat air fryer to 400 Fahrenheit (200 Celsius) for 5 minutes.

Place one chicken tender in the middle of the bowl and cover it in breadcrumbs. Turn it over and repeat (note: panko breadcrumbs are chunky so when coating the chicken strips the seasoning can stay at the bottom of the bowl. Make sure to grab some of it with fingers and sprinkle it evenly all over both sides of the chicken pieces).

Place breaded chicken strip onto a tray/plate and repeat with the rest of them.

Transfer the strips in your air fryer and spray each with oil. Cook for 4 minutes (400 Fahrenheit/200 Celsius), then turn them over, spray with oil and cook for a further 4 minutes.

When the time is up, check for doneness with food thermometer and take out when ready (see note 5). Enjoy as appetizer or main!
Notes
Plain Greek yogurt can be substituted with natural (unsweetened) yogurt. Any fat content will work. 1/2-cup is plenty for up to 10 tenders.
Panko breadcrumbs are the key to crispy coating. Substituting them with other type of breadcrumbs may not give you the same result.
Note that sodium content in panko breadcrumbs vary from brand to brand. I used panko with 1% sodium per serving (1/2-cup/30-grams). If your package contains more, use less salt.
To coat 8 chicken tenders you will need about 1 cup of panko breadcrumbs and you won't end up with much of a waste. However, if you prefer to have more breadcrumb mixture, add extra 1/4 to 1/3-cup of panko.
Cooking time can vary slightly. This depends on your air fryer as well as size of chicken tenders. Make sure your chicken tenders are cooked through before taking them out. If not sure, use a food thermometer. The internal temperature in the thickest part must reach 165 Fahrenheit/74 Celsius.
Nutrition Facts
Air Fryer Chicken Tenders
Amount per Serving
% Daily Value*
* Percent Daily Values are based on a 2000 calorie diet.
** As an Amazon Associate I earn from qualifying purchases.
LEAVE A COMMENT