No bake banana banoffee pie is also flourless & eggless dessert. A combination of sweet, sticky & soft topped with freshly whipped cream will definitely be a hit at your party!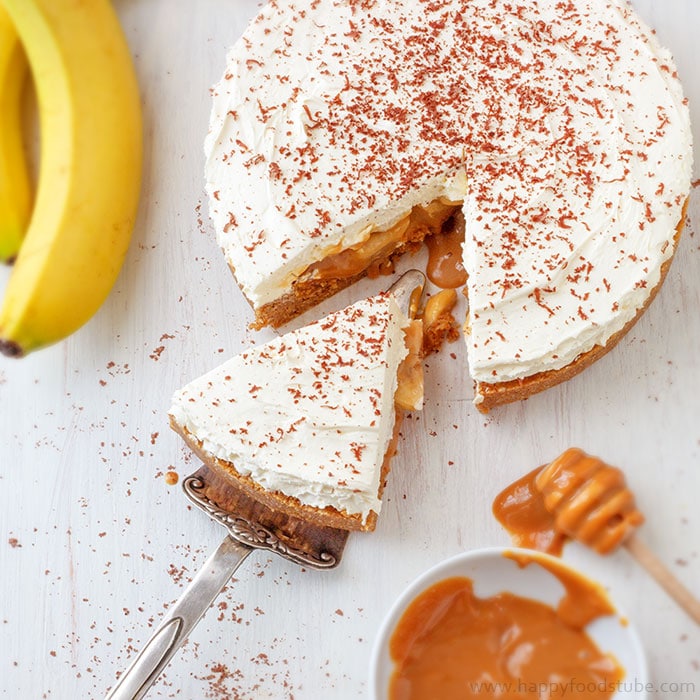 Another fantastic thing about this recipe is that you can tweak it and make it your own very easily. Add more biscuits or bananas, decrease the amount of cream, pour some melted chocolate over …
It's up to you and your taste buds so have fun!
So picture this: a biscuit layer followed by a layer of dulce de leche topped with bananas and finished off with a generous amount of whipped cream. Wound you believe that this decadent cake is no-bake if it wasn't mentioned in the title?
I can't help it, the more I make no bake desserts the more I prefer them to the baked ones. There are so many delicious homemade desserts to try: chocolate pudding desserts, caramel cups, mini strawberry cups and so much more. I hope you'll give them a go. They are all very easy.
Making this Banoffee pie has brought back some memories from Ireland. In the shop, where I worked, tiny banoffee pies were made and sold every day. I liked them so I figured why not make one large homemade banoffee pie from scratch!
To make THIS no bake banoffee pie I used dulce de leche which I heated up in a sauce pan and simmered to get a thicker consistency. Now you don't need to do this, if you feel like your dulce de leche is thick enough. Some are thicker, some are thinner. I guess it depends on the brand.
The crust is simple: digestive biscuits & melted butter are combined and pressed down into a cake tin.
Bananas are important here. They complement dulce de leche and whipped cream well and help balance the sweetness.
TIP: If you don't have dulce de leche, use caramel instead. Some shops also sell ready-made caramel but if you have a recipe for homemade one, feel free to use it!
Whipped cream: don't buy whipped cream in a can – you know, the one you just shake and spray over desserts. This will ruin your beautiful banoffee pie as it melts & loses its shape within minutes. So I highly suggest avoiding using it. Whipping your own cream only takes minutes and the cream holds its shape well.
Guys, if you decide to try this banoffee pie recipe, let me know or share a photo of it on my FB page. I would love to see it.
Check out our video for how to make Banoffee Pie:
No Bake Banana Banoffee Pie
Banoffee Pie is a no bake, flourless & eggless dessert! A combination of sweet, sticky & soft topped with freshly whipped cream will definitely be a hit at your party!
Servings:
10
(1 Pie 7inch/17cm)
Instructions
Melt the butter. Crush the biscuits into crumbs using a food processor. Pour over the melted butter and mix until well combined.

Line the bottom and sides of a round cake tin with baking paper (if you don't know how to line cake tins with baking paper, watch our video:

How to Prepare Cake Tins/Cake Pans

) and throw 2/3 of the biscuit mix in. Spread the mix evenly around. Now cut a circle out of the baking paper (roughly the size of your cake tin) and place it over the biscuit crumbs. Using both hands press down, hard. Keep pressing until you create an even base. Now discard the baking paper. Add biscuit crumbs along the cake tin sides and using a spoon, create a "wall".

Refrigerate for 30 minutes.

Meanwhile: Pour 1/2 of the Dulce de Leche into a sauce pan. Boil for 5 minutes, stirring constantly. This will help the sauce thicken (You can also use homemade caramel sauce, if you prefer). Let it cool for a while.

Spread it over the chilled biscuit base.

Use the other half of Dulce de Leche to spread over the thick layer (If you prefer to have thick center only, boil the whole can content). Cover with banana slices.

Pour chilled cream into a chilled bowl (this will help you whip the cream), add icing sugar and whip until stiff. Spread the cream over the banana layer and place in the fridge for 30-60 minutes.

Finish it off with some chocolate shavings.
Nutrition Facts
No Bake Banana Banoffee Pie
Amount per Serving
% Daily Value*
* Percent Daily Values are based on a 2000 calorie diet.
** As an Amazon Associate I earn from qualifying purchases.
LEAVE A COMMENT
RELATED POSTS