Traditional Paella Valenciana is a great dish to share with family and friends! If you can't get to Spain to taste one then here is your chance to make one yourself!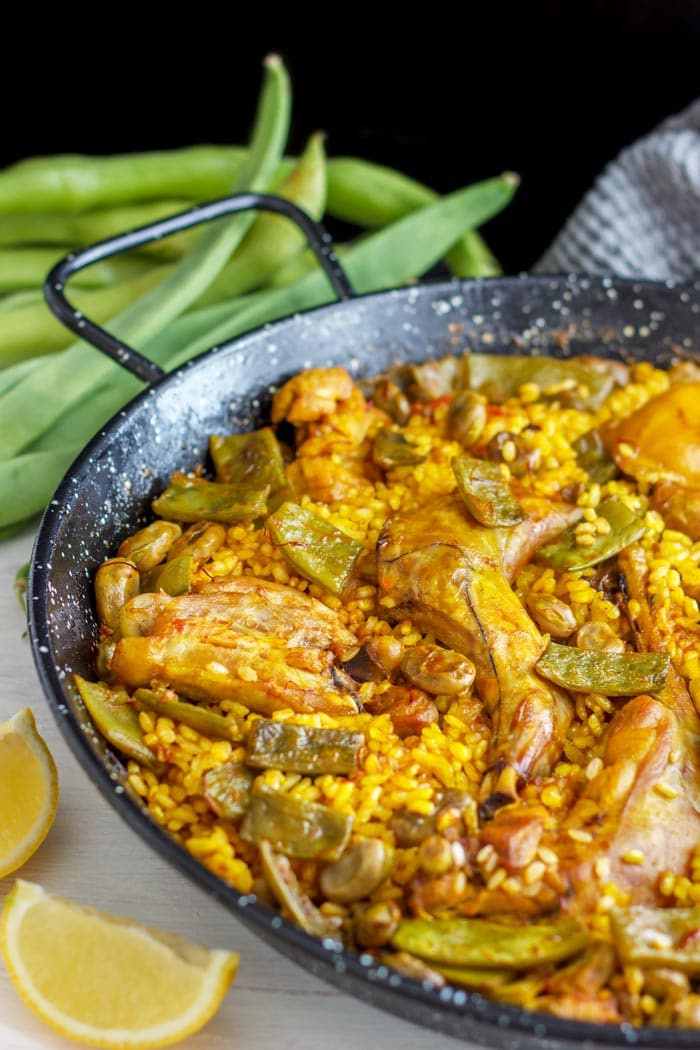 Paella is a Spanish rice dish that originated in Valencia many years ago. Nowadays you can find paellas made with all sorts of ingredients but the traditional authentic one is called Paella Valenciana.
It was traditionally cooked outside on an open fire using orange or pine wood. I can imagine families & friends having a good time, all chatting away while waiting for it to be cooked.
We have eaten paella many times since coming to Spain whether it was in restaurants, tapas places or at local fiestas. The quality and taste of every one of them was always different and so was the price. Of all these places the best paella we have eaten so far was made in the biggest paella pan I've ever seen and served hundreds of people at once. It was at one of our local fiestas!
Even though I've eaten this dish on many occasions, I have cooked it only a few times at home. The problem was that all my pans were quite small and if I wanted to follow the authentic traditional way of preparing it, I would barely get a portion or two.
So finally I have invested in a paella pan. Well, actually it's called just "paella". Some people call the pan "paellera" but I've read that this is wrong.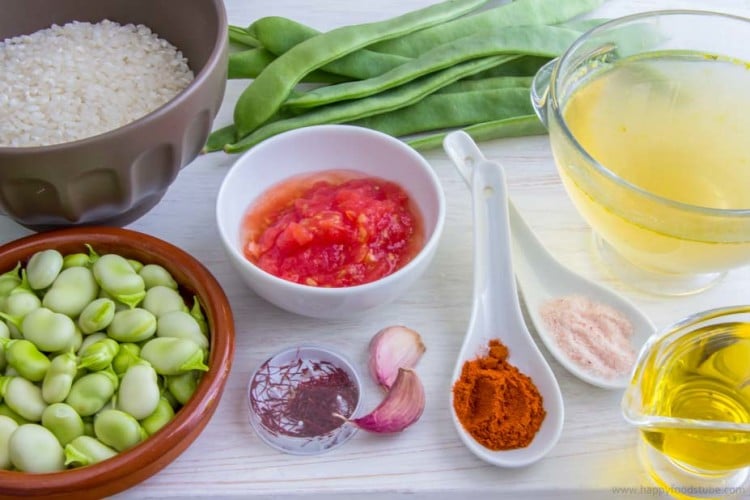 Some important facts to know:
One of the most important things to know about paella (the dish) is paella (the pan). It should be as wide as possible (I got a 30cm in diameter – claiming that it is for 4 portions but soon enough I've learnt that it's not as large as I thought would be).
However, I could not go any larger than and it's still larger than my ordinary frying pans so I am happy). If you don't have a paella pan, don't panic, a frying pan will do the trick but you need at least 30cm wide pan (the wider the better-wok is NOT a good option).
Second important thing is the rice. There is special rice for paella that can be found in any shop in Spain (for obvious reasons) but you'll be fine with any short grain rice if you can't get your hands on the paella rice.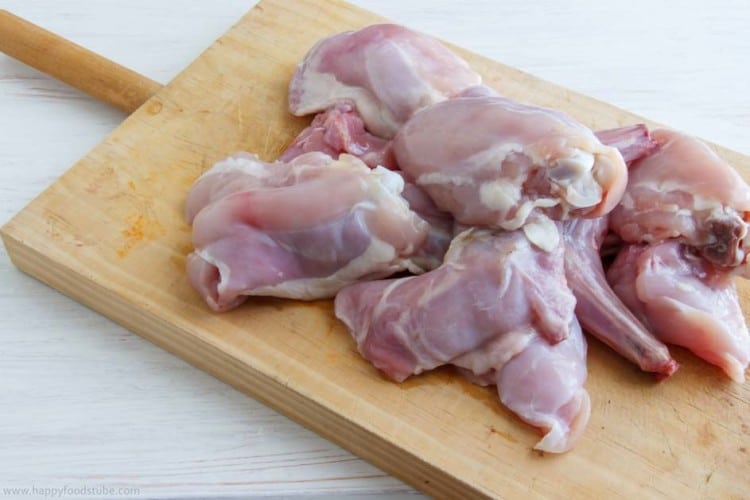 Third important thing is the meat. Traditionally, the Valencian paella is made with both chicken and rabbit meat. However, I think the best way of doing it is to use small chicken thighs with the skin on.
As for the rabbit: Well, as much as I like rabbit I have to say that I prefer only the chicken thighs. But as I made Paella Valenciana I wanted to stay as authentic as possible.
Another important thing is the way you make it: The difference between paella and risotto is that you got to stir risotto like crazy in order for the risotto rice not to get stuck to the pan while with paella you don't stir it at all! You want the rice to stick to your pan.
Once you add the rice, stir around (as evenly as possible) and let it be! Rice stuck to the pan, slightly burnt is one of the best parts (that's what I was told). So the next time you will touch the rice is when serving it (or tasting beforehand).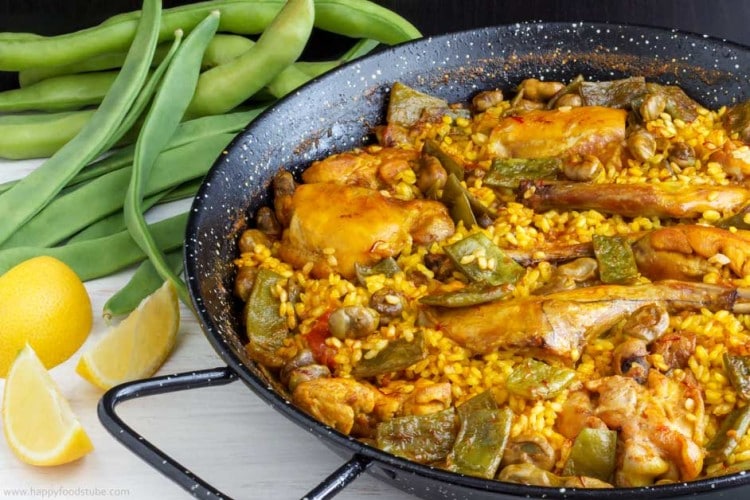 I am sure that if I was to visit different families in the Valencia region I would be shown slightly different methods. But what they all have in common is the incredible taste!
And of course there are other specific steps & ingredients to follow but this is to be found in the recipe below.
Check out my other popular Spanish Recipes:
Want to see how to make Paella Valenciana? Watch the video!
Paella Valenciana
Traditional Paella Valenciana is a great dish to share with family and friends. If you can't get to Spain to taste one then here is your chance to make one yourself.
Ingredients
1¾

cup

Paella Rice

(350 grams)

1.3

pounds

Chicken Thighs

(preferably with skin on) & Rabbit Pieces (600 grams)

1

cup

Garrofo Beans

/ Lima Beans (100 grams)

10

pods

Romano Green Beans

(150 grams)

1

Tomato

, grated (discard the skin)

⅓

cup

extra virgin olive oil

(40 ml)

5-6

cups

Chicken Stock

(1.2-1.5 liter)

2

Garlic Cloves

1

teaspoon

Salt

1

teaspoon

Sweet Paprika

1

teaspoon

Saffron
Instructions
Put your paella pan over the largest ring on your stove. Pour the olive oil in the middle. Sprinkle some salt around the oil in order to protect the pan from burning around the edges (this is mostly for large pans where you won't cover the whole surface with meat) Heat the oil.

Add the meat (skin side down) and fry on both sides. This will take about 10 minutes. Once the meat is cooked, move if from the center of the pan. Just simply push it towards the edges, making space in the middle for the vegetables.

First fry the Romano green beans for 2-3 minutes. Now throw in the Garrofo/Lima beans. Fry these for 2-3 minutes as well. Now season the beans with a pinch of salt. Add sweet paprika, grated tomato & garlic and sauté for a few minutes. Now it's time to move the meat around, mixing it with the vegetables.

Pour in about a liter of the chicken stock. Throw in saffron. Bring to the boil & boil for 10 minutes. Add rice & some more stock or salt, if needed. Try to spread the rice around as evenly as possible and this is also the moment when you can arrange the meat and vegetables the way you want your paella look like after it's cooked. This is important as you won't be stirring it anymore at all!!!

Cook on a high heat for 10 minutes. After, reduce the heat to low-medium and cook for a further 10-15 minutes or until the rice has absorbed all the stock.

The rice should be stuck to the bottom of the pan and have slightly burnt look. That's the best part!

Serve with a wedge of lemon.
Notes
Every cooker cooks differently so be careful not to burn the paella totally. I suggest you check the paella several times when cooking for the first time. You may taste or check if the bottom is too wet/dry/burnt and adjust the heat accordingly.
Nutrition Facts
Paella Valenciana
Amount per Serving
% Daily Value*
* Percent Daily Values are based on a 2000 calorie diet.
** As an Amazon Associate I earn from qualifying purchases.
LEAVE A COMMENT
RELATED POSTS