This is a simple homemade apple pie using fresh apples and pie crust made from scratch. Enjoy the delicious taste of warm pie with your favorite toppings. Easy recipe!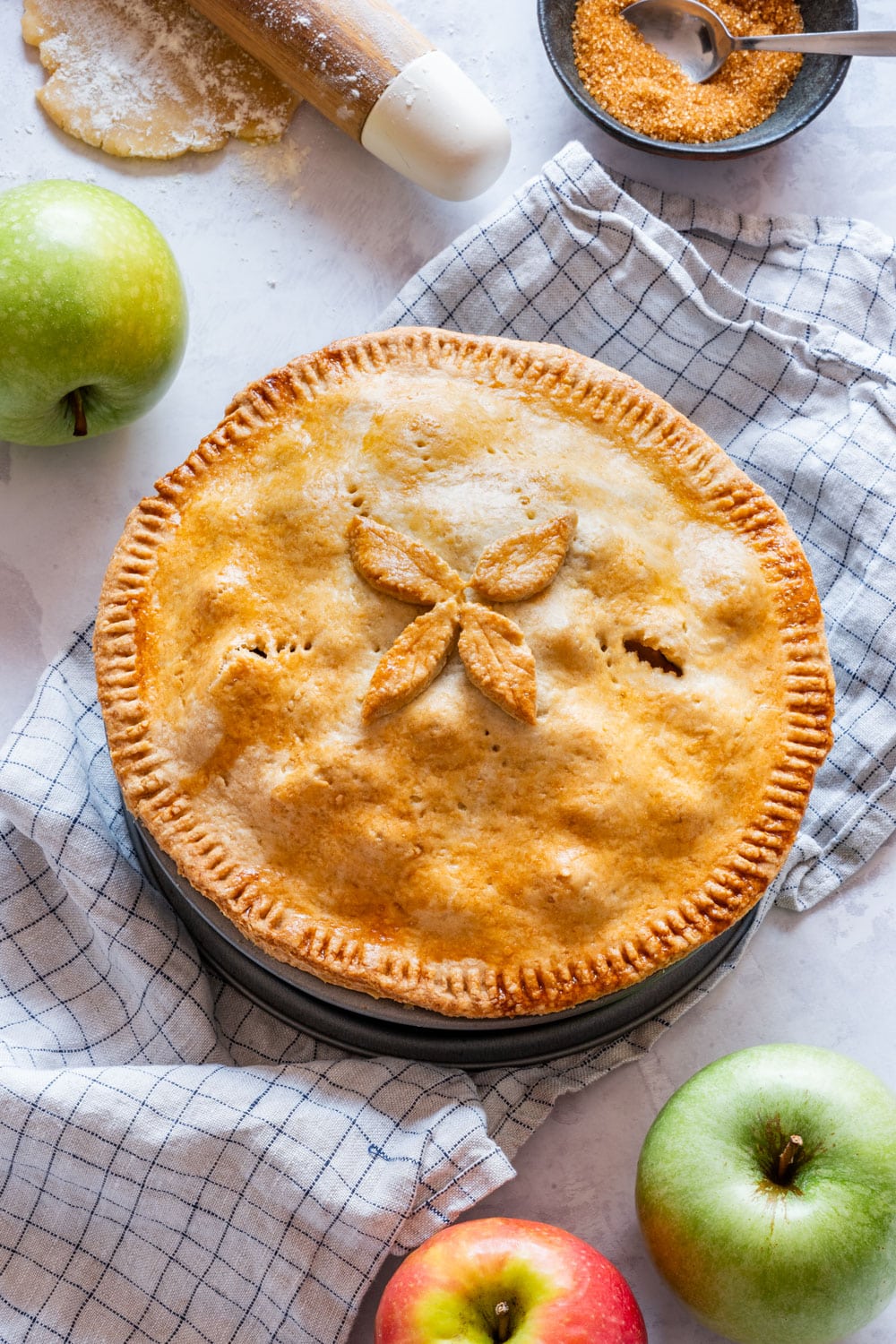 It's a simple recipe for a rustic apple pie. It does not require making apple pie filling in advance. You can bake it as is or add some extras if you like (below in the "useful tips" section).
How to make homemade apple pie
Ingredients – Apples, homemade pie pastry, brown sugar and 1 egg.
Tools:
Chopping board & knife
Medium mixing bowl & spoon – or wooden spatula
Shallow pie pan – 7 or 8 inch (18 or 20 centimeters) wide
Fork
Rolling pin
Small bowl, fork & pastry brush
The prep:
For best results, I recommend using homemade shortcrust pastry. It only takes 10 minutes to make! Plus, you can prepare it ahead of time, if needed.
You can make a double batch and try making other desserts like fruit galette or pear frangipane tart. Both delicious desserts!
Once your pie pastry is ready and chilled, divide it into 2 equal parts, roll one out and transfer into a 7- or 8-inch pie pan.
You will need to press it down and to the sides first. Then, trim any excess and pierce the bottom with a fork.
Bake for 10 minutes. Meanwhile, prepare the filling by simply slicing or dicing apples and mixing them with sugar in a bowl. Also, roll out the other half of the pastry.
Fill the pre-cooked crust with apples and cover with raw pastry. Press down around the edges with a fork. Make holes in the middle and bake until ready, around 40 minutes.
Serving ideas:
Whipped cream
Ice cream
Custard
Cheddar – As weird as it may sound, there are places in the world where they serve it with a slice of cheese!
Caramel sauce
Frequently asked questions:
Should you cook apples before baking?
You don't need to cook them first. Par-cooking them usually reduces the amount of moisture they contain so the crust does not turn soggy. I have never had this issue though.
Do I have to peel apples for pie?
No, you don't have to. If you are stuck for time but still want to make a homemade apple dessert, I would say not to bother with peeling them.
However, note that if you are after a smooth and soft filling without any hard parts, it is best to remove the skins.
Why are my apples still crunchy?
This will depend on the variety of apples you use and the length of cooking.
Can I use store bought pie crust?
Yes, you can. If you want to save time, then go ahead!
Useful tips:
Add a knob of butter to the filling to make it extra rich.
Cinnamon or cinnamon sugar can also be used.
Use any apples you have on hand or like. You can also use a mix like I did. When you do so, note that they might not be cooked at the same time. Some might be done while others can still be "al dente". If you don't like this, use one variety only.
Don't throw away the pastry cutoffs. Add it to the other half and roll it out. That way you will have a larger quantity to work with which is easier to roll.
Sprinkle some sugar over the raw crust just before baking.
Instead of the egg wash, use double/heavy cream.
More recipes with apples:
Want to see how to make apple pie? Watch the video!
Homemade Apple Pie
This is a simple homemade apple pie using fresh apples and pie crust made from scratch. Enjoy the delicious taste of warm pie with your favorite toppings. Easy recipe!
Instructions
Preheat oven to 360 Fahrenheit/180 Celsius.

Divide the pastry in 2 equally looking parts. Take one piece and roll it out thin. Transfer it to a 7 or 8-inch (18 or 20-centimeters) pie tin lined with baking paper and the sides greased with butter. Press the pastry down and to the sides (see note 3).

Bake in a preheated oven for 10 minutes.

Meanwhile: Dice the apples. Place them in a mixing bowl with sugar. Mix well and set aside. Roll out the leftover pastry. Make sure it is wide enough to cover the cake tin.

Fill the pre-baked pastry with apple mixture and cover with raw pastry. With a fork, press down around the edges to seal it. Brush the crust with egg mixed with 1 tablespoon of water. Pierce the pastry several times so the steam can escape from the pie.

Place back in the oven and bake for 40 minutes or until the apples are soft and the top is nicely golden brown.

Enjoy warm with a topping of your choice!
Notes
You will need about 22 ounces/almost 1.5 pounds of pie pastry. When using my homemade shortcrust pastry, you will need 1 batch. Or store-bought that fits 7 or 8-inch pans (18-20 centimeter wide pans).
Granny Smith or Pink Lady are great options, but you can use anything you have on hand. Just avoid using apples that are too mushy on the inside.
Tip: If your pastry doesn't cover the sides and rim – simply take some more and fill the gaps. Pierce the bottom with a fork.
For more tips, serving options and FAQ's check the post above this recipe card.
Nutrition Facts
Homemade Apple Pie
Amount per Serving
% Daily Value*
* Percent Daily Values are based on a 2000 calorie diet.
** As an Amazon Associate I earn from qualifying purchases.
LEAVE A COMMENT
Related posts: