The best apple oatmeal bake you will ever taste! Crispy on the outside, moist on the inside, sweet and addictive.
This is also an eggless oatmeal bake and because there is no flour just oats, it is suitable for those who can't eat gluten.
Apples are in season now so making apple desserts is a must around this time of year. I too, am in an apple dessert baking mood and been already making some delicious apple treats.
Among my most favorites are Fried Battered Apple Rings, Homemade Apple Pie and Apple Crepes.
All of these apple recipes are made from scratch and taste incredible. However, this year I am overly excited about this simple apple oatmeal bake recipe.
I couldn't wait to share it with you! This apple oatmeal bake recipe is unreal! Oatmeal, apples, walnuts and butter are turned into something so addictive that you will have hard time saying no to a seconds.
I have made this 3 times over the past week, experimenting with ingredients and every single time it tasted amazing.
Why do I love this apple oatmeal bake?
This is a gluten free baked apple oatmeal so if you have friends or family members who can't eat gluten, then this is it!
Eggless – You don't need any eggs to make this apple oatmeal bake!
Make-ahead Breakfast – if you are in a hurry, bake this a day ahead and refrigerate until ready to serve. Then simply heat up in your microwave!
This apple bake goes well with vanilla pudding/custard or caramel.
Perfect for meal prep!
Make it for breakfast, brunch, dessert or afternoon treat!
If there is a traditional apple oatmeal bake recipe out there, then this is definitely NOT it! However, this does not mean you won't love it!
Make it with or without walnuts. Both apple bakes turned out great.
The process of making this apple bake is simple: All you have to do is create layers from dry ingredients and grated apples. This is all covered with butter. Not melted butter. Just sliced or grated. Once done, you pop it in the oven and in 35-40 minutes you will be rewarded with golden brown apple oatmeal breakfast bake.
Tip: Make vanilla pudding or caramel (I prefer pudding) and pour over each slice when serving. Or top with ice cream!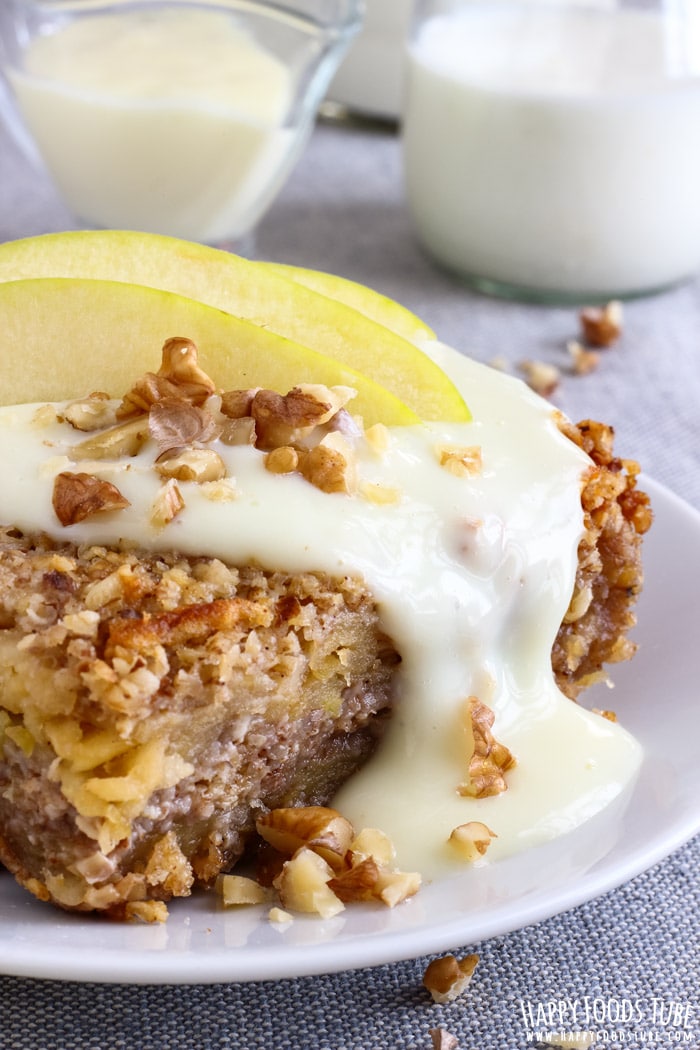 Ingredient Substitutions:
Walnuts – use hazelnuts or pecans. You can also omit them completely.
Granulated Sugar – Superfine (US)/Caster (UK) is also fine as well as Powdered (US)/Icing (UK) or brown sugar.
Apples – I used granny smith apples to make this apple oatmeal breakfast bake but feel free to use any you have on hand or those that are available in your area.
Cinnamon – this spice goes really well with apples but you don't have to use it.
Want to see how to make Apple Oatmeal Bake? Watch the video!
Apple Oatmeal Bake
The best apple oatmeal bake you will ever taste! Crispy on the outside, moist on the inside, sweet and addictive.
Instructions
Process the oats and walnuts in a food processor until you get flour-like texture. Grate the apples.

In a mixing bowl, mix the processed oats, walnuts, sugar and cinnamon (optional). Grease your ovenproof dish (8.5×7-inch/22×18-cm) with butter.

Now cover the bottom of the oven dish with the oat mixtures (about a cup). Press down slightly. Add half of the apples and cover with about 1½-2 cups of the mixture again. Repeat again, with apples and the rest of the oat mixture.

At last grate or thinly slice the butter and cover the whole surface with it.

Bake in a preheated oven at 400°F/200°C for 35 minutes or until golden brown.

Serving suggestion: Pour over some vanilla pudding.
Notes
This apple bake will be very soft when eaten on the same day. If you put it in the fridge overnight, the whole bake will harden and it will be easier to cut. This can be easily re-heated in a microwave. Perfect for meal prep or make-ahead breakfast/dessert.
Nutrition Facts
Apple Oatmeal Bake
Amount per Serving
% Daily Value*
* Percent Daily Values are based on a 2000 calorie diet.
** As an Amazon Associate I earn from qualifying purchases.
LEAVE A COMMENT
RELATED POSTS