This is a simple recipe for garlic aioli without mayo. It's made from scratch, using an immersion blender and a whole egg. Enjoy this Mediterranean garlic sauce with anything you like.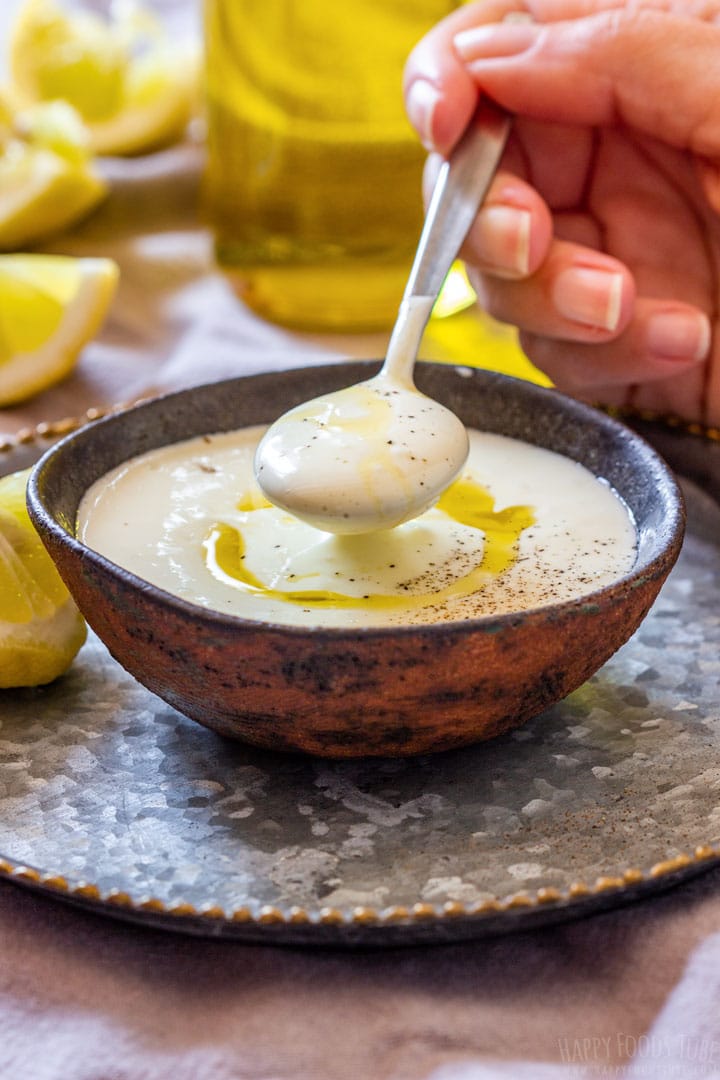 More tips, recommendations and serving suggestions are part of this post.
What is aioli?
It is a sauce (condiment) made with eggs, garlic, and oil. This sauce is popular in the Mediterranean and its preparation and ingredients may slightly vary from area to area.
In Spain, authentic alioli is made with more garlic and no eggs while in France eggs are used as well.
This is an easy aioli recipe, but some things need to be followed in order to achieve the best results.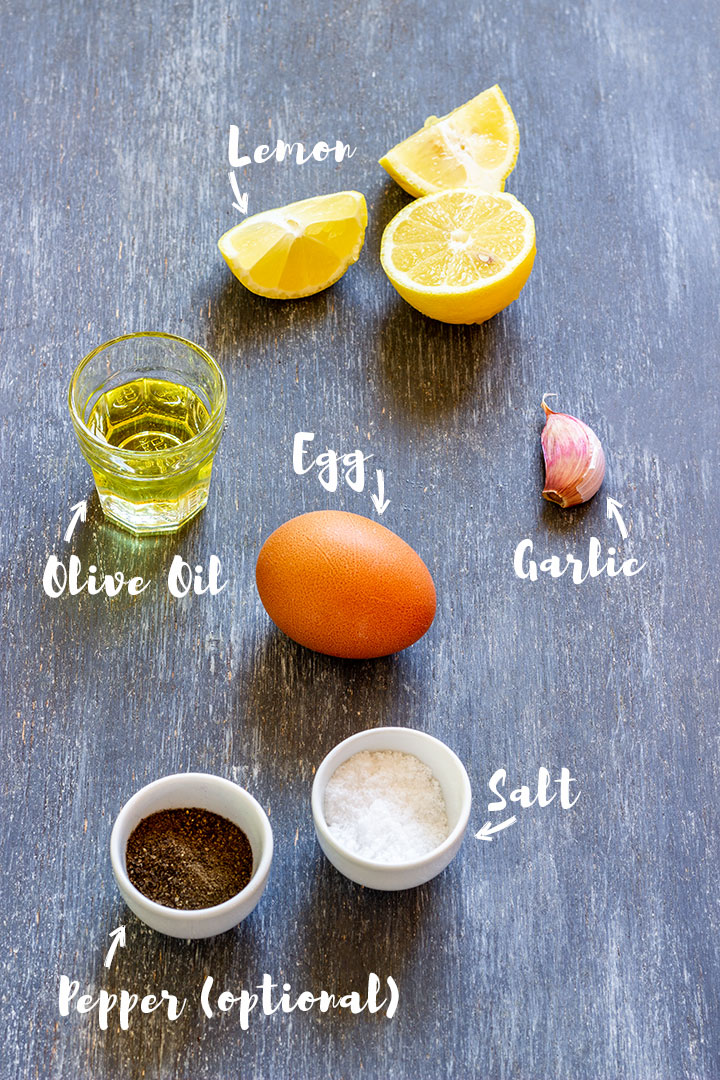 Few things to remember:
Use room-temperature eggs – cold eggs and warm oil are never a good combination so let's try to avoid it. In fact, it's good when all the ingredients are at room temperature.
Using an immersion blender to make garlic aioli is the easiest way to prepare this condiment.
Don't rush – even though this is a quick recipe, it does not mean you can cut corners. It is important to add oil in stages, a little at a time to avoid breaking the mixture.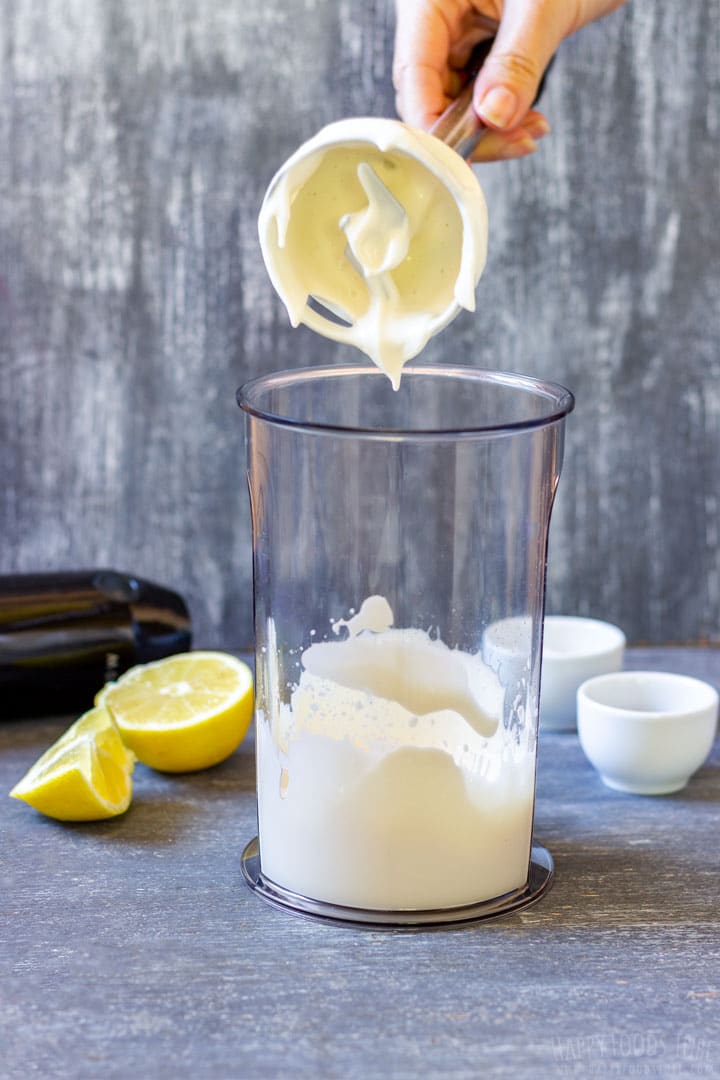 Tips for making the best garlic aioli
Aioli is made with raw eggs or egg yolks. You cannot use cooked eggs. For that reason, I recommend using good quality eggs, as fresh as possible.
It's also better to make a smaller quantity and use it up rather than keeping homemade aioli in the fridge for several days. Now that being said, when stored properly in a clean air-tight container in the fridge, aioli sauce should last up to 3 days. I recommend consuming it within 2 days though.
Optional add-ons for not-so-traditional aioli
Fresh chives finely chopped – just stir these in the aioli at the very end.
Black pepper – a pinch should be plenty.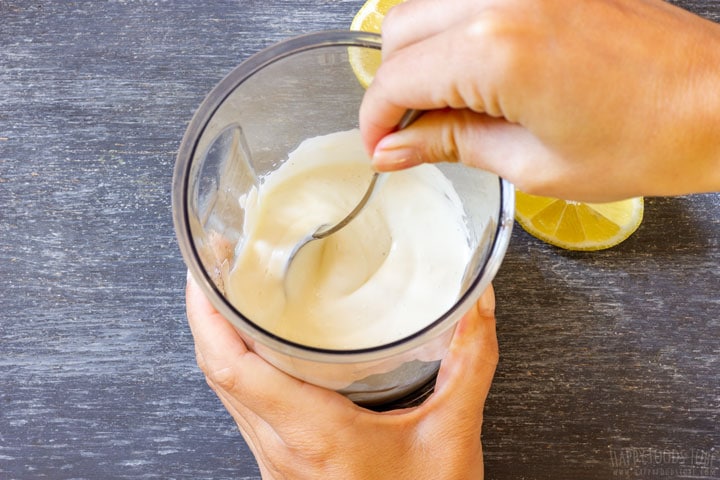 What you should know before making homemade aioli for the first time
The authentic aioli recipe uses olive oil. Now, while normally I always recommend using extra virgin olive oil in my recipes, this is not the case. Many extra virgin olive oils have a very strong flavor which is fine when using it to make bread dipping oil because you want to use good quality oil. However, in this garlic aioli recipe, extra virgin olive oil would become overpowering.
For that reason, make sure to use mild olive oil (regular cooking olive oils are usually lighter in flavor, so they are a great choice if you don't have a favorite brand). Alternatively, a mild oil like sunflower oil is also an option.
Remove the green center from garlic before pressing it.
If you don't have a garlic press, use a knife to crush it or pestle and mortar. You can finely mince it, but I prefer pressing/crushing it.
Serving suggestion/uses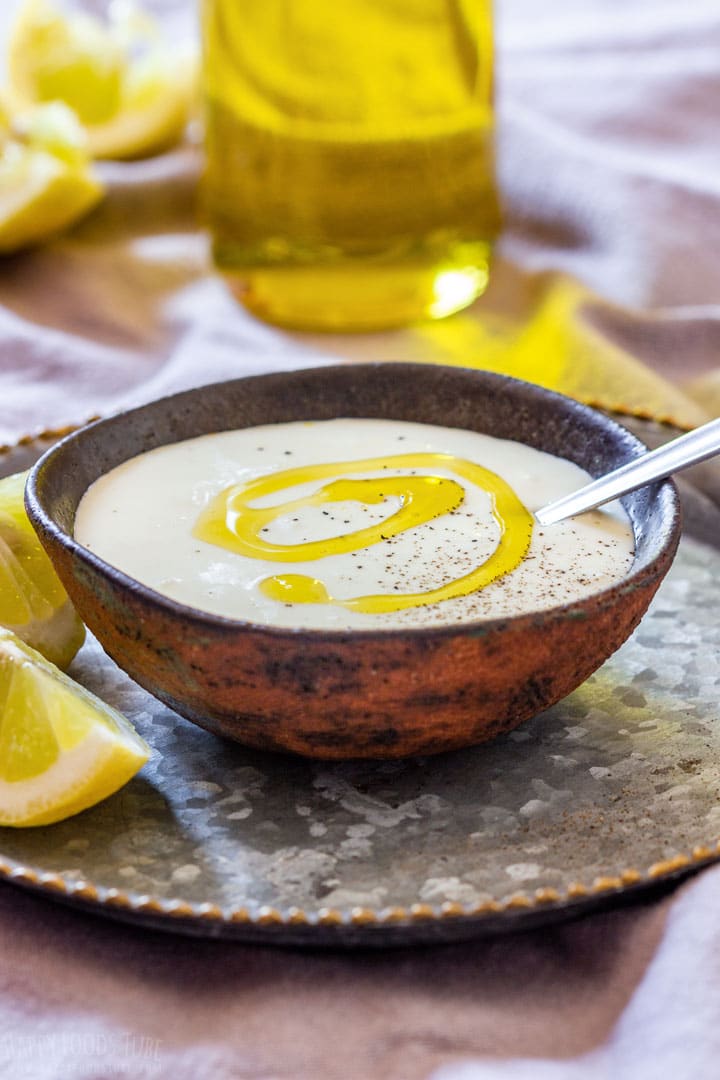 Looking for easy dip recipes? I have a few on my blog, if interested:
Garlic Aioli
This is a simple recipe for garlic aioli without mayo. It's made from scratch, using an immersion blender and a whole egg.
Servings:
8
tablespoons (1/2 cup)
Ingredients
1

large

egg

1

small

garlic clove

, see note 1

½

cup

olive oil

, see note 2

lemon juice

, freshly squeezed (about ¼ lemon), see note 3

salt

, to taste
Instructions
In a hand blender beaker, add egg, pressed garlic and about a ¼ cup of oil. Insert the hand blender so that it is touching the bottom of the beaker. Turn the blender on and blend until well combined.

Now, slowly start adding oil while the blender is on (you can move the blender sideways or up and down at this stage). After a while, aioli starts thickening and the more oil you add, the thicker it gets.

When happy with its consistency, add a squeeze of lemon and a pinch of salt. Mix and taste. Add more lemon juice or salt, if needed.

Best enjoyed chilled.
Notes
I recommend start with 1 clove at first and taste it when the aioli is ready. If you feel it could use more garlic, you can add extra pressed garlic at the very end. Adding too much at the beginning can result in an over-powering garlic-y taste which might not be to everyone's taste.
Use cooking olive oil with a light taste. Extra virgin olive oil would not work in this recipe. It would be too over-powering. Also, you might not need to add all of the oil. If you reached a thick-ish/creamy consistency that is not runny, you don't have to add more oil anymore. Good olive oil substitutes are sunflower or vegetable oil.
Add a splash, mix, and taste. Add more if you can't taste much of the lemon flavor. I usually use about ¼ of a lemon (medium in size).
This recipe can be easily doubled if needed.
Keep it in the fridge in an airtight container. It should last up to 3 days, however, consuming it within 2 days is recommended.
More tips and serving suggestion ideas as well as optional add-ons can be found in the post above this recipe card.
Nutrition Facts
Garlic Aioli
Amount per Serving
% Daily Value*
* Percent Daily Values are based on a 2000 calorie diet.
** As an Amazon Associate I earn from qualifying purchases.
LEAVE A COMMENT