An easy recipe for tofu spring rolls with almond tahini dipping sauce. Includes tips to help you roll fresh spring rolls without tearing and sticking. Vegan, gluten-free and full of nutrients!
Learn all you need to know about preparing spring rolls with tofu (or without) from scratch at home. This post includes also possible add-ons/substitutions.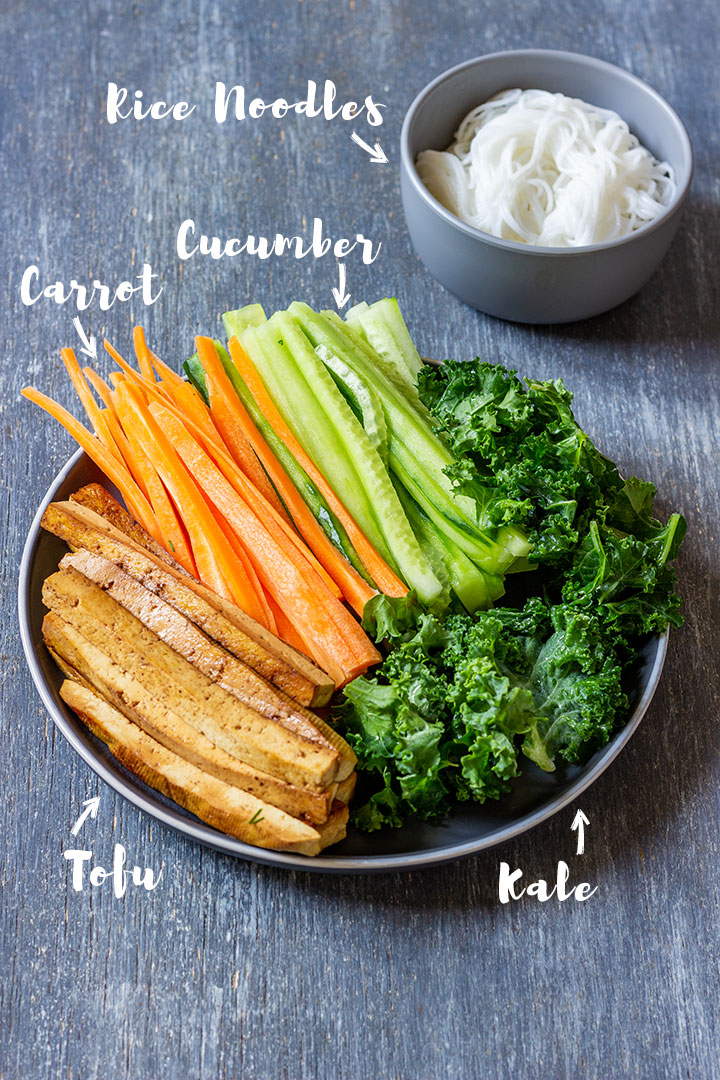 How long should you soak rice paper in water?
It is literally impossible to say how long to leave rice paper in water as it depends on the temperature of the water, pan as well as how cold your room is.
In hot water, you might need say 1 second, in warm water 10 seconds while in cold water 30 seconds (this is just an example). But, below is what I learned so far:
How to keep rice paper from sticking?
If you watched Vietnamese street vendors preparing fresh spring rolls, you would notice that most of them don't soak rice papers in the water at all.
They only spray it lightly with just enough water to make the individual sheets of rice paper pliable enough so they can be easily folded without breaking them.
When you leave rice paper in water too long (and I had been doing this many times myself), rice paper becomes too soft which makes it hard to roll. It will stick to the work surface, to your fingers and can easily tear at that stage.
For that reason, feel the rice paper instead. Run your fingers over it. Touch it. It should be softened to a point you can easily fold it.
It is also important to remember that each rice paper sheet will go even softer when sitting on your worktop/chopping board. The longer it sits there, the softer it gets and the harder it will be to roll your fresh spring rolls.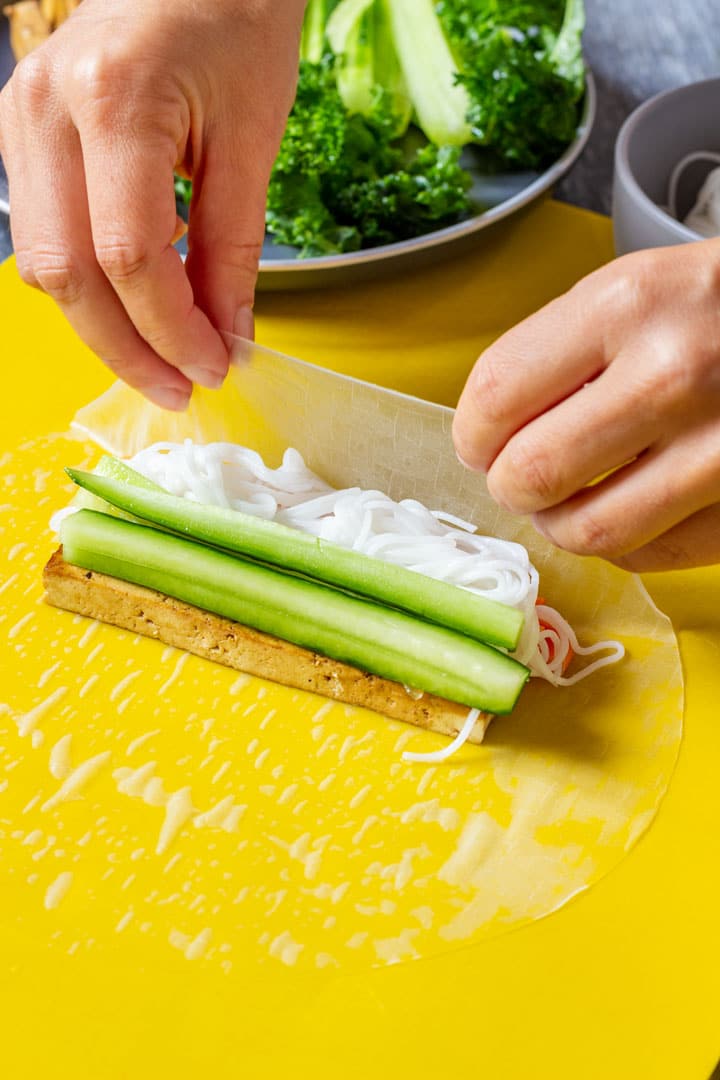 How to roll spring rolls?
Take the same approach as rolling tortillas into burritos. Lay rice paper on your worktop. Place most of the fillings in the center of the wrapper, preferably slightly closer to you.
Lift the wrapper edge that is closer to you and roll it over once. Fold the edges towards the center to seal them.
At this stage, add one last filling – this will also visible on the outside so you can arrange it nicely (The last filler can be added before folding the edges as well) and finish rolling.
Dipping sauce for tofu Vietnamese spring rolls
Classic peanut sauce is delicious and easy to make, but there are many options. Any nut butter can be used instead as well as tahini and that is what I used in this recipe.
Tahini itself can be quite strong so you can make it lighter with any nut butter you have on hand.
In Vietnam, you would find all sorts of dipping sauces for spring rolls. Made with pineapple, coconut water and fermented fish sauce, or a combo of fried onion, chili flakes, peanut sauce, coconut milk and many other ingredients.
It all depends on one's preference so feel free to experiment with your favorite flavors. Start with samples and if you like your version, scale it up. There are so many ingredients you can use from hoisin sauce, rice vinegar, sriracha, garlic, fresh chilies, lime juice, peanuts,…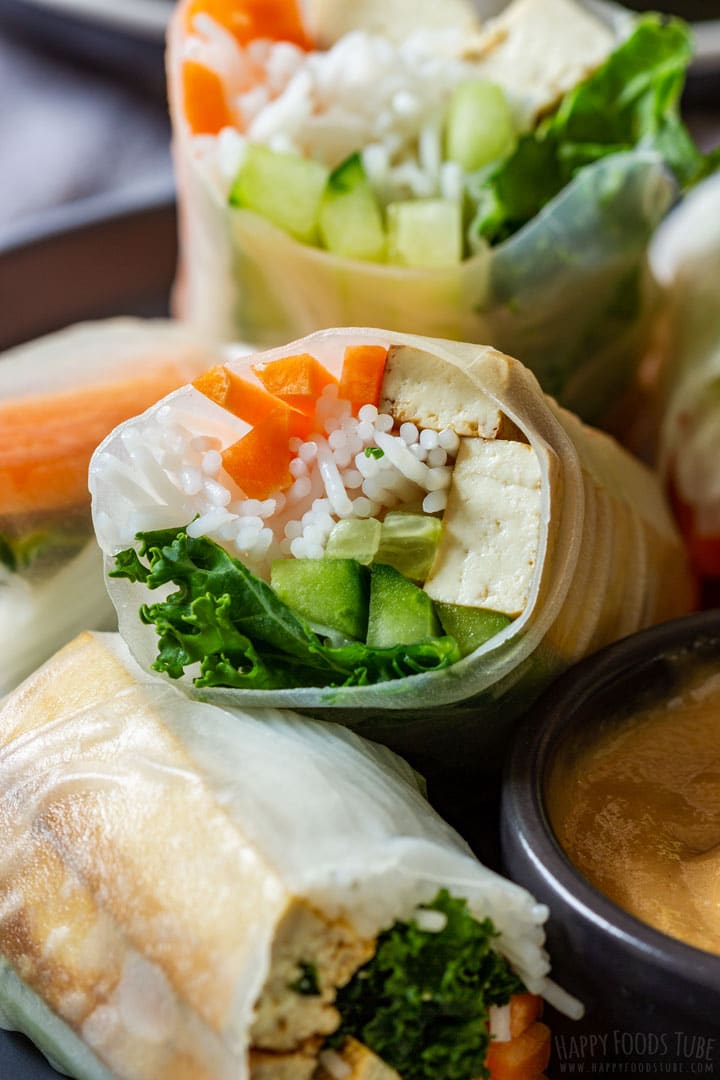 Possible variations/filling ideas
Red cabbage
Bell peppers
Lettuce (any kind)
Alfalfa sprouts
Fresh herbs – mint, basil, cilantro, chives
Zucchini – Yes, this summer vegetable is a tasty and healthy option and if you have some leftovers, use them to make a raw salad!
Pork belly, shrimp, smoked salmon (for meat and fish eaters)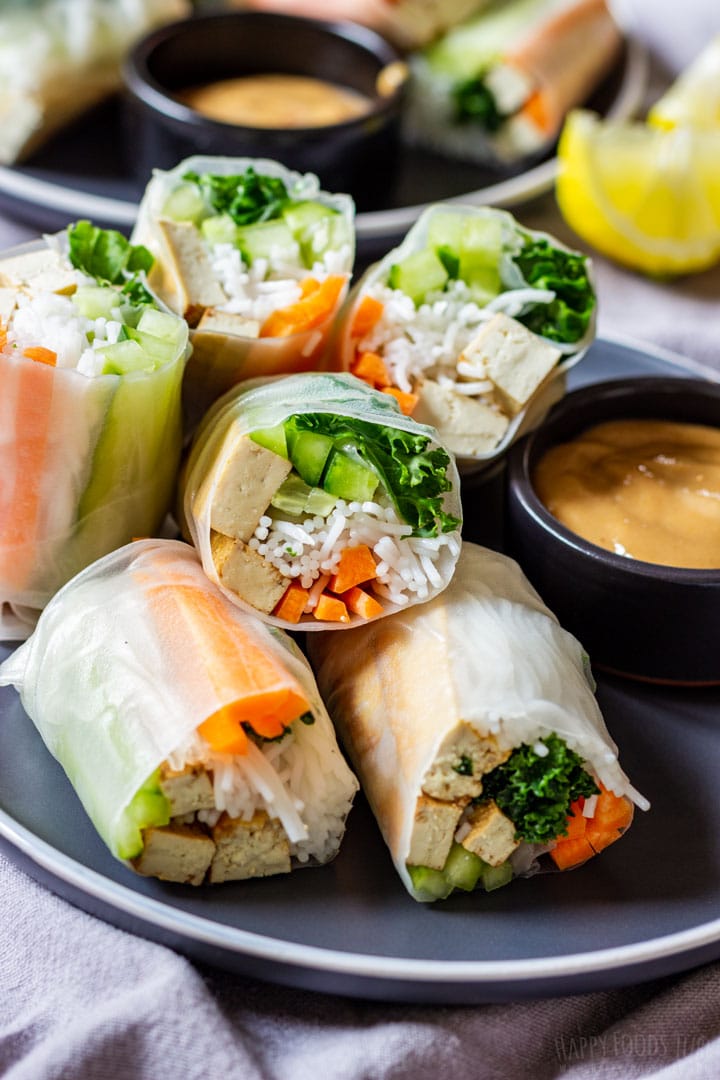 Quick summary and more tips:
Be quick when rolling spring rolls to avoid any sticking and tearing of rice paper.
Touch rice paper with your fingers and see how it feels. It can still have the plastic/paper-like feel but should be already pliable. Remember it will continue to go softer on your worktop.
Overfilling can make wrapping quite challenging. It takes some practice to learn what the right quantity is – but by the end of making your 6th roll, you will see yourself.
I quickly soaked tofu in soy sauce and pan-fried it with little olive oil. You can omit this step if you like.
It's easier to choose hard tofu to avoid breaking and crumbling when pan-frying it, but I do it with the soft version without any problem. You just need to be careful with it.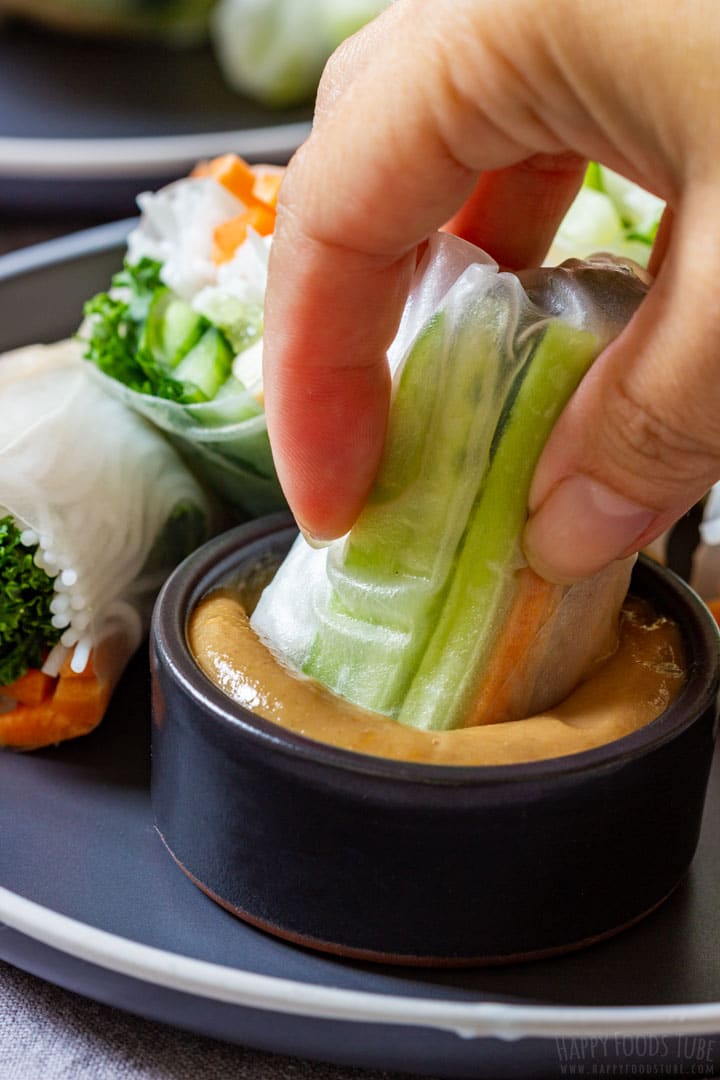 More easy vegan recipes you might like to try:
Tofu Spring Rolls
An easy recipe for tofu spring rolls with almond tahini dipping sauce.
Ingredients
For tofu spring rolls:
7

ounces

tofu

(200 grams)

1

tablespoon

soy sauce

2

carrots

, cut into thin sticks

½

english cucumber

, cut into thin sticks

a few

kale leaves

, stems removed

2

ounces

rice noodles

, cooked (60 grams)

6

rice paper wrappers
For tahini dipping sauce:
2

tablespoons

tahini sauce

1

tablespoon

soy sauce

1.5

tablespoons

honey

, or to taste, see note 2

1

teaspoon

almond butter

, optional, see note 3

½

teaspoon

olive oil

½

lemon

, juice only, or to taste

water

, see note 4
Instructions
Tofu spring rolls: Cut tofu into long thin sticks and place them in a bowl/plate with soy sauce. Turn each stick over making sure it is dipped in the sauce on all sides. Set the bowl/plate aside.

Drain rice noodles if you haven't done so and rinse under cold water. Set aside.

Heat about a tablespoon of oil in a skillet/frying pan and fry the tofu sticks on all sides, about 5-7 minutes. Take them out and let them cool down.

Pour warm water in a skillet/frying pan or cake pan. Dip a sheet of rice paper in it until is softened but not too soft (it will go softer on your worktop as well, see note 5) and place it onto a clean worktop or chopping board.

Place a few carrot sticks in the center altogether with fried tofu sticks. Top these with rice noodles and cucumber sticks. Wrap rice paper over this filling once and then fold sides of the paper towards center.

Add kale and finish rolling.

Repeat with the rest of the wrappers.

Tahini dipping sauce: Mix all the ingredients in a small bowl, taste and adjust the ingredients to your liking. For a thinner sauce add more water, for thick sauce, you can omit water completely or just ad a splash.
Notes
You can easily adjust all the ingredients to your liking.
Use any sweetener you like – maple syrup, agave syrup…
Tahini is quite strong in flavor so almond butter does lighten it up. You can use almond butter only if you prefer or use less tahini and more almond butter.
Water is optional. I like the sauce on the thick side. Add as much water as you like. There is plenty of sauce for 6 full spring rolls.
The post above this recipe card has a detailed explanation about soaking paper and how to avoid sticking, tearing…
Nutritional information is per 1 full spring roll.
Nutrition Facts
Tofu Spring Rolls
Amount per Serving
% Daily Value*
* Percent Daily Values are based on a 2000 calorie diet.
** As an Amazon Associate I earn from qualifying purchases.
LEAVE A COMMENT