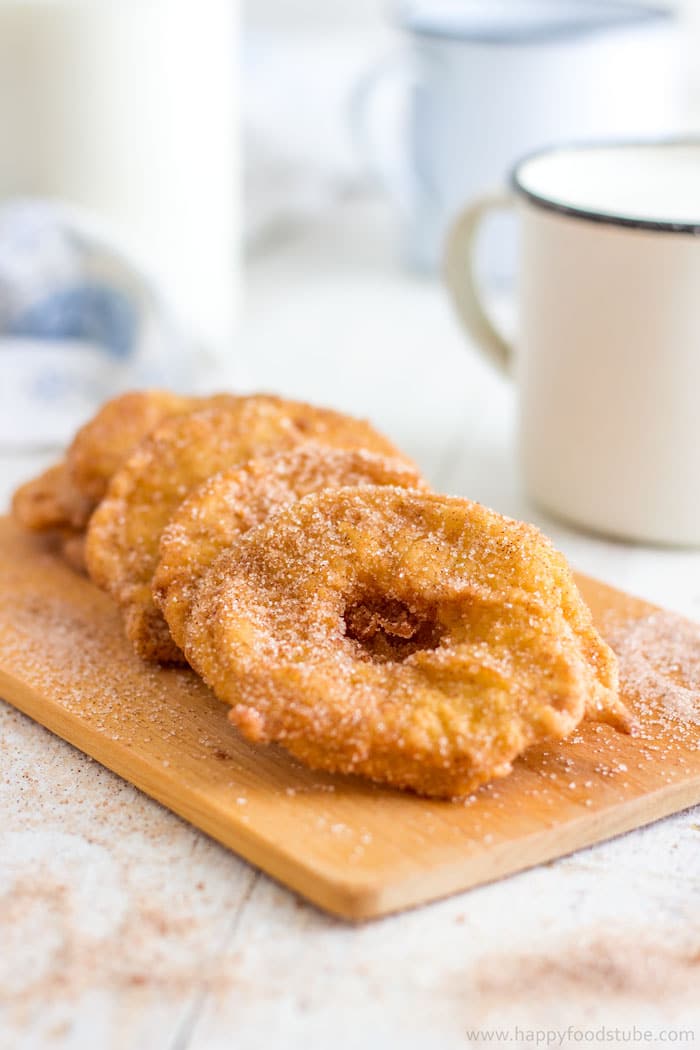 Fried battered apple rings are simple yet mouth-watering treat! Apple slices dipped in batter, deep-fried & coated in cinnamon sugar!
This is a very easy as well as fast recipe. You only need 2 large apples to get 12 sweet apple treats which is a pretty good number. However, they are highly addictive so I am guessing you will need more apples to make the entire family happy. I made it for the two of us and they went down pretty fast.
I like making these in fall because the apples are in season but it's not a rule! No matter when you make them, they will taste amazing. Those of you who have an apple tree in your garden will probably end up with more apples that is possible eat. I guess you will give many apples to your family and neighbors but there still be a lot to consume. So you might be looking for new apple recipes such as this easy-peasy fried battered apple rings recipe!
Making fried battered apple rings (or homemade apple fritters as some people call them) can't get any easier than this:
Fried apple rings recipe break-down:
4 easy steps for the best fried apple rings:
Step 1 – the batter:
Make the batter by mixing all the ingredients (apart from the apples and oil). No need to take out your mixer, simply use a fork.  The rum is optional. If you don't want to add it in, try vanilla essence/extract instead! Now the batter should not be too thin or too thick. If you follow this recipe, you will get a perfect batter for 11-12 apple rings.
Step 2 – the apple rings:
You should get about 6 slices out of each apple. After you have peeled the skin off, slice them and using a small round cookie cutter cut out the core. If you have an apple corer go ahead and use it!
Step 3 – deep-frying apple rings:
Dip each ring in the batter, insert your fork inside the hole and let it drip a bit before putting it in hot oil. I use frying pan for deep-frying these as they are thin and there is no need for wasting too much oil. Also make sure to not use olive oil for frying. This would give the apples funny flavor!
Step 4 – cinnamon sugar coating:
Make sure the apple rings are still warm when coating them with cinnamon flavored sugar. The batter I use is pretty simple and not sweet. That is why it is important to coat them in sugar to make them extra yummy.
Note:
The fried apple rings will turn from crispy to soft pretty fast so don't panic! That's the way they are!
Use paper kitchen towel to get rid of the excess oil!
If you are looking for more apple recipes have a look at my Apple Pie Recipe or this No Fuss Mixed Fruit Crisp with Hazelnuts. They both are delicious and quite fast to make!
By the way how do you like my new updated post and pictures? I did not make a new video. Maybe next time!
Here is the old picture for comparison (which I was quite proud of back then):
Watch the video for this recipe: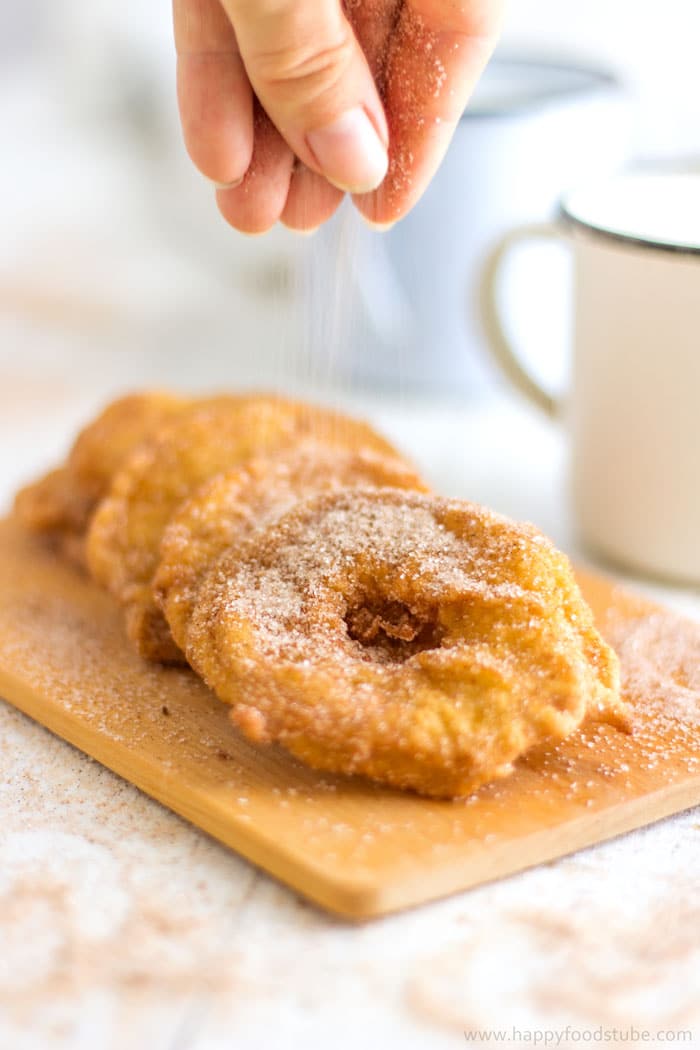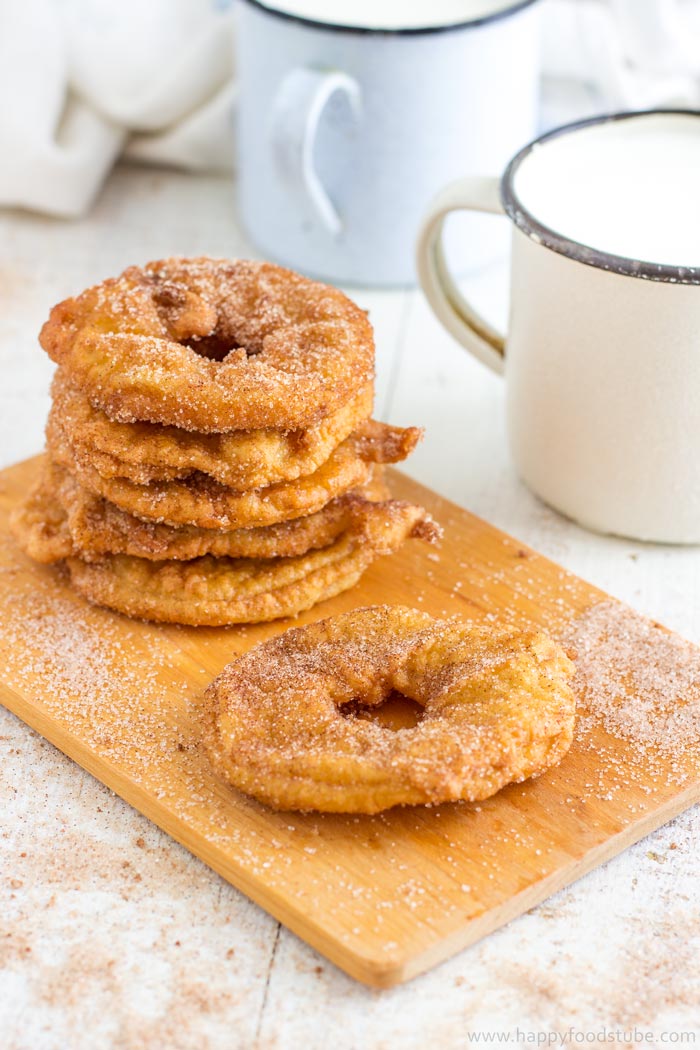 Yields 12 apple rings
Fried Battered Apple Rings
10 minPrep Time
5 minCook Time
15 minTotal Time
Ingredients
60g (2.1oz) Plain Flour
3 Tablespoons Milk
2 Large Apples
1 Teaspoon Rum
1 Egg
1 Tablespoon Caster Sugar/Vanilla Flavored Sugar
300ml (10.1fl oz) Vegetable/ Sunflower Oil for frying
¼ cup Caster Sugar or Icing Sugar
1 Teaspoon Ground Cinnamon
Instructions
In a soup bowl, mix flour + milk + rum + egg + 1 TBSP sugar until you get nice smooth batter.
Wash and peel the apples. Slice them into thin slices (you should get 5-6 slices out of each apple) and remove the core using a small round cookie cutter. Or use apple corer, if you have one.
Heat up the oil in a frying pan.
Dip each ring in the batter and fry until both sides are golden brown. Frying 12 apple slices takes about 5 minutes.
Place each apple ring onto a paper kitchen towel to get rid of the excess oil.
While still warm, coat them in cinnamon sugar (mix sugar & cinnamon in a bowl).

Happy cooking with HappyFoods Tube!
https://www.happyfoodstube.com/fried-battered-apple-rings/
Browse more Dessert Recipes or visit our
channel to see the videos.