Surprise your loved ones with this easy to make Christmas chocolate bark with coconut! An edible Christmas gift idea for any chocolate lover out there!
Chocolate is one of those sweet treats that can be enjoyed on its own but is also great in baking. It makes everything taste better, don't you think so? I love the amazing varieties of flavors and types that are out there and it always amazes me what people can do with chocolate. Last year Siim and I visited a chocolate shop in Prague.
Guys, I have to say that I am not a chocoholic (I use chocolate more for baking than eating) but I loved that place! Chocolate on a stick was my favorite product and I did not know what flavor to choose. I loved all of them! Apart from that there was basically everything chocolate related.
Chocolate bars, chocolate bark, chocolates as well as various items like a chocolate tool box with chocolate tools. Well, as you can imagine chocolate was everywhere you looked! What a great place!
Have you ever visited such an interesting place? If so, where was it? What did you buy?
Now as I have already mentioned I use chocolate mostly in baking. I usually buy dark chocolate with 70% cocoa content. My second favorite one is milk chocolate and I have to admit that I try to avoid buying white chocolate since I learned it does not contain any cocoa solids and therefore it does not have any health benefits for your body.
If you would like to check out some sweet recipes using chocolate then have a look at this Dulce de Leche Chocolate Cups and Dark Chocolate Orange Cake. It is a delicious way how to turn ordinary chocolate into an extraordinary treat. If you are after more sophisticated dessert, this Raspberry Chocolate Cake is the way to go!
I love adding a few chocolate bars to Hot Chocolate to achieve a richer taste.
So guys, what are your favorite chocolate desserts?
OK. Let's talk chocolate bark!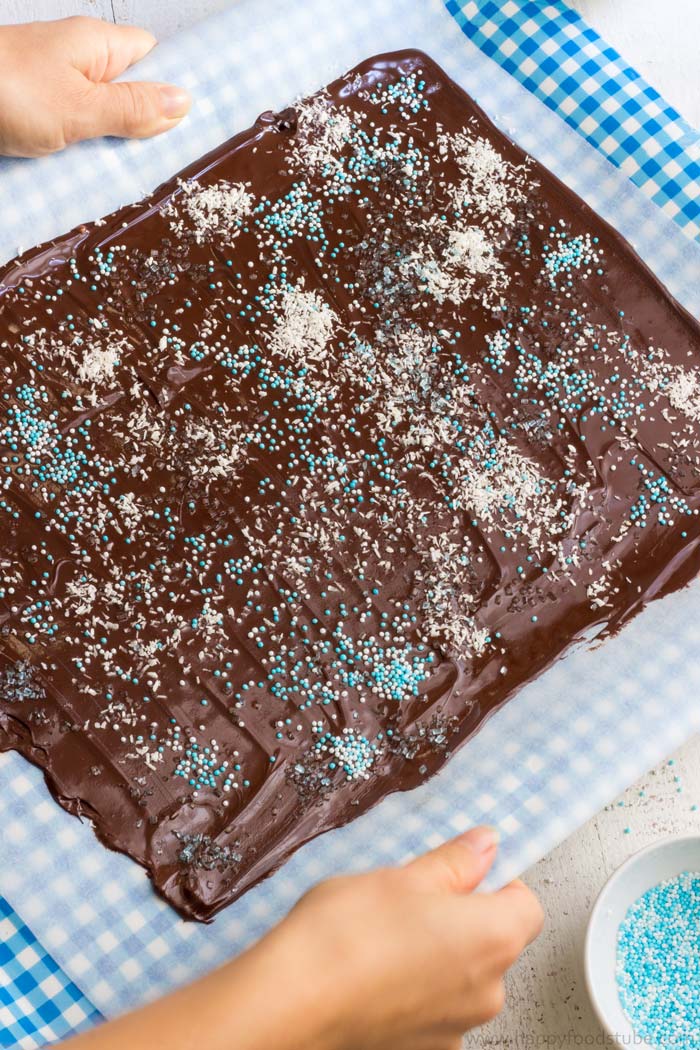 What I like about chocolate bark:
Its versatility – whether it comes to chocolate type or toppings, the options are limitless.
It is a no bake treat – no oven required here, just your fridge.
It's a great gift idea – if you are looking for an edible Christmas gift idea, here it is!
How to make chocolate bark
There are a few easy steps to follow to get this festive chocolate bark.
Melt the chocolate – Spread evenly on a baking tray lined with baking paper & let cool for a minute or two.
Sprinkles – use as much as you like and as many types as you like.
Refrigerate – pop in your fridge overnight.
Cut/break – use a knife or hand to break it into pieces.
Now this is it! I store the bark in the fridge in an air-tight container.
Important – melting the chocolate:
Use either a double boiler or microwave but make sure you don't burn the chocolate! When using the double boiler, make sure no water gets into the chocolate. If using a microwave, put it in for about 30 seconds. Take it out and stir the chocolate around.
By stirring you will melt the solid chocolate with the hot melted one. If you see it's not melting anymore, pop it back in a microwave for a further 20 seconds and repeat. (I don't usually go over 1 minute and 30 seconds). Repeat again, if needed.
Do you make chocolate bark? Do you have a chocolate bark recipe that you love? Let me know!
Want to see how to make Christmas Chocolate Bark? Watch the video!
Christmas Chocolate Bark with Coconut
Surprise your loved ones with this easy to make Christmas chocolate bark with coconut! An edible Christmas gift idea for any chocolate lover out there!
Ingredients
5.5

ounces

Milk Chocolate

or Tempered Dark Chocolate (150 grams)

2

tablespoons

Sprinkles

of Your Choice

2

tablespoons

Desiccated Coconut
Instructions
Melt the chocolate in your microwave. Start off with 30 seconds. Take it out and stir, trying to melt any solid pieces. Put the bowl back for another 20 seconds. Take it out and mix. At this stage the chocolate could be almost melted. Try to stir it until all the chocolate has melted. If you feel like some more time is needed, pop it back in the microwave for a few more seconds. Be careful. You don't want the chocolate to be overheated as it might not set properly.

Pour the melted chocolate onto a baking tray (serving tray) lined with baking paper. Spread around evenly using a spatula. Its thickness will depend on you.

Let it cool down a bit before topping with coconut and sprinkles.

Place in the fridge and keep it there for several hours (for best results overnight).

Once the chocolate has set, break/cut it/smash it into pieces.
Nutrition Facts
Christmas Chocolate Bark with Coconut
Amount per Serving
% Daily Value*
* Percent Daily Values are based on a 2000 calorie diet.
** As an Amazon Associate I earn from qualifying purchases.
LEAVE A COMMENT
RELATED POSTS