Delicious hot chocolate recipes, all made on stove top within minutes. Perfect hot cocoa recipes for curling up on a sofa with your loved ones or for a hot cocoa bar.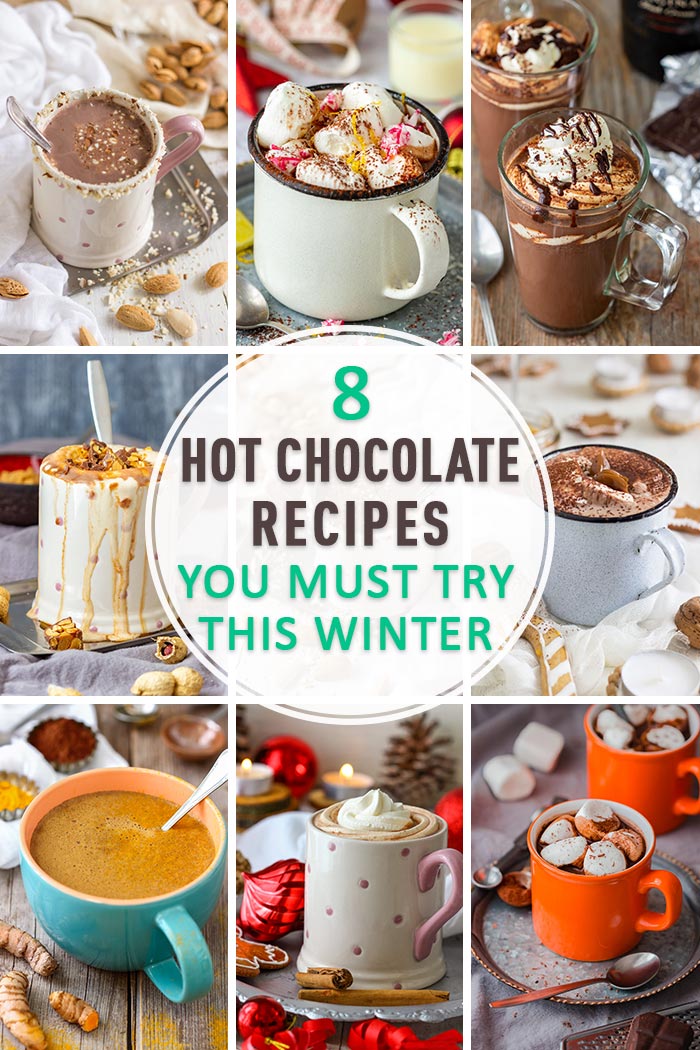 What kind of hot chocolate recipes will I find here?
Easy to make hot cocoa recipes
Healthy recipe ideas
Christmas-themed hot chocolate recipe
If you try some of these hot chocolate recipes, please let us know in the comments section.
So here they are: 8 Hot Chocolate Recipes You Must Try This Winter
Different
Have you tried Peanut Butter Hot Chocolate? If not, here is your chance!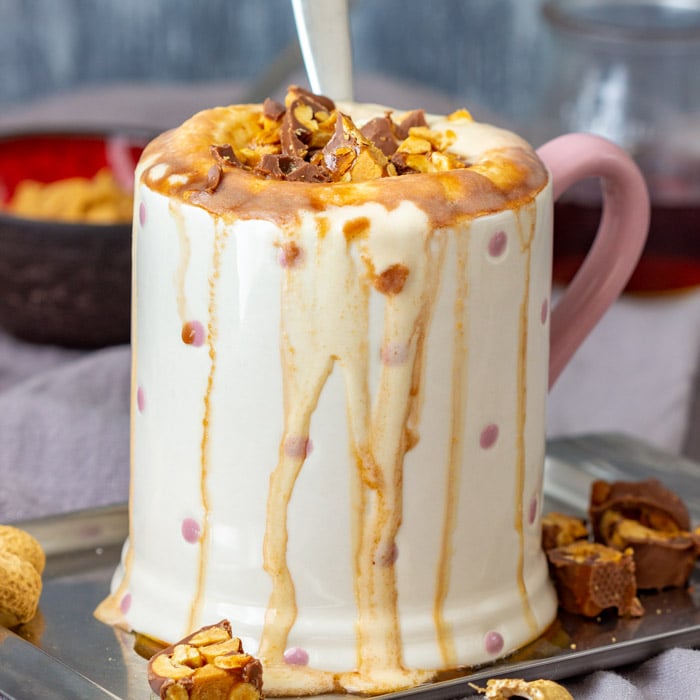 Peanut Butter Hot Chocolate
Creamy peanut butter hot chocolate is the perfect winter treat. Enjoy a blend of cocoa, peanut butter, maple syrup and whipped cream.
Check out this recipe
Creamy Dulce de Leche Hot Chocolate is rich, creamy and delicious! What more could you ask for? If you don't have Dulce de Leche, use caramel sauce instead.
Creamy Dulce de Leche Hot Chocolate
This Creamy Dulce de Leche hot chocolate is your go to drink this winter! It's rich, creamy and delicious!
Check out this recipe
Healthy
If you are looking for healthy hot chocolate recipes, you might like Turmeric Hot Chocolate. This hot beverage not only contains less calories, but it also has anti-inflammatory properties. Easy recipe and quick preparation!
Turmeric Hot Chocolate
Love hot chocolate but looking for healthier option? Try Turmeric hot chocolate! This golden drink has anti-inflammatory properties and can be enjoyed in 5 minutes.
Check out this recipe
Almond Milk Hot Cocoa is another healthy hot chocolate recipe. You only need 5 minutes and 4 ingredients to make it! This recipe is also vegan and dairy-free.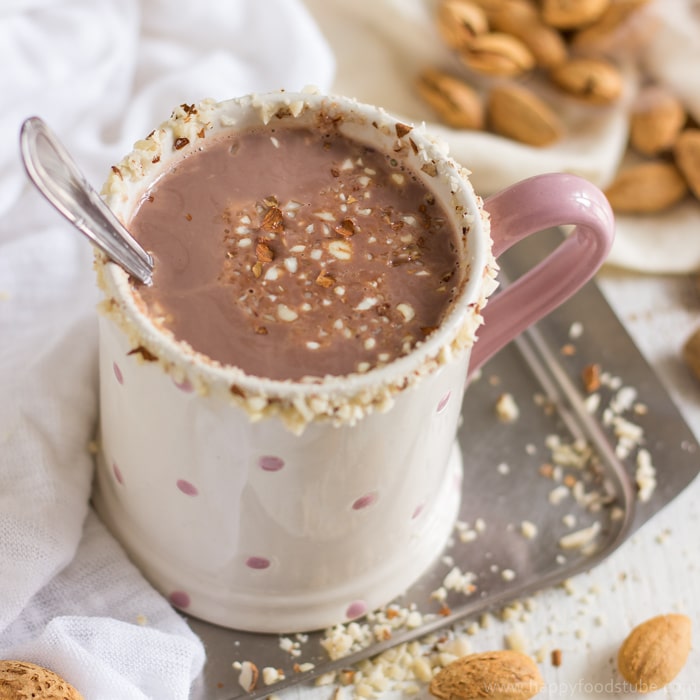 Hot Cocoa with Almond Milk
This super healthy hot cocoa with almond milk is the perfect guilt-free treat for winter. It's fast, low in calories, dairy-free, keto and vegan.
Check out this recipe
Boozy
Why not try some of these adult-only hot chocolate recipes and serve them at your next party? The over 21-ones will definitely enjoy them.
Crema di Limoncello Hot Chocolate is a simple hot chocolate recipe spiked with Italian lemon-flavored liquor.
Crema di Limoncello Hot Chocolate
Crema di Limoncello hot chocolate is the perfect drink for the Holidays! To make this spiked hot chocolate, stir Crema di Limoncello into warm cocoa, top it with marshmallows, lemon zest and serve!
Check out this recipe
Hot Chocolate Spiked With Rum is another tasty recipe. Adding chocolate makes this hot beverage extra rich and creamy.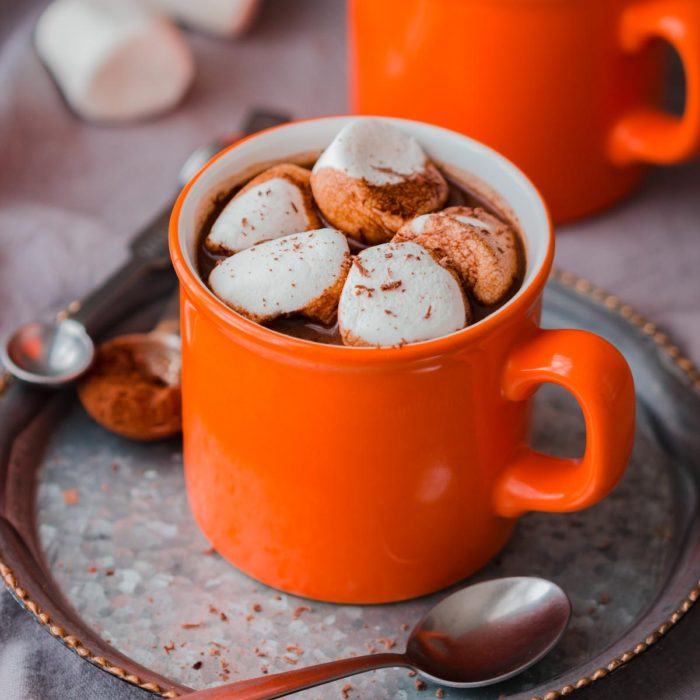 Hot Chocolate Spiked with Rum
Hot chocolate spiked with rum is an easy recipe for homemade hot chocolate made from scratch, using real chocolate. This boozy drink is ready in 6 minutes and has a rich taste.
Check out this recipe
Baileys Hot Chocolate is the perfect winter drink for those looking for boozy hot chocolate recipes. Give it a try and let us know what you think.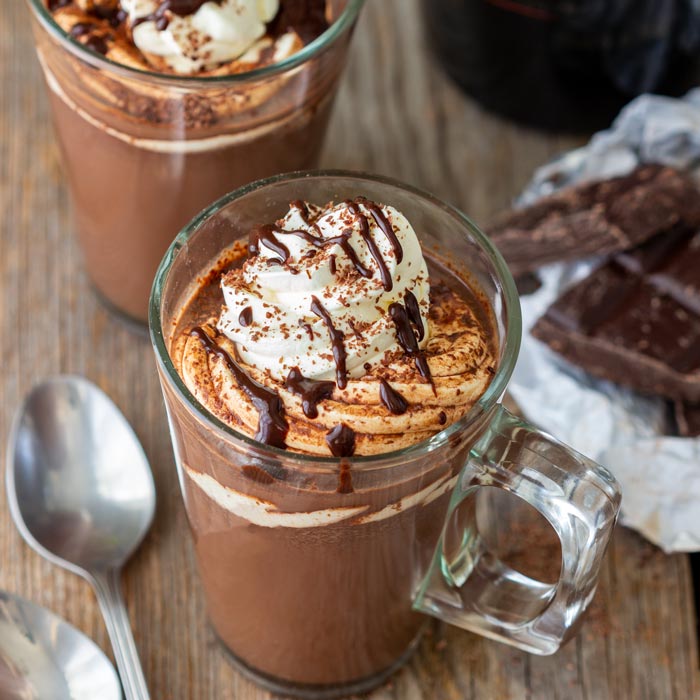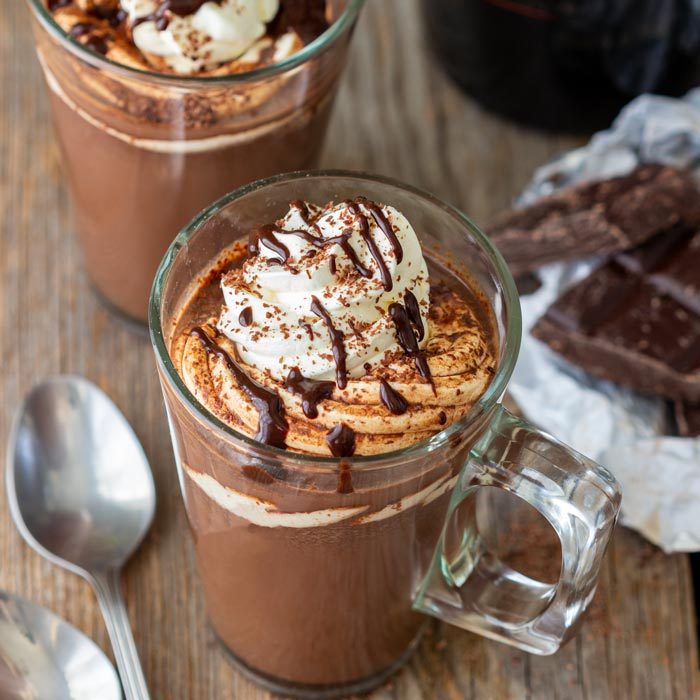 Baileys Hot Chocolate
This Baileys hot chocolate recipe is easy and quick. A steaming cup of this boozy deliciousness is ready in 5 minutes and it's made with real chocolate.
Check out this recipe
Festive
The Holiday season wouldn't be complete without a mug (or two) of this Gingerbread Hot Chocolate. It's is one of the hot cocoa drinks you must try this Christmas! The spices bring this hot cocoa drink to a whole new level.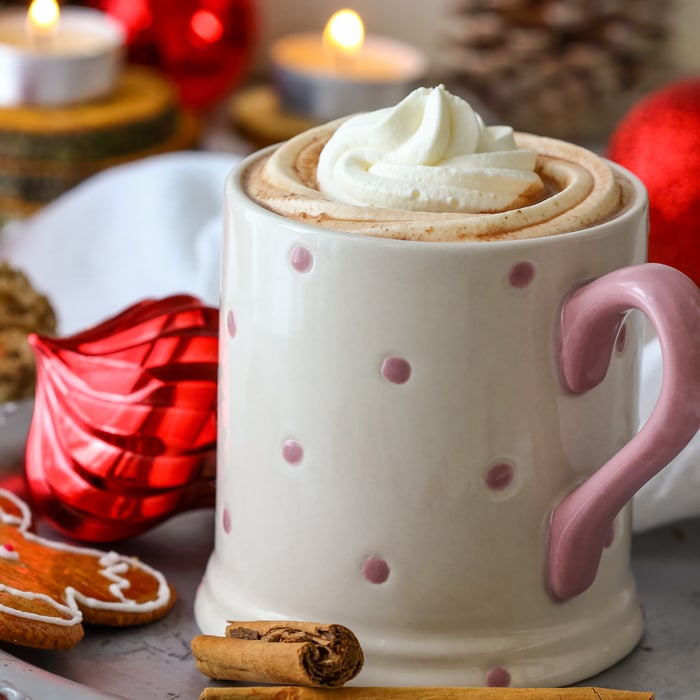 Gingerbread Hot Chocolate
Homemade gingerbread hot chocolate is the perfect Christmas drink! This gingerbread spice infused hot chocolate warms you up & gets you into the festive mood!
Check out this recipe
What can I add to hot chocolate?
Toppings:
Marshmallows
Whipped Cream
Chocolate Shavings
Sprinkles
Stir-ins:
Maple Syrup
Honey
Caramel, Chocolate or Gingerbread Syrup
Liquors
The options are limitless! The good news is that winter season is the perfect time to experiment with hot chocolate flavors so why not try some new recipes?
Is hot chocolate better with milk or water?
When it comes to hot chocolate recipes, I always prefer using milk to water. Milk makes this hot beverage tastier and richer in flavor.
Now, it does not mean you have to use milk. Water is a good alternative for those who are lactose-intolerant or vegan or those who want to cut down calories.
You can also use plant-based milk drinks such soy milk, almond milk, coconut milk, if you like.