Cloudy apple pear juice. Nothing is better than a glass of homemade fresh juice. This one is ready in 5 minutes and tastes amazing!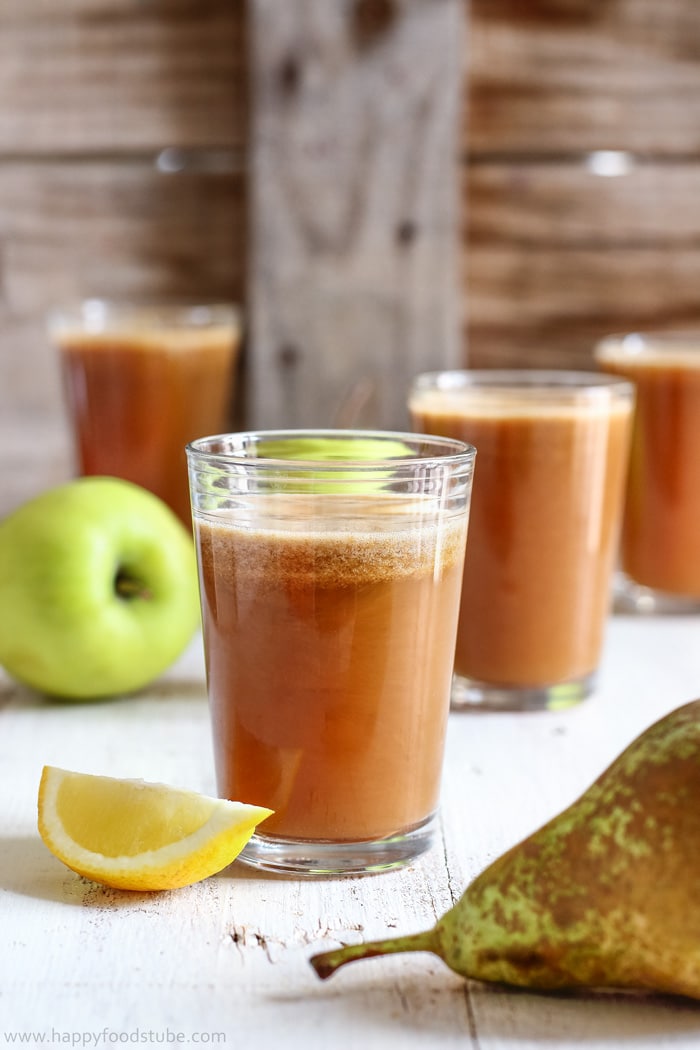 This apple pear juice is naturally sweet so you don't need to add any sweetener. Did you know that cloudy apple juice contains more antioxidants than clear apple juice? I hope you won't be put off by its brown-ish color as this is completely natural and happens because of oxidation.
Do you like juices? Do you make homemade fresh juices? If yes, what are your favorite ones? I can basically drink anything. I really like experimenting here.
One of my favorite ingredients is beets. I haven't been always a beet fan. But adding them to your juice they give you an extra sweetness and if combined with oranges & carrots they are delicious. Check out this Immune Booster Juice. It is a great fresh juice!
So beets, oranges and carrots are among the most juiced items in our household. By the way, if you haven't noticed yet we juice a lot! At first I was not fan of juicing mainly because I found it time consuming.
Now I can't even imagine a week going by without making a fresh homemade juice! It does not take as long as I had originally thought and the final "product" is worth it!
If you are looking for more homemade juice recipes then have a look at these ones:
Glowing Skin Green Juice – this juice is perfect for maintaining a healthy looking skin.
Homemade Anti-Aging Citrus Juice – this is definitely the best fresh juice for those who want to fight aging signs the natural way. It is made with various types of citrus fruits. They all are excellent sources of vitamin C which helps reduce skin aging. It is also a great detox juice.
Vitamin Boosting Juice – I love this juice as it is rich in vitamin C and it definitely is not only for winter.
Some of you may have questions about fresh homemade juices so hopefully I have covered them here:
How long can I store fresh fruit juice for?
I highly suggest drinking it right away. However, you can keep it in the fridge for up to 48 hours. Note that most fresh homemade juices will be ok to drink even after 3 days from juicing BUT these juices will have little health benefits to your body.
It is because oxidation somehow reduces nutrients with time. That is why homemade juices should be consumed as soon as possible. I try to keep them in the fridge for no more than 24 hours.
Sometimes, we do store some of them for longer, if we end up with juicing more than expected. Like I've said: drinking freshly made juices right away is best for your body!
How to store fresh juices?
The best way to store fresh juices is in a glass jar sealed with a lid. Always store fresh homemade juices in the fridge!
Apple and pear juice health benefits
This cloudy apple pear juice is full of nutrients. It also boosts your immune system and detoxify your liver (thank to apples).
So guys, if you are thinking of buying a juicer I highly recommend doing so. Just do a proper research first. There are several types and brands to choose from.
Cloudy Apple Pear Juice
Cloudy apple pear juice. Nothing is better than a glass of homemade fresh juice. This one is ready in 5 minutes and tastes amazing!
Instructions
Wash the fruits under running water. Cut apples & pears into quarters and core them. I also peel the skin off of pears.

Juice them and serve right away!
Nutrition Facts
Cloudy Apple Pear Juice
Amount per Serving
% Daily Value*
* Percent Daily Values are based on a 2000 calorie diet.
** As an Amazon Associate I earn from qualifying purchases.
LEAVE A COMMENT