This Winter Vitamin Boosting Juice will help you stay healthy throughout cold season! It's homemade, rich in Vitamin C & ready in 5 minutes!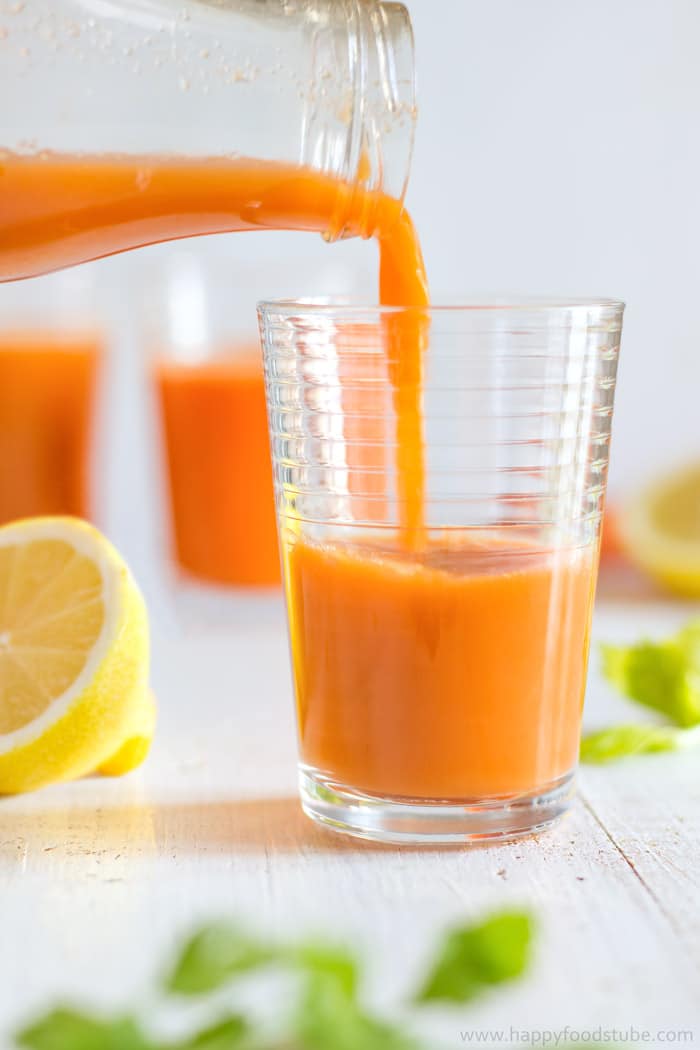 Winter is almost here, guys! Do you realize that? Time flies so fast!
This week the weather here in Spain is pretty cold which means more chances for viruses to spread around! I don't know about you but I am not willing to give the viruses any chance to take over my body! So I have made this vitamin packed juice for us to fight off all those viruses!
Immune booster juice like this carrot, apple, celery and parsley juice is what your body needs to stay healthy.
Now we like juicing because we can control what we put in our juice, we know there are no preservatives and we can drink it fresh! I have to admit I was not very keen on juicing in the beginning. My problem was the whole cleaning part and the time needed to prepare and juice the fruits and vegetables. I thought it was like a too lengthy a process not worth the while.
But I was so wrong! I timed myself once and it took me an hour from the very start to the very end (which included cleaning the juicer). In one hour I rinsed, peeled, cut, juiced the fruits and veggies and managed to clean and wash everything. We got enough juice for 3 days for the both of us!
So you see, I juiced a huge amount of fruits and veggies there, but if you want to enjoy a glass of this homemade juice recipe you will be done in 5 minutes. Now this does not include the cleaning of your juicer.
Ok, let's talk more about this easy juicing recipe.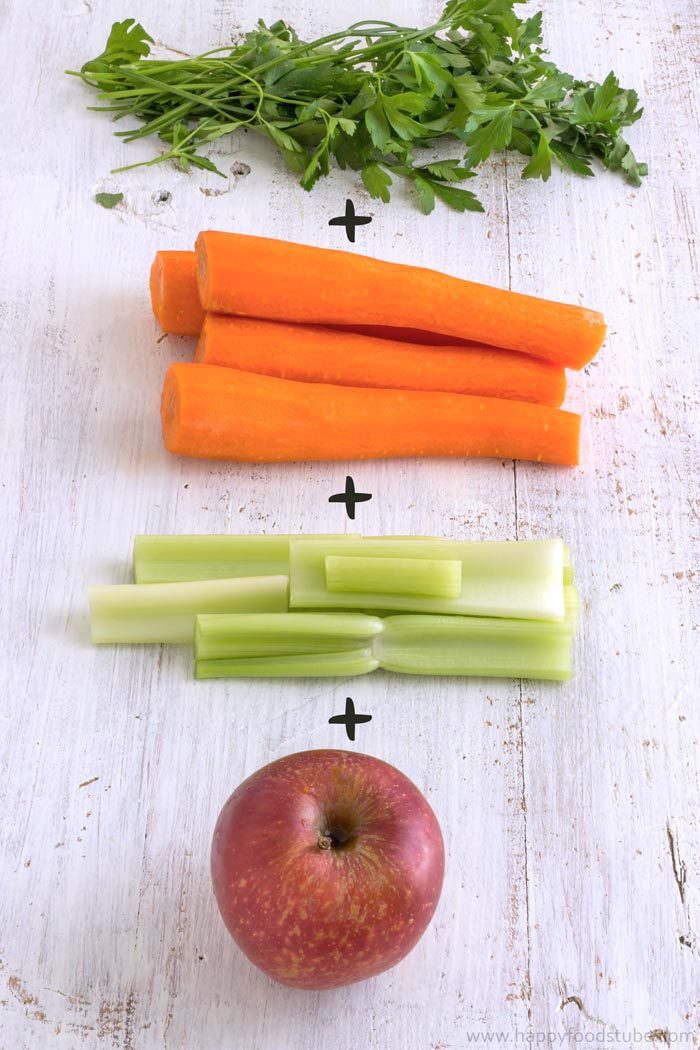 What is good about this winter Vitamin boosting juice?
This juice is rich in vitamins and minerals:
Apples are an excellent source of Vitamin C, celery is rich in Vitamin C as well as Vitamin B2 and K, potassium & calcium.
Carrots are a great source of Vitamins A, C, K and minerals such as potassium, manganese and phosphorus.
Parsley is packed with Vitamin K, C and A. It is also rich in copper, potassium and magnesium.
Apples, celery, carrots and parsley contain other nutrients that are good for your body but not in such high amounts.
If you are looking for immune boosting drinks, look no more! This is it!
Juice preparation:
Make sure you rinse all your ingredients. I always peel the carrots and trim off the ends. I also core the apples.
Cutting the fruit and veggies in half makes them easier to juice.
Juicing removes the fiber so what I like to do is add some of the flesh back into ready-made juice. It gives it a bit of texture as well.
Juice storage:
Drink the juice immediately after juicing, if possible. If not, store in a glass jar/bottle in your fridge. Do not store longer than 48 hours.
Note:
Homemade juices lose some of their nutrients when exposed to light, time, heat or air. That is why it is always best to drink them as soon as possible. It can also depend on the type of juicer you have.
Always clean your juicer right away! The sooner you clean it the shorter time you will need to do it!
By the way:
If you are looking for an immune booster recipe that has different ingredients have a look at this Beet Carrot and Orange Juice. It is another immune booster that will help your body stay healthy!
Related Posts:
Winter Vitamin Boosting Juice
This Winter Vitamin Boosting Juice will help you stay healthy throughout cold season. It's homemade, rich in Vitamin C & ready in 5 minutes!
Ingredients
4

Large Carrots

2

Celery Stalks

1

Large Apple

A Handful of Fresh Flat Leaf Parsley

A Squeeze of Lemon

(optional)
Instructions
Wash all the ingredients. Peel carrots and core the apple.

To fit some of the vegetables (i.e. carrots & celery) in the juicer easily, cut them in half or thirds.

Juice them all apart from lemon. Taste the juice and add a squeeze of lemon juice, if preferred.

Pour into a glass and drink immediately!
Nutrition Facts
Winter Vitamin Boosting Juice
Amount per Serving
% Daily Value*
* Percent Daily Values are based on a 2000 calorie diet.
** As an Amazon Associate I earn from qualifying purchases.
LEAVE A COMMENT
RELATED POSTS