Looking for homemade edible gift ideas? 3-ingredient Raffaello coconut balls make the perfect gift for your loved ones. They are no bake & ready in 15 minutes!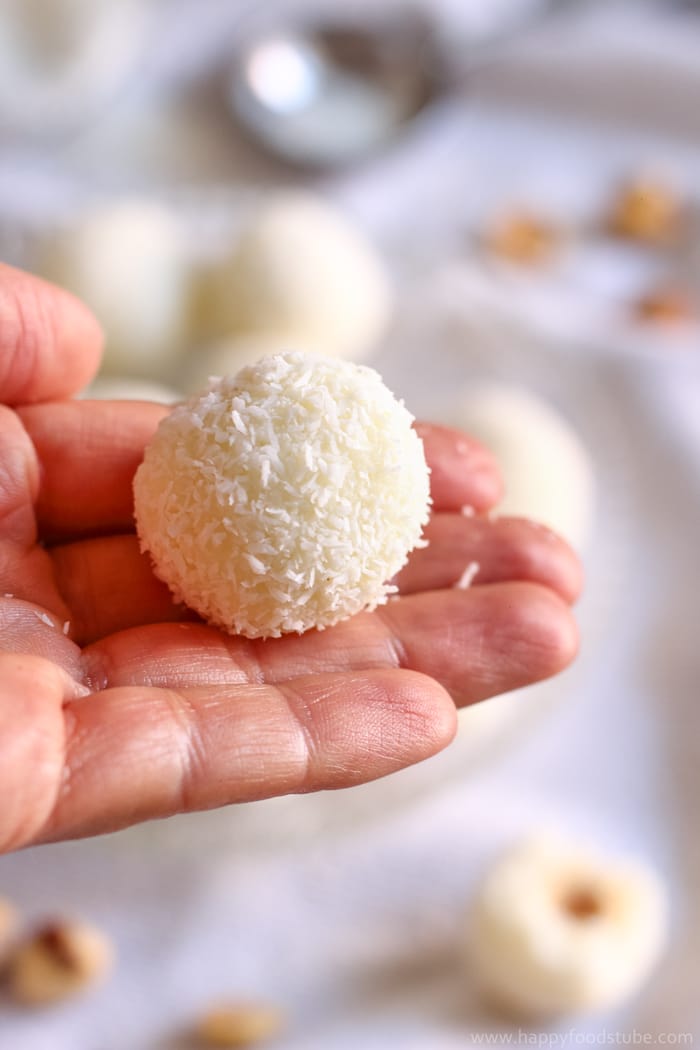 Hmmm …. These homemade Raffaello coconut balls …. Guys, these are the best sweet treats ever! And they are so easy to make! Like totally easy.
By the way, is there someone out there who doesn't actually love Ferrero Raffaello candy balls? Did you know that making these coconut balls from scratch is not only easy but fast as well? Yes. Only 15 minutes and you are done!
You can also make these with kids. They will love making them with you! It's a fast dessert to make so they won't get bored and even though it can get a bit messy, they will get to lick their coconut covered fingers! I am sure they would love it.
Now you may or may not know that I love easy to make desserts. And you know what I love even more? Easy no bake desserts with few ingredients! Like these Raffaello balls, homemade chocolate truffles or tiramisu dessert dip.
Do you make no bake desserts a lot? If yes, what is your favorite one to make?
Oh, and like I've mentioned in the beginning: These coconut balls make a perfect homemade edible gift. Birthday, Christmas, Mother's day, Father's day – they are perfect for any occasion. Just wrap them nicely and you have a wonderful personalized gift ready! Isn't it great?
How to make Raffaello Coconut Balls
Here are the three ingredients: coconut, hazelnuts and condensed milk. Desiccated coconut and condensed milk cannot be substitute for anything else.
As for the hazelnuts: We all know that the shop bought Raffaello coconut balls have almonds inside. So you can use almonds to be authentic. I am using hazelnuts because they have nice round shape which means rolling the balls is easier. I also prefer hazelnuts here to almonds.
Coconut and condensed milk are combined together. This takes less than a minute. Now all you have to do is take a nut and cover it with the coconut mixture. It will be sticky but that's how it should be so no panic. At last coat each ball in some extra coconut. This will give the balls perfect look and stop them from being sticky.
TIP: If you feel like the mixture is too dry, add more condensed milk. If it's too thin, add shredded coconut. I suggest trying to roll one or two balls to see.
The mixture is sticky and you might feel like it's sticking to your hands rather than to the nut. The important thing is to press the mixture with hazelnut a few times before rolling it into a ball. Also, you can coat your hands with some coconut to reduce the sticking a bit.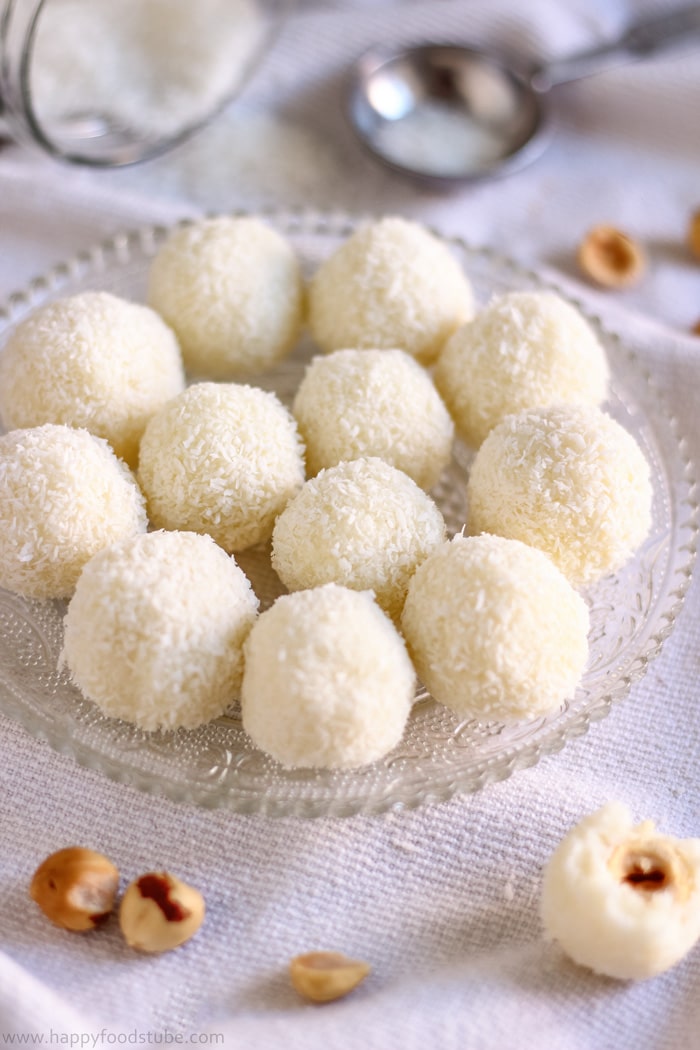 How to store these homemade Raffaello balls?
For best results store them in your fridge for at least 15 minutes before serving.
I like to store them in an air-tight container or a Ziploc bag in the fridge. That way they are always firm before serving. They will last for several days this way.
Want to see how to make Raffaello Coconut Balls? Watch the video!
You see? Easy-peasy! If you like easy homemade desserts, you will love this recipe! If you give it a go, let me know. I would like to hear from you.
3-Ingredient Raffaello Coconut Balls
Looking for homemade edible gift ideas? 3-ingredient Raffaello coconut balls make the perfect gift for your loved ones. They are no bake & ready in 15 minutes!
Servings:
14
Coconut Balls
Instructions
Mix 1 cup coconut and condensed milk together until combined.

Coat a hazelnut in this mixture and roll into a ball. Continue until you have used all the mixture.

Roll each ball in the remaining coconut and chill in the fridge before serving.

Enjoy!
Nutrition Facts
3-Ingredient Raffaello Coconut Balls
Amount per Serving
% Daily Value*
* Percent Daily Values are based on a 2000 calorie diet.
** As an Amazon Associate I earn from qualifying purchases.
LEAVE A COMMENT
You may also love: