This immune booster beet, carrot & orange juice is not only great for boosting your immunity but also for detoxifying your liver and helping your body stay healthy!
Fresh fruit and vegetable juices are perfect for boosting your body with nutrients! Supermarkets offer a great variety of flavors so anyone can find their favorite one! However, do you read their labels? Do you know what you are buying? What is the actual percentage of fruit/vegetables used in order to make a juice? How many preservatives have been used to make your favorite juice?

When I go to the supermarket looking for a good quality juice, I come across 3 problems.
It's not easy to find a good quality 100% pure juice
If you find one, it is usually quite expensive (we all know why – you pay for the quality and for the amount of fruit that has been used to make it)
You might not be happy with flavors that are available
Question: So what is the easiest way to fix this problem?
Answer: Make your own juice!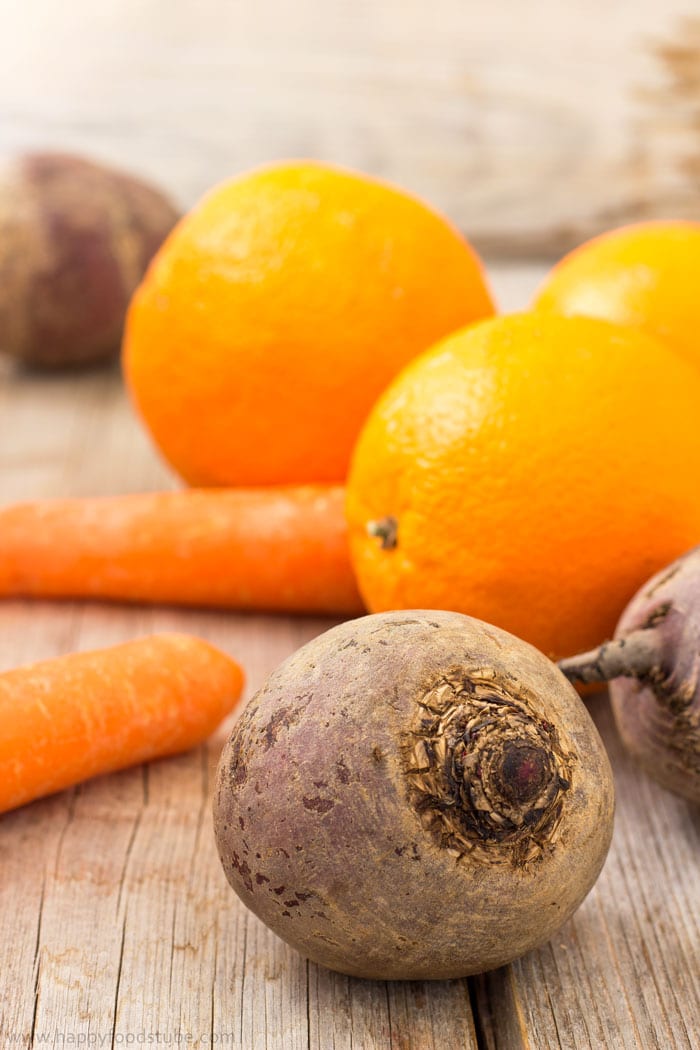 Making homemade juice (like this immune booster beet, carrot & orange juice) is really simple. All you need to have is a juicer and some fruit or vegetables (or a combination). You don't need to own a very expensive juicer to make delicious beverages. Start off with the affordable one, later you can upgrade to a larger/better/fancier one, if you need to.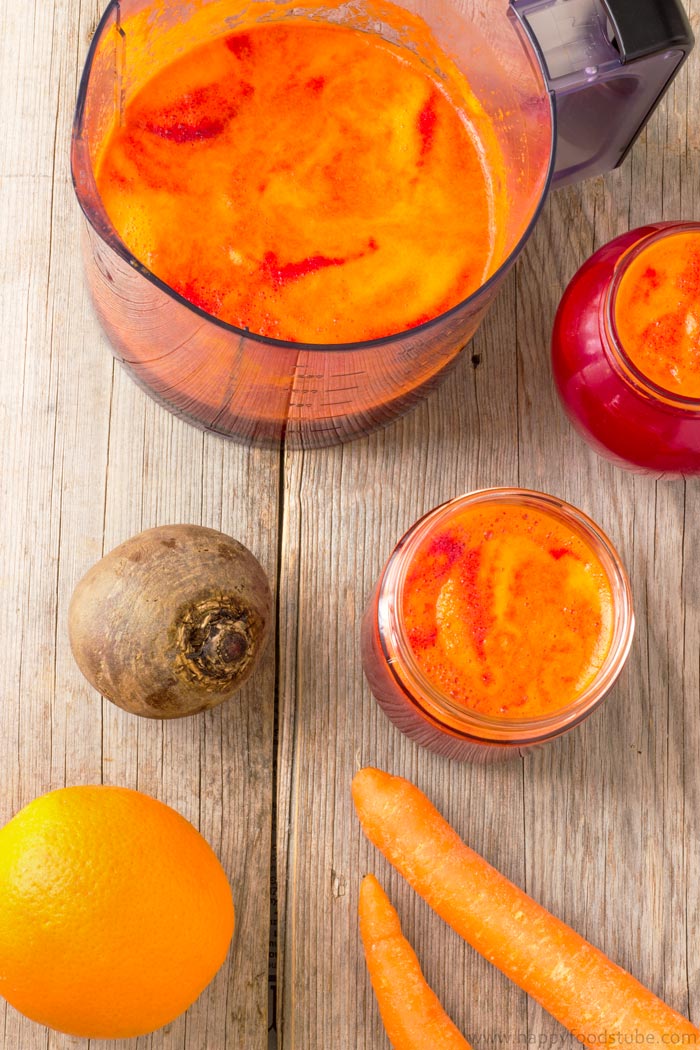 What we love about making homemade juices is the fact that you can juice anything (well, ok, you can't juice bananas and avocados) so you can experiment along the way. You might not like everything you make but you can make it better next time! We have had a few weird fruit and veg combinations that didn't work for us, sometimes we have different opinions on the same juice – like this immune booster beet, carrot & orange juice – I absolutely love it! I prefer this to a glass of pure orange juice! Siim, on the other hand would swap the beet for a pineapple! Not because he doesn't like beets, he just likes the taste of a pineapple in juices. I don't! But that's normal! People have different tastes! However, if you love eating (and drinking) healthy – homemade juices are perfect for you!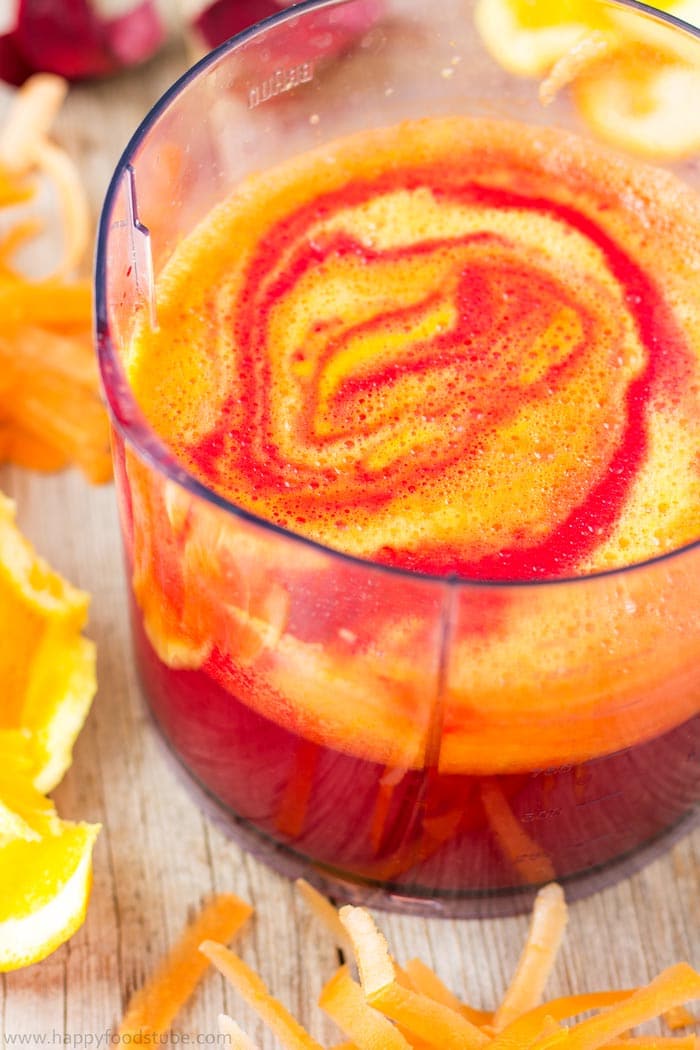 The preparation of my immune booster beet, carrot & orange juice takes about 12 minutes in total. You get 4 cups (1 liter) of fresh juice out of this recipe. There is no added sugar and no preservatives! All ingredients are fresh and bought by you – so you know exactly what you'll be drinking!
If you are skeptical about beets, don't be! Truth be told I was too! I didn't like the idea of beets in my juice at all! But once I gave it a try I loved it! The combination of carrots, oranges and beet is amazing! Sweetness from carrots, citrusy flavor from oranges and earthy-sweetness from beet!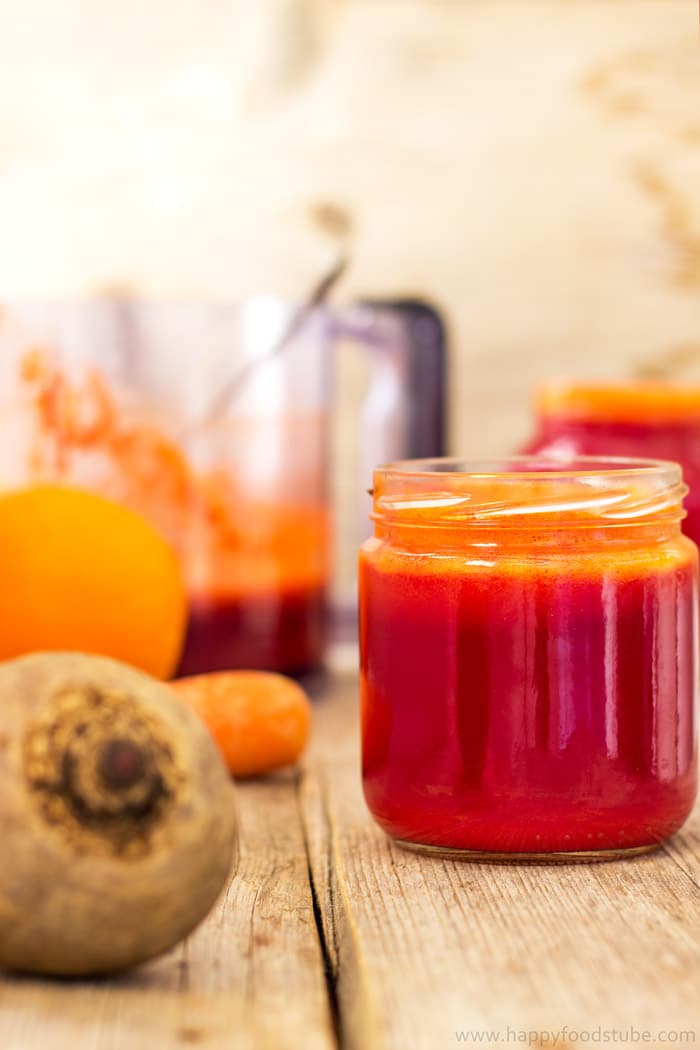 Now if you want to know what else does this immune booster beet, carrot & orange juice for your body, read on:
Beets are known for lowering blood pressure, improving athletic performance as well as reducing muscle soreness after work-out. They are source of potassium, magnesium, iron, Vitamins A, B6, C, antioxidants and soluble fiber.
Oranges – as we all know are high in Vitamin C. They also are a good source of calcium, copper, potassium and Vitamin B.
Carrots decrease the risk of heart disease and stroke, contain Vitamin A, K, potassium and copper. They maintain healthy vision and are high in antioxidants.
I hope you'll give this juice a try when you get a chance. I am sure you will be pleasantly surprised by its sweet taste!
Related Posts:
Winter Vitamin Boosting Juice
Homemade Anti-Aging Citrus Juice
Watermelon Juice

Yields 4
Immune Booster Beet, Carrot & Orange Juice
Ingredients
1 Beet, peeled
500g/1.1lbs Carrots, peeled
1kg/2.2lbs Oranges, peeled
Instructions
Roughly chop the beet, carrots and oranges. When peeling and chopping the beet, use gloves and apron to avoid staining your hands and clothes.
Throw them in a juicer and in about 2 minutes you will end up with this delicious healthy juice.

Happy Healthy Juicing with HappyFoods Tube!
6.8
https://www.happyfoodstube.com/immune-booster-beet-carrot-orange-juice/
Browse more Juice Recipes or visit our
channel to see the videos.

This post may contain affiliate links. For more information on my Affiliate Policy, please click
here
.