Treat yourself or your loved ones to this rich and decadent breakfast! Croissant French toast is filled with apple compote, maple ricotta and topped with warm cinnamon sauce.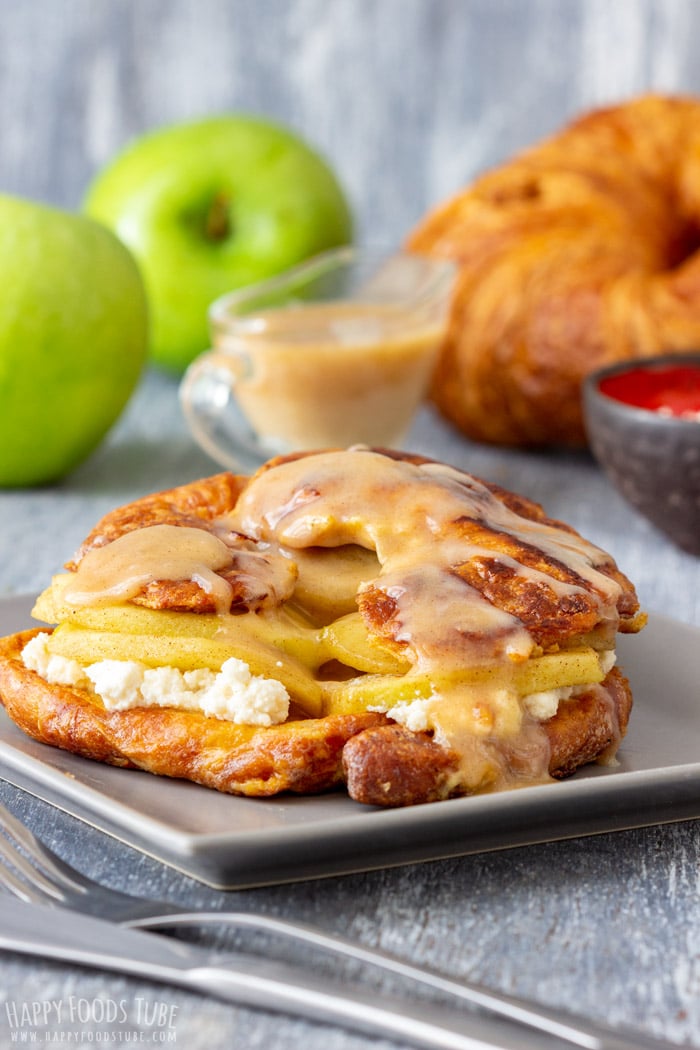 This is a small batch Croissant French Toast recipe perfect for two. However, it can be easily doubled or halved, if needed.
Did you know?
You can buy straight or curved croissants. Apparently, by the French law the straight ones are made with butter and the curved ones are made with margarine.
I am not sure if this rule applies to all other countries producing them. Maybe you can check the next time you buy them to see what they are made with.
Now to make these croissant French toasts I used the curved croissants. It does not really matter what shape you use as long as you like them.
Other sweet breakfast recipes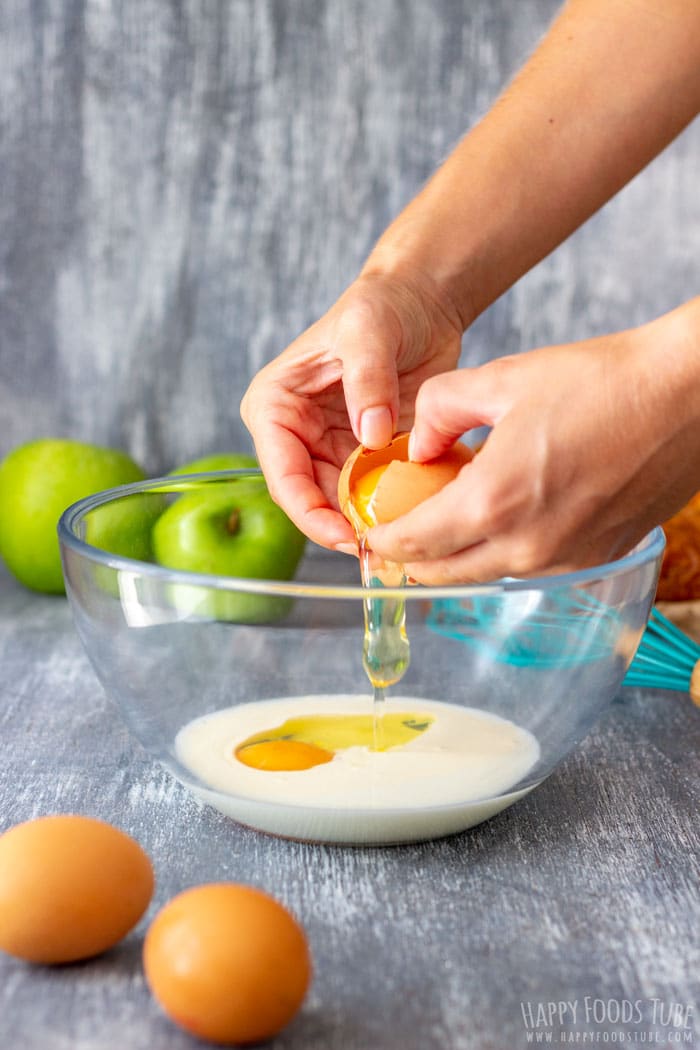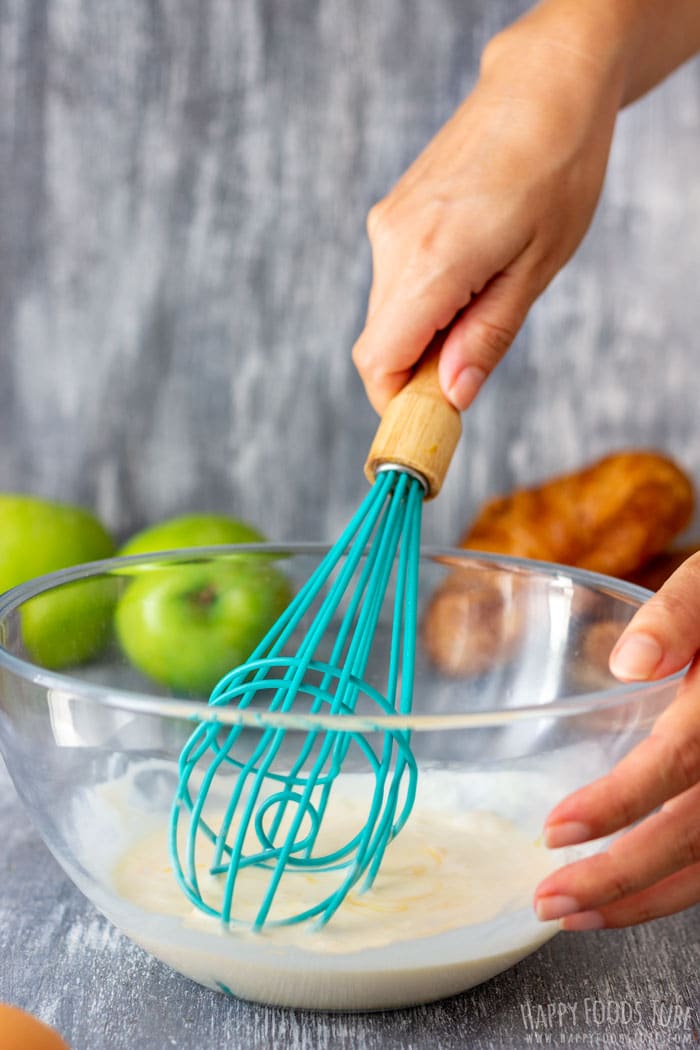 How to make Croissant French Toast
I suggest you prepare the fillings first. This way you the minute all your French toasts are done, you (or your hungry diners) don't have to wait any longer. You will be ready to serve right away.
My choice of fillings & toppings was inspired by fall.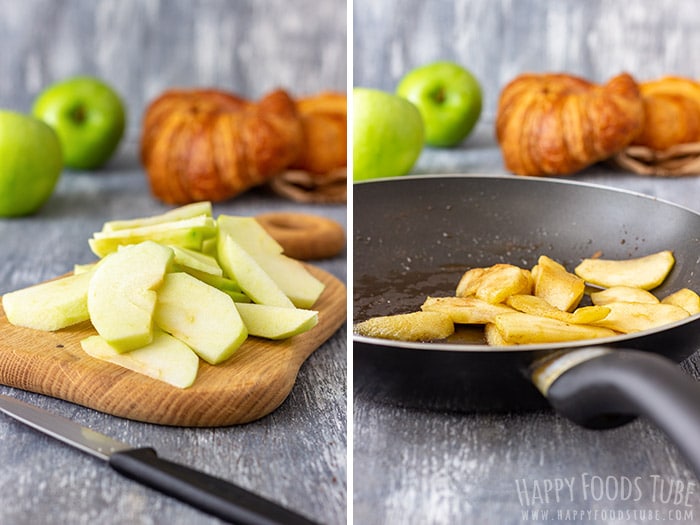 The apples were cooked in syrup. Then I drained the syrup into a sauce pan and added butter, heavy cream and thickened it with cornstarch to a desired consistency. Cinnamon gives the sauce a nice flavor and aroma.
Then I combined maple syrup and ricotta together for the extra protein. This also balanced the flavors and the sweetness was not overpowering.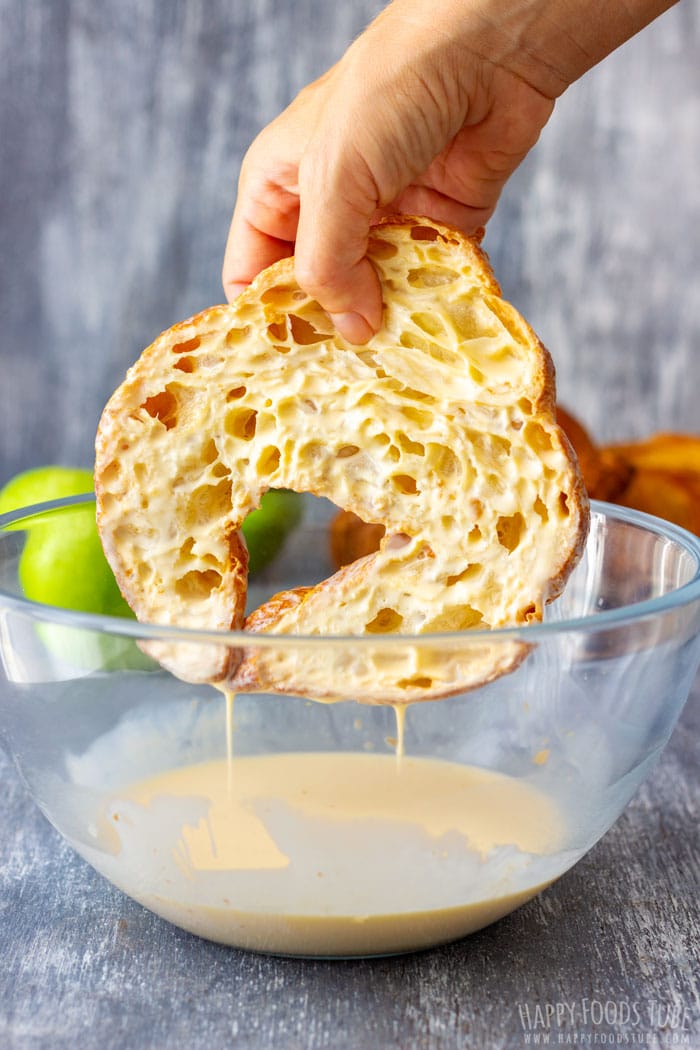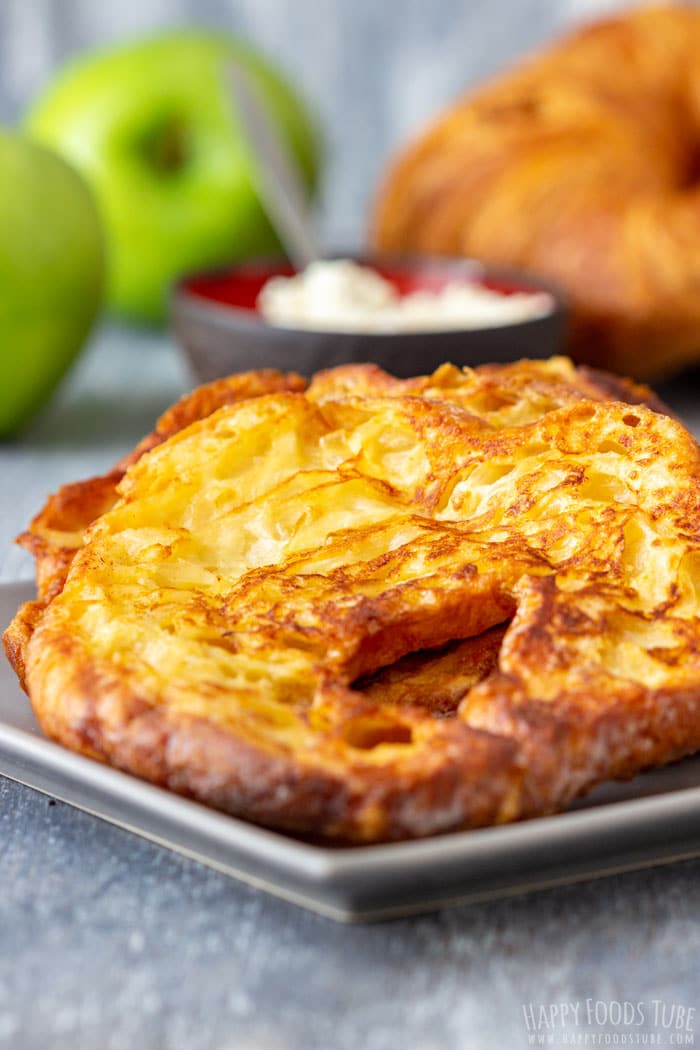 Making the Croissant French toast itself is easy. All you have to do is combine milk, heavy cream, eggs and vanilla essence in a bowl. Whisk everything together until smooth and combined.
Cut the croissants in half length-wise. Now heat up some butter in your frying pan. When hot, reduce the temperature to medium-low and fry place the croissants in and fry them until ready.
Then all you have to do is fill the croissant with ricotta, apples and pour some cinnamon sauce over.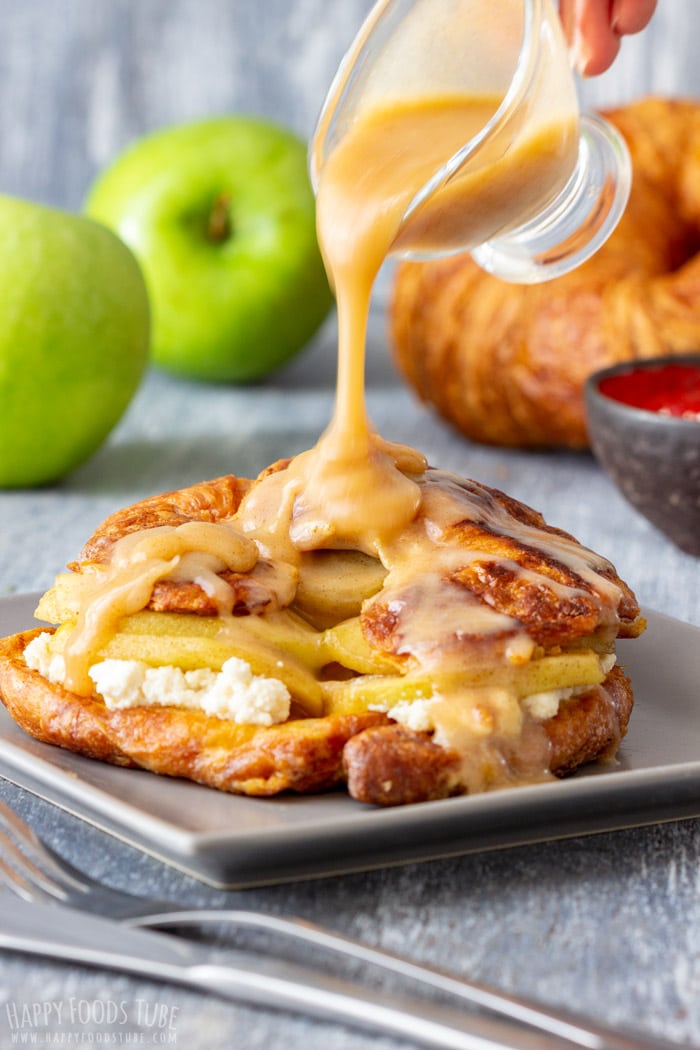 Useful tips
To make Croissant French toast I recommend using a day (or two) old croissants. They soak just enough of the batter unlike the fresh ones that tend to soak way too much. Now this does not mean that you cannot use fresh croissants. You can. My advice would be quick dipping so they don't end up soggy.
The ricotta filling is optional but if you can find it, go for it. It is worth giving a try! It's a great source of protein but if you are little worried about the fat content you could choose cottage cheese instead. I bet that cream cheese combined with maple syrup would also work well!
The cinnamon sauce is a must and if you have a sweet tooth, you will be in for a treat. I used similar sauce to make Gingerbread French Toast and it was a hit.
A splash of lemon will add flavor to the cinnamon sauce so I highly recommend using it. The amount of it will depend on you. I usually add about 2-3 tablespoons.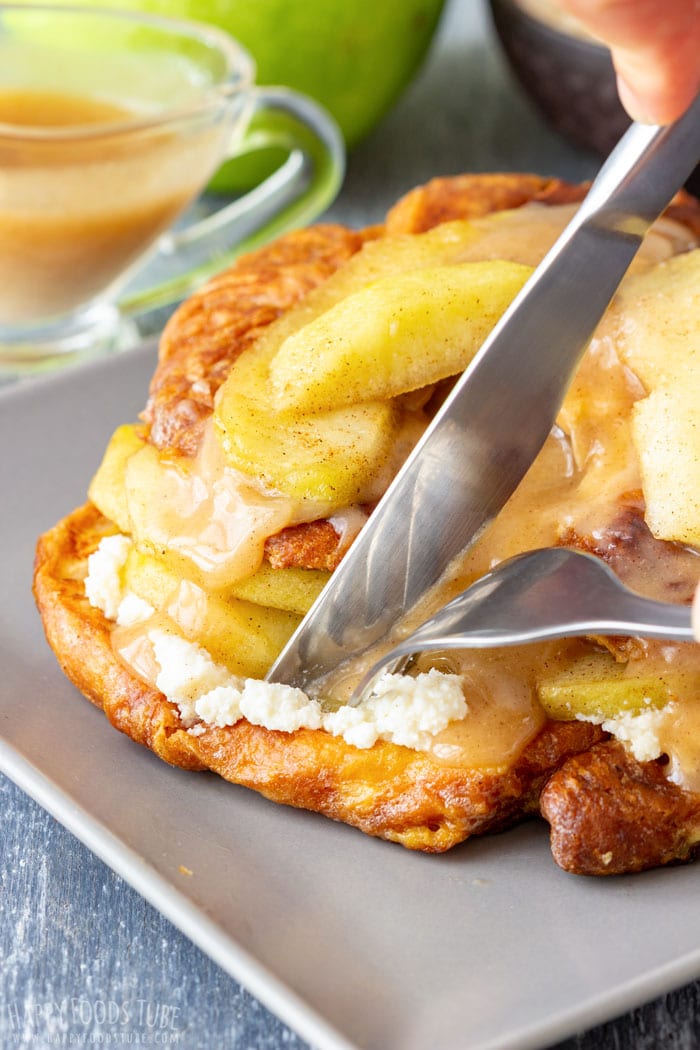 Croissant French Toast
Treat yourself or your loved ones to this rich and decadent breakfast! Croissant French toast is filled with apple compote, maple ricotta and topped with warm cinnamon sauce.
Ingredients
For maple ricotta:
2

tablespoons

Maple Syrup

½

cup

Ricotta

(3.5 ounces/100 grams)
For the French croissants:
2

Eggs

(small or medium)

¼

cup

Heavy Cream

(60 ml)

¼

cup

Milk

(60 ml)

¼

teaspoon

Vanilla Extract

, See note 3

2

Large

Croissants
For frying:
3

tablespoons

Butter

, See note 5 (45 grams)
Instructions
Maple ricotta: Stir maple syrup into ricotta until well combined.

Apple compote: Peel, core and slice the apples. Throw them into a frying pan or sauce pan, add water, sugar and cinnamon. Stir until combined. Let it simmer for 3-5 minutes. Drain the syrup into another sauce pan and place this on the stove. Add butter and heavy cream. Stir and simmer for about a minute. In a glass combine cornstarch with 1 tablespoon of water and mix until the cornstarch has dissolved. Add a tablespoon of the cinnamon sauce into the cornstarch and mix again. Now pour the cornstarch mixture into the sauce pan and stir until the sauce is thickened. Turn off the heat.

French croissant: In a large bowl, whisk eggs, heavy cream, milk and vanilla extract until well combined. Cut the croissants in halves length-wise. Melt the butter in your frying pan. Dip each croissant in the batter, shake the excess and place onto the frying pan. Fry on both sides until the egg mixture is set and the croissants look to your liking.

Place one croissant-half on the plate, top with maple ricotta, apples, cover with the other half and pour some cinnamon sauce over.

Serve warm.
Notes
I find Granny Smith apples best for this recipe as they still remain little bit sour after cooking which helps balance the flavors. If you prefer sweeter, go ahead and use the apple variety you like.
For a thicker sauce, add more cornstarch. For thinner sauce add some milk.
Vanilla extract can be omitted.
This recipe yields 2 filled croissants. It can be easily doubled or halved.
Add more butter if needed. If you feel the batter is burnt, before frying the second batch, just get rid of the burnt butter and wipe clean the pan. Add fresh butter and continue.
Ricotta can be substituted with cream cheese.
Use the largest frying pan you have. I used an 11-inch (28-cm) frying pan where I fit 1 croissant (2 halves). This will also depend on the size of croissants you use.
Nutrition Facts
Croissant French Toast
Amount per Serving
% Daily Value*
* Percent Daily Values are based on a 2000 calorie diet.
** As an Amazon Associate I earn from qualifying purchases.
LEAVE A COMMENT
RELATED POSTS