Make your loved ones gingerbread French toast with cinnamon honey sauce! A great breakfast-in-bed or brunch recipe with a hint of Christmas & mouth-watering sauce!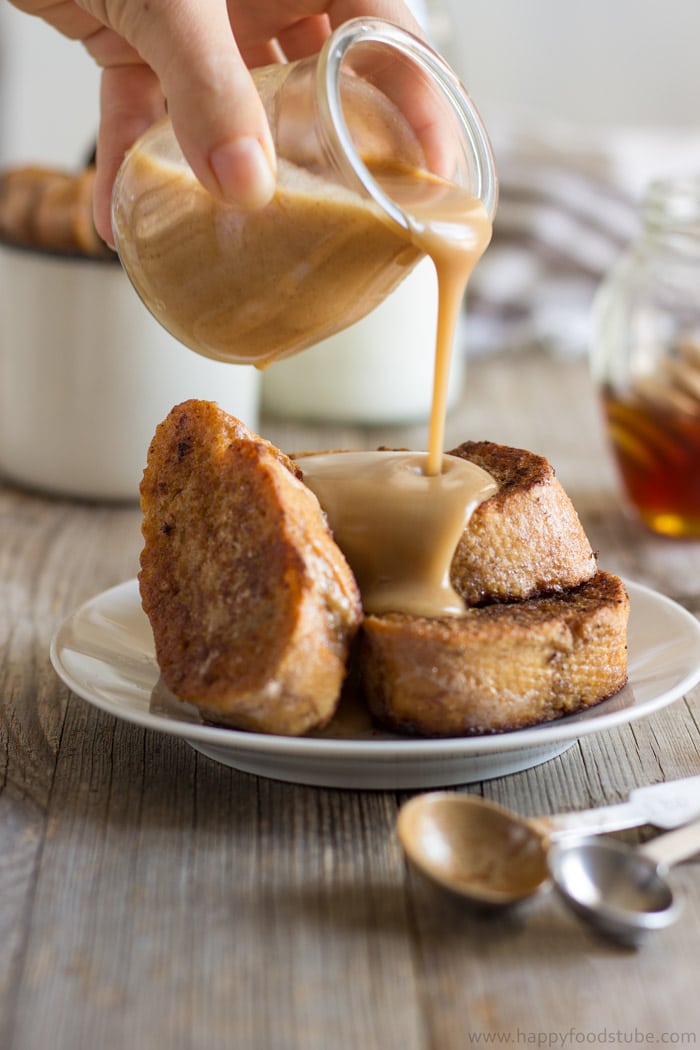 It's easy, delicious, rich and Christmassy! If you are looking for a recipe for French toast, this is it! You will be blown away once you've tried it!
The cinnamon honey dip is to die for and cannot be left out! It just brings this gingerbread French toast to a whole new level! It is that good!
How to make gingerbread French toast
Get an oven dish or a mixing bowl. Pour in cream, milk, add the eggs and spices. Now for the spices: I sometimes have a blend of gingerbread spices on hand which I used here. However, if I don't have this I simply mix some ground spices like cinnamon, cloves, star anise.
Whisk everything up until well combined. I don't know about you but I don't like lumps of spices here and there.
Now the baguette: Don't be tempted using a fresh baguette. Wait a day or two to use it for this recipe. Cut the baguette into about 2.5cm or 1 inch thick slices
Get your frying pan ready. Melt the butter (make sure not to burn it). Dip each slice of bread in the batter and fry. Depending on the size of your pan you might be able to fit all 12 slices there. If you do, this will cut your cooking time down by about 4 minutes. So use the largest pan you have!
Important: Now because I fried it in 2 batches I used half of the butter first and when the first batch was ready I got rid of the butter, wiped the pan clean with paper kitchen towel and used the other half for the second batch. Don't be tempted to fry the second batch in the same butter! The butter burns fast so it's better to use fresh one for each batch.
If you will be using a large pan, then use all the butter at once.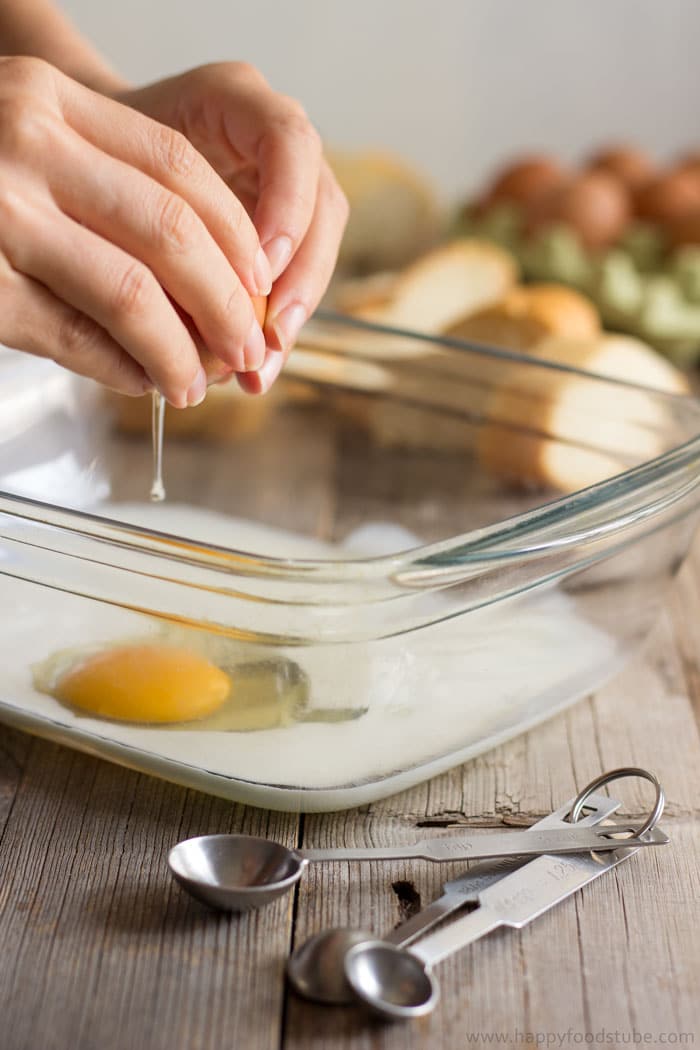 Cinnamon honey sauce/dip
All you have to do here is melt butter in a sauce pan, add cinnamon, lemon juice, honey and mix well. Let it cook for a minutes before reducing the heat and adding the cream. Stir constantly. Bring it back to a boil while stirring constantly for about a minute. Turn off the heat and you are done!
What to pair this Gingerbread French toast with
This gingerbread French toast dipped in cinnamon honey sauce would go perfectly with a glass of fresh juice such as this Vitamin Boosting Juice! Of course another must have on your breakfast-in-bed tray is a cup of tea/coffee.
Now what about Breakfast Pizza? A delicious savory breakfast option that has it all: eggs, bacon, cheese, tomatoes, mushrooms! Or you might prefer Breakfast Boat!
Other breakfast-in-bed recipe ideas
Dark Chocolate Crepes for crepe fans! Top them with fresh berries, Nutella, melted chocolate or anything really!
Irish Soda Bread is one of the easiest breads to make. Yeast free bread with amazing taste! It literally takes 5 minutes to prepare! Throw it in the oven and some 30 minutes later you are rewarded with a mouth-watering fresh bread loaf!
If you are looking for a healthy breakfast option, check out this Gingerbread Granola.
Guys, this gingerbread French toast recipe will not disappoint! It's one of the easy homemade desserts that can be enjoyed for breakfast without having second thoughts! OK, maybe some of you would have second thoughts about mostly about the calorie count buy hey, we all deserve a delicious breakfast treat once in a while, don't we?
Gingerbread French Toast with Cinnamon Honey Sauce
Make your loved ones gingerbread French toast with cinnamon honey sauce! A great breakfast-in-bed or brunch recipe with a hint of Christmas & mouth-watering sauce!
Ingredients
For the French Toast:
2

Eggs

1/4

cup

Heavy Cream

(60 ml)

1/4

cup

Milk

(60 ml)

1

teaspoon

Mixed Spices

(ground cinnamon, star anise, cloves or ginger)

French Baguette

(1 inch thick (2.5 cm), a day or two old – 12 slices)

3

tablespoons

Unsalted Butter

, for frying (50 grams)
Instructions
In a mixing bowl or an oven dish, whisk the eggs, milk, cream and spices until well combined.

Slice the baguette into 1 inch (2.5cm) slices.

Melt butter in a frying pan. Dip each bread slice in the batter and add them to the pan. Cook until nice golden. This will take about 1-2 minutes. Flip each bread slice over and cook for a further 1-2 minutes or until golden.

For the Cinnamon Honey Dip you simply melt butter in a sauce pan. Add cinnamon, honey and lemon juice. Stir until well combined. Slowly pour in the cream while stirring constantly. Slowly bring to a boil and stir for a further minute.

Pour over the toast or dip each French toast in and enjoy!
Nutrition Facts
Gingerbread French Toast with Cinnamon Honey Sauce
Amount per Serving
% Daily Value*
* Percent Daily Values are based on a 2000 calorie diet.
** As an Amazon Associate I earn from qualifying purchases.
LEAVE A COMMENT
RELATED POSTS