Fall is the perfect time to use apples in cooking. Get inspired with this collection of apple recipes that includes apple dessert recipes, savory apple recipes, breakfast and snack ideas.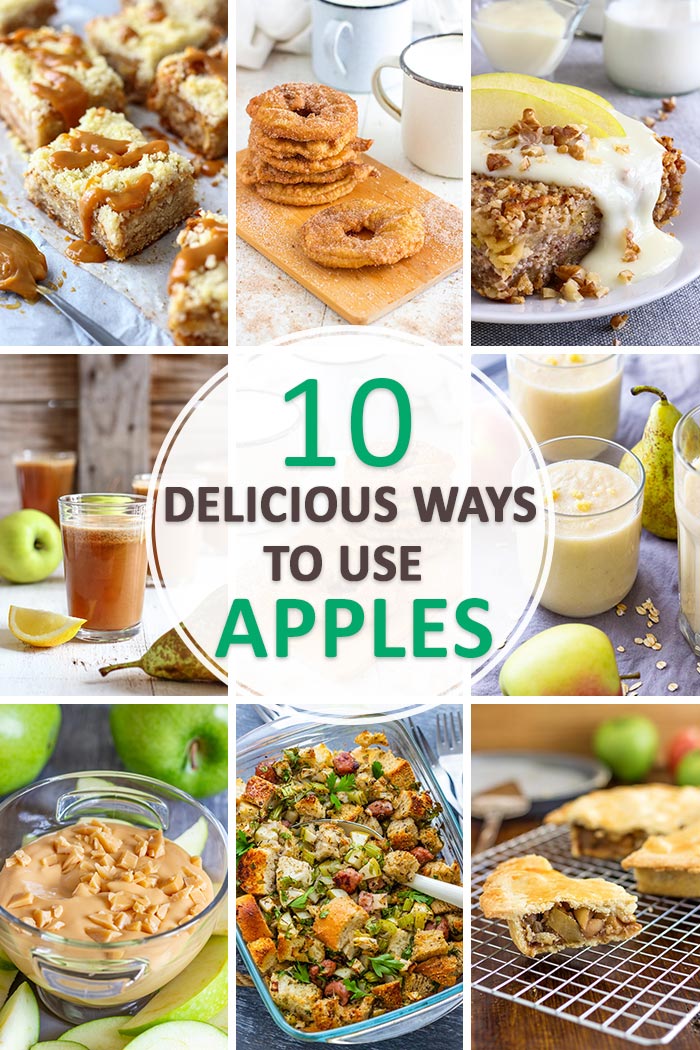 What can I do with lots of apples?
You can use them as fall decorations, preserve them, turn them into tasty apple desserts or fun party games (bobbing for apples).
The most common way to use apples is making apple sauce and apple butter. My family likes making apple juice, dry apples, apple pies and compotes.
But today, I will show you my favorite ways of using apples in cooking. If you try some of these apple recipes, please let me know in the comment section down below!
Apple Pear Ginger Smoothie only takes 10 minutes to make and has no milk in it so it's completely dairy-free. It's packed with vitamins and antioxidants that help your body stay healthy. 5 simple ingredients!
Caramel Apple Dip is an easy way to use up a few apples. All you have to do is prep the dip (which takes less than 5 minutes), cut the apples into wedges and you are ready to serve!
Instant Pot Baked Apples are one of the instant pot desserts you must try! The electric pressure cooker reduces rapidly the cooking time which makes them the perfect sweet ending to a delicious weeknight dinner.
If you are looking for apple dessert recipes that can be baked in the oven, check out Caramel Apple Crumb Bars. Made-from-scratch apple bars, topped with Dulce de leche and streusel topping are the best treat for Fall.
Apple Oatmeal Bake is without a doubt the easiest apple bake out there. You can easily make this with kids as there are no special techniques required to make it!
If you have a juicer at home, you must try this Cloudy Apple Pear Juice! Only 2 ingredients are all you need to make it. Any juice that you make yourself is better than its store-bought version. Plus, if you have apples from your own tree, consider yourself lucky! If you don't want to use pears, you can omit them completely. Tip: Make a large batch, fill plastic bottles or containers with it and freeze!(Don't over-fill! The juice needs space to expand). You can defrost it and enjoy as is or use it to make smoothies.
Looking for apple dessert recipes that are quick to make? What about Fried Battered Apple Rings? You can enjoy this tasty dessert (or snack) in 15 minutes!
Easy Homemade Apple Pie is one of the classic ways to use apples in cooking. The pie crust as well as the apple pie filling are made from scratch. If you want to cut down the prep time, use ready-made pie crust instead!
Savory apple recipes:
Sausage and Apple Stuffing is a quick stuffing recipe that is developed to cut down the cooking time as well as reduce any unnecessary steps. And while it only uses 1 large apple, it gives the stuffing a nice slightly-tart taste.
Apple Chickpea Salad is a nutritious dish that can be served as a side or a light lunch. The rich avocado peanut butter dressing brings this salad to a whole new level! This apple salad recipe only takes 15 minutes to make.
Can you use normal apples instead of cooking apples?
Yes, you can. Just note that normal apples are usually sweeter so for that reason they don't need as much sugar as cooking apples. So, if a recipe calls for cooking apples (i.e. Granny Smith), then I'd suggest adding a bit less sugar.
RELATED POSTS