Making egg salad with dill is the easiest way to use up any leftover hard-boiled eggs! This is a simple recipe with only 6 ingredients that most of you have in your pantry.
There are no special tools or kitchen gadgets needed to make this egg salad with dill. A bowl and a fork is all it takes to make this salad. Plus a pot for boiling the eggs.
Now if you have way too many leftover Hard-Boiled Eggs from Easter but you don't feel like making this egg salad with dill, I have some more ideas for you:
Can egg salad be frozen?
No, it can't. Freezing egg salad would completely ruin its texture and taste. You can make it ahead though. Just keep it in the fridge.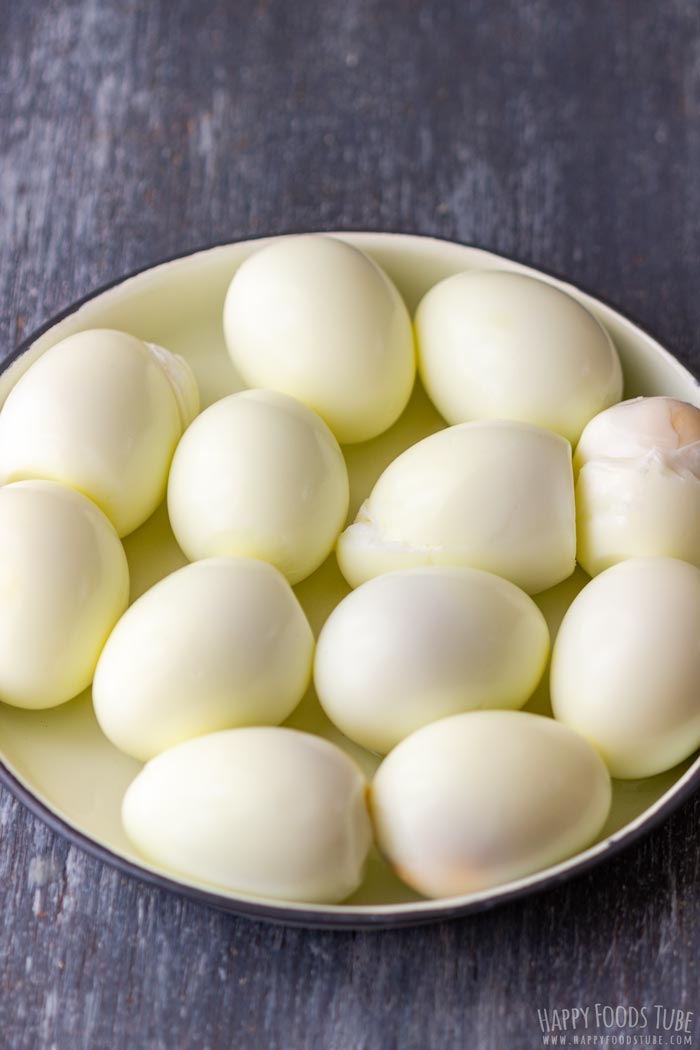 How long does egg salad stay fresh in the fridge?
If stored in an air-tight container, it can last up to 5 days. However, I would recommend consuming it within 3 days.
Now that being said, you can hard-boil the eggs and refrigerate them (unpeeled) for up to a week so if you are busy, you can easily cook them ahead of time and finish the salad a few hours before serving.
What goes with egg salad?
My personal favorite is spreading this salad generously on a slice of toasted bread or French baguette. Use your favorite bread – white, wholemeal, artisan, ….
You can also serve it with fried bacon, a few lettuce leaves or avocado.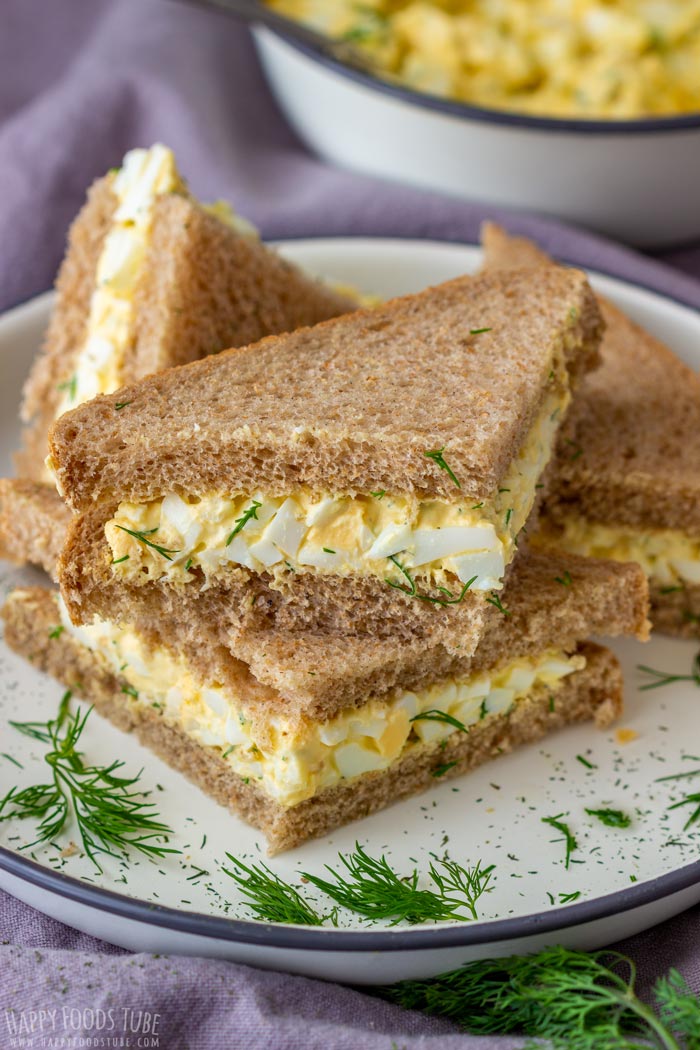 How to make egg salad with dill?
Peel the eggs. Cut them in half and finely dice each half. Repeat with all eggs. Place the chopped eggs into a mixing bowl and add mayonnaise, salt, pepper, mustard and finely chopped fresh dill.
All you have to do is mix all the ingredients with a fork. And this is important: don't just mix it. Try to break the yolks so they mix well with mayo. It is worth it!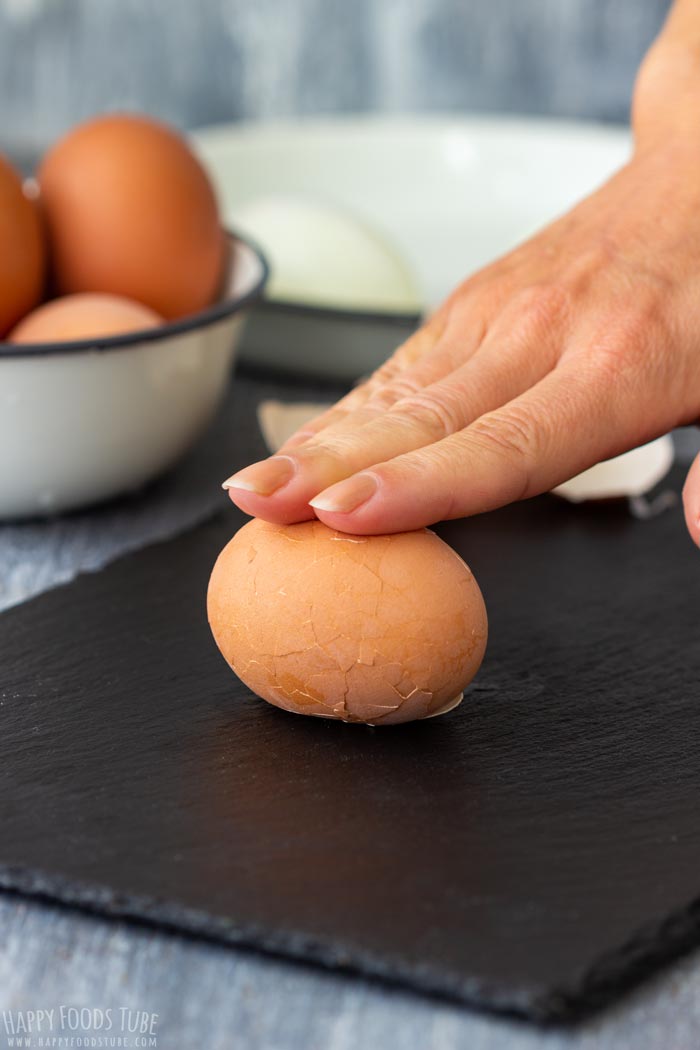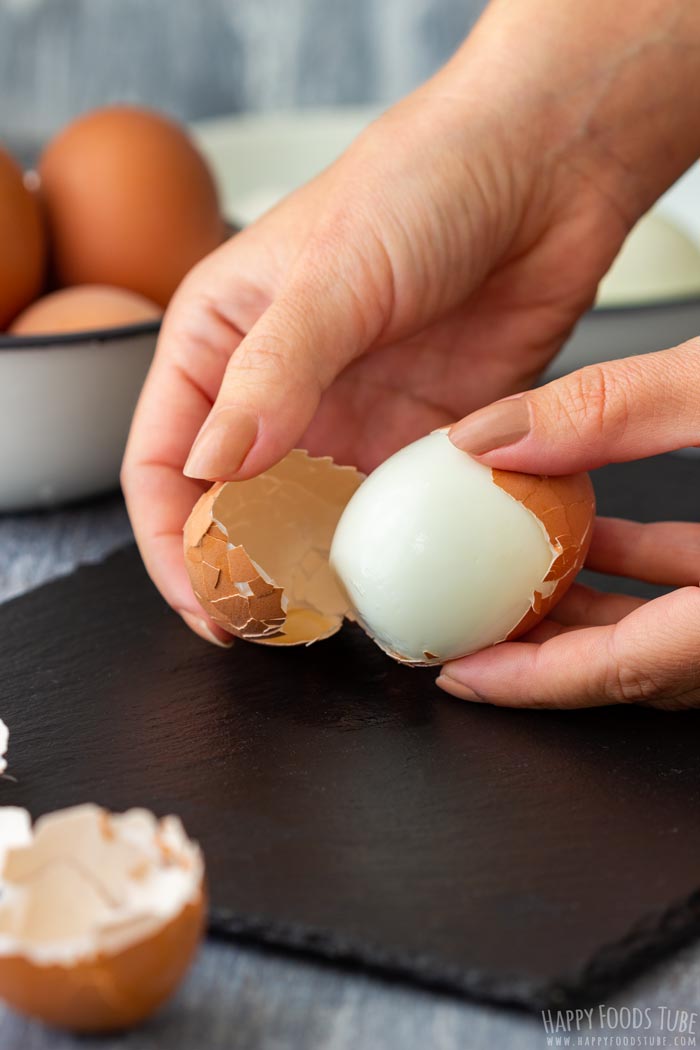 How to peel eggs easily?
Peeling eggs may be a challenge. What I like to do is cracking the egg several times, then place it onto a kitchen counter and place the palm of your hand over.
Then, slightly press down and roll the egg several times until the shell is cracked completely. Then, just peel easily off starting at the wider part.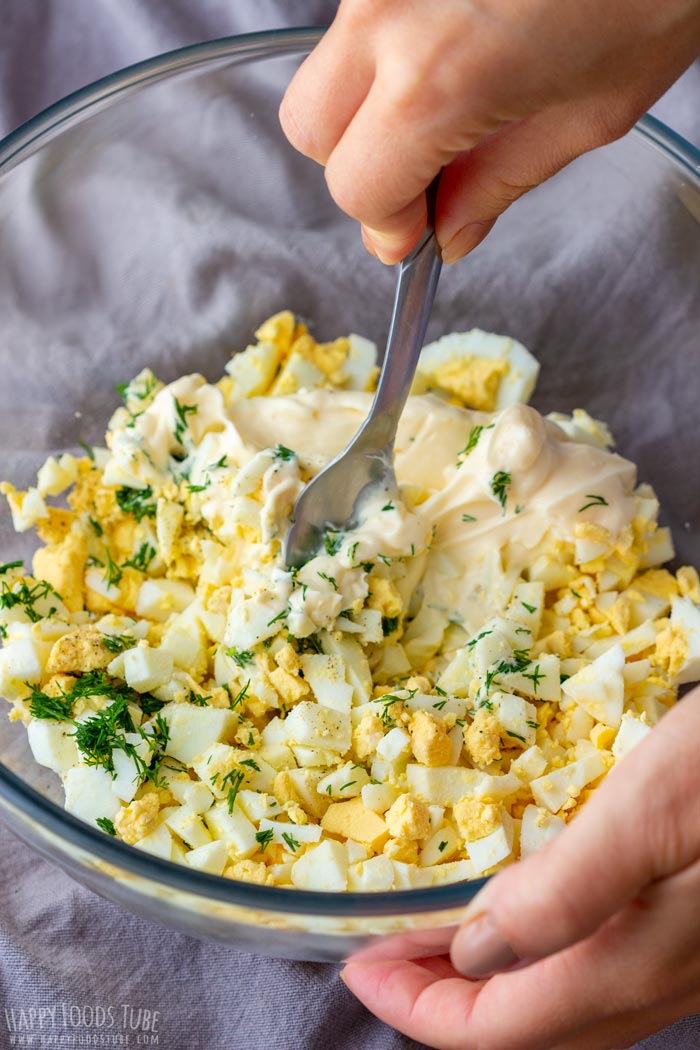 Tips for making egg salad with dill
Try using fresh chives instead of fresh dill.
You an omit mustard if you don't have it on hand (it's a tasty addition though).
More mayonnaise can be added to this egg salad with dill but ½ a cup should be enough for 12 medium eggs. The trick is to use a fork to combine all the ingredients together.
Finely chopped onion or dill pickles can be also added to this salad. If you do, you might need to add more mayonnaise.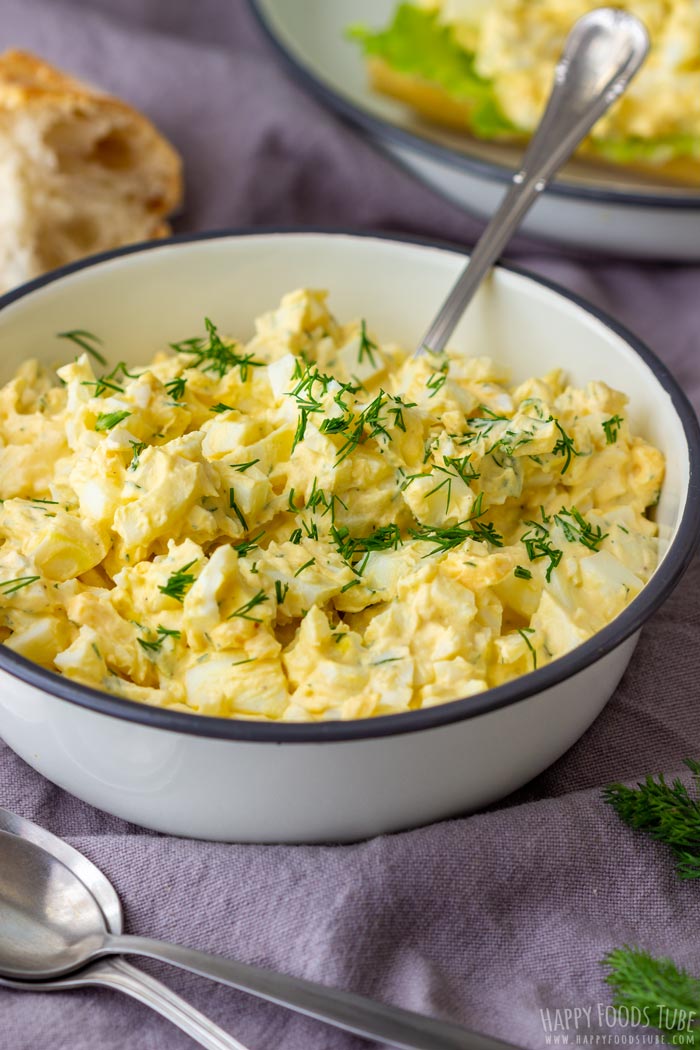 Egg Salad with Dill
Making egg salad with dill is the easiest way to use up any leftover hard-boiled eggs! This is a simple recipe with only 6 ingredients that most of you have in your pantry.
Servings:
14
Ounces (400 grams)
Ingredients
12

Hard-Boiled Eggs

, medium size

Black Pepper

a generous pinch

Salt

to taste

2

tablespoons

Fresh Dill

, finely chopped

2

teaspoons

Mustard

½

cup

Mayonnaise
Instructions
Peel the eggs. Chop them into tiny pieces and transfer into a mixing bowl. Add the rest of the ingredients and using a fork mix. Try to smash the yolks and mix them well with mayo.

Taste it. Add more seasoning/dill/mustard, if you like.

You can serve this salad right away or chill it in the fridge first.
Notes
The amount of mustard used can be adjusted to your liking (increase/decrease) or you can omit it completely.
I like using fresh dill as it gives more flavor to the salad. You can use dried dill, if you like. How much you add to the salad is up to you and your preference. Freshly chopped chives are also a great alternative.
You can add more mayonnaise, if you prefer. However, the amount stated in this recipe should be enough when using medium-sized eggs. If you use large eggs, you will need more.
Nutrition Facts
Egg Salad with Dill
Amount Per Serving
Calories 121
Calories from Fat 90
% Daily Value*
Fat 10g15%
Cholesterol 163mg54%
Sodium 112mg5%
Potassium 54mg2%
Protein 5g10%
Vitamin A 230IU5%
Calcium 21mg2%
Iron 0.5mg3%
* Percent Daily Values are based on a 2000 calorie diet.
** As an Amazon Associate I earn from qualifying purchases.
LEAVE A COMMENT
RELATED POSTS