Homemade sea salt rosemary focaccia is easy to make and tastes delicious. This light Italian bread is soft and goes so well with all sorts of dishes!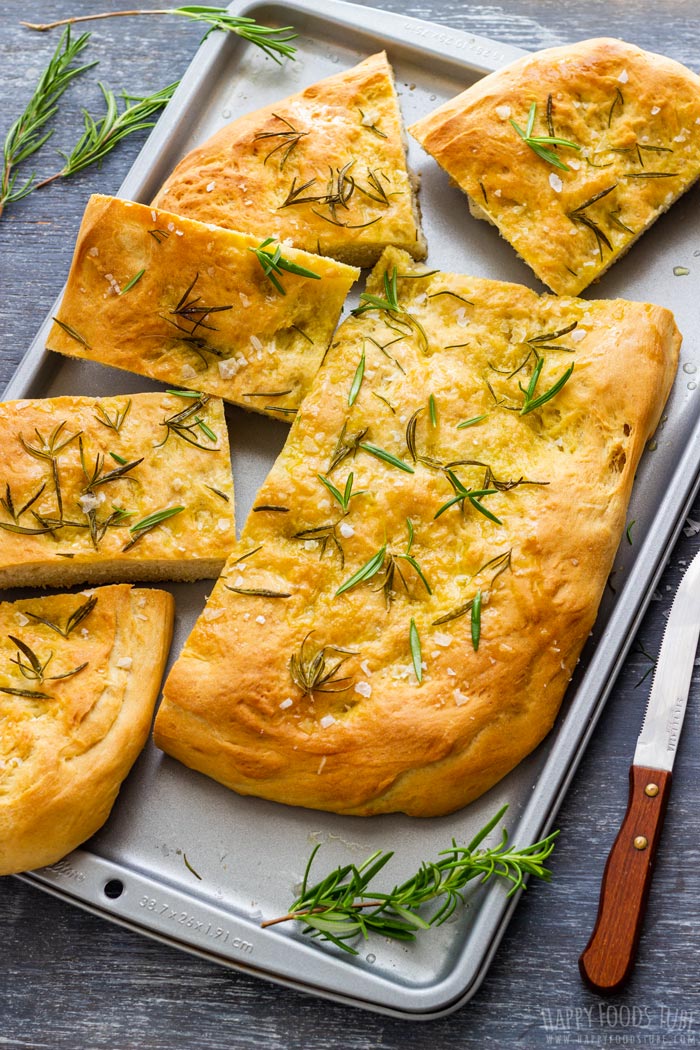 Making rosemary focaccia is easy but you need to follow the instructions and I recommend reading the whole post for all tips and tricks.
What is focaccia bread made of?
Focaccia ingredients
It's made of flour, yeast, salt and olive oil. Because yeast is used, you need to proof the dough before you actually bake it.
Focaccia toppings
Now I made sea salt rosemary focaccia but you can use all sorts of toppings like bacon, garlic, olives (Try Focaccia Bread with Olives).
Can you eat focaccia cold?
Yes, you can but I recommend eating it while still warm or as fresh as possible as it goes stale very quickly.
Its texture will change rapidly overnight from soft and fluffy to hard so again, the fresher the tastier!
What do you serve focaccia with?
We love to dip this rosemary focaccia bread into extra virgin olive oil that I usually serve as a part of a charcuterie board or any kind of platter (like Mediterranean Platter or Cheese Board.
You can also cut it in half and fill with ham, salami, cheese, … and make a sandwich.
Fresh sea salt and rosemary focaccia is also delicious with Soups or curry dishes (Instant Pot Sweet Potato Curry).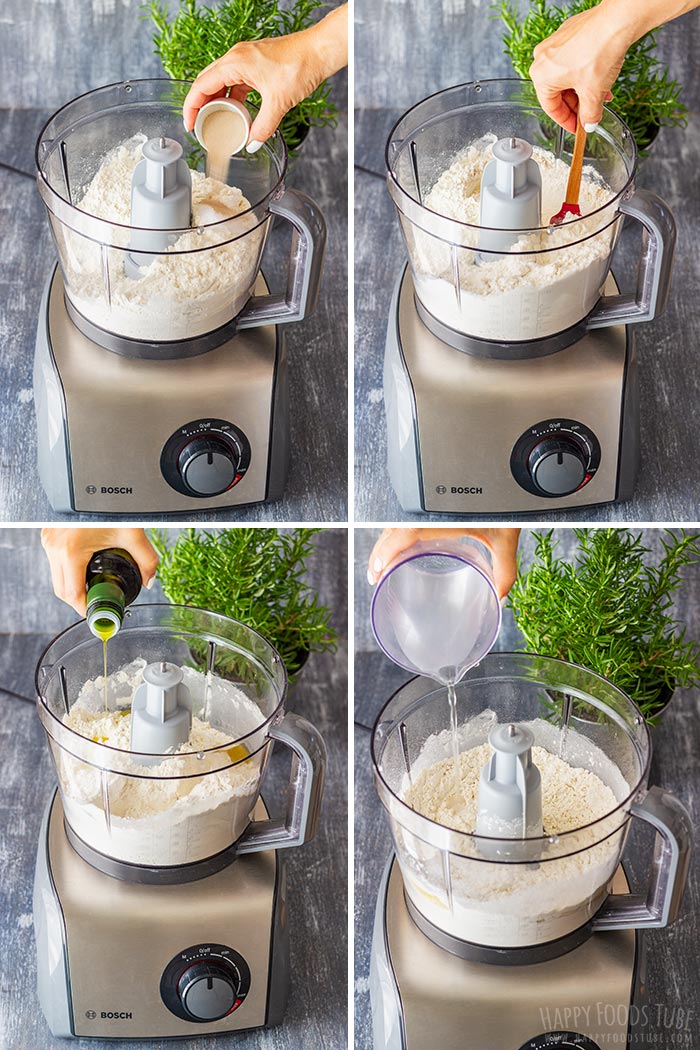 How to make rosemary focaccia with sea salt
For the full recipe, please see the recipe card below this post.
The dough: Once the dough is kneaded, it needs to be proved = doubled in size. I always put it into a large bowl that is greased with olive oil. You don't need to grease the bowl but it makes it so easy to remove the proved dough out of the bowl, so I rarely skip this step.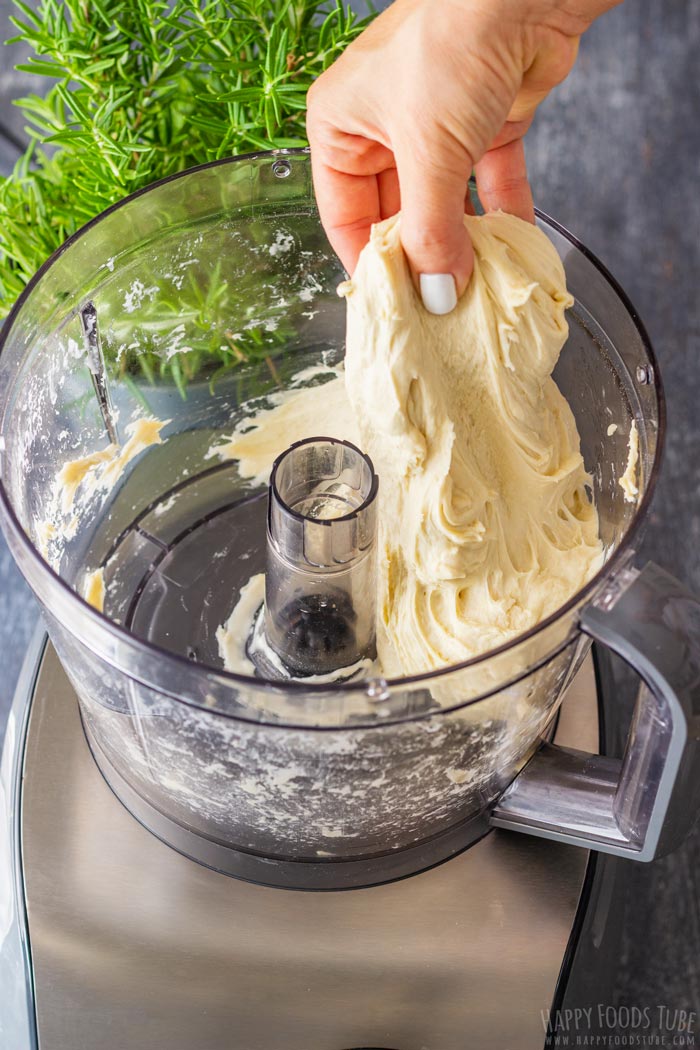 Then, I cover it with plastic wrap and a kitchen towel. It will take somewhere between 35-60 minutes for the dough to double in size.
The time will always vary – depending on the indoor temperature and also on the yeast.
Once the dough is ready, you just transfer it onto a baking sheet of any kind (I use a cookie sheet and it works well) and stretch it.
Don't stretch it too much though – it's not a pizza. If you do, your rosemary focaccia will just dry out in the oven and we don't want this.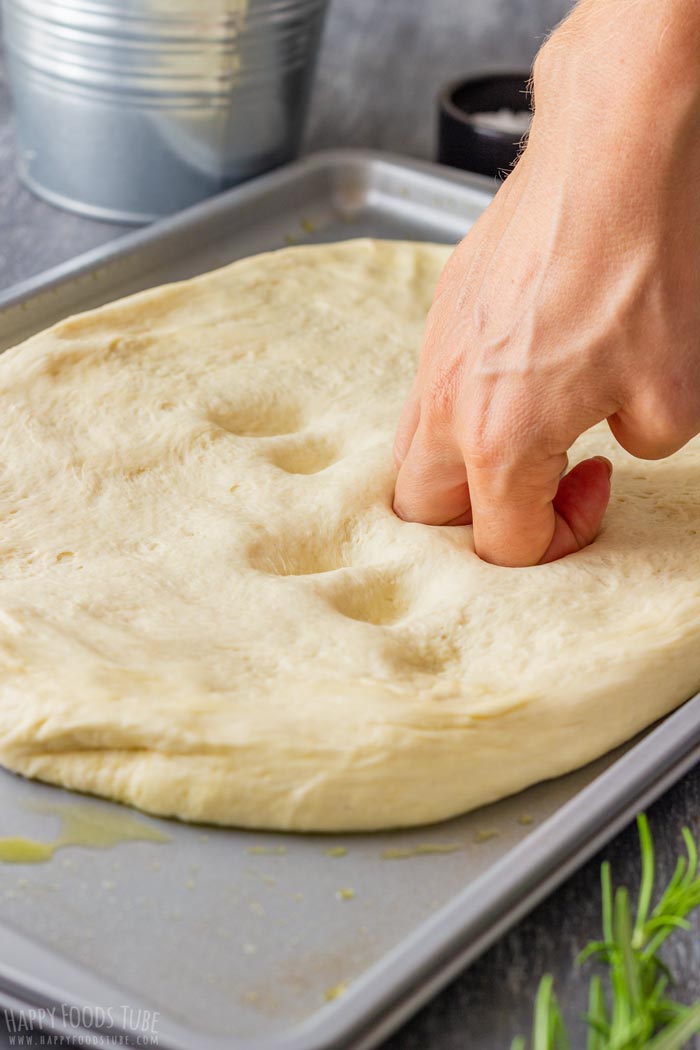 Toppings: A very generous drizzle of olive oil, fresh rosemary leaves (stems removed) and a generous amount of sea salt flakes.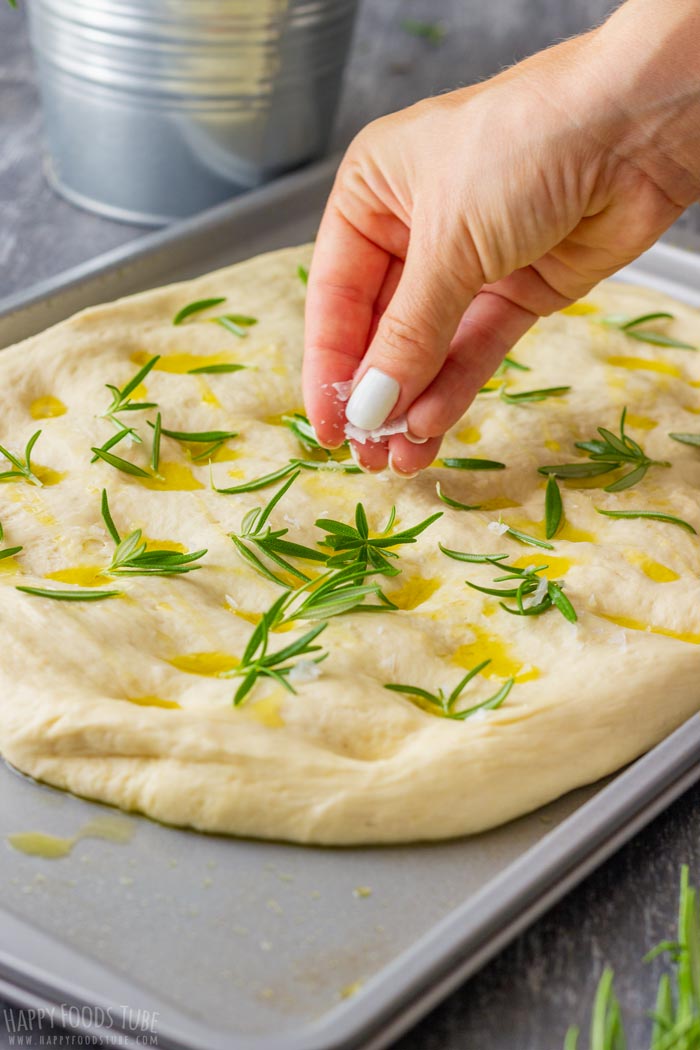 Baking: It takes about 15-20 minutes (at 400°F/200°C) to bake this sea salt rosemary focaccia. And yes, I said "about" because it depends on the thickness of the dough and also on your oven.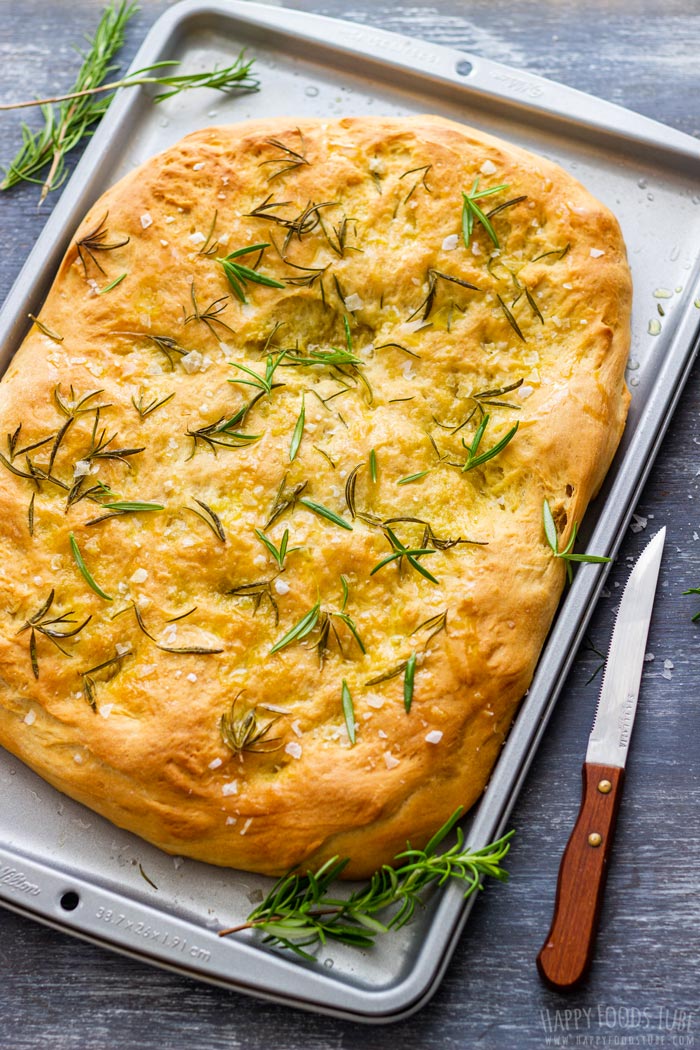 What yeast to use when making rosemary focaccia?
You can use instant, active dry or fresh yeast. Remember that active dry and fresh yeast have to be activated in lukewarm water (that contains a little sugar).
Hand-kneading vs stand mixer
Sea salt rosemary focaccia can be made either by hand or in a stand mixer with dough attachment. It is entirely up to you.
Now what you should now is that the dough kneaded by hand might look slightly different than the one kneaded by the machine. But there is nothing to worry about.
Also every mixer is different (e.g. has different speed levels) so for this reason I recommend kneading on the lowest speed and increasing the speed carefully, if needed. Do not knead the dough on a high speed.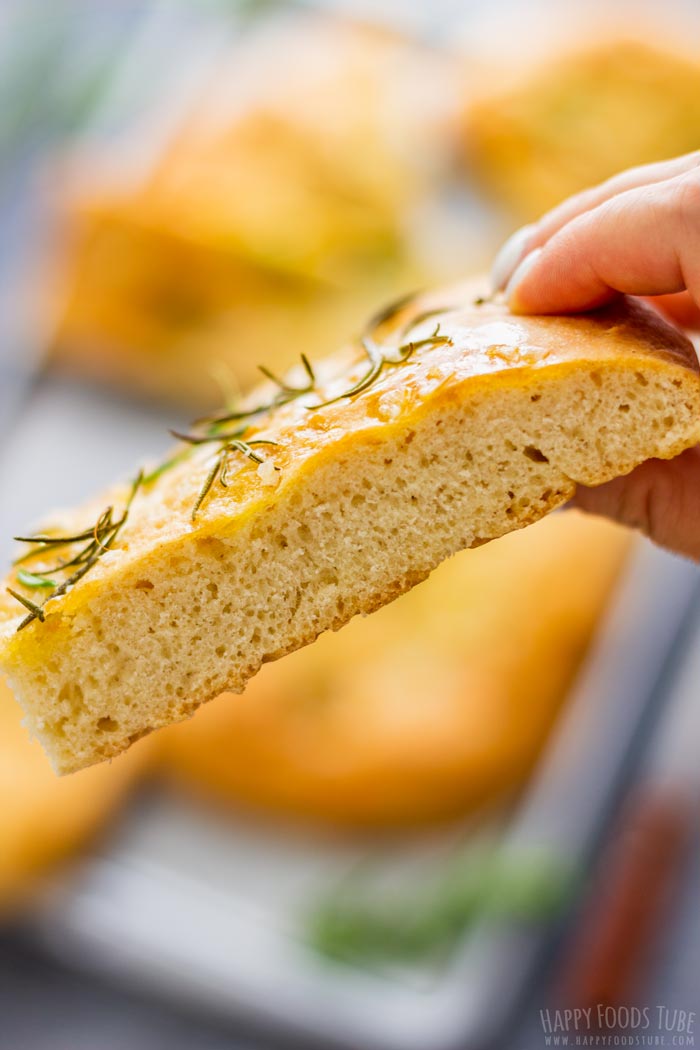 Texture of dough
Soft, stretchy and slightly sticky is the perfect texture when making rosemary focaccia in a mixer. If you make it by hand, it can be slightly less sticky, but it should not be hard.
Adding water to dough
This will vary slightly depending on how much flour you used (note that there is always a difference when using cups for measuring flour) as well as the humidity.
I recommend starting with 1 cup and adding more, if needed. I sometimes need and extra ¼ cup, while other times it is less than that.
Sea Salt Rosemary Focaccia
Homemade sea salt rosemary focaccia is easy to make and tastes delicious. This light Italian bread is soft and goes so well with all sorts of dishes!
Servings:
12
Pieces (see note 5)
Instructions
In a mixer, combine flour, salt and yeast. Mix with a spoon or spatula. Add olive oil and mix. Pour in 1 cup of water and mix on low speed, using the dough attachment. If you feel, that the dough is stiff, slowly add some more water until it looks soft-ish but it moves around the bowl with ease.

Transfer the dough into a large bowl greased with olive oil. Cover with plastic wrap and kitchen towel. Let it sit in a warm place until it doubles in size. This can take from 35-60 minutes, even more in an extremely cold room.

When ready, place the dough onto a baking sheet (greased with oil) and stretch the dough to sides. With your knuckles make lots of wells in the dough. Pour olive oil over, sprinkle with rosemary leaves (hard stems removed) and sea salt flakes.

Cover loosely with plastic wrap and let sit on your counter while pre-heating the oven.

Bake at 400°F/200°C for 15-20 minutes or until the bread has nice light brown color and the bottom is brown as well.

Best served warm!
Notes
All-purpose flour (US) = Plain Flour (UK).
Strong flour also known as bread flour can be used instead of all-purpose flour.
Instant Yeast can be substituted with active dry yeast (2.5 tsp) or fresh yeast (15 g). Note that active dry yeast and fresh yeast have to be activated in water (to which you add about 2 teaspoons of sugar) for about 5 minutes.
Your dough might not need 1¼ cup of water so start with 1 cup and add more only if the dough feels hard to touch.
This recipe will yield more slices than 12, if you cut them smaller.
The overall cooking time does not include time needed for proofing.
For more tips and detailed information or if in doubt, please read the whole post.
Nutrition Facts
Sea Salt Rosemary Focaccia
Amount per Serving
% Daily Value*
* Percent Daily Values are based on a 2000 calorie diet.
** As an Amazon Associate I earn from qualifying purchases.
LEAVE A COMMENT
Other recipes you might like: