This is an easy recipe for tender, grilled turkey kabobs. Served over pasta, rice or your favorite salad, these healthy turkey skewers are a must-try this summer!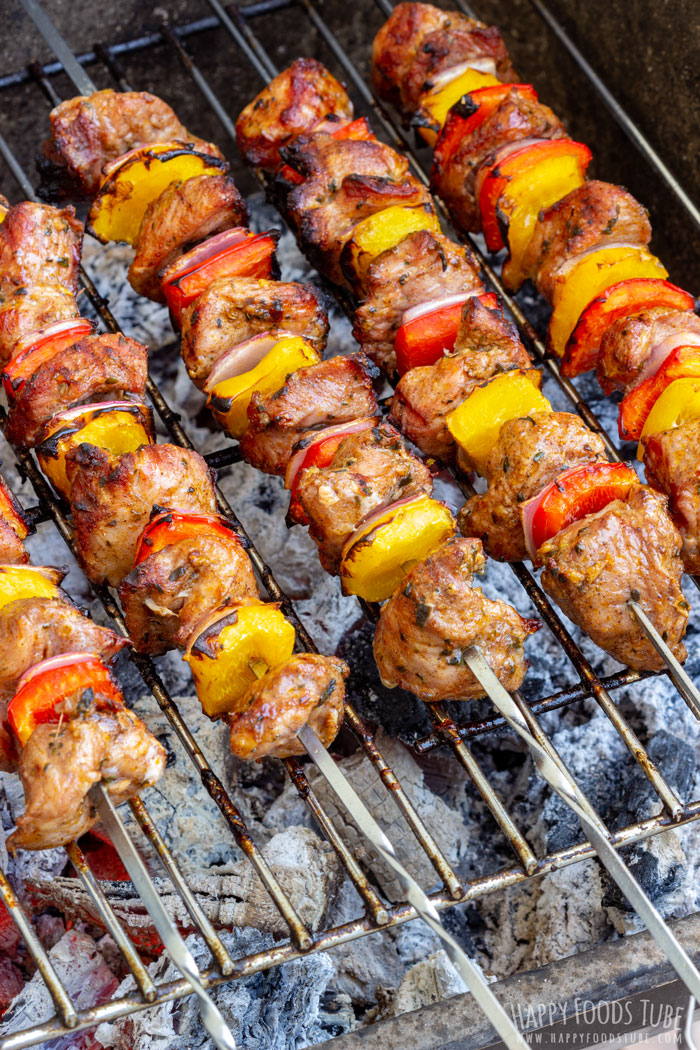 I don't know about you but outdoor entertaining in summer is a must in our family.
We grill a lot (e.g. Yogurt Marinated Grilled Chicken, Grilled Whole Fish, Grilled Sweet Potato Salad).
When I visit my parents we also make Campfire Stew and grill sausages (and bacon) over campfire.
As you can see I cannot imagine summer without grilling or a campfire. What about you guys? Do you grill often? Do you go camping and cook over campfire? Let me know what your favorite food to make/eat is! Have you ever made grilled turkey kabobs?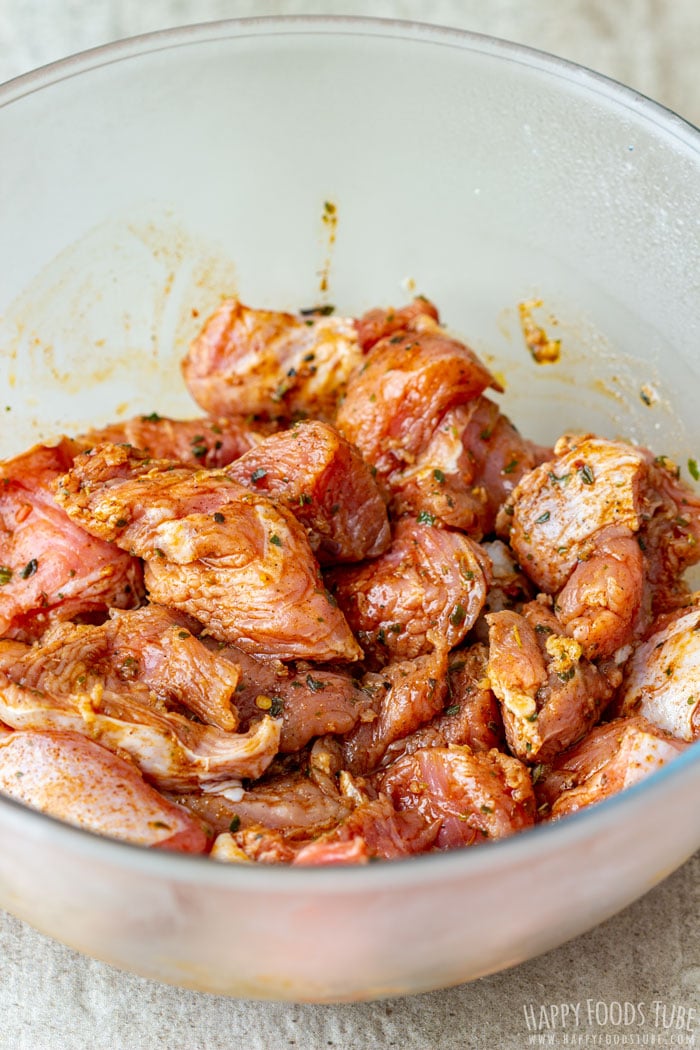 How to make grilled turkey kabobs
Get a bowl or a Ziploc bag that is large enough to hold all the meat. Place the meat in and add the marinade. Mix well until every piece of meat is evenly coated with it.
When using a bowl, cover it with plastic wrap. When using Ziploc bag, just make sure it is sealed properly. The meat should be marinated for several hours. At least 2-3 hours is required. Marinating overnight is always a plus.
Thread the turkey pieces onto skewers altogether with pieces of bell pepper and onion and grill to perfection.
To achieve tender turkey skewers, make sure to marinade them long enough and do not overcook them.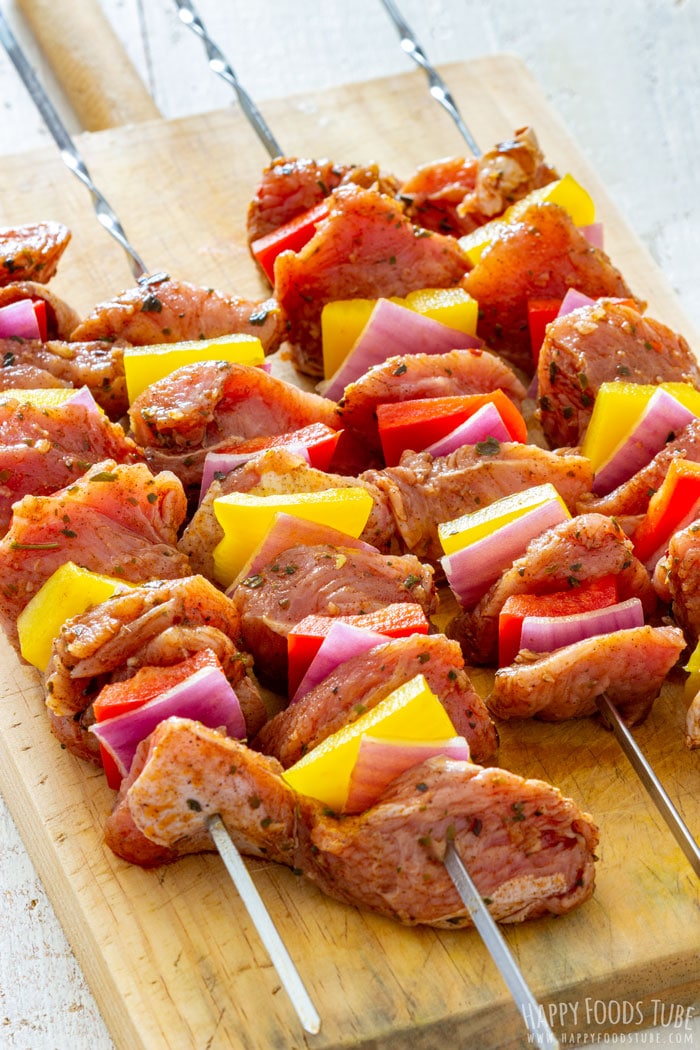 Grilled turkey kabob marinade
The marinade is easy and does not require you to run to shop to get some extra spices or seasonings. It's more likely that you will have all of them on hand.
Olive oil, lemon juice, garlic, black pepper, ground cinnamon, paprika, dried oregano and salt is all you need for these grilled turkey kabobs.
Now if you are not really into marinating, check out this article that explains why marinating makes food taste better.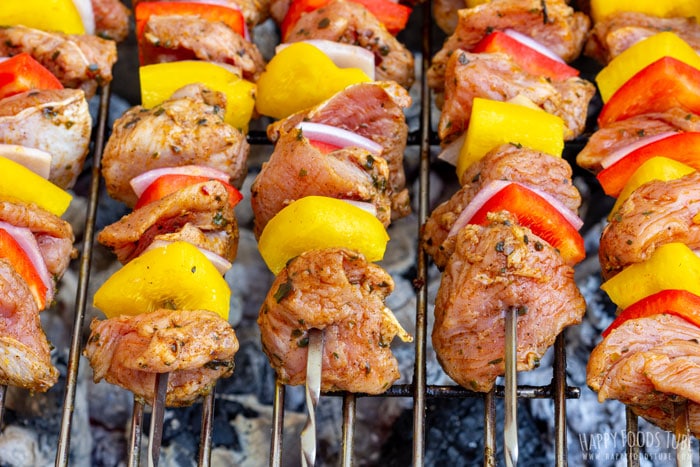 How long to grill turkey kabobs
The cooking time may vary. This will depend on your grill as well size of the meat. Turn the skewers a few times while grilling to achieve an even cooking.
In general, count with 10-15 minutes. Grill on a medium-high heat. When your grill is not hot enough, the turkey kabobs will dry out.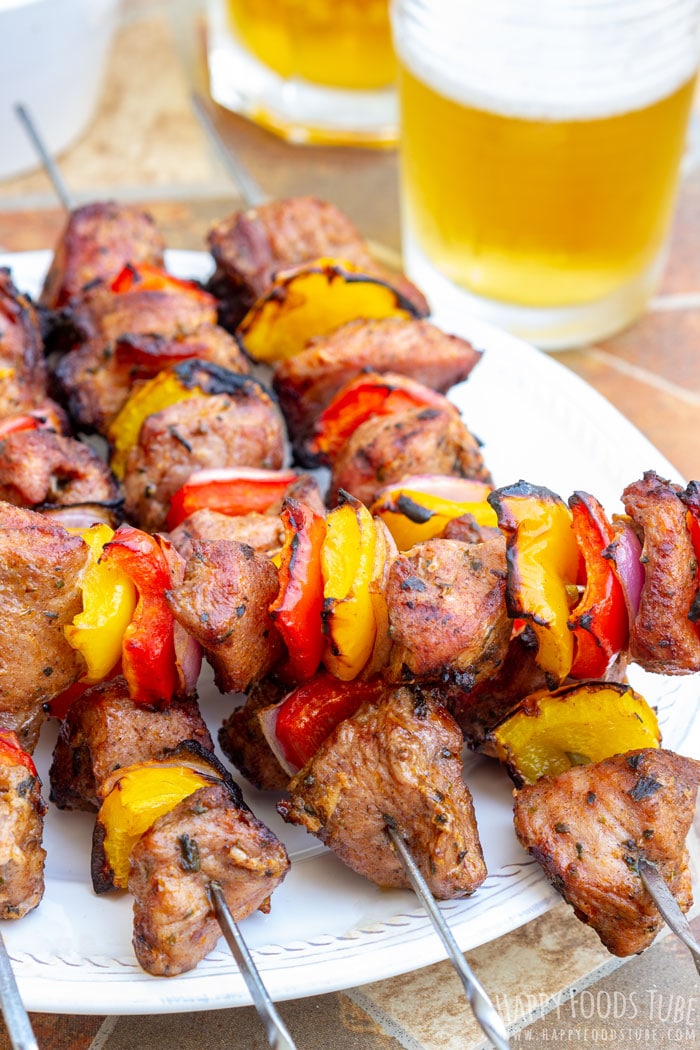 Tips for making grilled turkey kabobs
Add some chili flakes to the marinade, if you prefer spicy dishes. Everyone prefers a different level of spiciness so add only as much as you and your guests are OK with.
When you are not sure about the doneness, use a thermometer to check the inner temperature of the meat!
You can increase the amount of peppers and onions, if preferred.
I prefer using metal skewers rather than wooden ones. Wooden skewers tend to break easily (or at least the ones I get in our local supermarket). If you are used to using wooden ones and they work for you, then go ahead and use them to make these grilled turkey kabobs as well.
Want to see how to make Grilled Turkey Kabobs? Watch the video!
Grilled Turkey Kabobs
This is an easy recipe for tender, grilled turkey kabobs. Served over pasta, rice or your favorite salad, these healthy turkey skewers are a must-try this summer!
Ingredients
For the skewers:
17

ounce

Turkey Chunks

(500 grams)

1

Red Bell Pepper

, large

1

Yellow Red Bell Pepper

, large

1

Onion

, medium
Instructions
Place the marinade ingredients in a bowl that is large enough to hold all the meat. Give it a stir and add in the turkey chunks. Use your hands or a spoon to coat the meat with marinade. Cover with plastic wrap and refrigerate for 2-3 hours (or overnight).

Cut the peppers and onion into chunks (similar size to the meat, if possible) and thread them as well as the turkey chunks onto the skewers (meat + pepper + onion + meat, etc).

Grill on medium to high heat for 10-15 minutes or until the meat is cooked through.
Notes
Use either turkey breast or thighs. My preference is the thighs. Also chicken can be used.
Instead of a bowl, a Ziploc bag can be used for marinating.
The color of the peppers doesn't really matter so you can use what you have on hand or what works best for you. I like to use yellow and red because they make the kabobs colorful and pretty to look at.
Optional: dried chili flakes can be also added to the marinade. Just be careful with the amount you put in. I tried it twice – once with 1 teaspoon (they turned out very spicy) and once with ½ teaspoon (you could barely taste any spiciness).
Skewers: If you have metal skewers, don't hesitate and use those! When using wooden skewers, soak them in water for at least 30 minutes to stop them from burning. I suggest threading less meat on the wooden skewers as they might break when too heavy (that is why I prefer using metal skewers).
The grill grates: brushing them with oil prior to grilling will stop the kabobs from sticking to them.
Nutrition Facts
Grilled Turkey Kabobs
Amount per Serving
% Daily Value*
* Percent Daily Values are based on a 2000 calorie diet.
** As an Amazon Associate I earn from qualifying purchases.
LEAVE A COMMENT
RELATED POSTS