These balsamic chicken skewers are one of the must try grilling recipes before the summer is over! Balsamic marinade makes the chicken extra juicy & adds great flavor!
Guys, what do you love about summer the most? If you asked me I would tell you two things: grilling & beach. Ideally it would be having a barbecue on the beach (or near the beach) but that is not allowed around here.
What about you guys? Can you grill near the beach in your part of the world?
I know it would be great but I am also fine with grilling in our backyard. As long as the grill is on I am happy. Grilled whole fish, honey lemon grilled chicken and these balsamic chicken skewers are our favorite recipes! If you are looking for easy grilling ideas check them out!
We also love making easy campfire stew. It does not involve grill but it is a perfect summer entertaining dish that will feed a crowd! So guys, if you have a fire pit in your backyard or planning on going camping you gotta try it!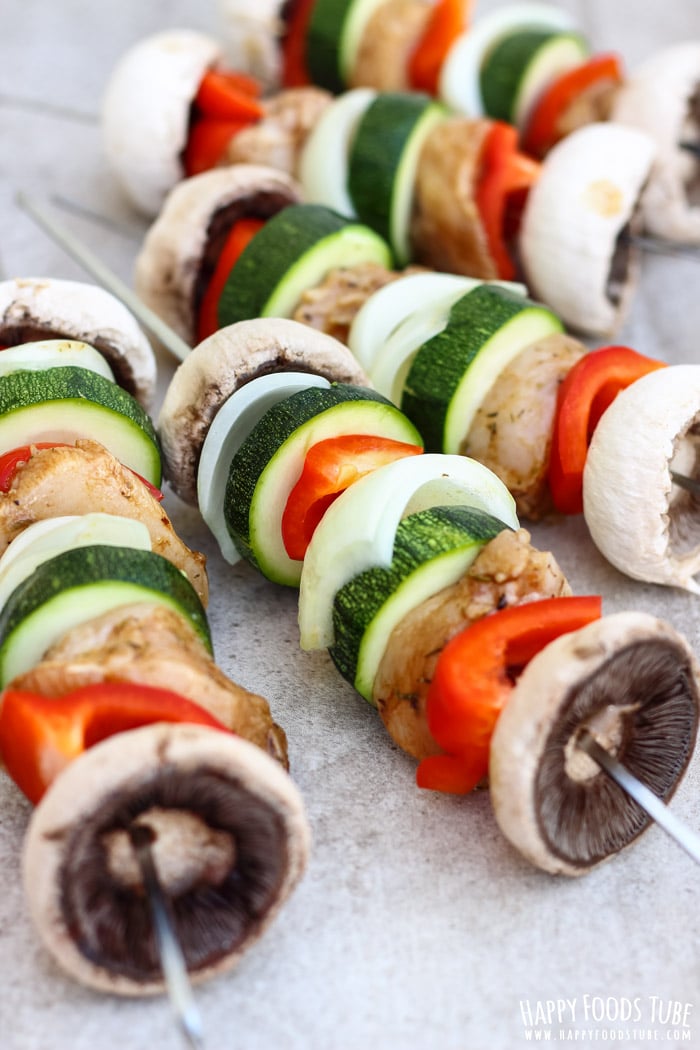 How to make balsamic chicken marinade for grilling
Let's talk about the marinade first. Marinade is a must when making kabob skewers. You don't want your meat go dry and this marinade will prevent it! First mix all the ingredients together (olive oil, balsamic vinegar, honey and thyme).
You will have to marinate this for at least 30 minutes. If you have time, marinade the chicken pieces overnight. If not, you'll be ok with half an hour. Now use only half of the marinade and keep the other half for basting on the grill (check out what basting is and how to baste)
Once you have marinated the chicken pieces you can assemble the kebabs. Simply alternate between chicken, onion, pepper, zucchini and mushrooms. Depending on what you are after you can add more or less veggies. Grill for 12 minutes or until the chicken is done!
These balsamic chicken skewers are delicious with pita bread, potato flatbread, rice, salads … They go well with everything!
4 reasons why you should make these balsamic chicken skewers:
They are easy to make.
Perfect for outdoor entertaining.
Juicy chicken thanks to balsamic marinade and glaze.
Excellent feed-a-crowd recipe.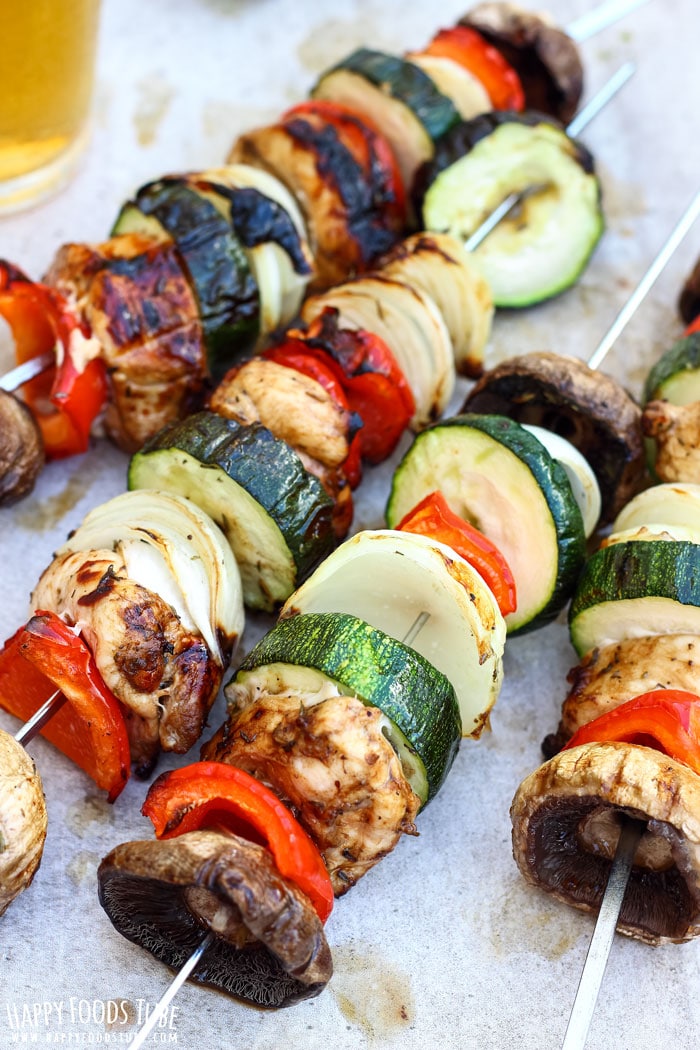 Good to know:
If using wooden skewers, soak them in water prior to grilling so they won't burn easily (30 minutes or so).
You might get more or less skewers than stated in this recipe. This will depend on the amount of pieces threaded on each skewer.
The grilling time varies depending on the size of your veg and chicken pieces.
To achieve even cooking make sure your veggies and chicken are about the same size.
Balsamic Chicken Skewers
These balsamic chicken skewers are one of the must try grilling recipes before the summer is over! Balsamic marinade makes the chicken extra juicy & adds great flavor!
Servings:
12
Skewers/4 Portions
Ingredients
1

pound

Chicken Breasts

, boneless, skinless (450 grams)

2

Medium Onions

2

Medium Zucchinis

2

Red Bell Peppers

24

Button Mushrooms
Instructions
Prepare the marinade by mixing all the ingredients in a bowl.

Cut the chicken breasts into chunks and place them in a sealable container or a ziplock bag. Pour half of the marinade over, cover with a lid and refrigerate for at least 30 minutes (or overnight).

Meanwhile prep the veggies by cutting them into roughly the same size as your chicken pieces. This way they will need similar time to grill.

Once the chicken has been marinated, thread it altogether with veggies on your skewers.

Grill for 12 minutes or until done. It's important to baste them with the rest of the marinade during grilling.

Serve with salad, bread, pita bread, flatbread or anything you like!
Notes
I peel button mushrooms to get rid of dust and dirt. You can use a brush or damp sponge, cloth to clean them instead. Basting = pouring marinade over the skewers to keep them moist.
Nutrition Facts
Balsamic Chicken Skewers
Amount per Serving
% Daily Value*
* Percent Daily Values are based on a 2000 calorie diet.
** As an Amazon Associate I earn from qualifying purchases.
LEAVE A COMMENT
RELATED POSTS