Spicy grilled chicken thighs are the perfect grilling recipe for summer. Marinated in a spicy marinade made from scratch, these chicken thighs go well with all kinds of sides!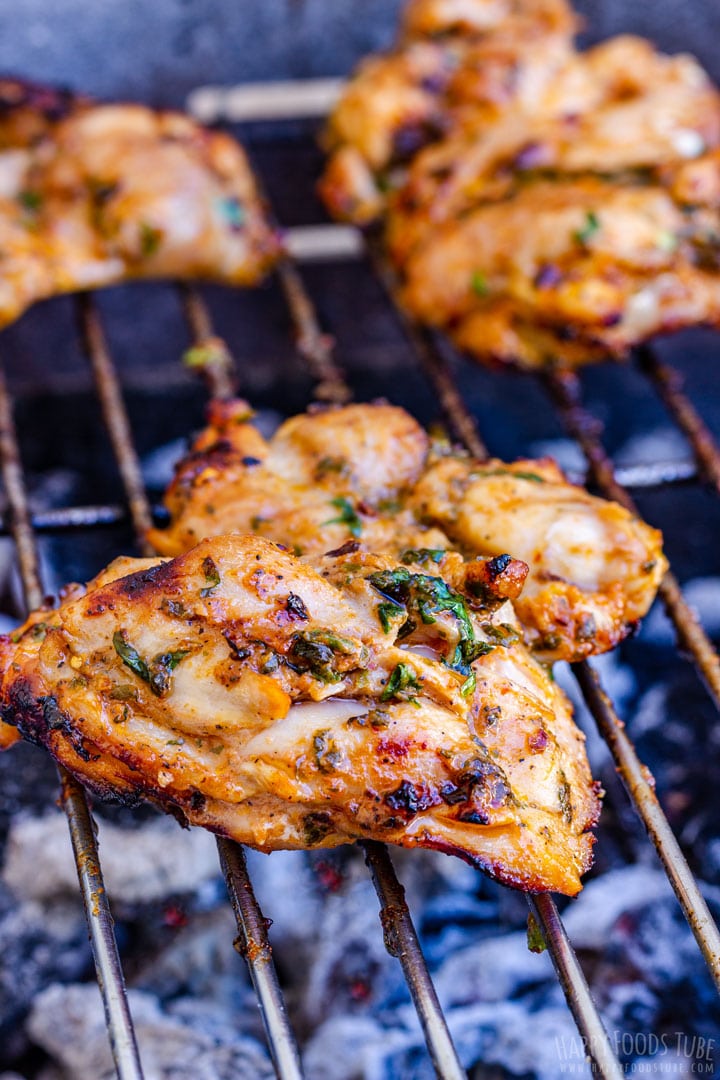 This is an easy grilled chicken recipe using boneless chicken thighs.
If you haven't tried grilling chicken thighs yet, here is your chance. They are juicy and flavorful and without a doubt the best part of chicken for grilling.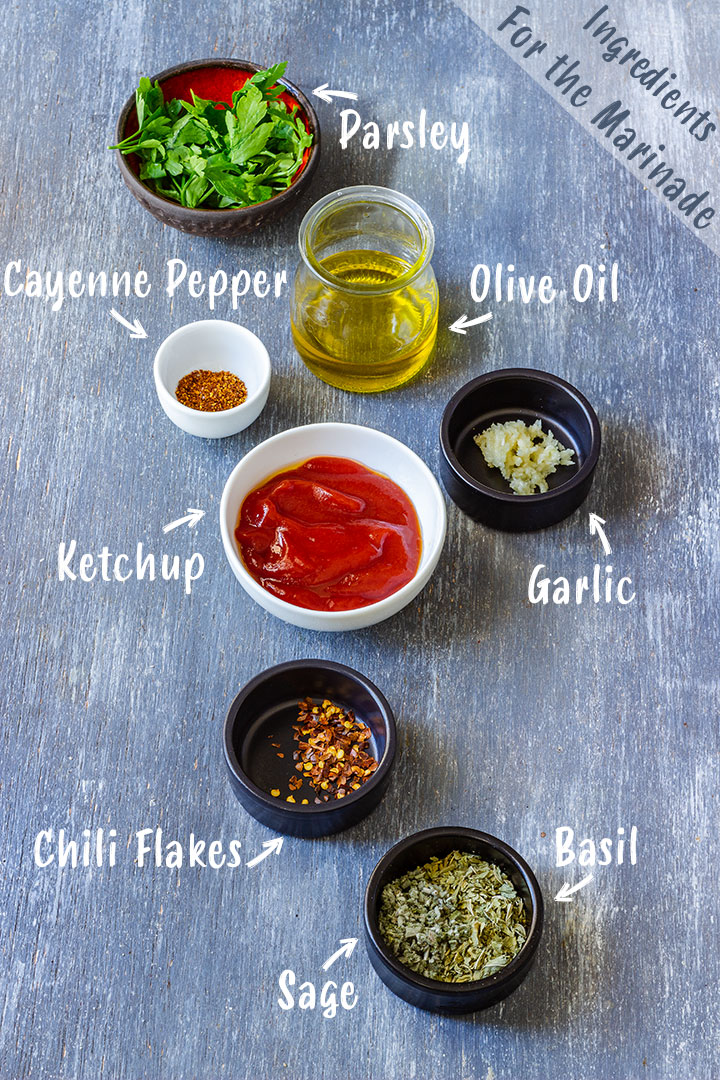 Marinade for spicy grilled chicken thighs
Combine together parsley, basil, sage, garlic, chili flakes, paprika, cayenne pepper, olive oil, and ketchup, and marinate the chicken.
Make sure that all the pieces are well covered with the mixture. You can also mix it from time to time while it is marinating.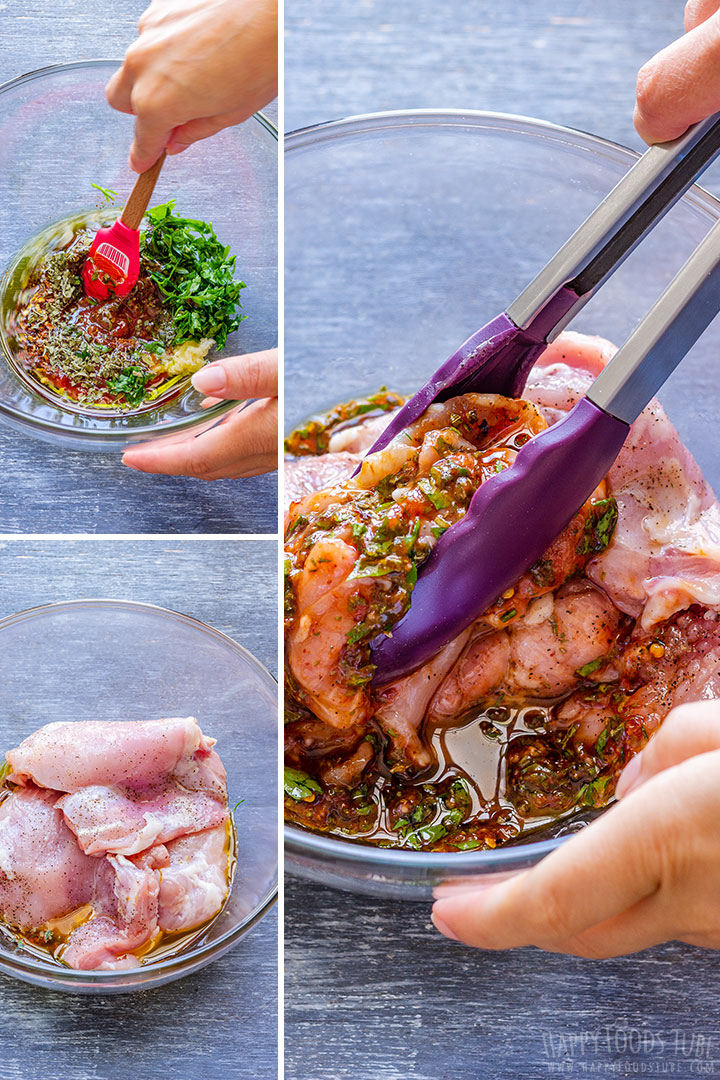 Grilling time
Note that this will vary from grill to grill and it will also depend on the size of the chicken thighs you use.
In general, count for about 20 minutes, and if not sure, use a food thermometer to measure its internal temperature.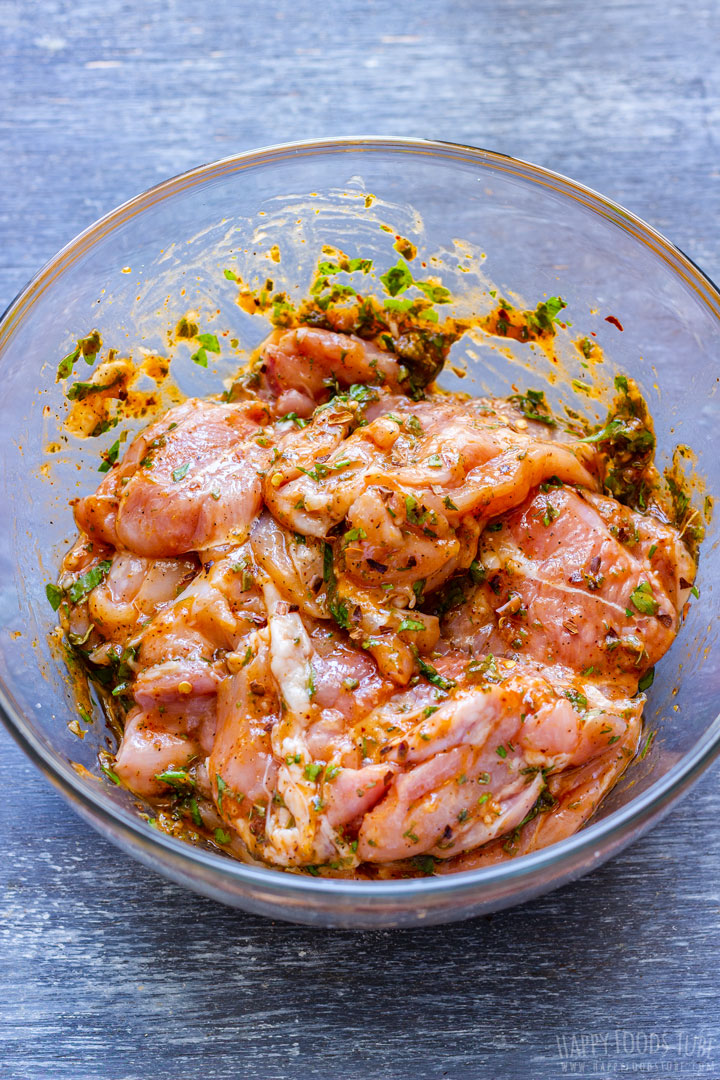 What to serve with grilled chicken thighs?
There are unlimited choices. I prefer tossed salads or grilled vegetables that I simply cut into chunks, throw into a deep baking sheet, season with olive oil, salt, and pepper, and put on a grill. It's a hassle-free way of roasting veggies.
Cucumber tomato salad is also a delicious side and so is red cabbage coleslaw.
You can also serve them with fresh French baguette or artisan bread (throw some slices on the grill as well and spread some butter over and you will be in for a treat). Garlic bread is also a tasty choice.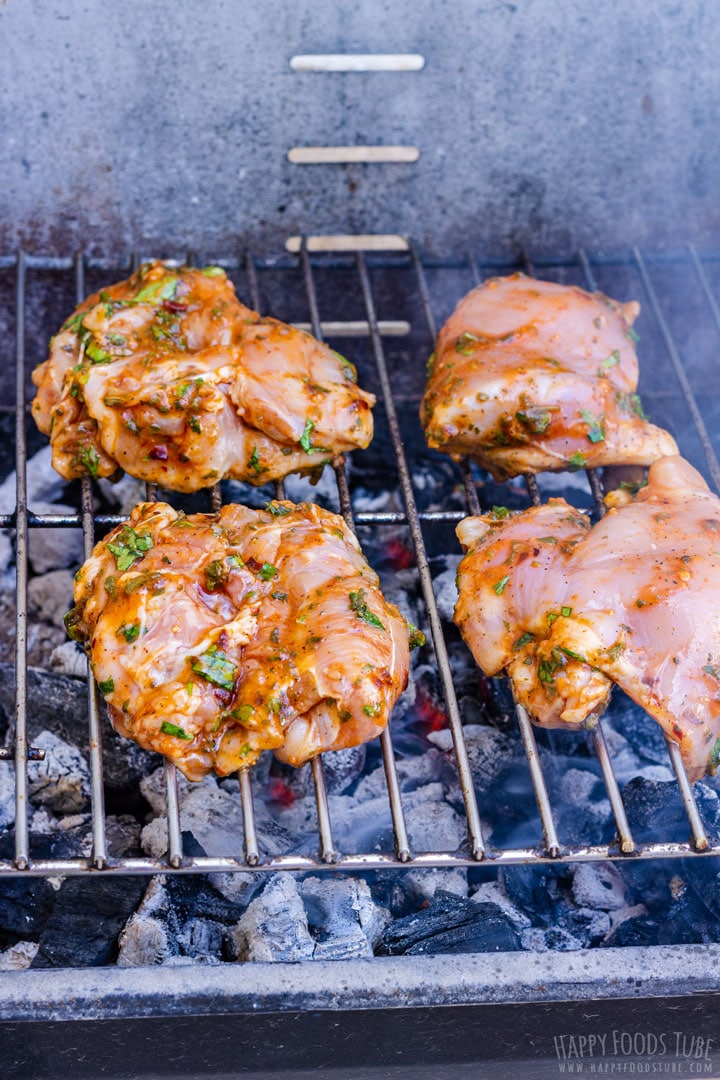 How to season grilled chicken thighs?
For my recipe, you only need to use salt and pepper as the marinade will provide enough flavor. I usually season them generously with black pepper and moderately with salt.
This will be different for every one of you, as we all have different tastes. Some like more salt, while others prefer a low-sodium diet.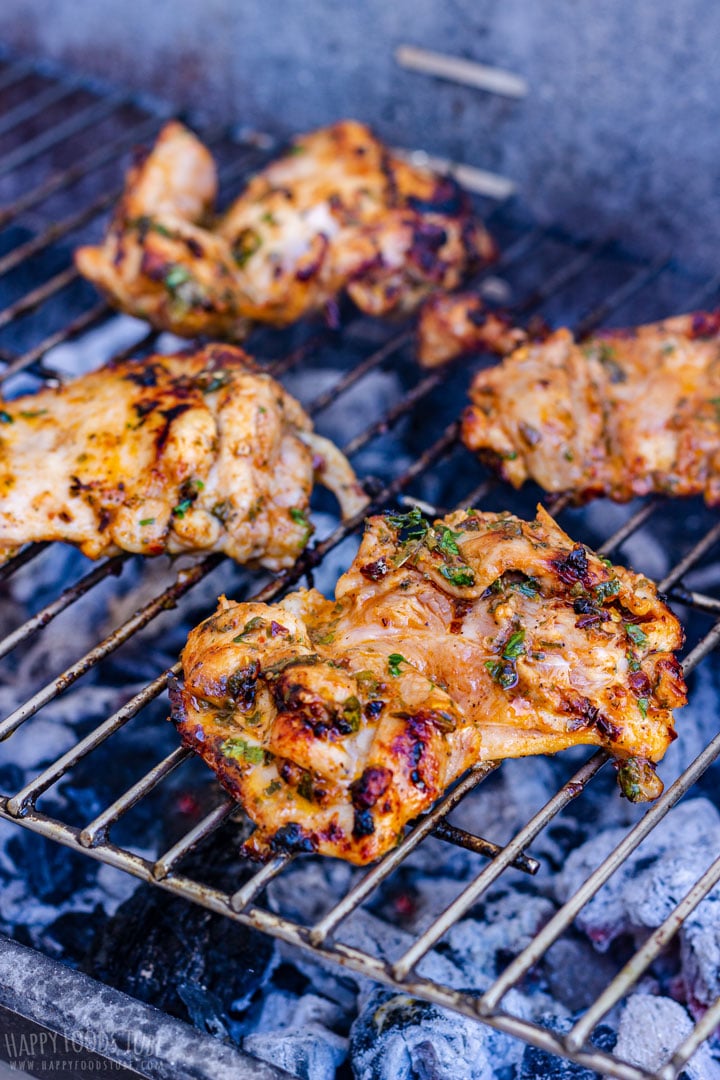 Tips for making spicy grilled chicken thighs
The longer you leave the chicken pieces in the marinade the stronger the flavor.
This recipe for spicy marinade for grilling contains just the right amount of heat, without being overpowering. However, if you are sensitive to spicy foods, but still want to give this a go, perhaps omit the chili flakes, or sprinkle only a few over.
I use this spicy marinade for chicken, but you can also use it for pork or beef if you like. Chicken thighs are best for grilling (any kind really – of course, skin-on is better, but skinless, boneless, skin on and bone-in are all great choices).
Note that this marinade is enough for 1 pound of boneless chicken thighs. If you have more pieces or if using bone-in thighs, you should double the marinade.
More grilling recipes
Spicy Grilled Chicken Thighs
Spicy grilled chicken thighs are the perfect grilling recipe for summer. Marinated in spicy marinade made from scratch, these chicken thighs go well with all kinds of sides!
Ingredients
For the marinade:
1

tablespoon

fresh flat-leaf parsley

(chopped), see note 1

1

tablespoon

dried basil

, see note 2

2

teaspoons

dried sage

, see note 3

2

garlic cloves

1

teaspoon

chili flakes

, see note 4

½

teaspoon

cayenne pepper

¼

cup

olive oil

, see note 5

¼

cup

ketchup
For the chicken:
1

pound

boneless chicken thighs

salt

, to taste

black pepper

, to taste
Instructions
In a large bowl (or ziploc bag), mix together all the marinade ingredients.

Season the chicken thighs with salt and black pepper and transfer them into the bowl (bag). Use kitchen tongs to ensure they are all covered in marinade. Cover with plastic wrap and chill in the fridge for 30 minutes (or more) before grilling.

Grill until they are cooked through (the cooking time will vary, depending on your grill and the size of your chicken thighs. I used a charcoal grill and they took about 20 minutes to cook. If not sure, use a kitchen thermometer to check the internal temperature).

Enjoy with bread, salad or any side you like!
Notes
Feel free to use more parsley if you like.
Basil can be substituted with oregano or marjoram.
If you don't have dried sage, use basil instead.
You can use more/less chili flakes if you like.
I don't recommend substituting olive oil for other cooking oil.
You can leave the chicken in the marinade overnight!
Nutrition Facts
Spicy Grilled Chicken Thighs
Amount per Serving
% Daily Value*
* Percent Daily Values are based on a 2000 calorie diet.
** As an Amazon Associate I earn from qualifying purchases.
LEAVE A COMMENT