Making crispy popcorn chicken from scratch is easier than you think! It's perfect as a snack, appetizer or a quick lunch and can be made in advance.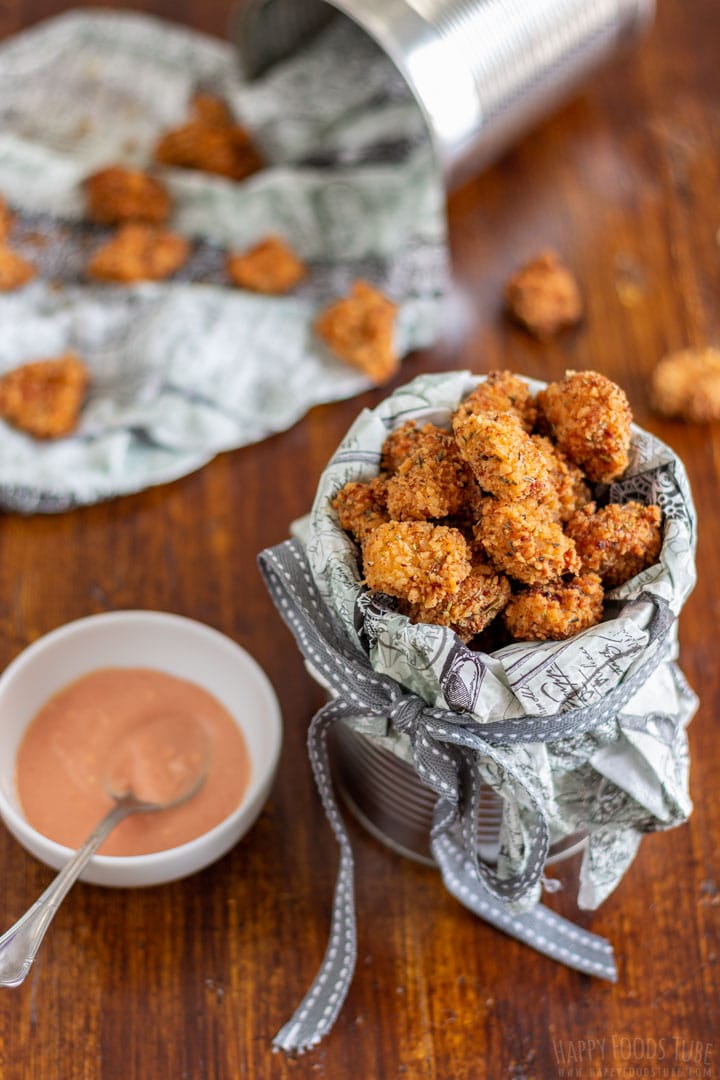 Expert tips, serving ideas and FAQ's related to making the tastiest chicken popcorn are part of this post.
Special Diets Information:
What does popcorn chicken recipe contain?
Meat: YES
Dairy: YES (egg & milk)
Nuts: NO
Gluten: YES, but a gluten-free flour can be used as a substitute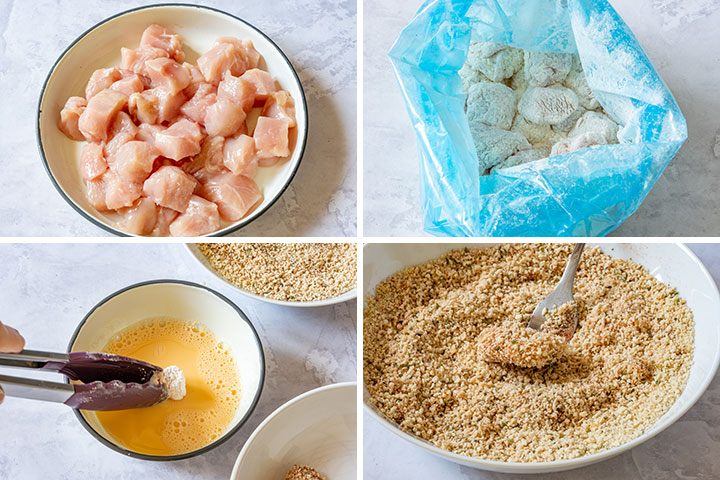 How to make popcorn chicken from scratch
The whole process is simple. Just dice chicken breast. The cubes should be quite small. I prefer to season them with salt at this stage. For 1/2 pound of chicken pieces slightly less than a 1/2 teaspoon of salt is needed.
Coat these in flour – a ziploc bag is great here, it does speeds up the process, just make sure that all the pieces are coated completely.
Dip in beaten egg combined with milk and coat in breadcrumbs.
Deep-fry and enjoy any way you like.
Serving ideas
Lunch or snack – in a freshly baked French baguette with other fillings of your choice (cheese, sauce or mayo, some lettuce,…) or in a tortilla wrap (we like adding fresh red cabbage, coleslaw would also work great)
Appetizer – with your favorite dip (thai sweet chili sauce is the most simplest, but if you want to make a sauce from scratch we like simple garlic aioli).
Dinner – kids may enjoy the bite-size portions of chicken so why not serve it with their favorite side?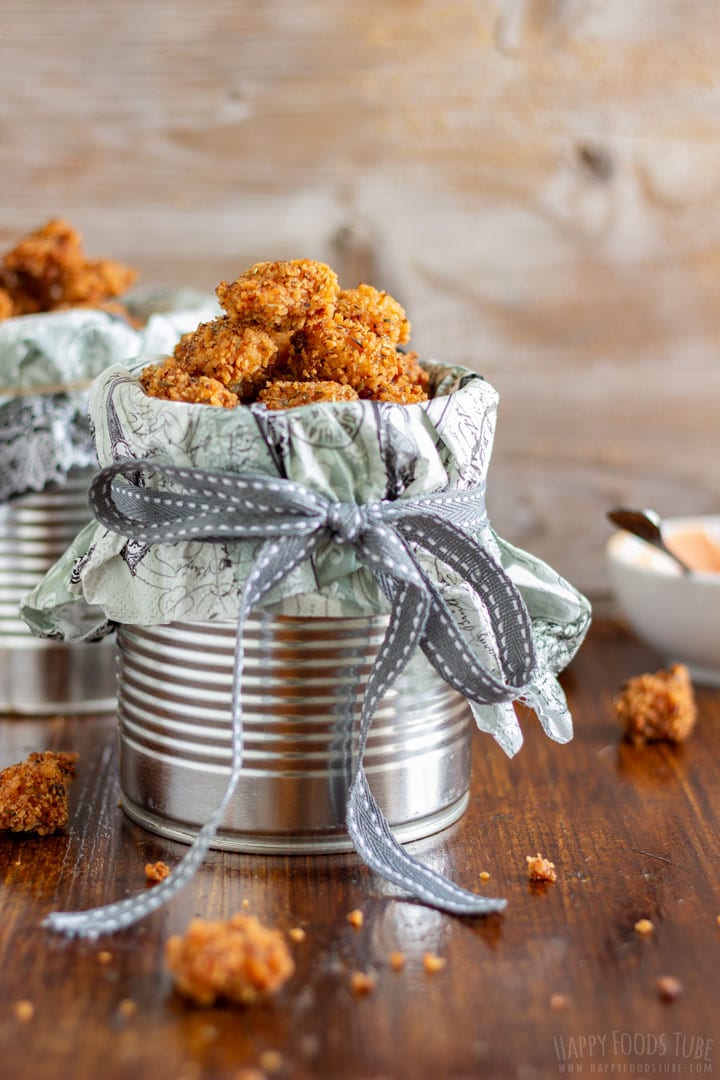 Popcorn chicken frequently asked questions
What oil is best for deep-frying?
Any oil with a high smoke point such as refined avocado, vegetable, sunflower or peanut oil.
Can I make chicken popcorn in the oven?
Yes, you can. Follow the same instructions but instead of frying, place the pieces onto a baking tray lined with baking parchment and cook at 400 Fahrenheit (200 Celsius) for about 15-20 minutes.
How many calories in popcorn chicken?
1 piece contains about 60 calories. Note that this number is only an estimate, as it can be lower than this or higher, depending on size of your piece. Also, the calorie count will be smaller when oven-baked.
Expert Tips:
Quantity of oil needed for frying can vary, but you will need at least 3 cups (about 750 milliliters). Using a wide pot will shorten the overall cooking time as you might only need to cook everything in one go (or 2) instead of 3-4 (in a small pot). However, a more oil will be needed for a larger pot.
Frying takes literally minutes (about 2, depending on their thickness) so be sure to keep an eye on them.
Use a few sheets of kitchen paper to soak up any excess oil.
The recipe below should be plenty for up to 14 ounces of chicken breast (400 grams).
More chicken appetizer recipes you might like to try:
Garlic Parmesan Chicken Wings – Another popular appetizer that everyone loves. Made in the oven, this is a healthier option, yet equally delicious as deep-fried.
Chicken Tenders – made in air fryer, these are so easy to make!
Mango Chicken Puffs – these always disappear first. If you haven't tried the flavor combo, here is your chance!
Crispy Popcorn Chicken
Making crispy popcorn chicken from scratch is easier than you think! It's perfect as a snack, appetizer or a quick lunch and can be made in advance.
Ingredients
½

pound

chicken breast

, cut into tiny pieces, see note 1 (225 grams)

½

teaspoon

salt

½

cup

all-purpose flour

(70 grams)

1

cup

breadcrumbs

(100 grams)

black pepper

, a generous pinch

2

teaspoons

paprika

2

teaspoons

dried herbs de provence

, see note 2

1

egg

, large

2

tablespoons

milk

oil

for frying, see note 3
Instructions
Season the chicken pieces with salt and mix them with kitchen thongs so that the salt is distributed as evenly as possible.

In a bowl, mix together breadcrumbs, black pepper, paprika and herbs de Provence and set aside.

In another bowl, beat egg with milk until combined.

Coat chicken pieces in flour, dip them in egg and coat with breadcrumb mix. For flour, you can use either a ziploc bag (the quickest approach) or a bowl. For breadcrumbs and egg mix I suggest bowls.

Heat oil in a wide pot. Check if the temperature is hot by dropping 1 breaded chicken piece in. If it is bubbling rich after the chicken piece hits the oil, then it's ready.

When frying, don't over-crowd the pot. Take the chicken out when it has nice dark brown color and floats on the surface. Place onto a plate lined with paper kitchen towel.

Best enjoyed warm!
Notes
Cutting the chicken into similar-looking pieces will result in even frying.
Instead of herbs de Provence you can use what you have on hand: a combination of thyme, oregano, basil, rosemary.
Use oil with a high smoke point: e.g. refined avocado, vegetable, sunflower or peanut oil. You will need at least 3 cups of oil (about 750 milliliters).
Cooking time may vary, depending on the size of chicken pieces and the temperature of oil, but it should not take long.
Serve with a dip (e.g.: Thai sweet chili sauce or garlic aioli) as appetizer, in a French baguette with cheese and veggies or in a tortilla wrap.
More tips and serving ideas and answers to FAQ are part of the post above this recipe card.
Nutrition Facts
Crispy Popcorn Chicken
Amount per Serving
% Daily Value*
* Percent Daily Values are based on a 2000 calorie diet.
** As an Amazon Associate I earn from qualifying purchases.
LEAVE A COMMENT
You may also like: