Anchovy hors dOeuvres with marinated roasted peppers are little snacks perfect for parties or any type of gathering. They are ready in 10 minutes!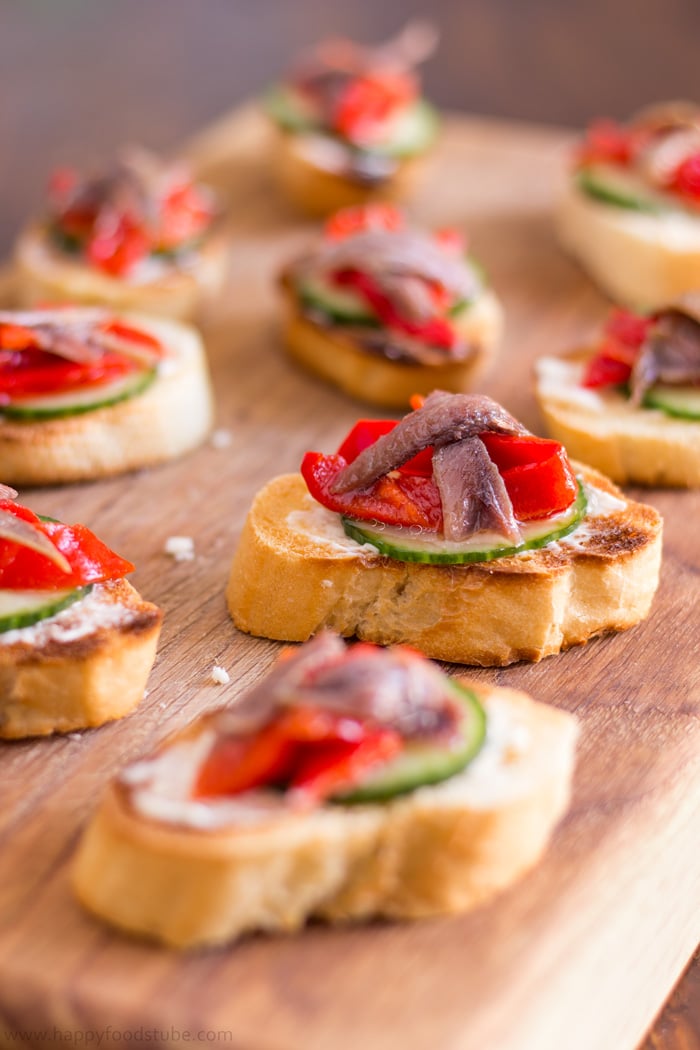 Guys, these anchovy hors doeuvres taste divine! Seriously! They are perfect for any party, a game day, family gathering or even a dinner party!
What do you usually make when hosting a party? Do you search for easy appetizers or bite size food? I am a huge fan of small and easy appetizer recipes and lately I've been making them instead of a dinner as well. Yup, that's what I do sometimes. I just like that there are endless possibilities when it comes to canapes. What about you? Do you like them? Do you make them often?
I have to say that I have become obsessed with them since last December! Yes, I admit it: My new obsession is hors d'oeuvres or canapes or appetizers or hors doeuvres or bites or tapas or finger food.
By the way, why are there so many words for these tasty little snacks? In Slovakia, we call all of them "jednohubky" literally meaning one mouth. It's because most people can put a full one in their mouth. It's something like "bite-size" appetizer or bites in English. Only one word while the English language uses sooo many different ones. Sometimes it's funny to compare various languages, isn't it? Do you know of any other words that these hors d' ouevres can be called? If you do, let me know!
Anyways, no matter what you call them, they are my favorite type of food. There are several reasons I love them:
Their size – I love mini snacks and desserts.
Wide selection – usually there are more options to choose from and if you don't like one, you can try another type.
They are so versatile – you can use anything and everything! Isn't it great?
They are fast to make – well, most of them anyways.
Easy to make – Don't you love easy appetizer recipes? I do!
Who doesn't love them?
How to make these easy anchovy bites?
Now the secret here is that the "crostini" or toasted bread is made in a toaster! It literally took 2 minutes to toast 8 slices. In my oven, I would never get such result and I would spend way more time and nerves trying to get the nice golden brown color!
So if your toaster is larger than mine than you will definitely be able to fit in way more than 8 pieces at a time. And this will also shorten your prep time!
Now slice the cucumber. I like thin slices because it still gives you the crunchiness but it is not overpowering.
Assembling these bites is really simple:
Baguette Slice + Mayo + Cucumber + Marinated Roasted Peppers + Anchovy
Plating:
You have several options here: a serving plate, tray, wooden chopping board or slate board.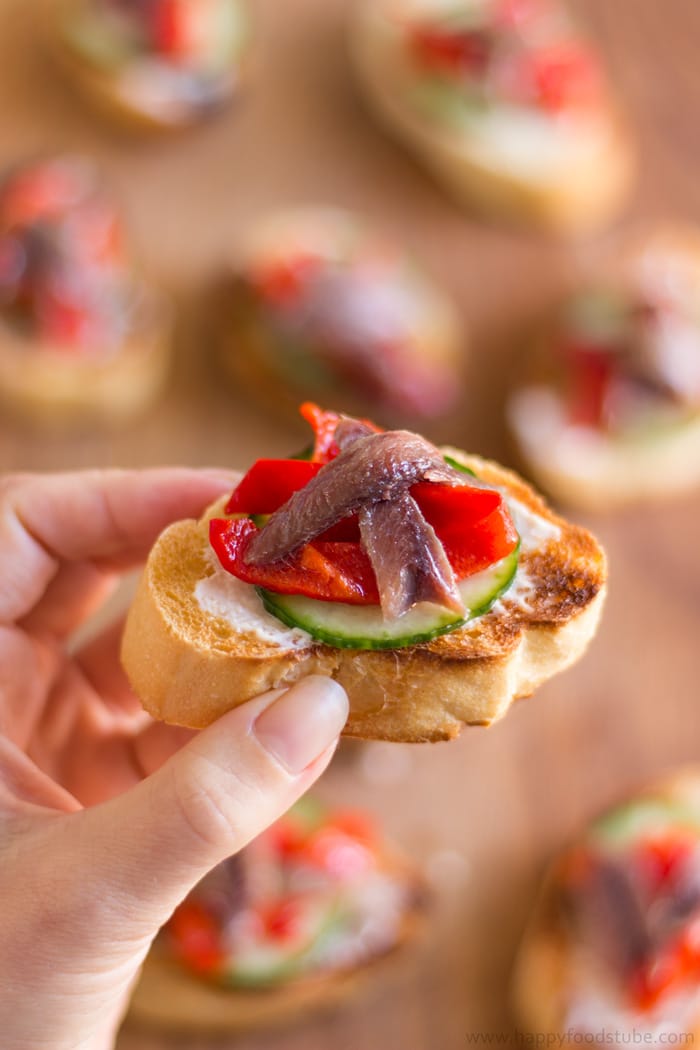 Good to know when making bite size food:
How many appetizers/hors doeuvres to serve per person:
This is not an easy question to answer but I will try. This is what I have learned so far. First, it will depend on the type of the "event".
Is it just a small family/friend gathering where you meet for 1-2 hours to catch up, have some drinks and something to nibble on?
Is it a proper event where the guest will be counting on having some good appetizer selection which they might (some of them) consider having these instead of a light dinner? Also an important question here is – how long will the event go for?
Are the appetizers a part of a dinner party where main course + dessert will be served as well?
Do you know the people you are making these for (do they like to eat, do they eat a little, will there be more men, women, kids, etc…)?
So you see writing down a certain number is basically a mission impossible here.
However, if these appetizers/crostini/tapas are part of a dinner, then 3-4 pieces per person should be plenty.
If you are serving these for a small and short (time-wise) gathering, then 4-6 pieces per head could be enough.
If you are planning on having a cocktail party that will last for several hours (2-4 hour) then I am guessing 8 to 10 pieces per person.
But! There is always the BUT, right? So it is always better to have some extra platter ready so you don't run out of food! In this case just slice the baguette and keep it in an airtight container. If you see that you are running out of canapes, simply pop the baguettes in a toaster and in less than 10 minutes another batch of delicious anchovy hors doeuvres will be ready to serve!
I hope you will try these and if you do, please let me know what you think! I would like to hear from you!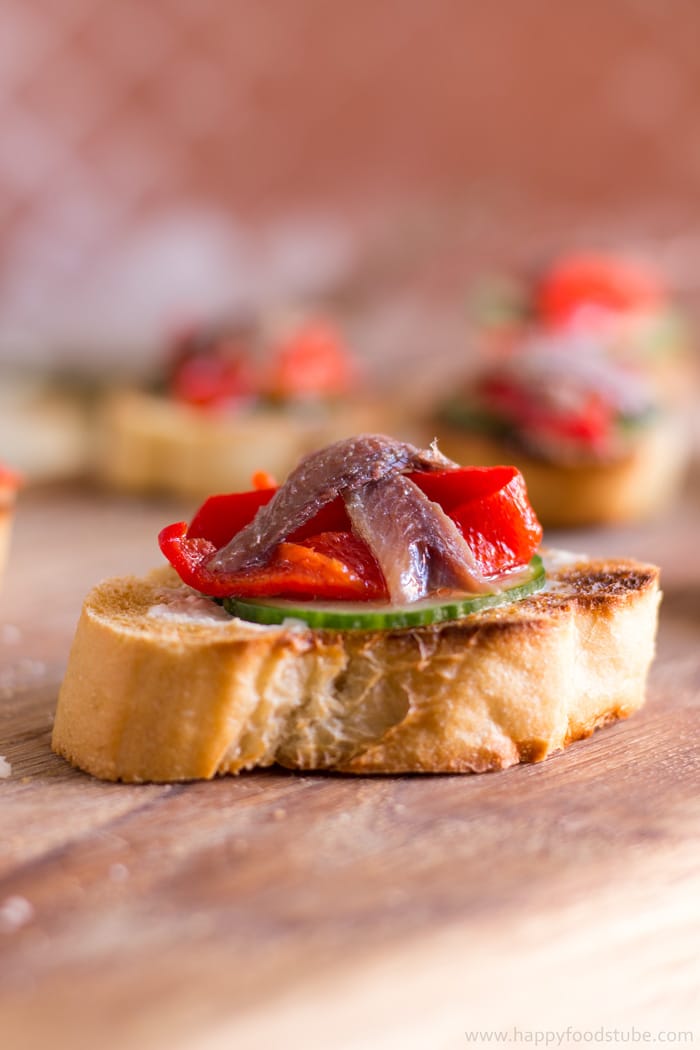 By the way, if you are looking for other party food ideas, you must check out these:
Anchovy Hors d' Oeuvres
Anchovy hors dOeuvres with marinated roasted peppers are little snacks perfect for parties or any type of gathering. They are ready in 10 minutes!
Ingredients
1

French Baguette

(Large)

1

ounce

Anchovy Tin

(1.6 ounces/45 grams net weight, 1ounce (30 grams) drained weight)

2.5

ounces

Marinated Roasted Peppers

thinly sliced (70 grams)

¼

Cucumber

you'll need 12 slices

2

tablespoons

Mayonnaise
Instructions
First slice the baguette. You should get at least 12 pieces out of it. Throw them in a toaster and toast until golden brown.

Meanwhile rinse and cut the cucumber into 12 thin slices. Place roasted peppers onto a paper kitchen towel to get rid of the excess liquid. You can do the same with anchovies.

When the baguette slices are toasted, start assembling the bites.

Baguette slice + Thin layer of Mayonnaise + 1 cucumber slice + Roasted peppers + ½ -1 Tiny anchovy.

Arrange on a serving plate and serve.

These can be also made without toasting the baguette – they will be equally delicious!
Nutrition Facts
Anchovy Hors d' Oeuvres
Amount per Serving
% Daily Value*
* Percent Daily Values are based on a 2000 calorie diet.
** As an Amazon Associate I earn from qualifying purchases.
LEAVE A COMMENT
RELATED POSTS