Homemade gingerbread hot chocolate is the perfect Christmas drink! This gingerbread spice infused hot chocolate warms you up & gets you into the festive mood!
With the holiday season approaching I tend to crave two things the most. First is a cup of hot chocolate and second is gingerbread flavored goodies.
This time I decided to combine these two to create this gingerbread hot chocolate. And guys, this is the real treat!
Each cup of this gingerbread hot chocolate will bring you a step closer to that magical time of the year. And we all love the magical holiday season, right?
Now if you are looking for a few more festive drink ideas, check out these ones: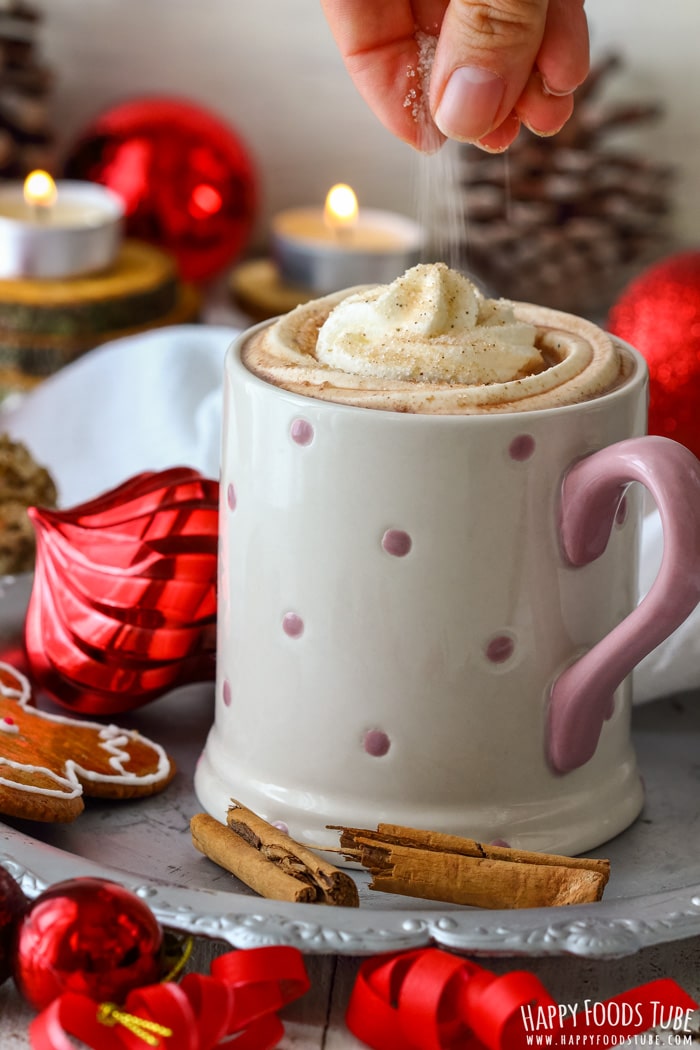 Well, Christmas is definitely my favorite holiday. What I love about Christmas is the homemade edible gifts and crafts that people make for their loved ones. The beautiful DIY Christmas decorations that many of you find time to create. All those late nights /weekends we spend to create something unique for someone special… It's simply magical and always will be.
What do you guys love the most about Christmas?
How to make gingerbread hot chocolate:
To infuse this warm drink with gingerbread flavor I start with boiling water, sugar, fresh ginger, a few cloves and allspice. When it reaches boiling point, I reduce the heat. All I want is to infuse the syrup/water with those spices.
This will take about 7-10 minutes. If you are not sure, just taste it. You are after nice Christmas-y flavor.
Meanwhile: Whip the cream with powdered sugar. You can use a piping bag with star tip or just a spoon. When I am making this gingerbread hot chocolate for myself, I only scoop the whipped cream directly into the chocolate. However, if I was making this for guests, I would definitely go the extra mile and use a piping bag!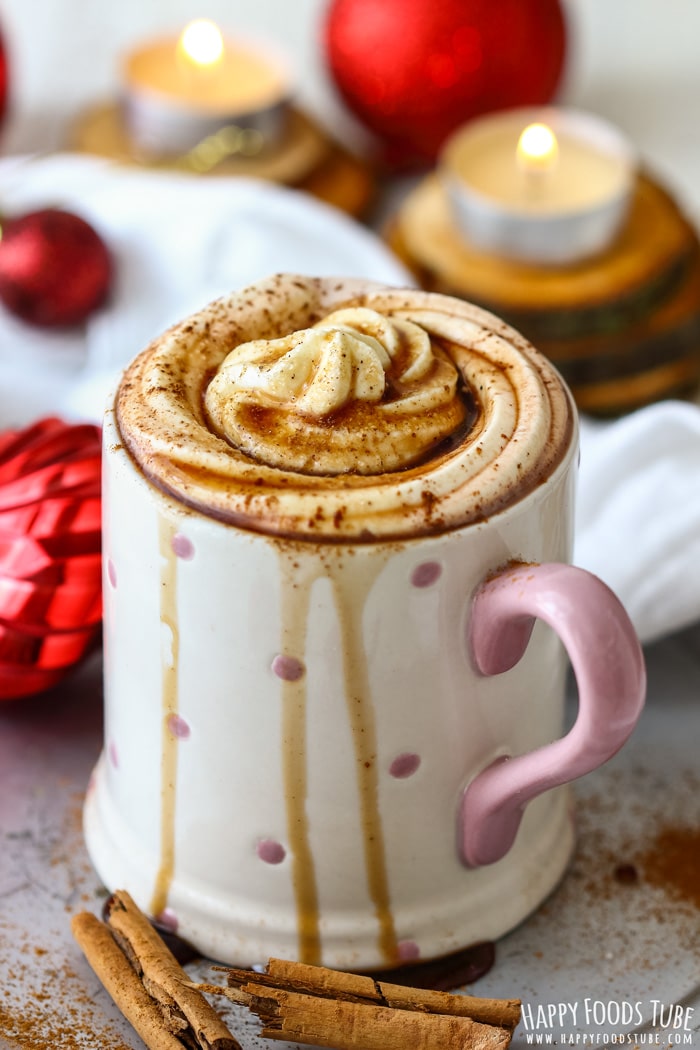 When your syrup is infused with the spices, add milk and cocoa powder. Use a whisk to dissolve the cocoa. Let it cook for a few more minutes (or until the milk is hot) before turning off the heat completely.
And now it's time to pour (the hot chocolate), pipe (the whipped cream), sprinkle (some gingerbread flavored sugar) and pour again (Gingerbread Syrup – optional).
Finally, sit back, relax and enjoy a cup of this delicious gourmet hot chocolate!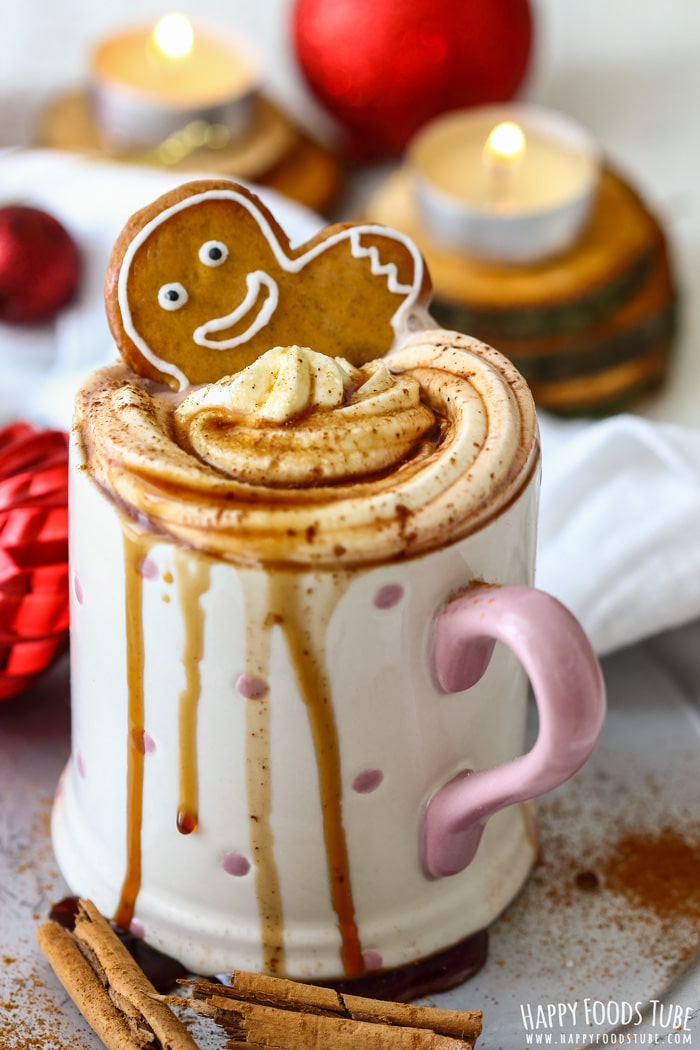 Ingredient Substitutions
Whipping cream & powdered sugar – you can make your life easier and buy whipped cream instead of making it yourself.
Gingerbread Syrup – I am pouring my homemade gingerbread syrup over the whipped cream, for extra flavor. This is completely optional.
Gingerbread Spice Mix – this is also optional. I combined some superfine sugar with gingerbread spice and sprinkled this over the cream. You can completely omit it or mix ground cinnamon with sugar instead.
Allspice – if you don't have whole allspice, don't worry about it. The most important spices here are fresh ginger, cloves and cinnamon.
Guys, this gingerbread hot chocolate is a must try this winter! If you give it a go, let me know! I'd like to hear what you think.
Happy Holidays!
P.S. If you love gingerbread flavored desserts and beverages, have a look at these recipes
Gingerbread Hot Chocolate
Homemade gingerbread hot chocolate is the perfect Christmas drink! This gingerbread spice infused hot chocolate warms you up & gets you into the festive mood!
Instructions
In a medium sauce pan combine water, cinnamon, allspice, cloves, sugar and slices fresh ginger (skin removed). Bring this to a boil and reduce the heat. Simmer for 7-10 minutes or until the syrup is infused with the spices.

Meanwhile: Whip the cream with sugar and set aside for later.

Taste the syrup and if you are happy with the taste, add milk and cocoa powder. Whisk until well combined. Bring to a boil and cook for about a minute. Turn off and remove the spices (either with a spoon or strain the drink through a cheese cloth).

Pour into mugs and serve topped with whipped cream, gingerbread sugar (mix gingerbread spice with superfine sugar) and/or gingerbread syrup.
Notes
Gingerbread syrup and gingerbread spice mix are completely optional and while they add an extra flavor, they are not a must.
If you don't have a gingerbread spice mix, you can also use ground cinnamon instead.
Allspice can be omitted.
Nutrition Facts
Gingerbread Hot Chocolate
Amount per Serving
% Daily Value*
* Percent Daily Values are based on a 2000 calorie diet.
** As an Amazon Associate I earn from qualifying purchases.
LEAVE A COMMENT
RELATED POSTS