This super healthy hot cocoa with almond milk is the perfect guilt-free treat for winter. It's fast, low in calories, dairy-free, keto and vegan. Only 5 minutes and 4 ingredients!
You can't beat a nice cup of homemade hot cocoa. It's a simple yet tasty hot drink to enjoy not only kids but also adults.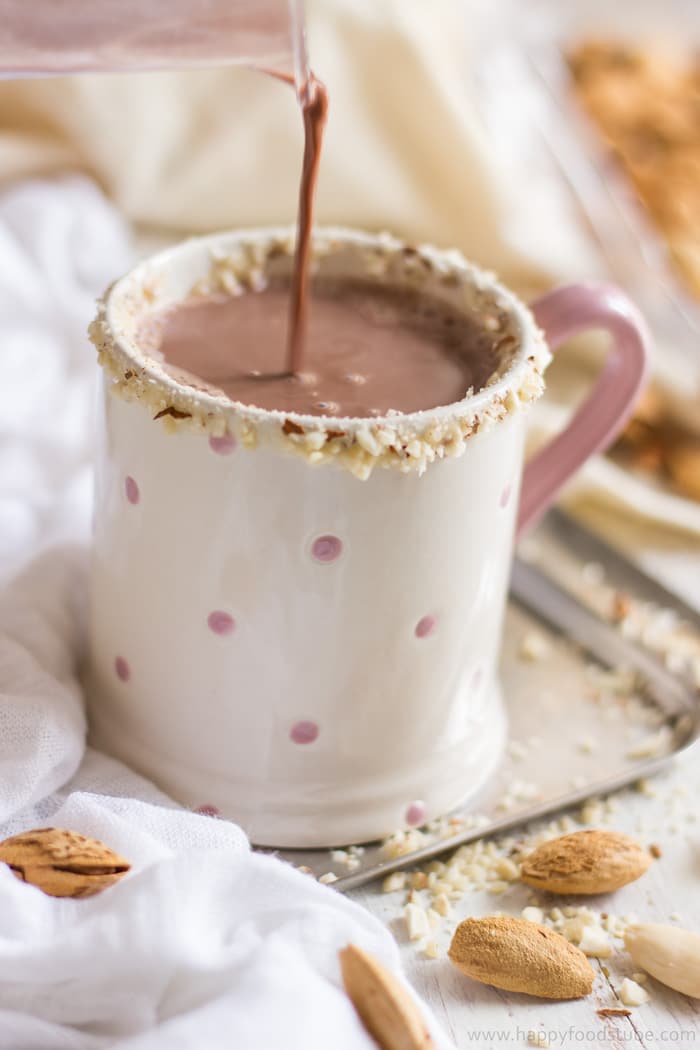 3 reasons to try almond milk hot cocoa:
Good source of protein – Thanks to almonds, cocoa and almond butter.
Healthy – This hot beverage is a good source of nutrients and because it is not packed with additional add-ons like marshmallows or whipped cream, it means you can enjoy it without feeling guilty about it.
Refined-sugar free
Because this recipe calls for plant-based milk, it means this is also a vegan hot cocoa recipe. Now that being said, it can be enjoyed by anyone (perhaps you are on a low-calorie diet, you are dairy-intolerant, or you simply like to try new things).
Expert tips for making hot cocoa with almond milk:
Almond butter, as well as almond milk, may vary from brand to brand. Some are sweetened while others are not. When making this cocoa drink with almond milk, I highly recommend checking what type of products you have first. That will help you decide whether you need to add more sweetener or not (this also depends on your taste of course). This almond milk hot cocoa recipe uses sweetened almond butter!
To add extra sweetness, use maple syrup, honey, agave or date syrup or anything you like.
Any leftover "milk" can be used in a smoothie.
I dipped my finger in almond butter and run it around the rim of the mug I used. Then, I dipped the mug in finely chopped almonds – this is completely optional.
How many calories in hot cocoa?
There are 173 calories in a cup of this healthy warm beverage (which is way over half less than in the classic one with chocolate). This number can be even lower if you omit the almonds.
I like experimenting with this popular cold-weather beverage and as a result, my blog contains a good selection of hot chocolate recipes. Some are healthy, others rich and decadent, some with a hint of liquor(s) or festive (gingerbread flavored). There is something for everyone!
For those who would like to try a few, here they are:
Want to see how to make hot cocoa with almond milk? Watch the video!
This healthy almond milk cocoa post has been updated recently with new text with more tips and information that you might find helpful when making it.
Hot Cocoa with Almond Milk
This super healthy hot cocoa with almond milk is the perfect guilt-free treat for winter. It's fast, low in calories, dairy-free, keto and vegan.
Ingredients
2

cups

almond milk

, see note 1 & 2 (500 milliliters)

3

tablespoons

unsweetened cocoa powder

2

tablespoons

creamy almond butter

10

raw almonds

, or to taste, finely chopped, see note 3
Instructions
Pour almond milk in a saucepan and add cocoa powder. On low heat, slowly heat up the mixture while whisking (the warmer the milk the easier the powder will melt in).

Make sure the cocoa has melted before you turn the heat off.

Stir almond butter in and pour into mugs/heat-proof glasses and top with chopped almonds (optional).
Notes
Almond milk and almond butter can vary from brand to brand. There are options available sweetened or unsweetened. With the unsweetened product, you will need to add some kind of a sweetener. When I developed this recipe, I could only find almond butter that contained almost 5 times more sugar (10-grams) than the ones you can find now (which is about 2-grams of sugar) per serving. For that reason, I did not need to add any extra sweetener at all. Please add this to your taste.
Sweeten with stevia, agave syrup, date or maple syrup, honey, or anything you like. The quantity used will depend on your preference.
This is low-calorie hot cocoa, but to reduce the calorie count even lower, feel free to omit the almonds!
Nutrition Facts
Hot Cocoa with Almond Milk
Amount per Serving
% Daily Value*
* Percent Daily Values are based on a 2000 calorie diet.
** As an Amazon Associate I earn from qualifying purchases.
LEAVE A COMMENT