These twice baked potatoes with chorizo and cheddar can be enjoyed as an appetizer, side dish or a main! They are rich, filling and most of all delicious!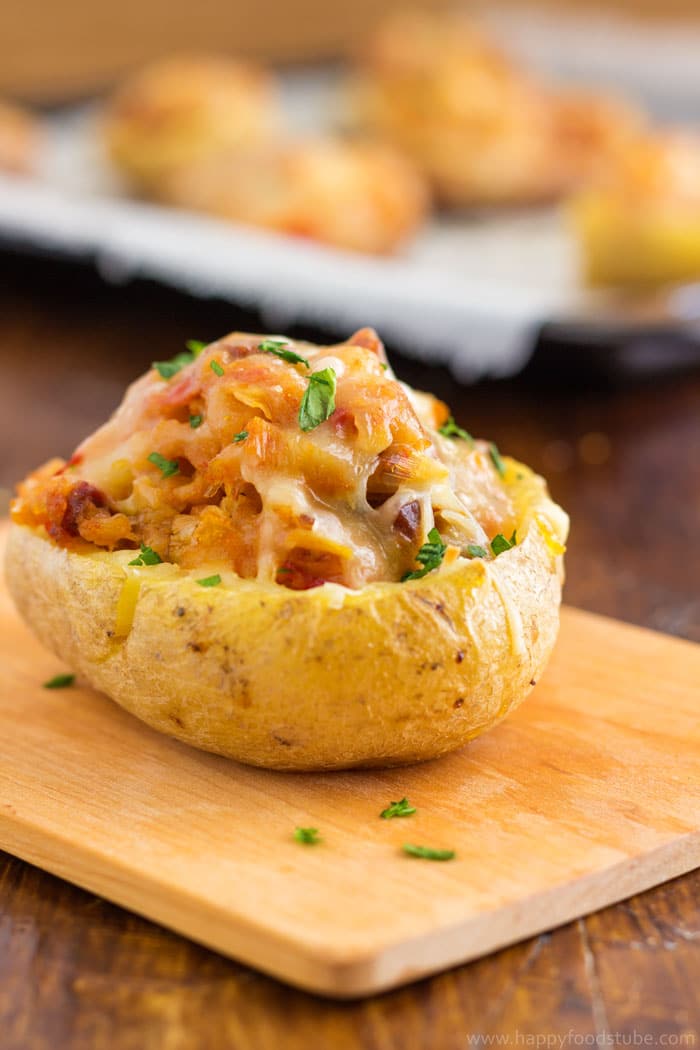 Potato time! Yes yes yes. I can't actually believe I am saying yes to potatoes.
You see there was time in my life when I did not like potatoes.
I simply didn't get what people loved about them. In my family the potatoes were widely eaten as a side with various types of cooked, roasted, grilled meats with yummy sauces. But the potatoes would stay all the time the same – cooked potatoes mixed with a knob of butter and lots of parsley.
I found them bland and not interesting at all. So you can only imagine when my mom or grandmother asked what to cook for lunch (which was the main meal of the day in my family) I would always say the same: Rice with anything! They always laughed at that.
But guess what? It wasn't always about rice. So when there was a dish with potatoes (which was quite often) I had no other choice than to eat it.
Because even though we did not like certain foods, we would still have to eat them. For my mom a balanced diet was the key to staying healthy. It was important to her that we would have diversity in our diet to get all the vitamins and nutrients our bodies needed.
But guess what? As a kid you don't care about diversity or balanced diet. You simply wanna eat what you like, right? And potatoes were not among my favorite foods!
However, these days I use potatoes more than rice. I can't actually believe this. I make roast potatoes, mashed potatoes, twice baked potatoes and many delicious potato dishes but still quite don't get the whole-cooked-potatoes-as-a-side-dish thing.
At the moment, one my favorite potato dishes are these twice baked potatoes with chorizo and cheddar. Yummy!
Twice baked potatoes
So here I am bringing you this easy twice baked potato recipe because it tastes amazing. Potatoes are filled with chorizo mixture and topped with cheddar cheese.
I like cooking with chorizo because this Spanish sausage gives every dish a wonderful flavor. Now for the cheese, you can use any cheese you like as long as it melts in the oven (believe me I bought once a bag of grated cheese that did not melt after 40 minutes in the oven) but you must use the chorizo.
That is the real deal there and gives it a great flavor. Yummy!
How to make twice baked potatoes with chorizo and cheddar
The prep & baking: The preparation doesn't take long. 65 minute in the oven is basically passive time. During the first 50 minutes you can prepare your chorizo mix and then just add the cooked potatoes in.
However, you could also start with your chorizo prep while waiting for the potatoes to cool down. This way you just set up the alarm for 20 minutes.
Do the dusting, washing up… Come back, pierce each potato, set alarm for a further 30 minutes and continue washing, cleaning or anything you were doing earlier. And only after the alarm goes off the second time you would start prepping the chorizo mixture.
It doesn't really matter which way you do it as long as you are happy with it.
What I really like about these twice baked potatoes is the fact that they are so versatile. Make them as appetizers or a main. Or a side dish! You won't be disappointed!
Want to see how to make Twice Baked Potatoes? Watch the video!
Twice Baked Potatoes with Chorizo and Cheddar
These twice baked potatoes with chorizo and cheddar can be enjoyed as an appetizer, side dish or a main. They are rich, filling and most of all delicious.
Servings:
4
Portions (as a main) or 8 (as a side, starter)
Ingredients
4

large

Potatoes

10.5

ounces

Tomatoes

(300 grams)

10.5

ounces

Leeks

(300 grams)

5.5

ounces

Chorizo

(150 grams)

5.5

ounces

Cheddar

(100 grams)

2

tablespoons

Worcestershire Sauce

1

tablespoon

Butter

for Frying
Instructions
Wash potatoes and place them onto a baking tray lined with baking paper. Bake in a preheated oven at 400°F/200°C for 50 minutes or until soft in the middle. Help the potatoes roast faster by piercing them with a skewer about 20 minutes into baking.

Meanwhile: Wash the leeks & slice them thin. Throw them into a frying pan with melted butter and sauté 2-3 minutes before adding chopped tomatoes. Sauté for 2 more minutes or until the tomatoes have softened. Add finely diced chorizo and sauté for a further 3-4 minutes. Turn off the heat and set aside.

When the potatoes are done, let them cool completely before cutting them in half (lengthwise).

Scoop out the inside of each potato. In a bowl, mash the potatoes with fork. Throw in the chorizo mixture, Worcestershire sauce and mix until well combined. Taste it and season with salt & pepper, if needed.

Fill the potato shells with the mixture. Top with cheddar cheese & bake in a preheated oven at 400°F/200°C for 15 minutes.

Serve as a main, started or side!
Nutrition Facts
Twice Baked Potatoes with Chorizo and Cheddar
Amount Per Serving
Calories 536
Calories from Fat 270
% Daily Value*
Fat 30g46%
Cholesterol 80mg27%
Carbohydrates 42g14%
Protein 25g50%
Vitamin A 2325IU47%
Vitamin C 44.6mg54%
Calcium 398mg40%
Iron 10mg56%
* Percent Daily Values are based on a 2000 calorie diet.
** Happy Foods Tube is a participant in the Amazon Services LLC Associates Program, an affiliate advertising program designed to provide a means for sites to earn advertising fees by advertising and links to Amazon.com.
LEAVE A COMMENT
RELATED POSTS