No fuss mixed fruit crisp with hazelnuts is the right dessert when you are a busy bee but still need a tasty dessert that will please the crowds! Simple ingredients and only a few utensils needed make it a perfect dessert!
Guys, this is the best and easiest recipe and like the title says it's no fuss whatsoever. It doesn't matter what size or shape your fruit is, what shape of your bowl is or how much of the topping you use!

This is also a great dessert to make with kids! Because it takes no time from washing the fruit to putting the fruit crisp in the oven, kids won't lose interest! Isn't that great?
Now my first time making crisp was about 5 years ago in Ireland. I think I got the recipe from the Internet and I liked how easy it was to make. I used rhubarb because that was what the recipe called for. Instead of oats mix I used crumble mix so I guess it should be called a crumble although for me crumble has a pastry base, then a layer of fruit and finally the crumble mix.
Watch the video for this recipe:
Anyways, I loved it but funnily enough I have made it only 3 times since! I must have forgotten about it – that's my only explanation! Back then I used oven proof soup/salad bowls and so every one of us got our own (pretty large) portion!
This time I used fruits that are in season in right now – figs, peaches and apples. Also because there is no chance I can get my hands on rhubarb here! Would you believe this? No rhubarb in the south-east of Spain anyways. Maybe some places up north grow and sell them but not here.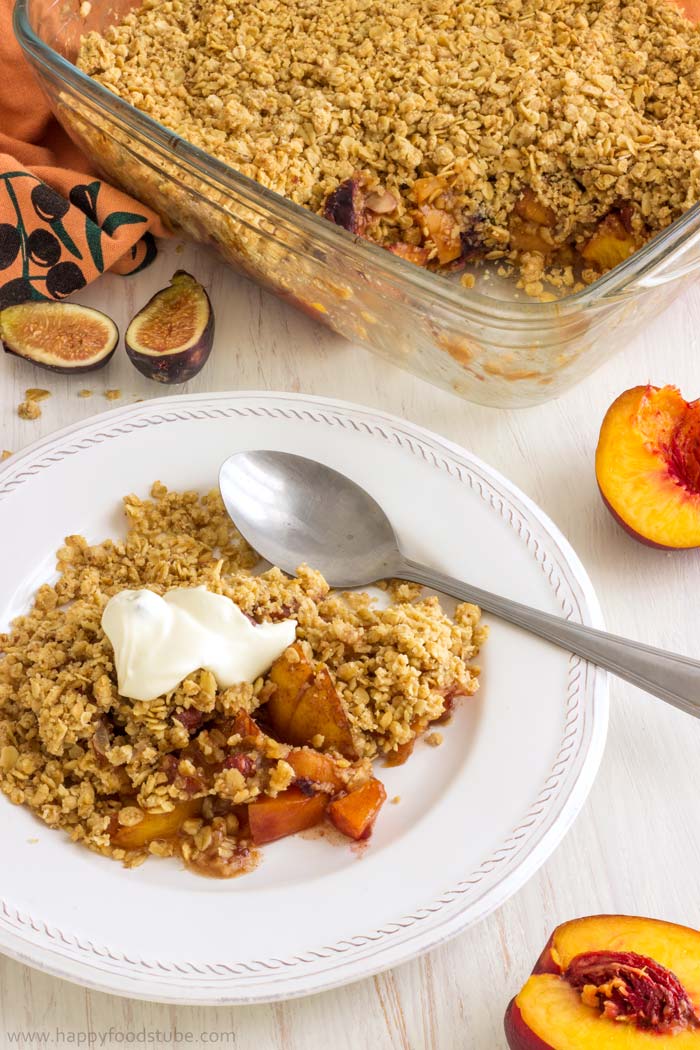 So this is how it goes. For this no fuss mixed fruit crisp you only need a bowl + an oven-proof dish and the actual oven! Plus the fruit and oats, flour, cinnamon etc… Ok ok so I omitted knife + chopping board as well. So you need these things: 2 bowls, an oven, a knife and a chopping board.
Start off with the fruits. When you are done cutting the fruits simply throw them in the oven-proof dish.  Add the rest of the ingredients in: cinnamon, sugar, corn flour, hazelnuts and butter. Give it a good mix. Spread the mixture around evenly.
Now for the fruit crisp topping:
Again throw all the ingredients for the topping in your bowl and mix with your hand. Now start breaking up the butter (still using your hand or both hands) until it is incorporated and the mixture looks more like crumbs. It doesn't have to be perfect! You can't go wrong here!
TIP:
I used quite a lot of the topping – I like balance. My mixed fruit crisp uses 50 % fruit and 50% topping. If you prefer less topping, simply reduce the amount by 1/3 or even ½. It is up to you what you prefer.
It takes about 40-45 minutes to bake it but if you take it from the oven before this time – nothing will happen – you just make sure that the fruits are cooked through and you are done. You might be after a nice crispy and brownish looking topping but some ovens (like mine) simply don't do (for some weird reason) golden brown color so don't get discouraged!
If you are after a yummylicious crisp recipe this no fuss mixed fruit crisp with hazelnuts is the way to go!
Related Posts:
Mixed Fruit Galette
Rustic Pear Frangipane Tart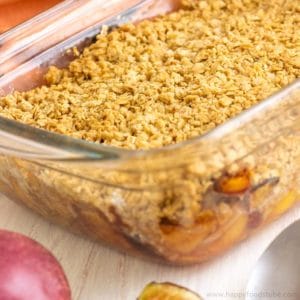 Print
No Fuss Mixed Fruit Crisp with Hazelnuts
No fuss mixed fruit crisp with hazelnuts is the right dessert when you are a busy bee but still need a tasty dessert that will please the crowds. Simple ingredients and only a few utensils needed make it a perfect dessert.
Servings:
6
Portions (18x23cm/7x9inch)
Ingredients
For the Fruit Layer:
1

kg

Mixed Fruit

– Apples, Peaches, Figs (2.2lb)

1

tsp

Cinnamon

2

tbsp

Corn Flour

(optional)

50

g

Hazelnuts

, Roughly Chopped (1.7oz)

40

g

Brown Sugar

(1.4oz)

20

g

Unsalted Butter

(0.7oz)
For the Topping:
100

g

Rolled Oats

or Quick Oats (3.5oz)

100

g

Plain Flour

(3.5oz)

60

g

Unsalted Butter

, diced (2.1oz)

30

g

Brown Sugar

(1oz)
Instructions
Fruit Layer:
Wash, pit & dice the fruit. Throw all in to an oven-proof dish. Add cinnamon, corn flour, hazelnuts & sugar. Mix well to spread the ingredients evenly. Now cut the butter into small pieces and throw them on top.
Oats Topping:
Throw all the ingredients in a larger bowl. Using your hands mix until combined. Now start incorporating the butter into the oats mixture. Break up the butter (using mainly thumb and index finger) until it's no larger than a pea or just simply until well blended into oats.
The Crisp:
Spread the topping evenly over the fruits. Place in a preheated oven and bake for 40-45 minutes @ 180C/360F or until the juices are bubbling and the topping has nice golden color.

Serve with ice cream or sour cream!
Happy Baking with Happy Foods Tube!
** Happy Foods Tube is a participant in the Amazon Services LLC Associates Program, an affiliate advertising program designed to provide a means for sites to earn advertising fees by advertising and links to Amazon.com.
LEAVE A COMMENT
Browse more Dessert Recipes or visit our
channel to see the videos.