A super simple recipe for homemade parmesan vinaigrette. This flavorful salad dressing will elevate any mix of greens you throw together! Ready in less than a minute!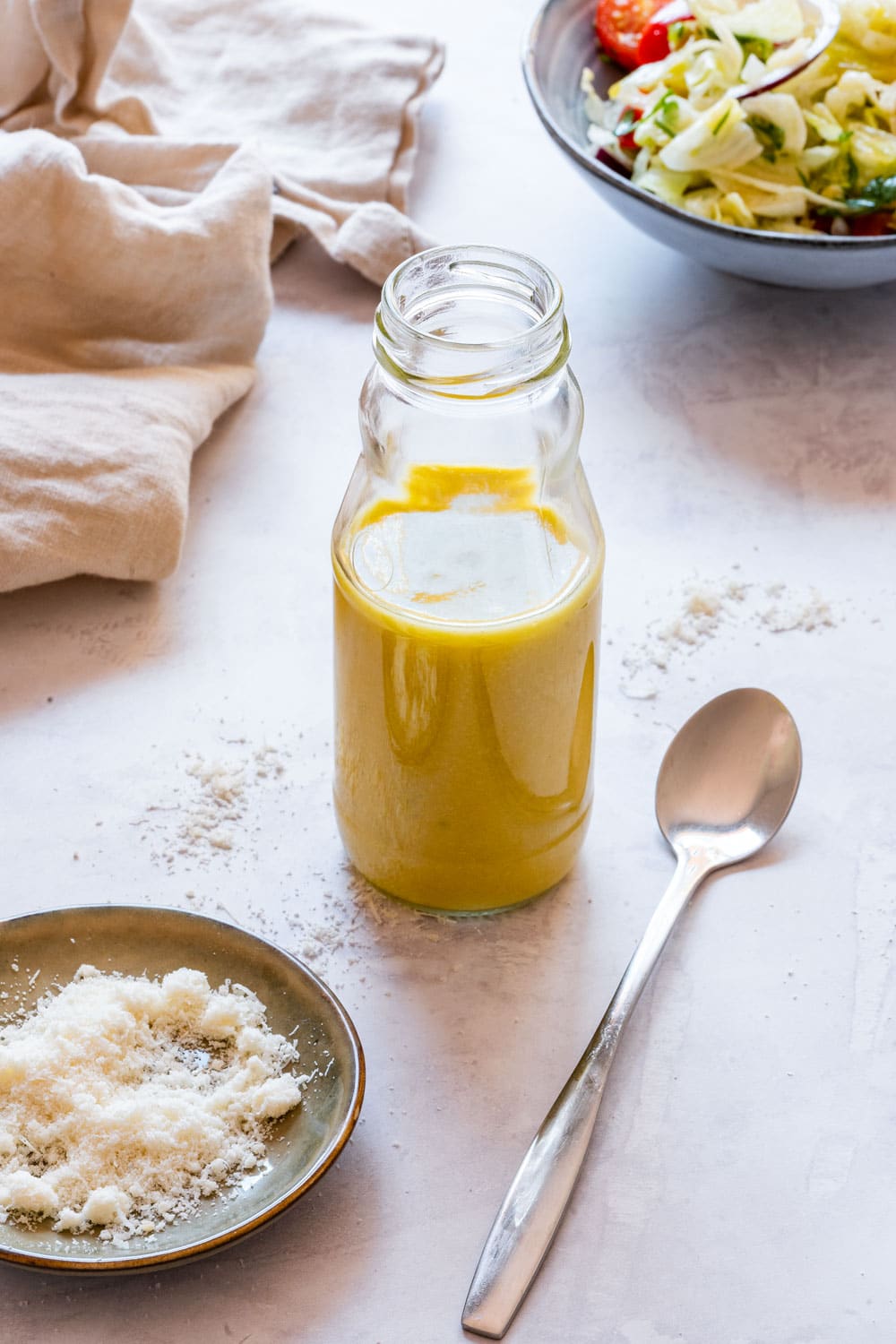 It's great for meal prep – simply make it ahead and use it throughout the week.
How to make parmesan vinaigrette
Tools
A food processor – An immersion blender might work as well.
Mason jar with a lid – Or glass, or a small bottle to store the vinaigrette in. Tip: When I buy small juices in glass, I keep those and store vinaigrettes in them. You can do the same!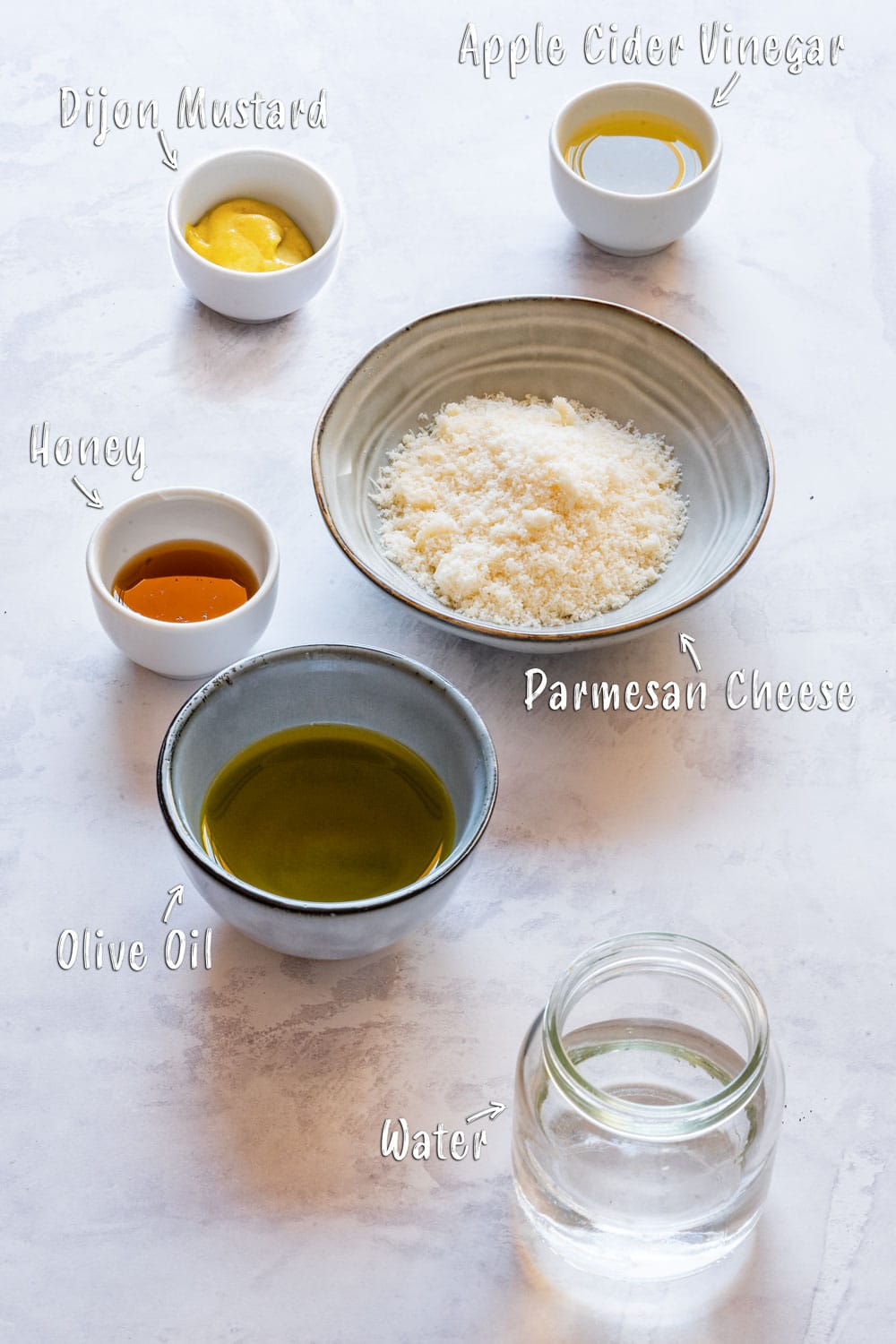 Ingredients
Parmesan – I use pre-grated parmesan that comes in a resealable bag and needs to be refrigerated. Our local supermarket carries a very good quality Italian brand. If you have a brand you like, then go ahead and use it. However, for best results either grate it yourself or buy a good one.
Tip: For a more affordable option, you can substitute Parmiggiano Padano with Grana Padano.
Olive oil – For the best flavor and most health benefits, use olive oil. Extra virgin is the best option but some of them taste quite sharp and might not be to everyone's taste. For that reason, use the one, you like or buy regularly. Please, don't substitute with vegetable oils. They are not the same!
Vinegar – There are many possibilities here: White wine or red wine vinegar, apple cider, or even balsamic vinegar.
Note: Balsamic will turn this cheese vinaigrette from yellow to dark brownish. Also, it can be used to make a marinade for chicken skewers. I suggest you use what you like or what you have on hand, but you need to use something. Otherwise, it will not be a vinaigrette.
Dijon mustard – it is a smooth mustard but if you like another kind, feel free to give it a shot! I have also noticed that the taste varies from brand to brand (some I like while others I don't) so if you are not a fan of this condiment, you can omit it.
Salt – Only if needed. The cheese itself is salty so add only after tasting the vinaigrette.
Honey – I like to offset the sharpness of the vinegar and mustard by adding some sweetness. You can try some other options like agave syrup or maple syrup if you like.
To help blend all the parmesan vinaigrette ingredients together I use a tiny amount of water. I find it lightens up the condiment and also makes it smoother.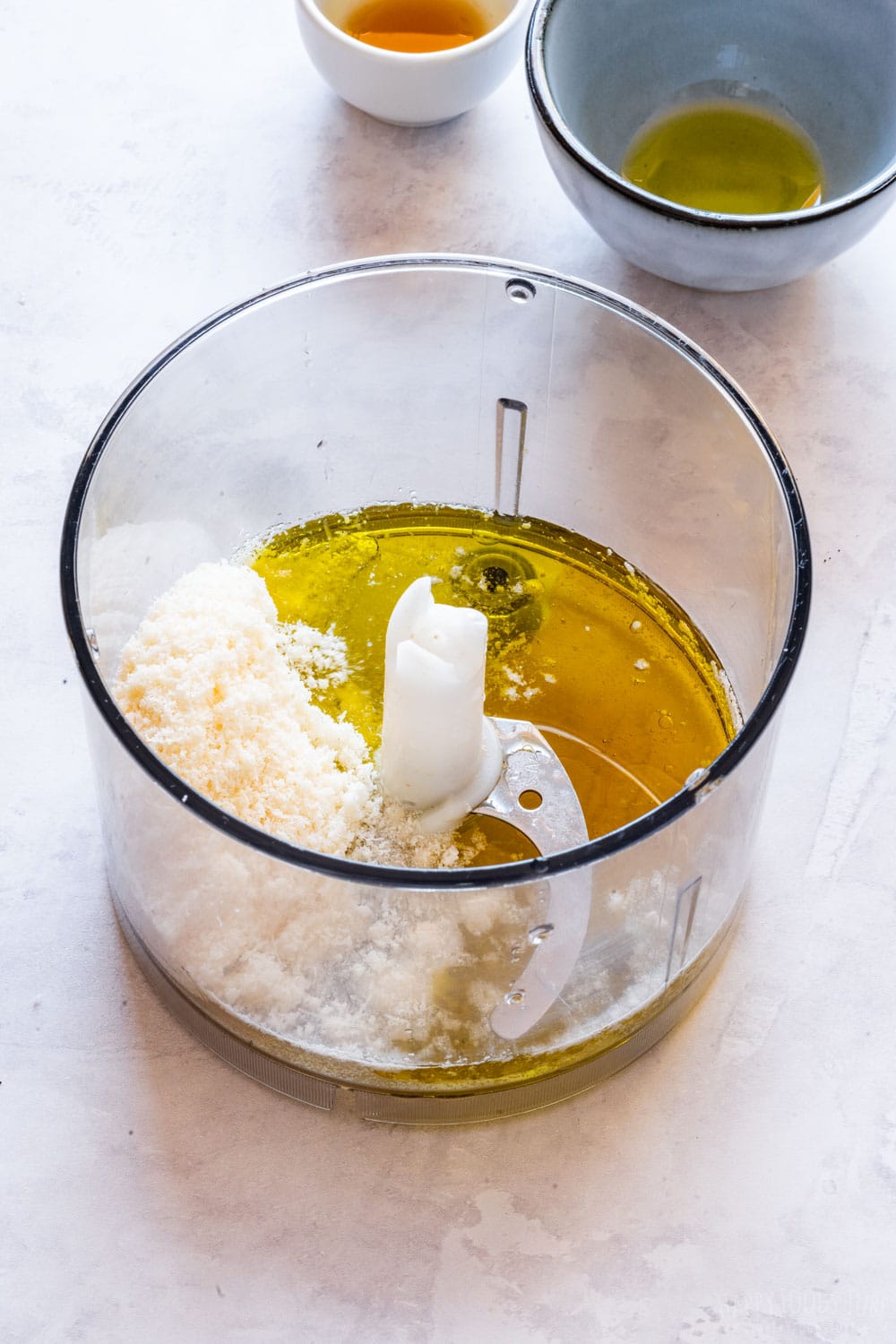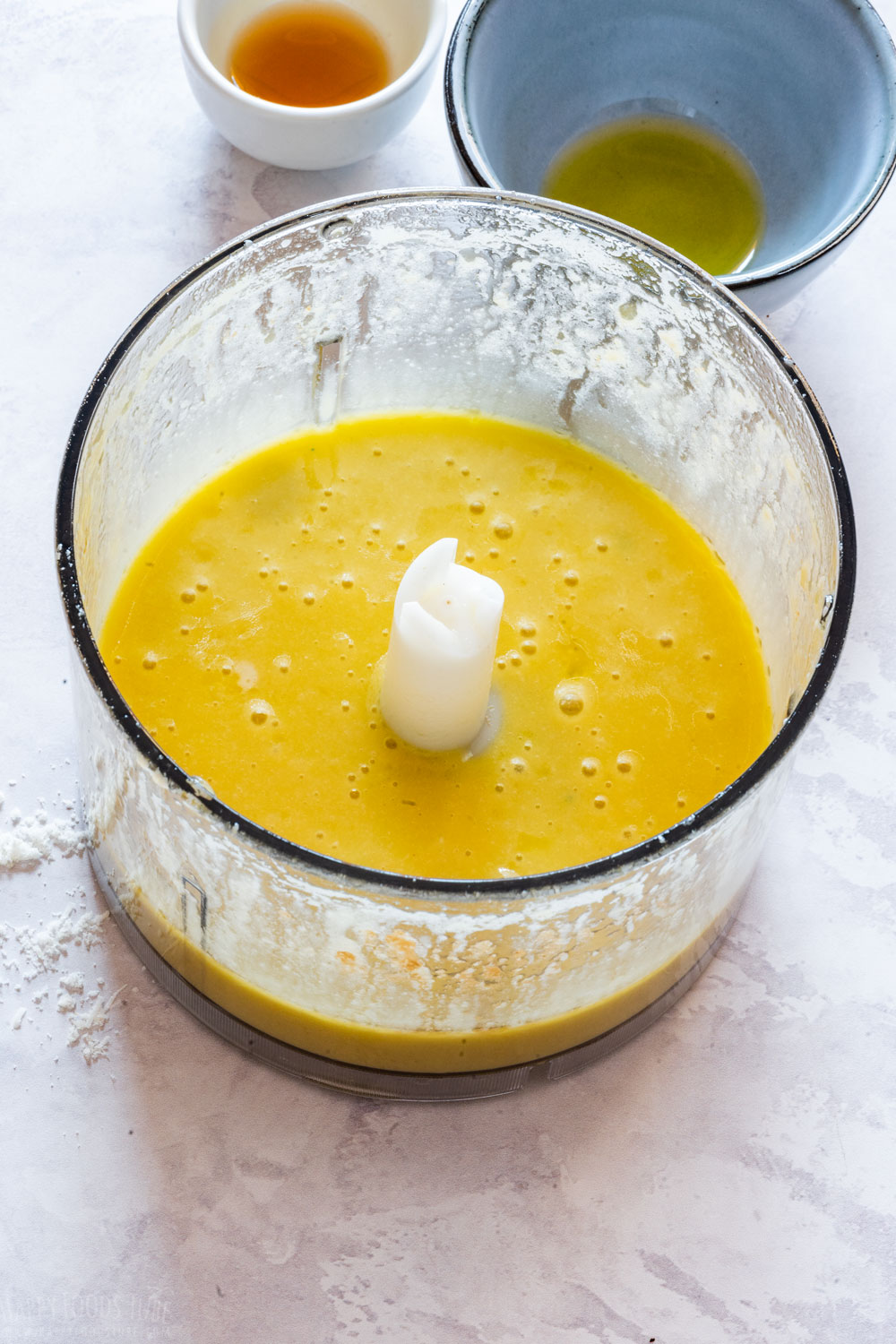 Process
All you have to do is mix all the ingredients in a food processor. You are after a smooth texture when the parmesan blends into the liquid. It takes less than a minute, perhaps 30 seconds to blend.
Frequently asked questions:
What is the difference between dressing and vinaigrette?
Vinaigrette is vinegar and oil-based while salad dressing can contain any ingredients – it can be creamy, zesty, sweet, …
Where to use parmesan vinaigrette?
Here are some tasty salad recipes you might try:
How long can I store it in the fridge?
It should last up to 1 week when stored properly. That being said, always taste a small amount before dressing any salad. If you feel like there is something wrong with it, don't serve it.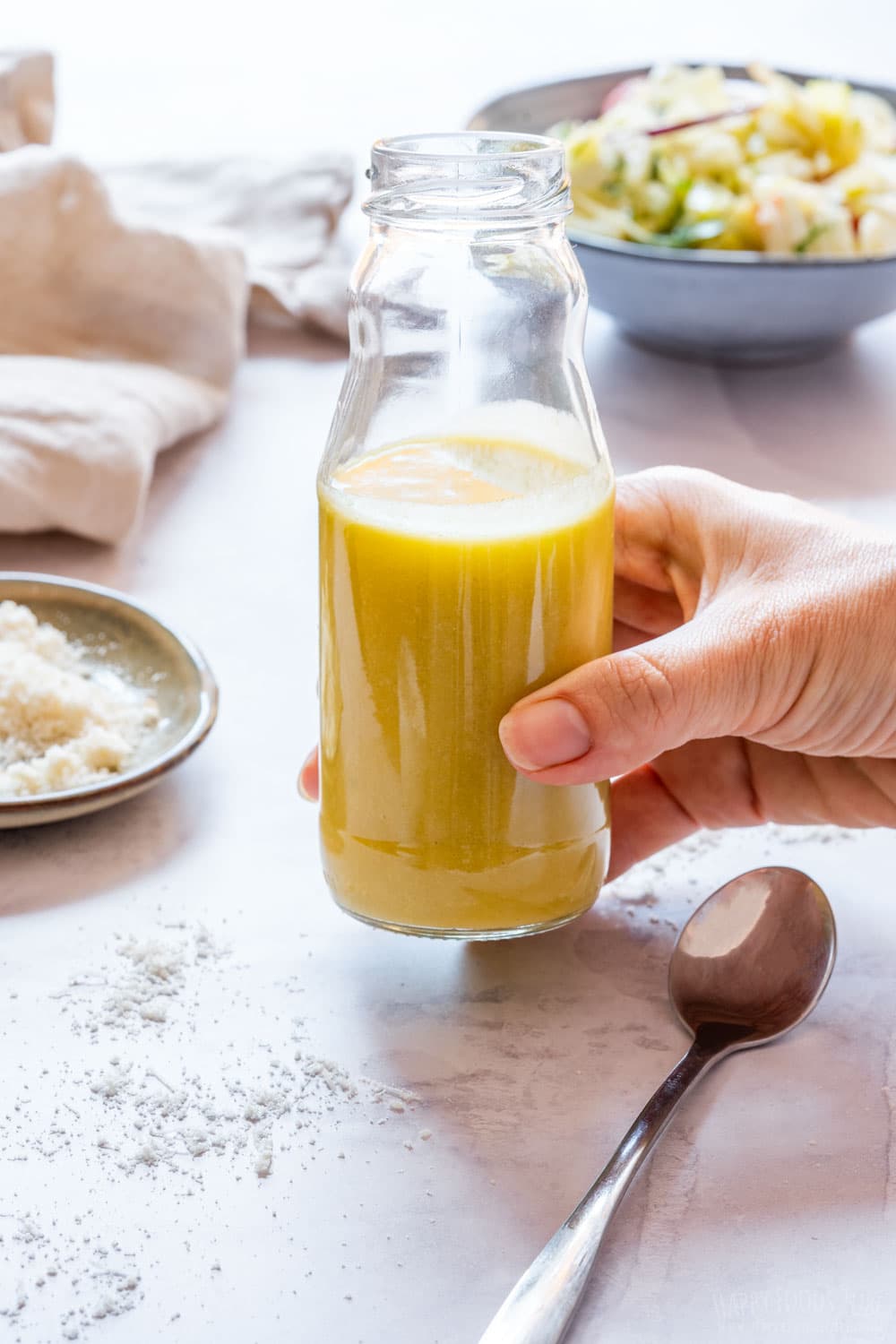 Parmesan Vinaigrette
A super simple recipe for homemade parmesan vinaigrette. This flavorful salad dressing will elevate any mix of greens you throw together! Ready in less than a minute!
Servings:
10
tablespoons (about 2/3 cup)
Ingredients
½

cup

grated parmesan cheese

, see note 1

6

tablespoons

extra virgin olive oil

, see note 2

2

tablespoons

apple cider vinegar

, see note 3

1

tablespoon

Dijon mustard

, see note 4

2

tablespoons

honey

, see note 5

water

(a splash), see note 6

salt

(optional)
Instructions
Place all the ingredients in a food processor and process until smooth!

Keep refrigerated in a jar with a lid.
Notes
Parmesan can be substituted with Grana Padano. Pecorino cheese could also work but it does have a sharper flavor which might not be to everyone's taste.
Don't substitute olive oil with other vegetable oils. It is the healthiest option and tastiest. However, regular olive oil will also work – use the brand you like.
White wine, red wine, balsamic – anything will work.
Dijon mustard can be omitted or another type can be used. I don't recommend using the spicy kind especially when you use extra virgin olive oil as it might be too overwhelming.
Honey can be substituted with another sweetener.
Use only a little – 1 tablespoon.
This should be plenty for 2 dinners – dressing 2 salads for 4-5 people.
Nutrition Facts
Parmesan Vinaigrette
Amount per Serving
% Daily Value*
* Percent Daily Values are based on a 2000 calorie diet.
** As an Amazon Associate I earn from qualifying purchases.
LEAVE A COMMENT