These deep fried mozzarella balls with homemade tomato dip are perfect for any party. Crispy on the outside, juicy on the inside and simply delicious!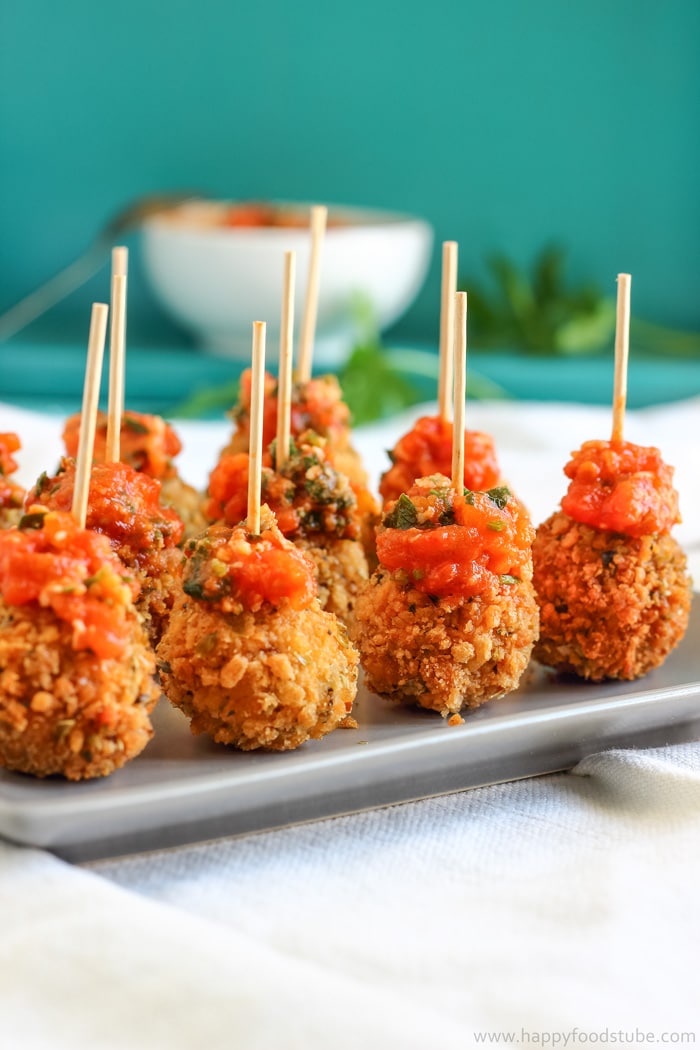 Just so you know you don't have to wait until you throw a party to make these deep fried cheese bites! Planning a movie night? Swap popcorn for these cheesy snacks! You won't be disappointed. Trust me!
Now, guys, if you are used to buying frozen mozzarella balls I tell you that these ones taste way better! First of all you know exactly what you put in them. I know you might think about the time needed to make them but know that frying them takes literally 2 minutes. Plus the prep is easy too!
I used to buy frozen mozzarella sticks but then I tasted fried mozzarella balls with tomato sauce. These were served to us alongside other deep fried appetizers at a restaurant in Spain. I couldn't get enough of them.
Those fried mozzarella balls were absolutely divine and I knew right away that I would be trying making them myself pretty soon. Well, what can I say. I love easy party food ideas and those balls looked pretty easy to me. They are definitely as easy as Mango Chicken Puffs, Blue Cheese Palmiers, or Cheese Ball Bites! Check them out to see for yourself!
Like I've already mentioned, these mozzarella balls only take 2 minutes to fry per batch which is great, isn't it? They truly make a great appetizer or party food. However, I highly recommend serving them when still warm. It's still ok to reheat them in your microwave but they won't be so crispy on the outside anymore.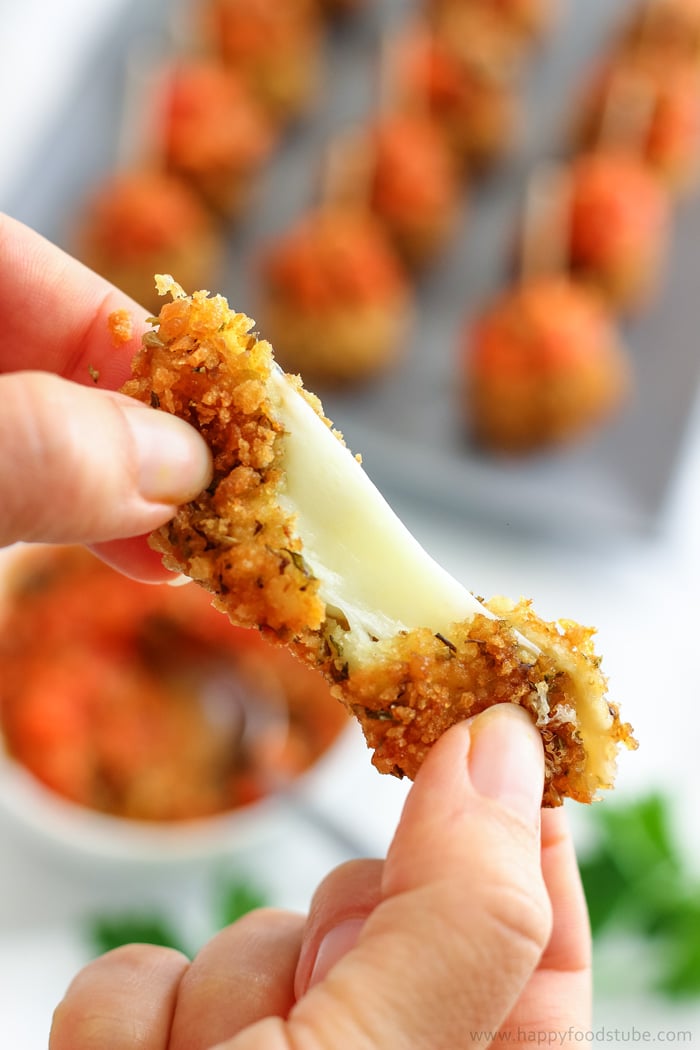 How to make fried mozzarella balls
Mozzarella balls: To prepare them is easy-peasy! Drain the water. Pat them dry. Coat them in flour, beaten egg & breadcrumbs. Again dip in egg and coat in breadcrumbs. That's it! Ready to be deep fried!
I always throw mine in a freezer for about 15 minutes. Just so they firm a bit and don't melt inside too fast when frying.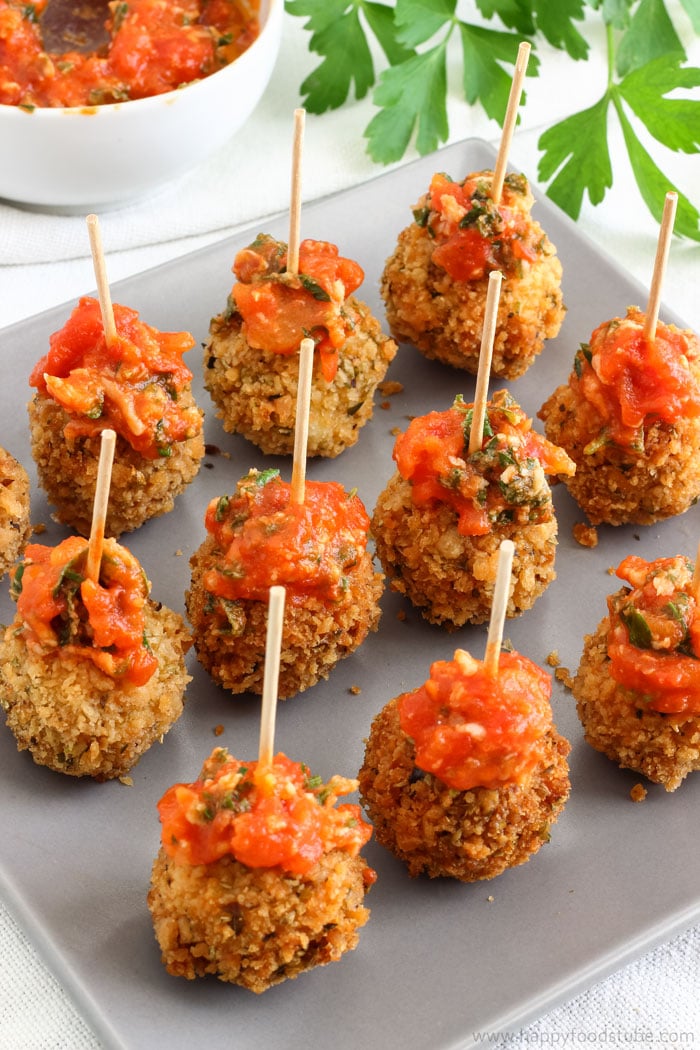 Tomato sauce: Tinned tomatoes + Salt + Garlic go in a sauce pan. Simmer for 10 minutes. Finely chopped herbs go in and so does grated Parmesan cheese. Simmer for a further 1-2 minutes and your sauce is ready!
These deep fried mozzarella balls will definitely be a hit at your party! Trust me on this!
I must say I love these fried mozzarella balls. If you are looking for appetizers with mozzarella balls then this is a great recipe! I serve these with homemade tomato dip. This dip is easy and is rich in flavor. What I like to do is top each mozzarella ball with a teaspoon of the sauce and stick a toothpick in instead of just serving the dip in a bowl.
I hope you will give these deep fried cheese ball bites a try! I can't wait to hear what you think!
Want to see how to make Fried Mozzarella Balls? Watch the video!
Fried Mozzarella Balls with Homemade Tomato Dip
These deep fried mozzarella balls with homemade tomato dip are perfect for any party. Crispy on the outside, juicy on the inside and simply delicious.
Instructions
Drain and pat dry mozzarella balls. Place flour in one bowl, breadcrumbs mixed with oregano (or marjoram) in other one. Using a fork beat the eggs in a small bowl.

Throw about 10 mozzarella balls in the flour and coat evenly. Shake off the excess flour. Now dip each one in the beaten egg. Take out the ball and coat each in the breadcrumb mix. To make sure the mozzarella cheese won't leak out when frying, cover again in egg and in breadcrumbs.

Freeze the balls for 15 minutes before frying.

Meanwhile: In a small sauce pan bring tomatoes & minced garlic to a boil. Reduce the heat and simmer for about 10 minutes. Add some water if too thick. Stir in finely chopped parsley and grated Parmesan cheese. Simmer for a further minute. Remove from the heat & let it cool a bit. Taste it and add salt, if needed.

Heat up oil in a small saucepan. Slowly drop the balls in the oil. Fry 1-2 minutes per batch. I usually do this in 2 batches.

Transfer on a kitchen paper towel to get rid of the excess oil.

Serve with homemade tomato dip.
Nutrition Facts
Fried Mozzarella Balls with Homemade Tomato Dip
Amount Per Serving
Calories 47
Calories from Fat 18
% Daily Value*
Fat 2g3%
Cholesterol 17mg6%
Sodium 64mg3%
Potassium 63mg2%
Carbohydrates 5g2%
Protein 2g4%
Vitamin A 135IU3%
Vitamin C 2.1mg3%
Calcium 43mg4%
Iron 0.8mg4%
* Percent Daily Values are based on a 2000 calorie diet.
** As an Amazon Associate I earn from qualifying purchases.
LEAVE A COMMENT
RELATED POSTS