This is a basic recipe for savory crepes. The crepe batter is flavored with herbs, garlic and poppy seeds and can be enjoyed with all sorts of fillings. More filling ideas with recipes in the post below.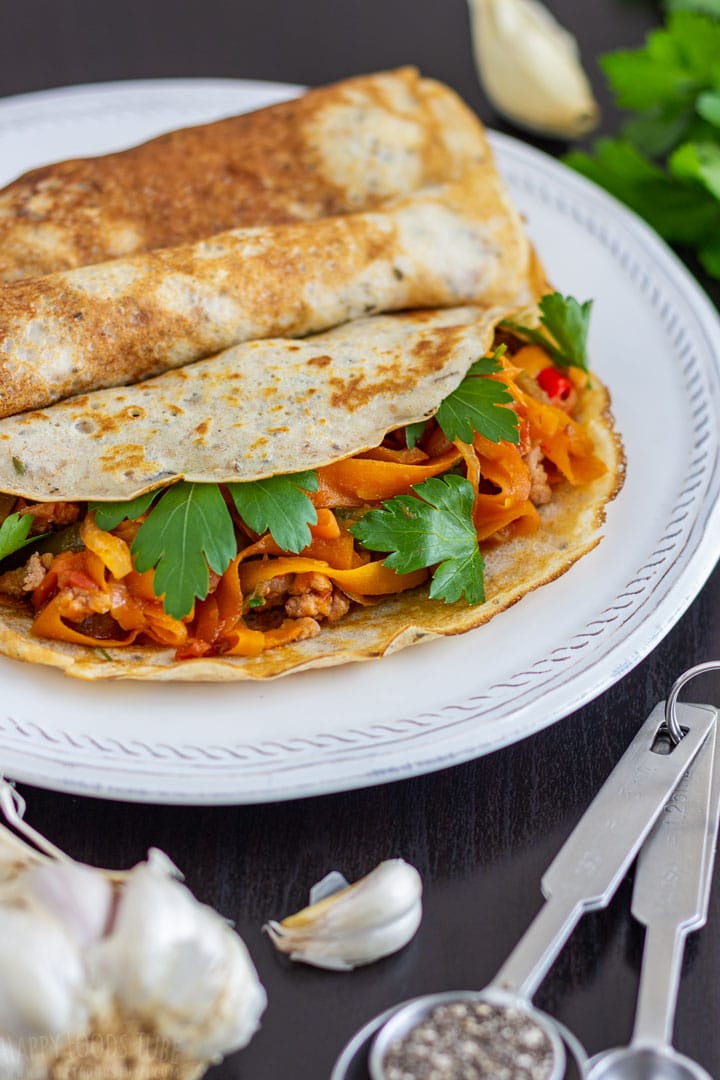 The crepe batter is specially developed for savory crepes. It is not your traditional French crepe recipe to which only more salt is added, and sugar is omitted.
In this post, you will find answers to FAQ's, savory crepe filling ideas, pro tips as well as ingredient substitutions.
Can I make crepes in advance?
Yes, you can make these savory crepes ahead and serve them in a day or two.
Make sure to cool them completely before you store them in a Ziploc bag in your fridge.
To reheat crepes, simply place them on a skillet with little oil and warm them on both sides. They will soften once warm.
This batter for savory crepes yields 8 medium crepes when using a 10-inch (26-centimeter) wide pan/skillet and about a ½ cup of batter per crepe.
Can I use cast iron skillet for crepes?
Yes, you can.
There are a few things to remember though: You will need to tilt the pan so that the batter can spread evenly. Because the pan is heavy and also hot, don't forget to use a kitchen towel or oven mitts or anything to avoid burning your hands. Also, hold the skillet with both hands while tilting it.
What to serve with savory crepes
Pan roasted vegetables cooked in pureed tomatoes
Steak, chicken (I like filling them with chicken pot pie filling)
Shrimp or salmon with roasted veggies
Ham, cheese and white sauce
Smoked salmon and scrambled eggs – great breakfast recipe
Possible variations
Dried oregano can be substituted with dried basil or thyme.
You can omit poppy seeds completely or use chia seeds instead. Or, use less/more, if you like.
Garlic is an important ingredient and should not be omitted!
Pro tips:
Please note that the cooking time may vary. This will depend on the type of pan you use as well as the heat. I recommend cooking them on medium-high heat and adjust if needed. Count with about 3 minutes per crepe.
Make sure the pan is hot before pouring the batter in.
You should be able to turn crepes over easily when you notice the edges are not stuck to the pan anymore.
I like using a pastry brush to spread a little oil over the whole pan. This helps you avoid greasing it too much.
These savory crepes are thicker than your classic paper-thin French-style crepes.
If you are looking for more recipes to use eggs, I have a few for you:
Savory Crepes
This is a basic recipe for savory crepes. The crepe batter is flavored with herbs, garlic and poppy seeds and can be enjoyed with all sorts of fillings.
Servings:
8
large crepes, see note 5
Ingredients
2

cups

milk

, see note 1 (500 milliliters)

1

cup

all-purpose flour

(140 grams)

1.5

teaspoons

poppy seeds

, see note 2

1

tablespoon

dried oregano

, see note 3

3

large

garlic cloves

, pressed

2

large

eggs

¼

teaspoon

salt

, or to taste

olive oil

for cooking
Instructions
Put all the ingredients apart from oil in a blender and blend until smooth.

Chill in the fridge for 15-30 minutes.

Heat a little oil in a 10-inch (26-centimeter) skillet/frying pan and use a pastry brush to spread it around evenly.

Pour ½ cup of batter in. Quickly, lift and tilt the pan to sides to help the batter spread evenly. Cook on medium heat until you see the edges are not stuck to the skillet anymore. Turn the crepe over and cook until nice golden brown.

Fill with anything you like!
Notes
Either whole or skimmed milk can be used.
Poppy seeds can be omitted if you don't have them on hand.
Instead of oregano, you can use dried basil or marjoram.
Crepes can be made ahead, cooled and kept in a Ziploc bag in the fridge for up to 3 days. When ready to use, reheat them on a skillet/frying pan.
With a smaller skillet/frying pan, you will get more pancakes.
FAQs and serving ideas can be found in the post above this recipe card.
Nutrition Facts
Savory Crepes
Amount per Serving
% Daily Value*
* Percent Daily Values are based on a 2000 calorie diet.
** As an Amazon Associate I earn from qualifying purchases.
LEAVE A COMMENT
You may also like: