Spinach crepes with pan-roasted vegetables. Ginger & spinach crepes are topped with mushrooms, tomatoes, pepper & onion. Great dish for brunch, lunch or light dinner!
I love crepes! Sweet crepes with various fillings or toppings are just delicious! Like these dark chocolate crepes or apple and cocoa batter crepes. You can top or fill them with anything: whipped cream, chocolate, salted caramel, ricotta cheese, berries and you get a great dessert! Roll them or fold them. No matter how you serve them they will be always a hit!
Now what about savory crepes? Have you ever tried them? They are delicious. The first ones I made were filled with ratatouille mix and loads of cheese. Then I made savory crepes with chia seeds.
We loved them. Today I am sharing with you this spinach crepe recipe with savory crepe filling.
I tell you, they tasted divine! Imagine spinach crepe batter seasoned with oregano and ginger. Now it gets better: these delicious savory crepes are topped with tasty vegetable mix.
This savory crepe recipe works well and other thing I like about it is the vibrant color. Tell me, who wouldn't love green spinach crepes? Well, we do and I hope you will too. They are perfect for brunch, lunch or dinner but you can eat them for breakfast too.
When it comes to their taste I have to say I expected a stronger spinach flavor. However, the spinach taste is really mild so those of you, who are a bit apprehensive about making them, don't be! Give them a try!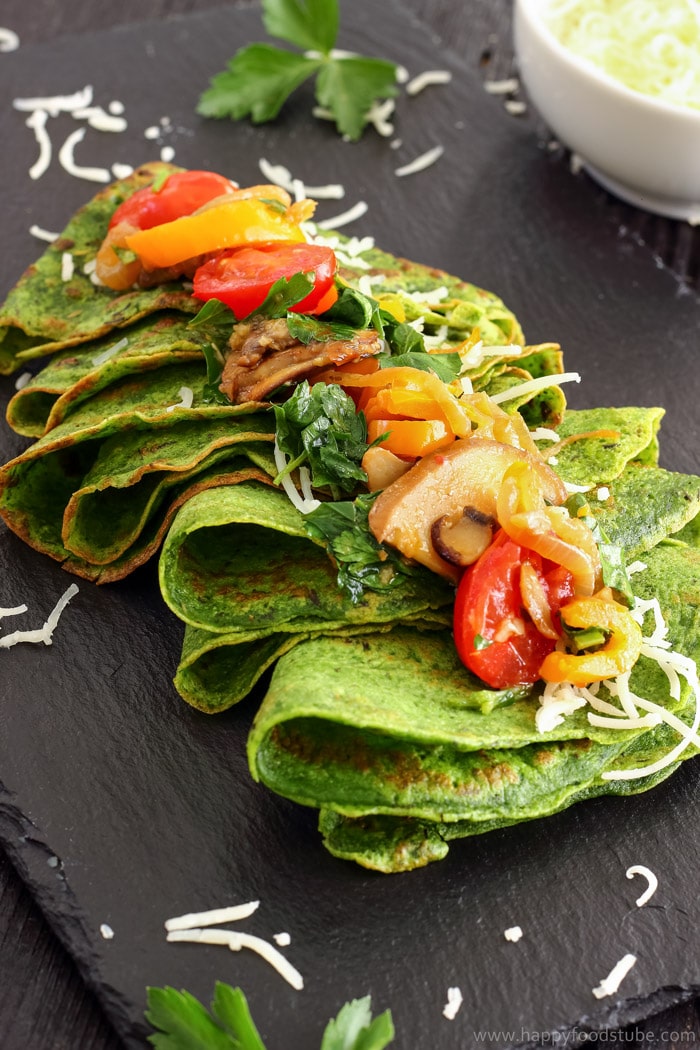 How to make spinach crepes:
I used fresh spinach to make the batter. The spinach leaves were blended with milk until smooth. This spinach puree is then mixed with the rest of the ingredients: the egg, more milk, salt, flour and ginger. Ginger is an important ingredient as it adds an extra flavor to the batter and works really well with spinach.
Fry the crepes the usual way. About 1 ½ – 2 minutes per each side. I use a ¼ cup to pour in the batter and then I try to spread it evenly around by turning the pan and letting the batter spread around evenly. If you feel like the batter is too thick, add some more milk.
Tip: To keep the crepes warm, cover them with another plate. The steam will keep them warm for a good while.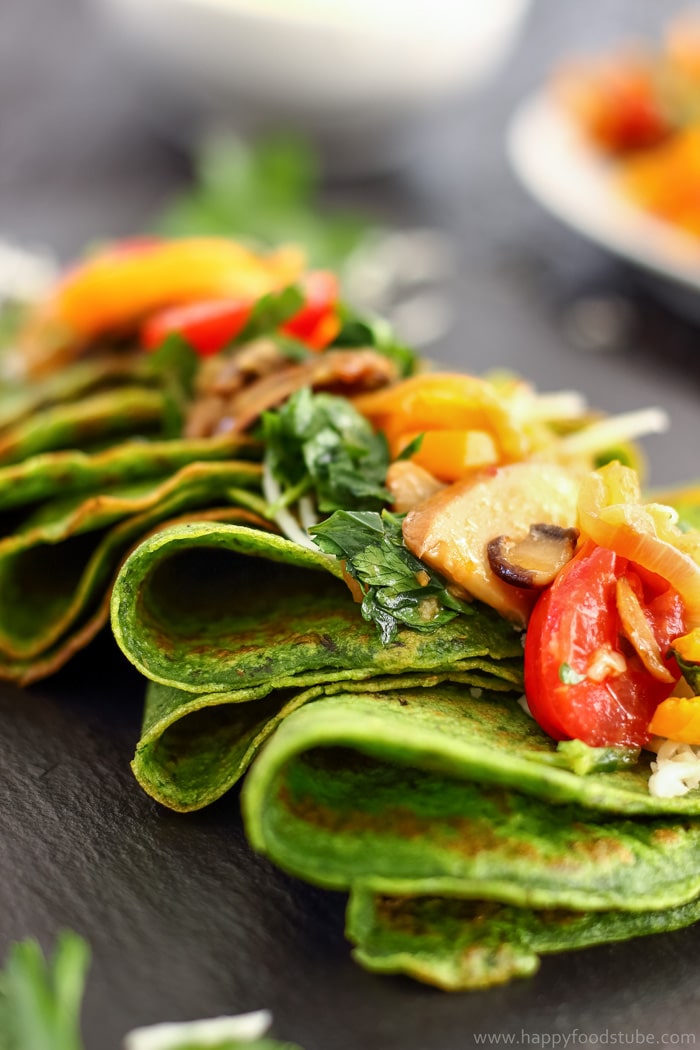 Pan-roasted vegetables:
You can eat these spinach crepes with anything, really. I opted for a mix of mushrooms, tomatoes, peppers, onion and parsley. You can throw everything in a pan right at the beginning but I like to add the tomatoes right before so they have some crunch to them. If you don't mind what texture they have, you can add them in the beginning with the rest of veggies. As for parsley, this is best to add after you turn off the heat. It will not lose its nutrients this way.
Fill (or top) each pancake with this mix and sprinkle over some cheese. This is completely optional so you can omit this step.
Savory vegetarian crepe recipe!
If you are looking for a vegetarian crepe recipe look no more! This is it! However, it does not mean that the rest of you can't enjoy them. I am no vegetarian and I love them. Sometimes it's good to have a break from meaty dishes, isn't it?
This is a very easy homemade crepe recipe that anyone can do. If you feel like you would like to use a different filling/topping, feel free to do so.
Ingredient Substitutions/Alternatives:
Himalayan Salt – you can use any salt you have on hand. Bear in mind that sea salt and table salt are saltier than Himalayan salt. This means that you might need to use less salt than stated in this recipe.
Fresh Ginger – if you don't like it, you could use fresh minced garlic (about 2–3 cloves).
Sunflower Oil – olive oil is also ok to use.
Pan-Roasted Vegetables – use any veggies you like or other filling.
Dried Oregano – dried marjoram or thyme will work here as well.
Spinach Crepes with Pan-Roasted Vegetables
Spinach crepes with pan-roasted vegetables. Ginger & spinach crepes are topped with mushrooms, tomatoes, pepper & onion. Great dish for brunch, lunch or light dinner!
Servings:
8
Crepes (4 portions as starter)
Ingredients
Spinach Crepes:
1

cup

Plain Flour

(140g)

4

cups

Fresh Spinach

(80g)

1

teaspoon

Pink Himalayan Salt

1

Large Egg

1

Thumb-size Piece of Fresh Ginger

, grated

1

cup

Milk

(250ml)

1

tablespoon

dried oregano

1

cup

Grated Cheese

of your Choice

Sunflower Oil

for frying
Pan-Roasted Vegetables:
2

cups

Chopped Mushrooms

(120g)

1

Yellow Bell Pepper

1

Medium Onion

2

cups

Cherry Tomatoes

(280g)

2

cups

Chopped Flat Leaf Parsley

(100g)

1

cup

Grated Cheese

of your choice

3

Garlic Cloves

3

tablespoons

Butter

(45g)

½

teaspoon

Pink Himalayan Salt
Instructions
In a food processor/blender process spinach & milk until smooth. Pour this in a mixing bowl. Add flour, salt, egg and grated ginger. Whisk until well combined.

Heat up your frying pan. Add a tiny amount of oil and pour the batter in – use a ¼ measuring cup. Spread around evenly by lifting the pan and turning it allowing the batter spread.

Once set, turn it over and cook for a further 1/2 minute to a minute (or until cooked).
Pan-roasted vegetables:
In a frying pan, melt butter. Add sliced onion, mushrooms and pepper (cut into strips). Roast for 10 minutes before adding cherry tomatoes & garlic. Roast for a further 2-3 minutes. Turn off the heat and stir in parsley.

Top or fill pancakes with vegetable mixture and sprinkle with grated cheese.

Best served while still warm!
Happy Cooking with Happy Foods Tube!
Notes
If you feel like your batter is too thick, add some more milk. It should be liquid-y rather than thick.
Nutrition Facts
Spinach Crepes with Pan-Roasted Vegetables
Amount per Serving
% Daily Value*
* Percent Daily Values are based on a 2000 calorie diet.
** As an Amazon Associate I earn from qualifying purchases.
LEAVE A COMMENT
RELATED POSTS