Delicious slow roasted leg of lamb with roasted cherry tomatoes and onion. Seasoned with a mix of herbs and cooked until fork-tender. Perfect for Sunday lunch or dinner!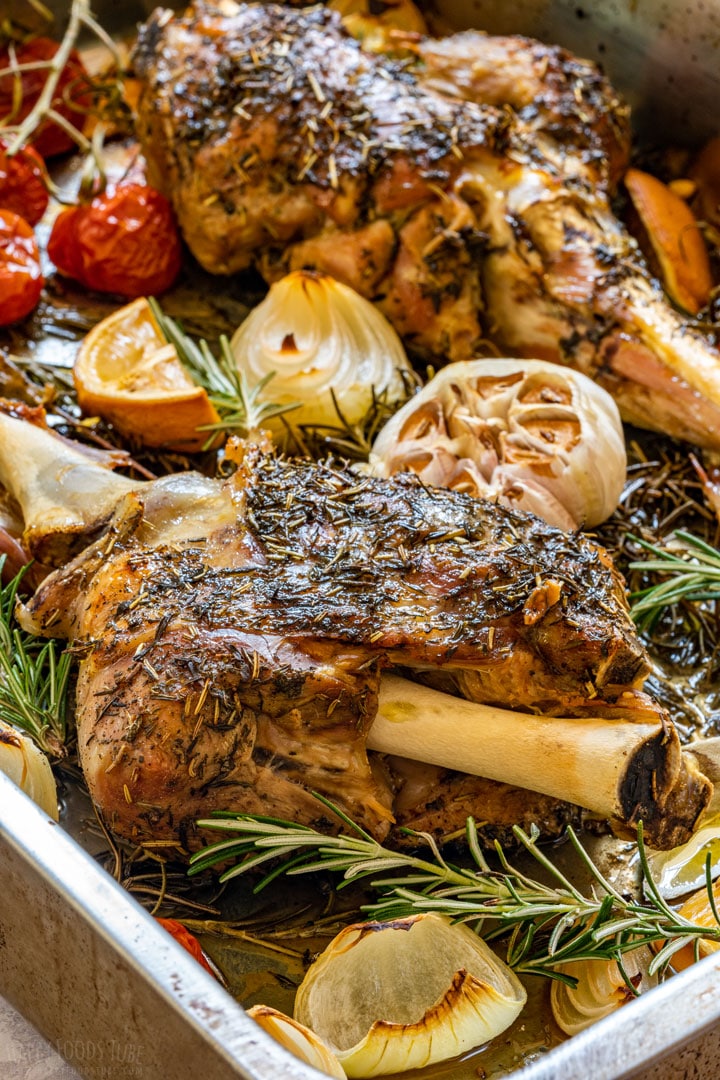 This leg of lamb recipe includes a few roasted veggies that make the perfect side dish as well. However, they can be used to make mouth-watering gravy as well.
How to roast leg of lamb?
Slow cooking it in the oven gives you fork-tender and juicy meat. To achieve tender meat, it's best to cover the pan with aluminum foil. It will prevent your lamb from drying out.
To get nice color on the skin, uncover the meat, drizzle it with honey, and roast until nicely crispy. This should be done 20-30 minutes before the end of the cooking.
Seasoning
A simple homemade poultry seasoning works wonders here. With salt and a drizzle of olive oil, it is all you need here.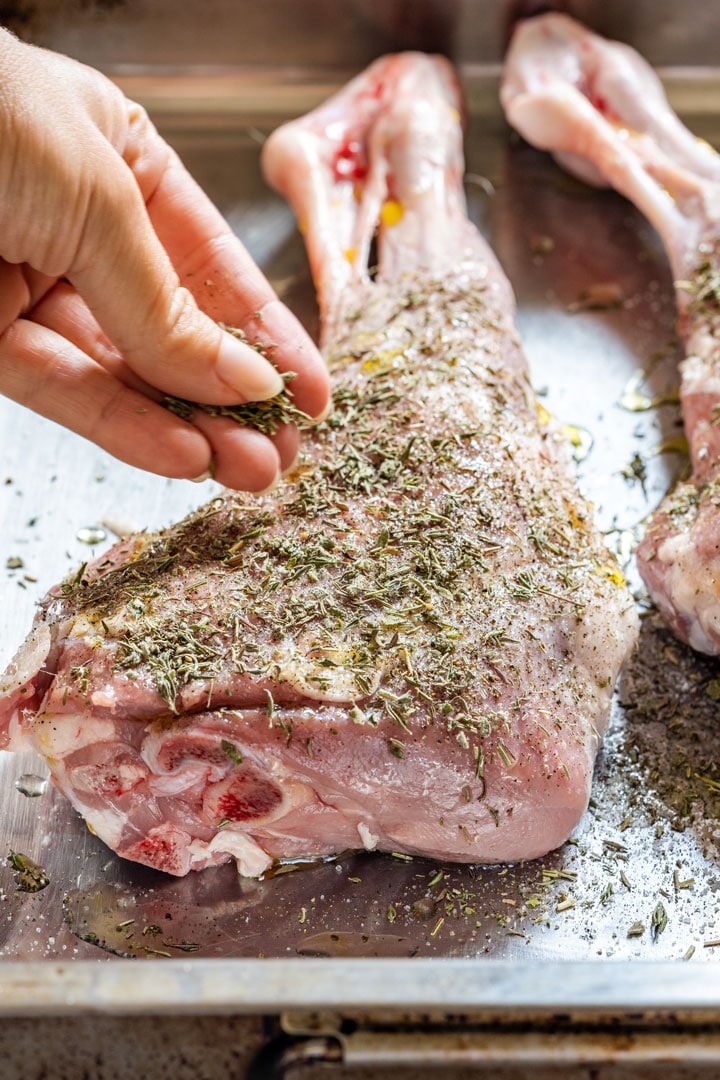 How long to cook leg of lamb?
Important: Cooking time will vary! This will depend on the size of the leg, on its thickness as well as on your oven. The best cooking temperature is about 320-340 Fahrenheit (160-170 Celsius).
I prefer the lower number (320 F/160 C).
For a 3.5-pound (1.6-kilo) leg of lamb, you will need at least 3 hours covered + 30 minutes uncovered.
For each additional pound (1/2 kilo) of meat, add extra 30 minutes (to the covered roasting time).
What to serve with leg of lamb?
Potatoes – any kind: roasted, hasselback, mashed,…
Roasted vegetables – below you will find more inspiration with recipes
Pearl barley risotto – we love this (works well with or without mushrooms)
Salads
Pan-roasted asparagus
Couscous
Making homemade gravy from the leftover juices
Squeeze out roasted garlic, with a fork mash some of the cherry tomatoes (some we like to serve with the onions alongside the lamb dinner) and squeeze out the juice from 1 or 2 roasted lemon wedges.
Strain this mixture through a fine-mesh strainer, pour it into a saucepan, add water and flour (or cornstarch slurry) and simmer or low heat until it thickens.
This gravy is zesty and rich and adds a ton of flavor to your fork-tender lamb.
Leftovers:
Store any leftover lamb in an airtight container. A delicious lamb risotto with leftover gravy and pearl barley tastes amazing! Re-heat in a skillet/frying pan with little oil and a splash of water/broth/stock.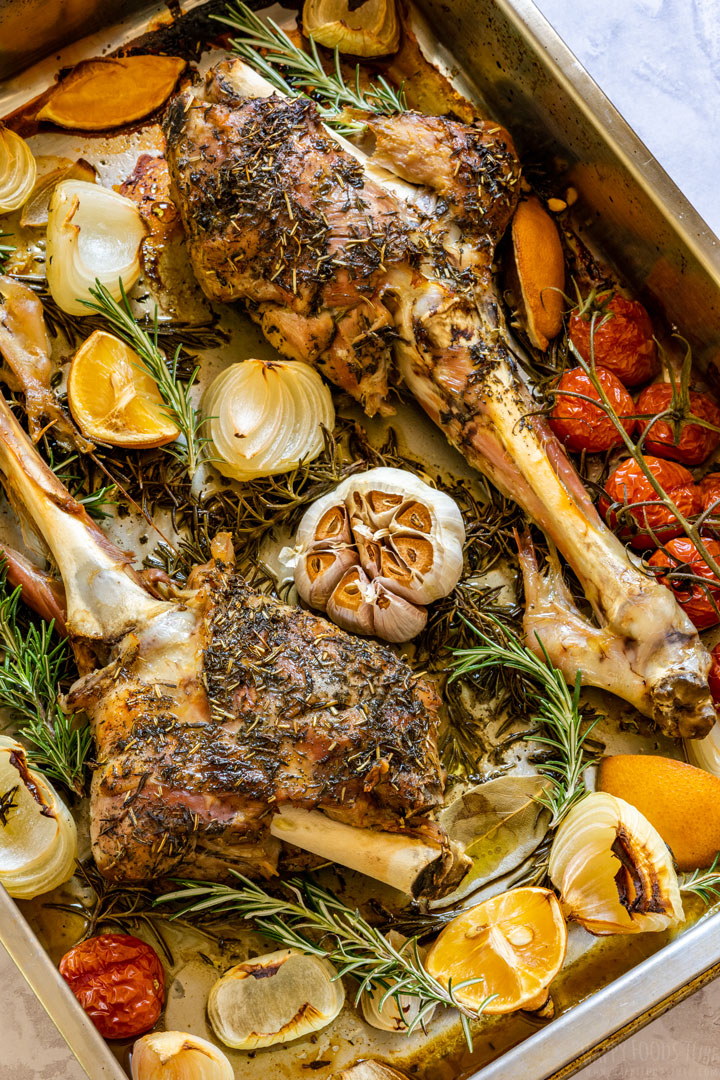 Pro tips for making slow roast leg of lamb
Gravy made from the leftover juices tends to be quite salty. This is due to the fact that part of the lamb seasoning will end up on your baking tray whether you like it or not. If it is too salty for you, add more water or sodium-free broth/stock (Homemade vegetable, turkey or chicken stock without any or with a little salt will work great here).
Make sure to use a large roasting pan so the leg of lamb can fit in.
Poultry seasoning can be made in minutes and requires only a few herbs and spices. If you simply prefer to eyeball it, I recommend using a combination or some of these herbs: dried rosemary, thyme, marjoram and sage.
Fresh rosemary is the best herb to pair with any kind of lamb meat. For that reason, I highly recommend using it (the more the better).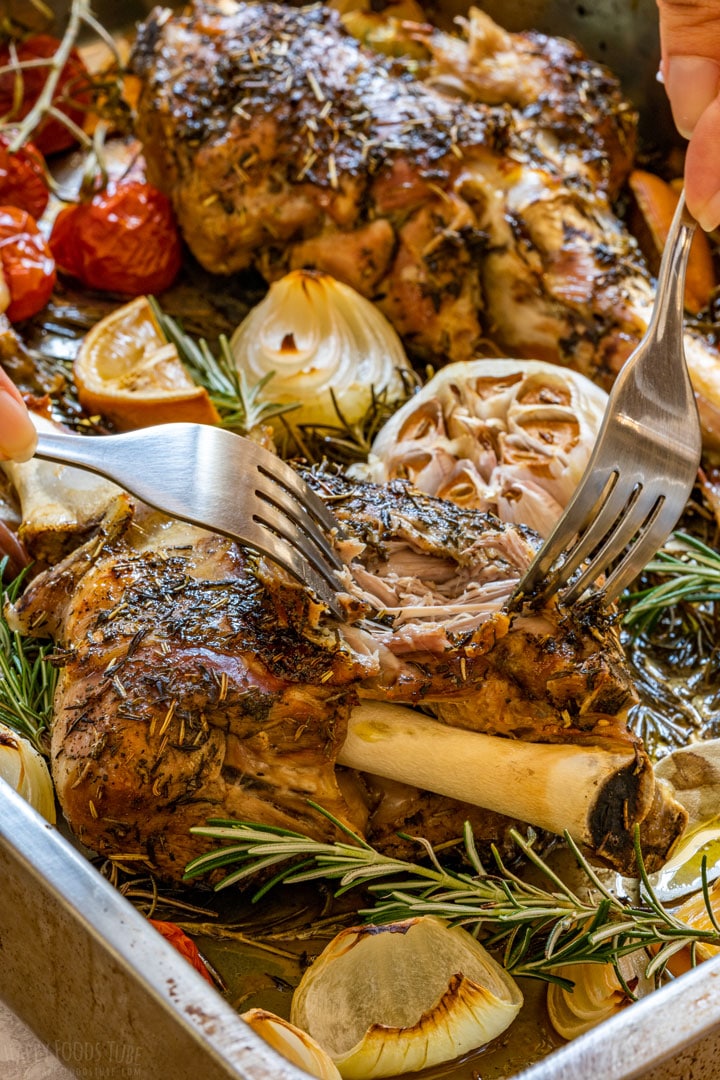 More side dish recipes that go well with roast leg of lamb:
Slow Roasted Leg of Lamb
Delicious slow roasted leg of lamb with roasted cherry tomatoes and onion. Seasoned with a mix of herbs and cooked until fork-tender.
Ingredients
1

leg of lamb

(3.5-pounds/1.6-kilo), see note 1

1

tablespoons

olive oil

1

teaspoon

salt

, or to taste

2

teaspoons

homemade poultry seasoning

, see note 2

fresh

rosemary sprigs

, a bunch

1

onion

, quartered

cherry tomatoes on vine

, see note 3

1

whole garlic head

, tip cut off

1

lemon

, cut into wedges

2

bay leaves

(optional)

2/3

cup

low-sodium broth

, see note 4

A drizzle of

honey
Instructions
Preheat oven to 320 Fahrenheit (160 Celsius).

Drizzle the leg of lamb on both sides with olive oil, season with salt and sprinkle generously with poultry seasoning (I used about a teaspoon per side).

Spread fresh rosemary sprigs across large roasting pan, place the seasoned leg(s) of lamb on top and spread the rest of the ingredients around, apart from the honey. Pour in broth/stock. Take one lemon wedge and drizzle it over the lamb.

Cook at 320 Fahrenheit (160 Celsius) covered for 3 hours, then remove the foil and slow roast for 30 minutes uncovered until the skin is nice brown and crispy.

When ready, wrap in aluminum foil and let it rest for 15-20 minutes before serving.

Enjoy!
Notes
If you have a larger lamb, add more time to the "covered cooking time". As a rule of thumb: add extra 30 minutes per 1 pound (1/2 kilo). That being said, cook until fork-tender. Test with a fork if needed before you take the lamb out.
For homemade poultry seasoning: mix together 4 tsp thyme, 4 tsp sage, 1 tsp rosemary, 1 tsp marjoram, 1 tsp black pepper & 1/8 tsp ground nutmeg. All herbs dried! This yields 4 tablespoons of seasoning. You might need more or less than in the recipe, depending on the size of the lamb you bought.
Use as many as you like: you can serve them as side and/or use them for gravy.
Either chicken, vegetable, turkey broth or water can be used. This can be increased to 1 cup.
Cooking time will vary, depending on the size of lamb you use. It may take up to 4-5 hours for a large piece of meat.
Store any leftovers in a ziploc back or airtight container in the fridge. Consume within 2 days. They reheat well in a skillet, with a little oil.
More tips, serving ideas and FAQs can be found in the post above this recipe card.
Nutrition Facts
Slow Roasted Leg of Lamb
Amount per Serving
% Daily Value*
* Percent Daily Values are based on a 2000 calorie diet.
** As an Amazon Associate I earn from qualifying purchases.
LEAVE A COMMENT