Spicy spaghetti aglio olio & peperoncino. Simple & quick spaghetti dish with garlic, olive oil, chili & finished off with parmesan. A perfect weeknight dinner!
Spaghetti aglio olio is a classic Italian dish. You can't go wrong with this meal and even though it uses only 5 basic ingredients and no meat it is a packed with flavors. Those of you who are not familiar with spaghetti aglio olio recipe don't worry. I' tell you what you need to know!
Do you like the name of this dish? I love it even though I am not sure if my pronunciation is correct. It sure is better than Siim's who has been calling it "ugly olee" for some weird reason. It had taken me a while to understand what he was referring to …
So it basically means pasta with oil and garlic. Peperoncino means hot chili pepper. Like I've mentioned, it is an easy Italian food and if you are after quick lunch ideas or weeknight dinners I highly recommend this dish.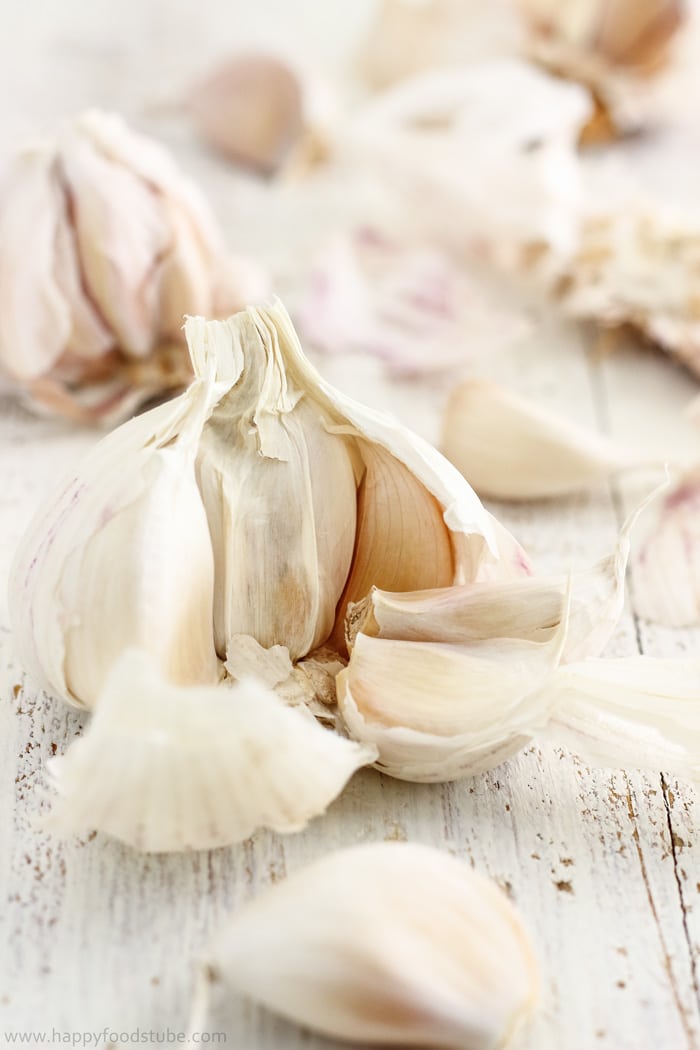 Guys, I am going to give you some extra easy weeknight dinner ideas because I love them and I think they are great for busy lifestyle. This homemade pasta sauce is ready in 10 minutes and has baked beans in it and lots of cheese. It's a hearty dish and worth giving it a go.
Prepare arugula pesto over the weekend and store it in your fridge. Use it when you are stuck for ideas or time! Actually, it only takes 5 minutes to make so you can do it while waiting for the pasta to boil! And what about tomato spaghetti, spicy shrimp spaghetti or chili pasta?
How to make spaghetti aglio e olio?
Prep as well as cooking is very easy. The prep consists of chopping parsley (if you haven't done so already), garlic cloves and chili. That is it. Some supermarkets even sell chopped parsley, if you don't feel like chopping a lot. I prefer chopping it myself. You get stronger flavor.
Anyways, so the longest time here is boiling water + cooking spaghetti until al dente. This usually takes about 20 minutes altogether if I am counting with 10 minutes for boiling the water + about 8 minutes for cooking spaghetti. Now I've found spaghetti that are a tad thinner than the original ones and only take 3 minutes to cook! Guys, 3 minutes! Isn't it great? That means that you can be ready in like 13 minutes.
But let's just count with 8 minutes cooking time for spaghetti. If you like them softer than al dente, you might need to leave them in for extra 2 minutes.
To make the sauce you only need a few minutes so I suggest you start this about 5 minutes before the pasta is ready. In a frying pan you heat the olive oil. Add garlic and sauté for a minute or two (reduce the heat and stir almost constantly. You don't want to burn it).
Now throw in chili, parsley and a few tablespoons of pasta water (maybe 3-4). Cook for a further 2 minutes before turning off the heat.
All you have to do now is combine spaghetti with this sauce, add Parmesan and enjoy! It can't get easier than this!
Tip: Use a good quality extra virgin olive oil, if possible. You won't regret it!
Be careful with chilies! Some of them are too hot, some are not. It's better to start with less rather than more. I usually buy the same chilies and every time their level of spiciness is different.
Parsley is optional but I highly recommend using it. This herb adds a lot of flavor to this dish.
This spaghetti aglio olio recipe can be easily doubled or halved!
Spicy Spaghetti Aglio Olio & Peperoncino
Spicy spaghetti aglio olio & peperoncino. Simple & quick spaghetti dish with garlic, olive oil, chili & finished off with parmesan. A perfect weeknight dinner!
Ingredients
1

pounds

Spaghetti

(440 grams)

10-12

cloves

Garlic

5-6

tbsp

Extra Virgin Olive Oil

2

cups

Fresh Flat Leaf Parsley

, chopped

1

cup

Parmesan Cheese

, grated

Salt

for Spaghetti

Chili

of Your Choice
Instructions
Start off with boiling water for spaghetti. Once it is boiling, add salt, spaghetti & cook according to packet instructions.

Meanwhile: Rinse parsley & chili. Chop these finely. Peel and thinly chop garlic. Grate Parmesan.

5 minutes before the pasta is ready, heat the oil in a frying pan. Add garlic and sauté for 2 minutes on medium-low heat, stirring occasionally. Throw in parsley, chili & a few tablespoons of pasta water. Let it cook for a further 2 minutes.

Drain spaghetti and pour the sauce over. Sprinkle with a generous amount of Parmesan and serve!

Enjoy!
Notes
If you start off with spaghetti first, you should be able to get everything done in 20 minutes!
Nutrition Facts
Spicy Spaghetti Aglio Olio & Peperoncino
Amount per Serving
% Daily Value*
* Percent Daily Values are based on a 2000 calorie diet.
** As an Amazon Associate I earn from qualifying purchases.
LEAVE A COMMENT
RELATED POSTS