These tender chicken wings are marinated in mango chutney marinade and baked to perfection!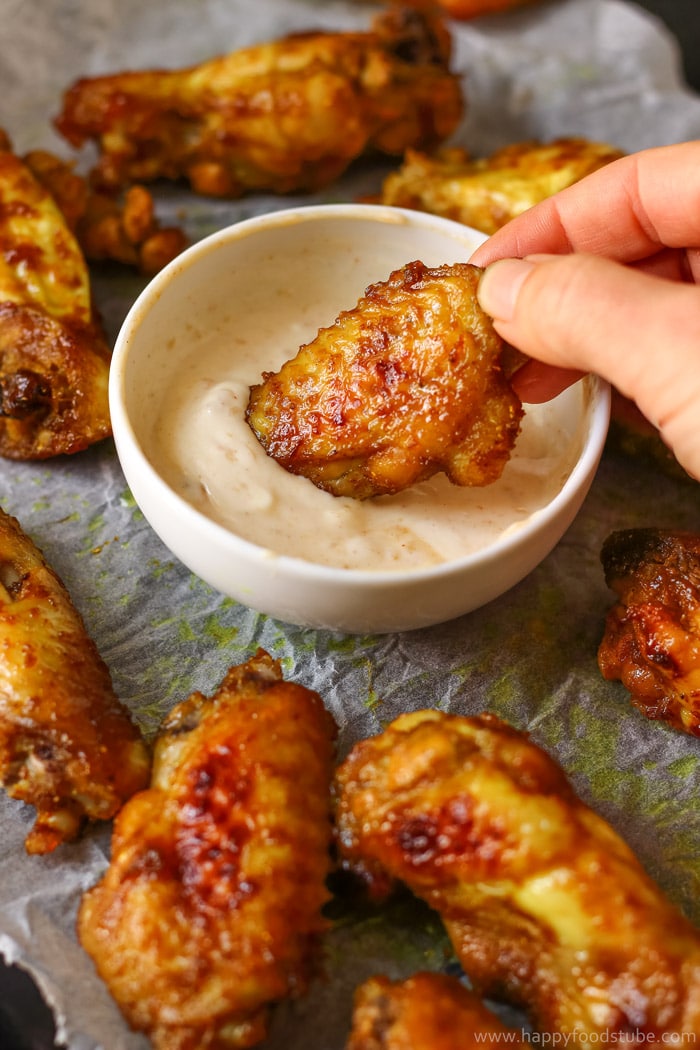 Guys, homemade chicken wings are so delicious! And they are so easy to make as well!
This easy appetizer is great for home entertaining! And you know what? Entertaining at home is easy if you get yourself organized! There are foods that can be prepped or cooked ahead. Others only take a few minutes to prepare like these smoked salmon bites, ham & cheese pinwheels or blue cheese palmiers.
Now these curry chicken wings are one of those recipes that you can prep ahead and the prep takes 5 minutes! Isn't it great?
This recipe serves about 4–5 people (depending on how hungry they are) but can easily be doubled or halved. Just make sure the chicken wings have enough space between each other on baking tray.
How to make baked curry chicken wings
For best results leave chicken wings marinating for several hours (or overnight).
For the marinade simply combine all the ingredients in a bowl or a zip-lock bag. Store in the fridge. This prep takes 5 minutes. I usually throw the wings in a bowl and season them with salt and curry. Now I give it a good stir so each chicken wing is well coated with seasoning. Only now I add 1 cup mango chutney, Worcestershire sauce and oyster sauce. Again, mix well. This goes in the fridge for several hours.
The longer you marinade the wings the better. If you are in a rush, you could cut it down to 30 minutes but if you have a chance leaving them in marinade longer, do so.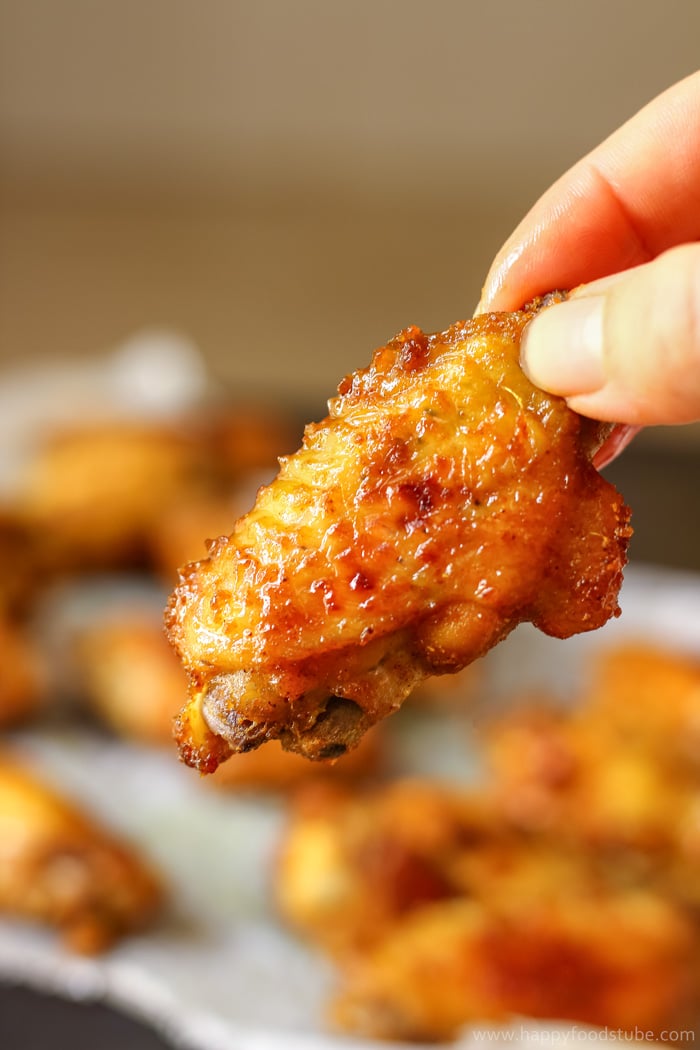 Now all you have to do is throw the wings in the oven and wait until they are tender. By the way, I don't mean throwing like literally (in case some of you were questioning my baking techniques)! Baking will take about 25 minutes. I also pour the marinade over chicken wings before they go in the oven. You can also try to brush each chicken wing with this marinade.
About 25 minutes later you will be rewarded with baked curry chicken wings. Yummy-licious! Oh and the best thing about making these homemade chicken wings is the fact that those 25 minutes is a passive time!
If you are looking for more easy party food recipes, check out these sweet and spicy chicken wings, crispy popcorn chicken or sweet chili pesto burgers. These easy party food ideas will definitely wow your guests!
You can serve these curry chicken wings with anything you like. This time I opted for a mango chutney sauce as I had some mango chutney left in the jar. I simply mixed sour cream & mango chutney together. I also like sour cream, ketchup and garlic dip which is also pretty easy to make.
All you need to do is mince 1 or 2 garlic cloves and mix it with ketchup and sour cream. I always eyeball the amounts as you can't go wrong here. In general 5:1 ratio (5 tablespoons sour cream to 1 tablespoon ketchup/chutney) works and if it doesn't add more ketchup or chutney.
Want to see how to make Baked Curry Chicken Wings? Watch the video!
Baked Curry Chicken Wings with Mango Chutney
These tender chicken wings are marinated in mango chutney marinade and baked to perfection!
Servings:
5
Portions (as a starter)
Instructions
Place chicken wings in a bowl/zip-lock bag. Season with salt and curry powder. Shake/mix well. Make sure they are all well coated with seasoning.

In a separate bowl combine mango chutney, Worcestershire sauce and oyster sauce. Pour it over wings and mix until each piece is well coated in the sauce. Cover the bowl with cling film (or close zip-lock bag) and refrigerate for at least 30 minutes (for best results several hours or overnight).

Once marinated, place the wings onto a baking tray lined with baking paper. Make sure there is enough space in between them. Spoon the marinade over the wings. Bake in a preheated oven (400°F/200°C) for 25 minutes or until they are cooked through.

These wings will come out juicy with sweet mango marinade flavor.

Serve with dip of your choice!

Enjoy!
Nutrition Facts
Baked Curry Chicken Wings with Mango Chutney
Amount per Serving
% Daily Value*
* Percent Daily Values are based on a 2000 calorie diet.
** As an Amazon Associate I earn from qualifying purchases.
LEAVE A COMMENT
RELATED POSTS