Boquerones fritos are popular Spanish tapas enjoyed all over Spain. These fried anchovies are best served with a glass of beer so make sure to try them when you visit this country.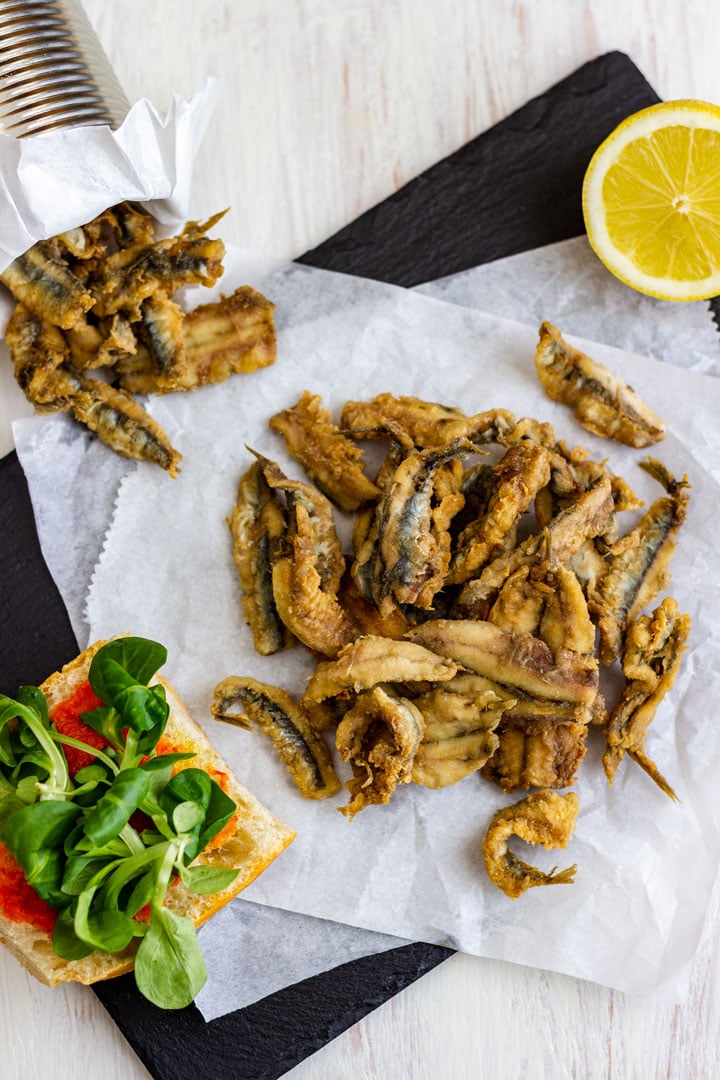 And, if you get a chance to buy them fresh at your local market, give them a go. This delicious Spanish snack is hard to say no to once you tried it.
Are anchovies salty?
Fresh anchovies are not salty which means deep-fried anchovies will also not be salty unless you over-season them.
Cured anchovies are packed with salt as it preserves them, so they don't spoil easily. This is one of the reasons many people avoid them.
How to cook anchovies?
Whole
Gutted – Ask your fishmonger to gut fresh anchovies for you, if you have such an option as it may take a while doing it yourself. The guts should come out when you remove heads.
Fillets – some Spanish supermarkets sell also nice anchovy fillets that look like a butterflied chicken breast.
They will all be fried the same way – dipped in flour and then fried in oil. They are tiny so a skillet/frying pan will work well. Using a deep fryer is also an option. The cooking time will vary depending on their size, but they only take minutes to cook.
Fried anchovies are then served right away.
How to serve fried anchovies?
On a plate with one or two lemon wedges and a sprinkle or a sprig of fresh Italian parsley, a sprinkle of salt and pepper
In fresh French baguette as is or with homemade aioli, or mayo.
With salad – tossed salad works perfectly with any deep-fried fish and balances off the "heaviness".
Turn them into individual anchovy tapas and serve them on a leaf of baby romaine lettuce, garnished with a tiny piece of lemon and seasoned with sea salt and freshly cracked black pepper You could also serve sliced garlic baguette or French baguette on side as well as a dipping oil.
With patatas bravas – another classic Spanish tapas.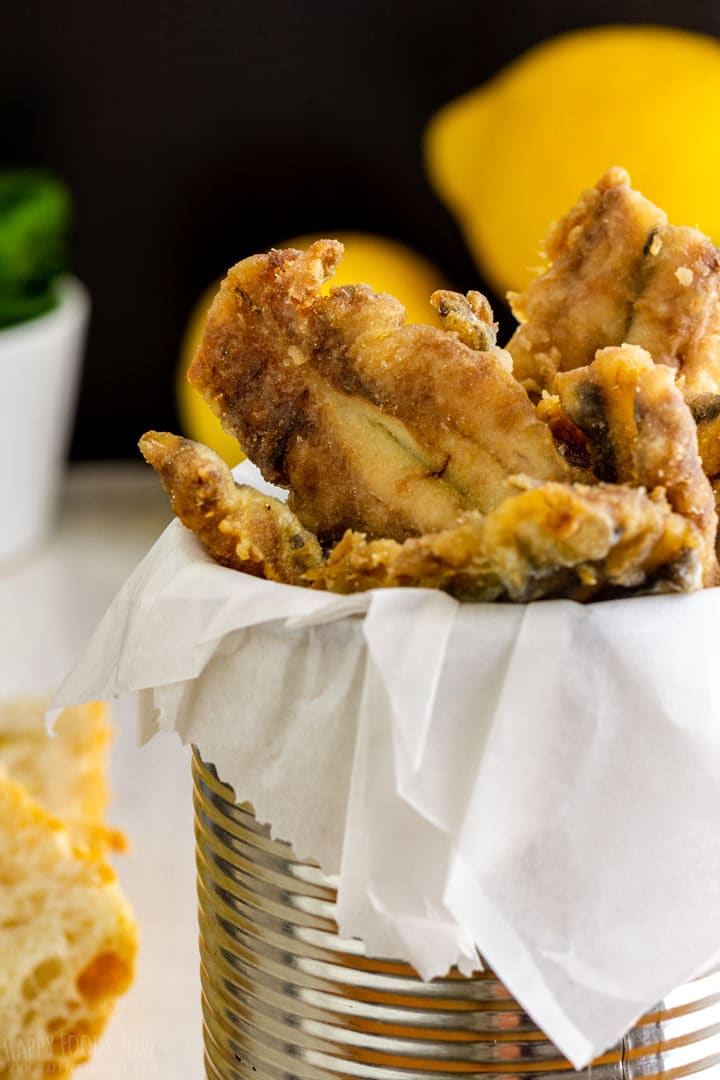 Useful tips when making Spanish fried anchovies
To coat them in flour, you can use either a ziploc bag or a bowl. Either way, I recommend doing it in batches. You want to make sure they are well coated.
They can be fragile when gutted so the less you dip in flour at once the lower the chance of tearing/breaking them.
For best results use fresh anchovies.
A plate of boquerones fritos with beer is a classic Spanish pub combo but there are a ton of other Spanish snacks worth giving a go. Here are a few of them:
This is an old post that has been updated recently.
Fried Anchovies
Boquerones fritos are popular Spanish tapas enjoyed all over Spain. These fried anchovies are best served with a glass of beer so make sure to try them when you visit this country.
Ingredients
1

pound

fresh anchovies

(450 grams)

1

cup

all-purpose flour

(140 grams), see note 1

sunflower oil

for frying , see note 2

salt

, to taste

1

lemon

, cut into wedges
Instructions
Remove heads and guts of whole fresh anchovies (the guts should go easily when you remove their heads).

Add flour to a large bowl (or ziploc bag) and dip anchovies in it. Make sure they are coated well so don't over-fill the bowl. Work in batches if needed.

Heat oil in a large skillet/frying pan. Add as many pieces as you can fit it in and fry them until golden brown and cooked through, about 1-2 minutes on each side (large ones may take longer).

Serve warm sprinkled with salt and drizzled with lemon juice!
Notes
This recipe can be doubled or halved easily.
All-purpose flour (US) = plain flour (UK).
Use any oil that is suitable for frying (the higher the smoke point the better). Avoid using extra virgin olive oil. Count with about 2-3 cups when using a skillet/frying pan for frying.
The prep time will depend on whether you bought gutted (5-minutes) or whole anchovies (15-minutes).
Nutrition Facts
Fried Anchovies
Amount per Serving
% Daily Value*
* Percent Daily Values are based on a 2000 calorie diet.
** As an Amazon Associate I earn from qualifying purchases.
LEAVE A COMMENT
You may also like: