Shrimp and rice is a perfect dinner for busy weeknights. This quick & juicy meal can be also transformed into a delicious seafood burrito!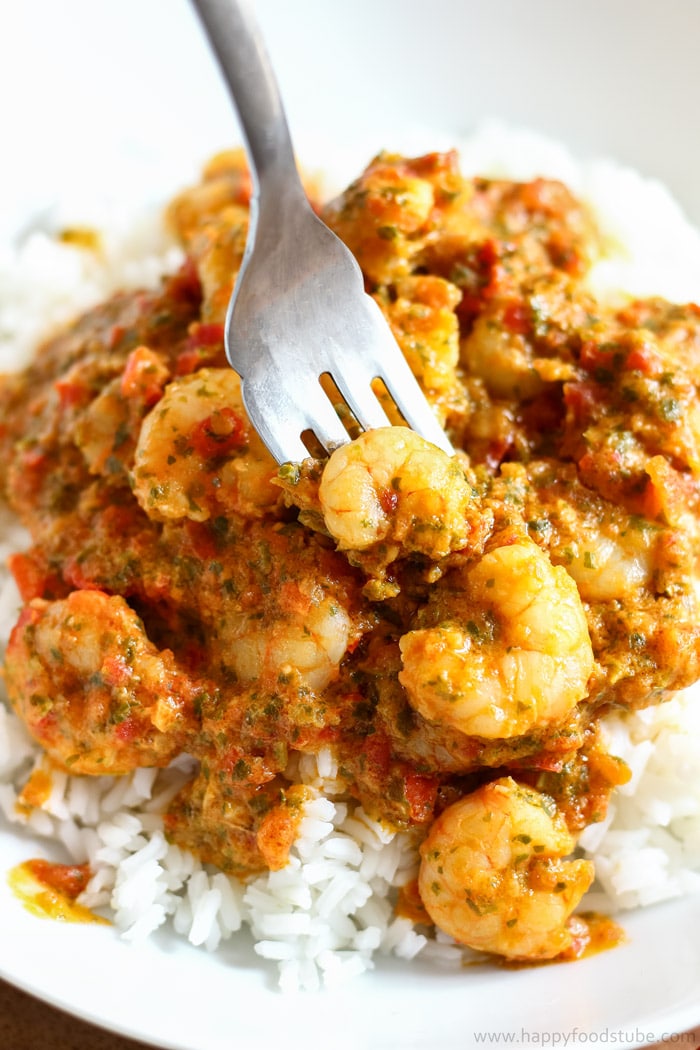 I hope you like shrimp because I made shrimp and rice for you! This truly is a simple yet tasty seafood dinner idea that will definitely be a hit at your dinner table. By the way, it only takes about 5 minutes to cook the shrimp and the rest goes for cooking rice and prep.
Shrimp tastes delicious when it's prepared well. I think this goes for all foods actually. If you find the right flavor combination and cook everything to perfection you are in for a treat! I am talking about this for a reason. You see, up until last year I had not liked shrimp. It was because I had never had a delicious shrimp meal.
However, I rarely write off a dish or ingredient without giving them another try. So the second time I loved it! After my positive shrimp experience I made this easy shrimp spaghetti. This dish taste amazing! If you asked me if I prefer shrimp and rice or shrimp spaghetti I would have hard time choosing.
When it comes to fish dishes I also like anchovies. Deep fried anchovies are perfect for lunch. Just sandwich them in between two slices of your favorite bread, drizzle with some sauce, add some greens and you are sorted! If you are after quick and meat-free dinner then I recommend oven baked fish. I like sea bass or bream. They both have white flesh and are ready in no time. These two are also my first choice for grilling.
What fish or seafood dishes do you like and what way you prepare them? My favorite way of cooking fish is grilling. It is ready in no time so it's great especially when you don't like waiting too long for your dinner!
My new shrimp dinner creation is simple yet tastes delicious. I am serving the shrimp with rice but you can serve it with couscous or tacos, wraps… Or burritos (if you are ok with rice, that is)! Shrimp and rice wrapped in burritos are also yummy.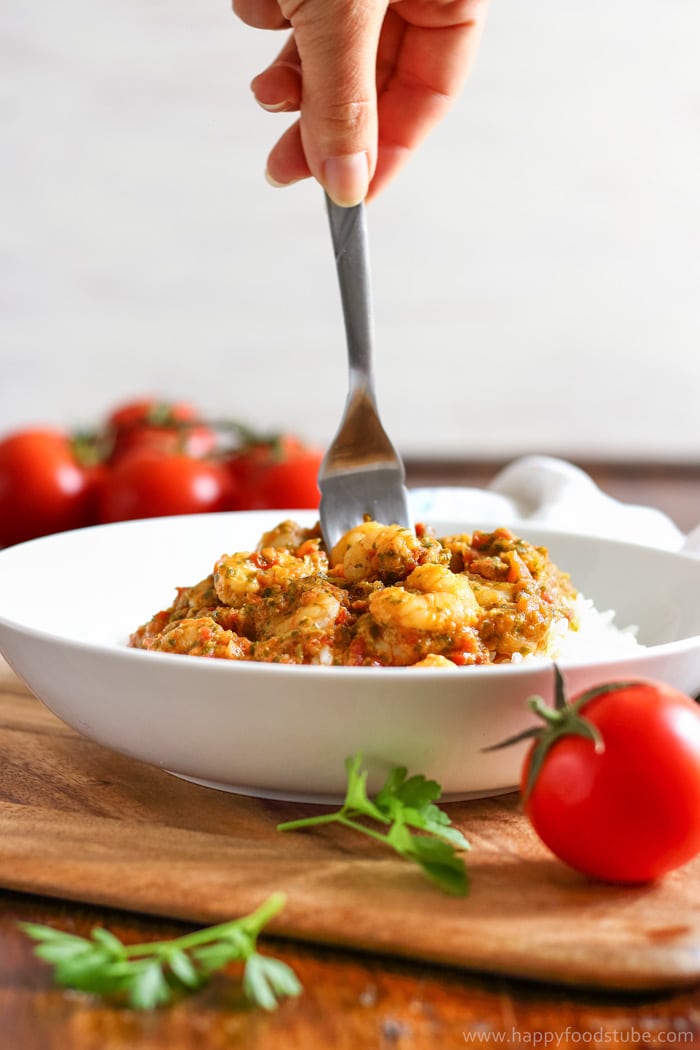 Shrimp and rice recipe breakdown:
Rice: Use any rice you like. Long grain, basmati, brown… Because shrimp will take about 5 minutes to cook, you have to start cooking rice first. Follow the packet instruction. I suggest to wait until the rice is almost done and only then I would start cooking the shrimp.
Meanwhile the rice is cooking, make tomato salsa. In a food processor combine all the ingredients. I usually roughly chop parsley, onion and garlic. I guess, this is not really needed but I like to make it easier for my not-so-powerful food processor.
Cooking shrimp: Shrimp is done within minutes so cook it for about 2 minutes before adding the salsa. Stir occasionally and cook until salsa has thickened a bit. This should take about 3 minutes and after that you are ready to serve. Easy-peasy! As usual!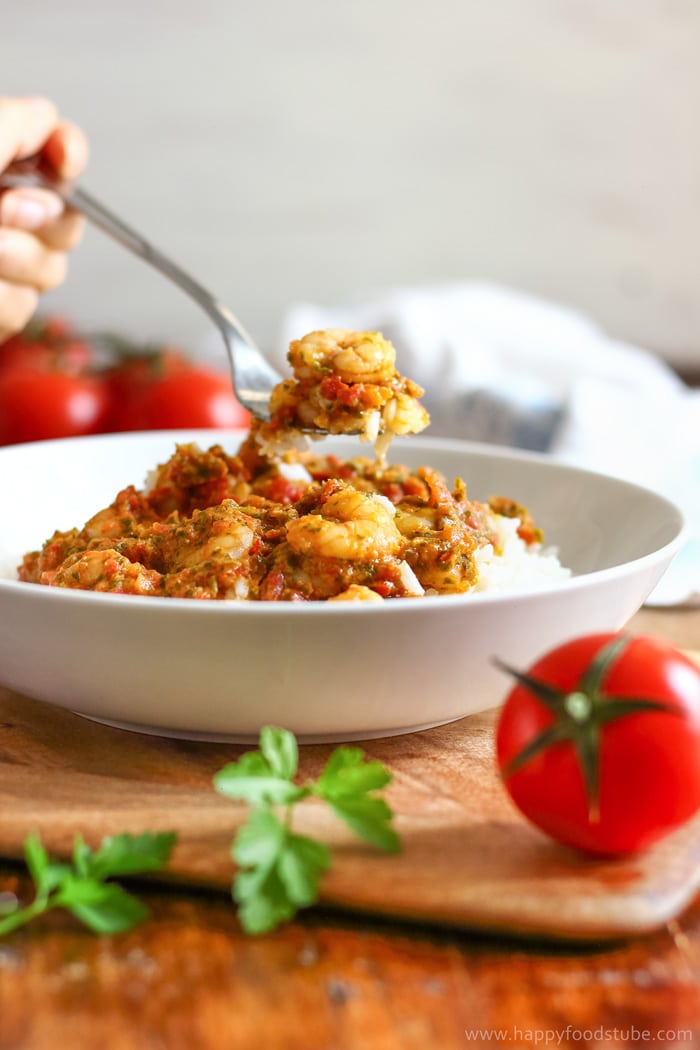 Ingredient substitutions:
Rice – Couscous will work here as well. You can also use tacos if you are not a couscous fan.
Parsley – Cilantro is a great substitution for parsley.
Onion – You could omit onion if you don't feel like adding it to the sauce. Just add one or two tomatoes instead (and maybe extra garlic clove).
Tomato Salsa Shrimp and Rice
Shrimp and rice is a perfect dinner for busy weeknights. This quick & juicy meal can be also transformed into a delicious seafood burrito.
Ingredients
1

cup

Rice

(200g)

1

cup

Fresh Shrimp

(already peeled, deveined) (200g)

2

tbsp

Unsalted Butter

(30g)
For Tomato Salsa:
½

Onion

(Medium)

1

Garlic Cloves

½

cup

Fresh Flat Leaf Parsley

(Chopped)

5

Ripe Tomatoes

(Medium Size)

3

tbsp

extra virgin olive oil

Salt to Taste
Instructions
Start off with cooking rice as cooking shrimp will take about 5 minutes.

Rinse parsley & tomatoes under running water. Peel garlic & onion. Roughly chop all ingredients. Add these and oil to a food processor and process until smooth-ish.

In a pan, melt butter and throw in shrimp. Cook for about 2 minutes before adding the salsa in. Bring to a boil. Reduce the heat to medium-low and simmer until it thickens a bit. Taste it and add salt, if needed.
Notes
You can use frozen peeled shrimp as well (for 1 cup fresh use 2 cups frozen).
Nutrition Facts
Tomato Salsa Shrimp and Rice
Amount per Serving
% Daily Value*
* Percent Daily Values are based on a 2000 calorie diet.
** As an Amazon Associate I earn from qualifying purchases.
LEAVE A COMMENT
RELATED POSTS